Back in my paddling days I covered hundreds upon hundreds of kilometres and scoured almost every inch of northwestern Ontario all the way to Hudson's Bay in search of fish. What always struck me was every single lake of substance either had an outpost camp operating on it, or was close to one of the many remote native communities sprinkled across the north. Sure, I paddled through plenty of smaller lakes, ones too small for a plane to land in, but most of those tiny pothole lakes didn't have really great fishing. That's a fact.
The point is, finding true wilderness and completely virgin lakes within the province of Ontario is exceedingly difficult. That is until I stumbled upon Echoing Lake Camp. Located 500 kilometres north of Sioux Lookout close to the Manitoba border, it's easily the furthest north operating lodge of any kind within the province. Constructed a number of years ago in conjunction with the Sachigo Lake First Nations, for years it was more or less the private playground for a handful of lucky anglers. They'd run a group through here and there but it was never really a viable commercial operation. Until 2016. This past year Shaun Szachury, the likeable young grandson of Andy Tardif the man who spearheaded construction of the lodge, finally took control and opened the facility to the general public at large.
Chatting with Shaun over the winter plans were hatched for a mid September trip to sample the fishing and possibly explore some new water in the process. That's what makes Echoing truly unique. Shaun told me there'd be a float plane based at the lodge for his guests to use at no extra cost. The goal, to explore as many of the surrounding lakes as possible. Lakes that are completely unknown and to date have never been fished. That kind of opportunity simply does not exist in this day and age.
My Kind Of Place
It's a long flight into Echoing and we were told to be at the Bamaji Air base in Sioux Lookout, Ontario at 7am sharp. Being mid September there was a definite nip in the air when our truck crunched into the gravel parking lot early in the morning and we hopped out with steaming cups of coffee in hand. Joining me on this trip was Russell LaFave, Chris Brock and Eddie Misiak, an amiable but motley crew of kindred spirits. Strolling down to the plane dock there was already a beehive of activity around the Cessna Caravan, our ride into camp that morning…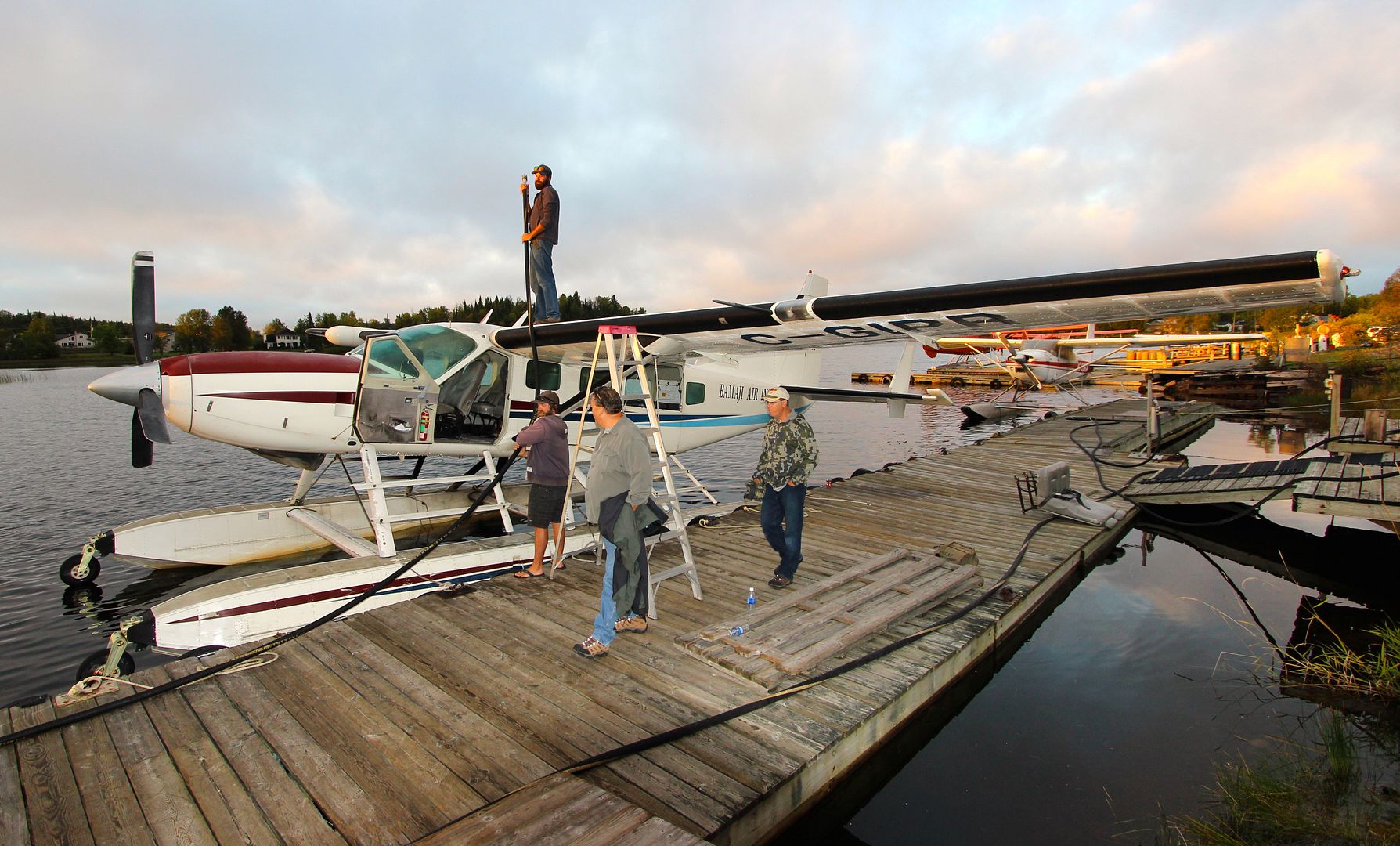 After unloading the truck we had the chance to chat with Art Kraft who was there from the Chicago area. He had driven up by himself and would be flying with us into camp, his goal to bag a moose. He was an immediately likeable chap. There's always an air of excitement on the eve of a trip like this, and the bunch of us chattered happily as we organized our gear on the dock next to the weigh scale.
As I've mentioned Echoing Lake Camp is remote, the last unexplored corner of the province. Just to put that statement into perspective have a look at the maps…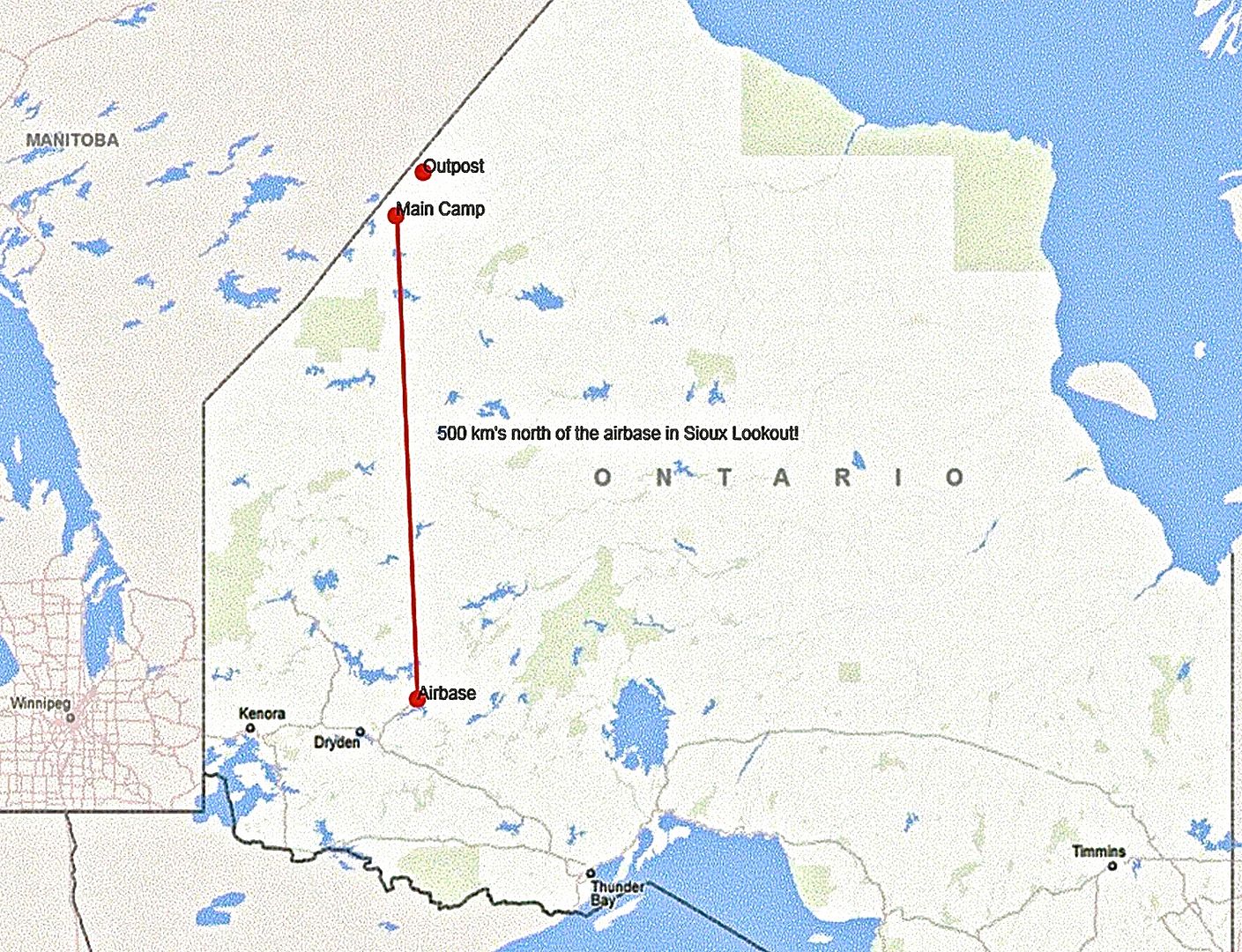 The lodge is located on an island at the south end of Echoing Lake. Dubbed "Paradise Island" it seems well named. In addition they operate a rustic outpost camp on Yelling Lake, a widening of the Echoing River located north of the main lodge. We were slated to visit both.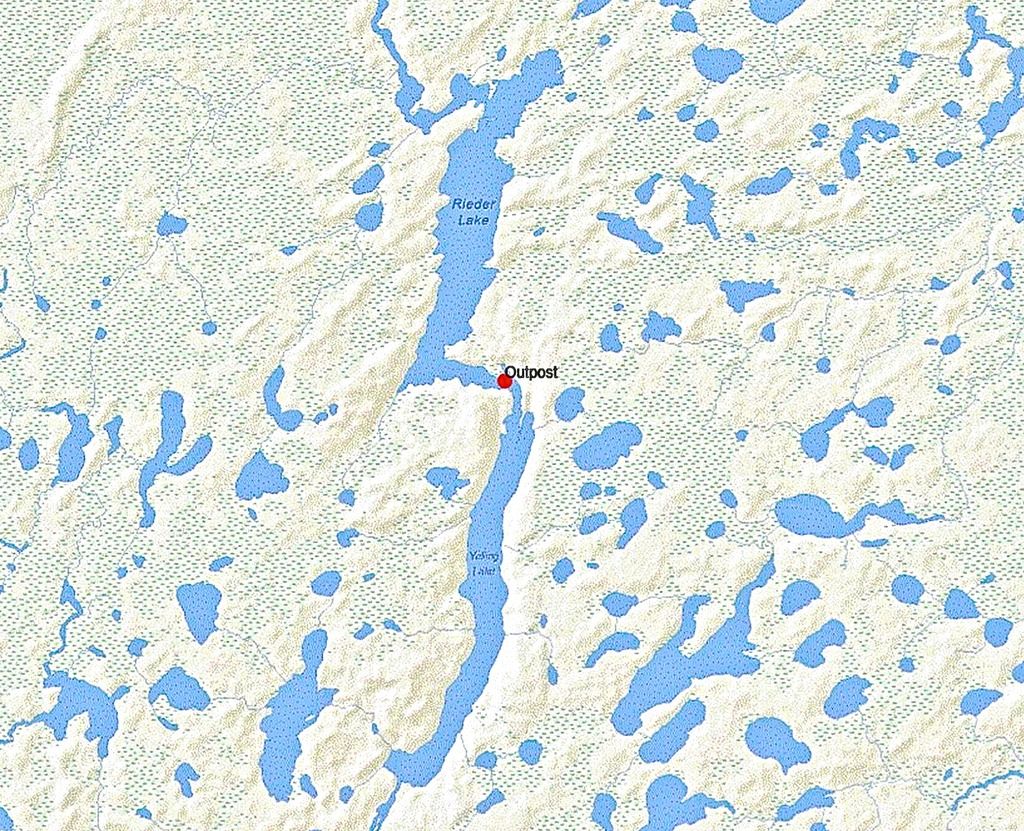 Being highly motivated we were loaded and airborne within twenty minutes. On the plus side we'd be riding a tailwind the entire way. The downside was almost immediately the clouds thickened, the ceiling lowered and the weather grew unsettled. Our pilot John Andersen initially climbed above the clouds, then roughly halfway there he dropped below them flying just above the tree line, affording us a birds eye view of the mostly stark terrain. This corner of the province is dominated by sub arctic tundra and mostly smaller boggy lakes. Vast and desolate, but inspiring in its own way. As always I filmed a short video of the flight, have a look!
What's nice about the camp is its size, it's not a large facility. There's a wonderfully finished four bedroom main lodge, a couple of cabins, and a total staff of three. There is no mini metropolis of buildings with dozens of people running around like some of the larger lodges in Canada.
Small and intimate, it's my kind of place…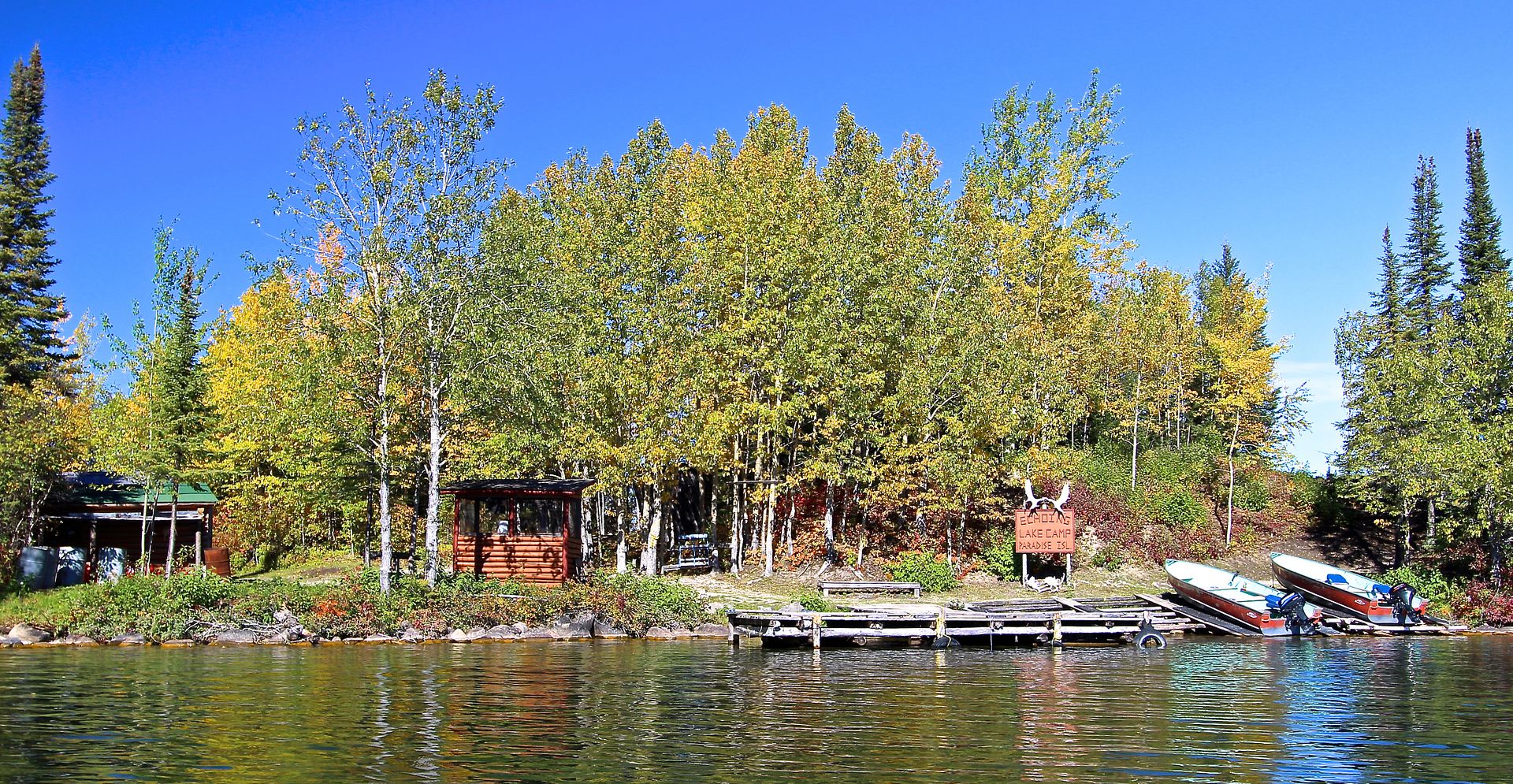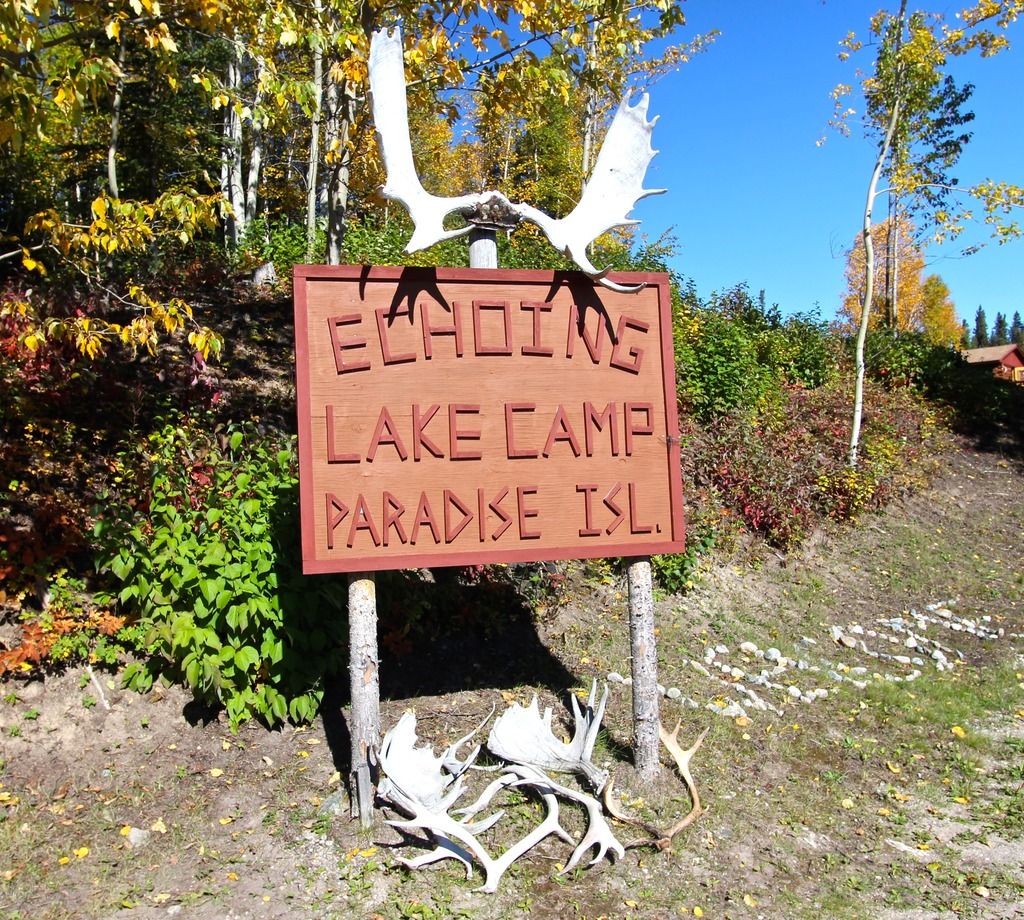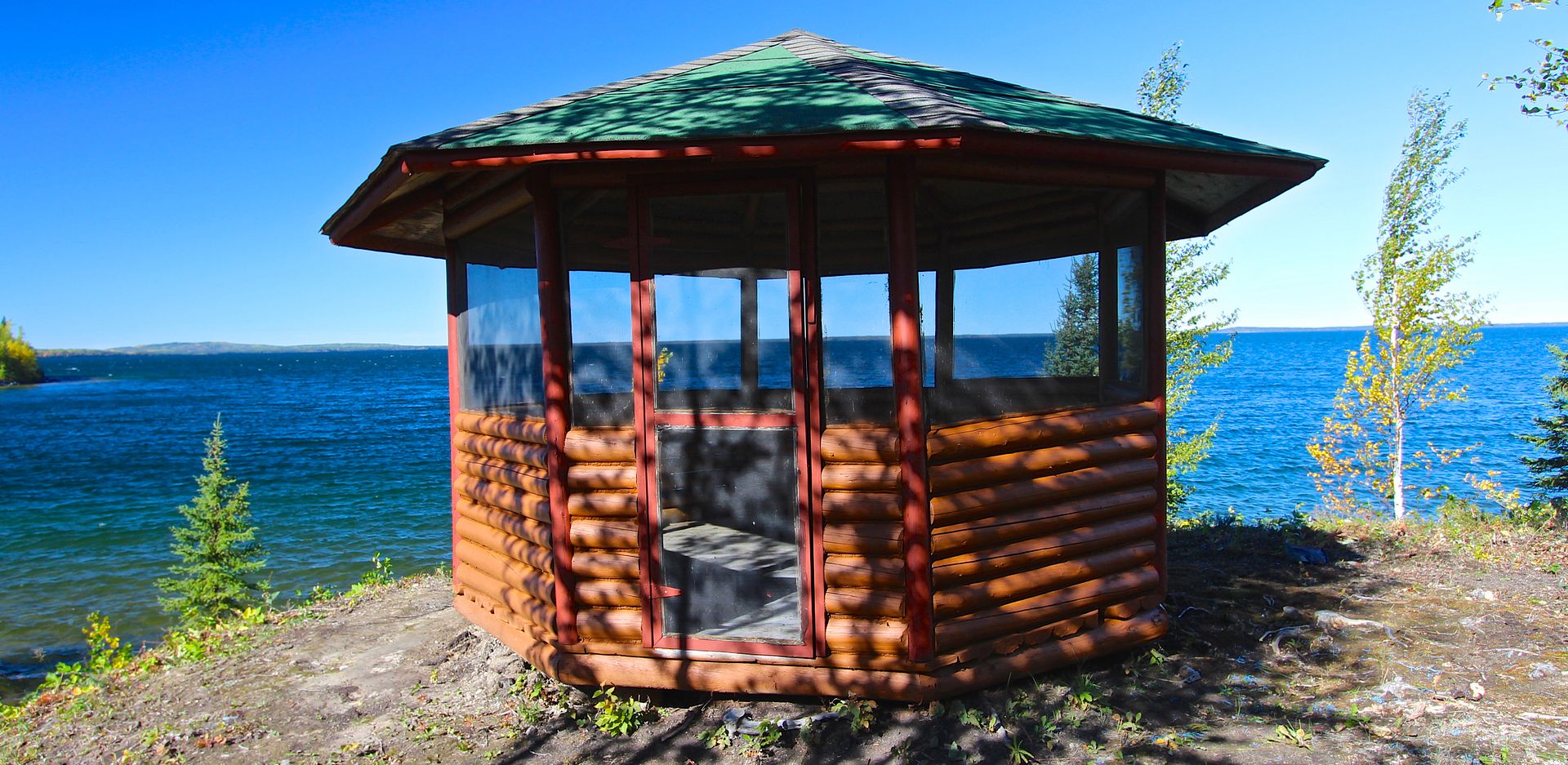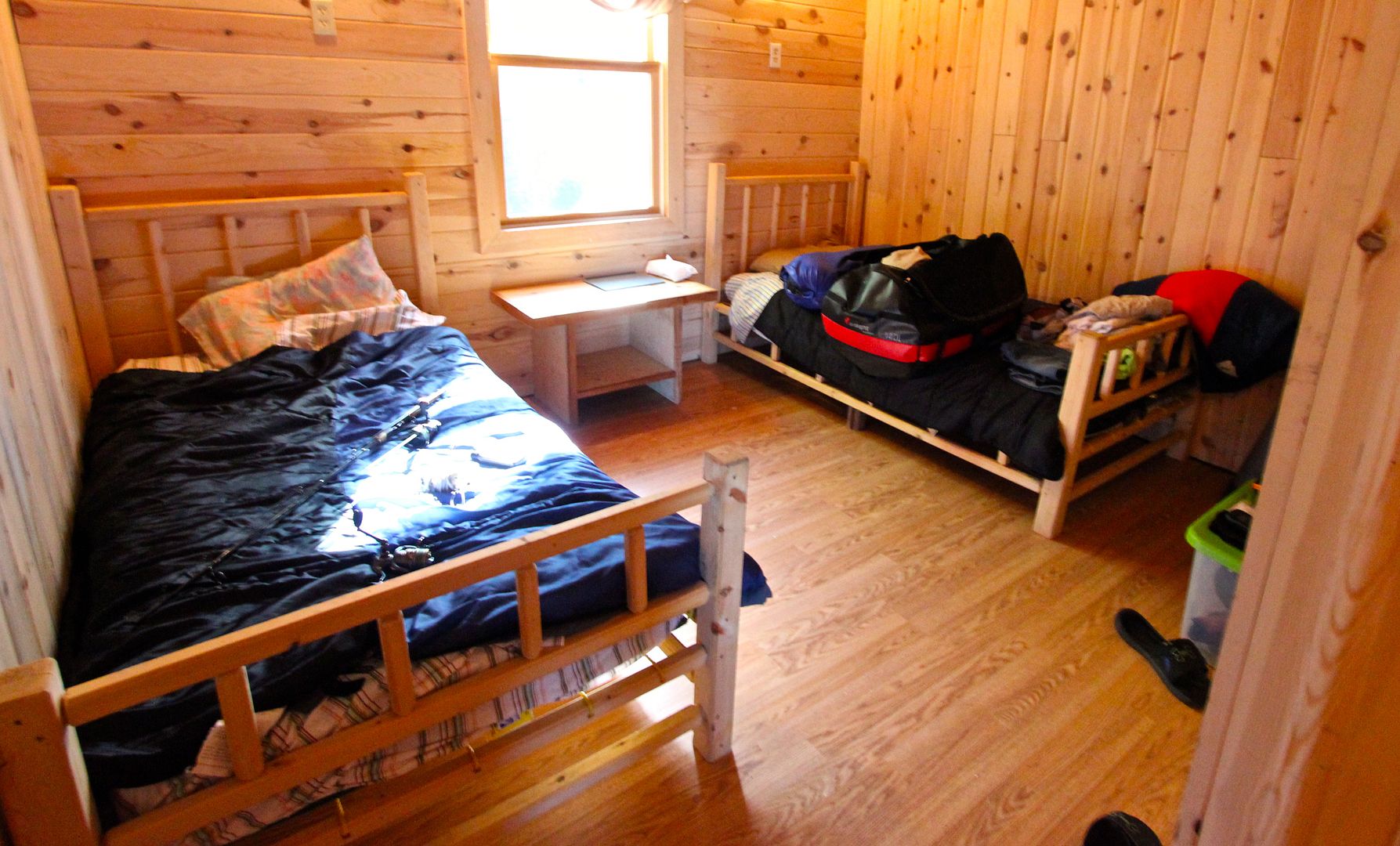 A Stunning Start
Upon landing we spent some time unpacking, settling in, rigging our tackle and readying the boats. All of us were eager to fish, but we weren't in any rush either. While we busied ourselves with that task Art and his native guide Isaac had other plans. They loaded the camp Beaver and were soon airborne on their way to the Yelling Lake outpost to hunt moose for a few days. We didn't have a huge amount of time to fish on that first day and really break down the lake. With that being the case our number one priority was to simply get our lines wet, catch a few fish and take the edge off.
Russ and I were standing on the dock watching as Chris and Eddie puttered towards a point just to our left. They'd launched just ahead of us and had immediately flipped their Williams Whitefish spoons out behind them slowly trolling. I was in the process of handing a bundle of rods to Russ when Eddie let loose with a loud war whoop. Are you kidding me? They both seemed more than a little agitated as we hopped into our craft and motored over to see what all the fuss was about. Perhaps 100 yards from the dock and less than a minute in Eddie had an arm wrenching hit and wrestled this fat 42" pike to the boat.
Believe me when I tell you that doesn't happen very often! Russ and I were already jacked up, but this tipped us over the edge. Leaving the boys to their own devices we cruised around the backside of the island and headed north up the lake into the waves. It was obvious that Echoing had a great pike fishery, but for Russ and I that would wait. It's known mostly for lake trout, and that was our goal. Prior to the trip I'd unearthed an ancient depth map of the lake and had pinpointed a mid lake shoal as a potential starting point. Being mid September and this far north there was little doubt that the trout would be on top of the shoals getting ready to spawn, and this seemed an obvious spot.
With the wind blowing briskly from the northwest we were being tossed around a bit in the waves as we slowly searched for the shoal. After criss crossing the area back and forth for 15 minutes we couldn't find it and I decided to switch tacks. Focusing now on more obvious visual structure I headed towards the eastern shore where a prominent point jutted out into the lake.
The water on Echoing is glass water clear and a large shelf of boulders was clearly visible extending out from the point and into the lake for several hundred yards. It looked perfect.
Over the years certain lures have become automatic for me depending the species and application. When it comes to shallow water lakers a hot pink Husky Junior spoon from Eppinger has always been money. For whatever reason lake trout like it – a lot!
Snapping one on my line we began to troll across the top of the shelf when suddenly it got real shallow, perhaps three to five feet tops. Instinctively I gunned the throttle speeding up hoping to run across the top of the rocks without getting snagged. Moments later Russ had a heavy hit and missed it, then almost instantly my rod doubled over under the weight of a heavy fish. When you're trolling that fast and a really big fish hits, it's bone jarring. This was a BIG fish!
I managed to film this short video of the fight, have a look!
Just beautifully coloured, this may have been the prettiest lake trout I've ever caught. I didn't weigh the fish, but it was 40 inches long on the tape and fat, easily 25 pounds plus, maybe more. Not bad for one hour of fishing!
Chris and Eddie joined us not long afterwards and at any given time we had 2, 3, sometimes 4 fish on all at once. Most of the trout were smaller, but holy cow were they abundant! Once again I filmed this short video of the action:
With light fading fast and frankly getting a bit tired of being tossed around by the waves Russ and I headed back towards the dock. It was still protected from the wind there and we figured we'd give it a go before calling it a day. At the southeast tip of the island the wind was acting almost like current whipping fiercely past a point of land creating a small back eddy of tranquility in the lee. Motoring up to the point Russ casually flipped his spoon into the calm pocket and was instantly attached to very large pike. This fish was surprisingly docile and after a short battle I lifted her into the boat. Another gorgeous specimen, this one stretching the tape to 41 inches and again vividly marked!
As starts go, this one was pretty special. All of us had expected the fishing would be good, but this was something else.
Pike On The Rocks
Up early the next morning we were faced with a virtual gale from the northwest. If anything the winds had picked up even more overnight and the lake north of camp was tossed into a sea of heavy rollers and whitecaps. Shaun was in the kitchen early whipping up a fabulous breakfast of sausage, eggs, hash browns and toast. Once again being in no rush we lingered over breakfast stoking our bellies as we eyed the tumult from the cozy confines of the lodge.
Heavy seas or not Russ and I wanted another crack at finding the mid lake shoal that had eluded us the day before. The other boys were on board with that plan as well and by 7:30 we were suited up and ready to go.
Puttering slowly out to the general area where the shoal was supposed to be I criss crossed back and forth again watching the graph like a hawk. The depth in this part of the lake averaged between 40 and 60 feet, mostly featureless and seemingly devoid of anything including baitfish. Turning sharply to my right the bottom suddenly rose swiftly to 20 feet and continued to climb. Grabbing a floating marker I tossed it out when the graph hit 5 feet – we had found it! It wasn't a super huge spot, perhaps 50 yards long and wide. Surrounded by deep water in the middle of a large lake it was like finding a needle in a haystack, especially since we were being rocked by large waves. But patience and perseverance won out.
It didn't take too long to determine the presence of fish. What was surprising though, it wasn't the expected species. We did catch some lake trout, but that tiny isolated hump was absolutely crawling with pike, have a look!

I kind of wanted to fish the point I'd found yesterday, but truth be told even though we were catching fish it wasn't real enjoyable being pounded by waves. We knew there was plenty of fish in behind Paradise Island in the lee of the wind so off we went. What followed was quite easily the best two days of pike fishing I have ever experienced in my life…
Catching Fish At Will
There's a large area behind Paradise Island that was mostly protected from the wind. Almost directly across from the dock is a couple of small islands and we motored over to them slowly once again watching the graph. The backside of the island dropped quickly into 25 feet then slowly climbed to 15 feet, finally plateauing at 10 as we approached the first island. A quick tour of the area before we started showed an expansive 8-10 foot flat that stretched for almost half a kilometre from the tip of the island east. The best part was it was loaded with deep cabbage, a picture perfect feeding shelf. Fish could easily slip up onto it, feed, then slink back into the nearby deeper water to digest their meal.
Right off the tip of the closest island was a rock pile that was loaded with spawning lakers. In the crystal clear water we could actually see them swimming about in the bouldery shallows, swarming in 2-3 at a time to chase our offerings.
Blown off the rock pile the wind pushed us perfectly across the top of the cabbage filled flat and we began to catch pike after pike. The beauty was each drift would last for a good 15 minutes before we'd have to motor back to the island. It didn't matter what we threw the pike would hit, and whether it was the cold water or just the particular strain of fish, pound for pound those pike pulled harder than any I've ever experienced!
Amazingly there were very few small fish either. The vast majority of them were thick, muscular mid sized specimens that fought like they were possessed bending our rods double and ripping line off our reels like mini locomotives.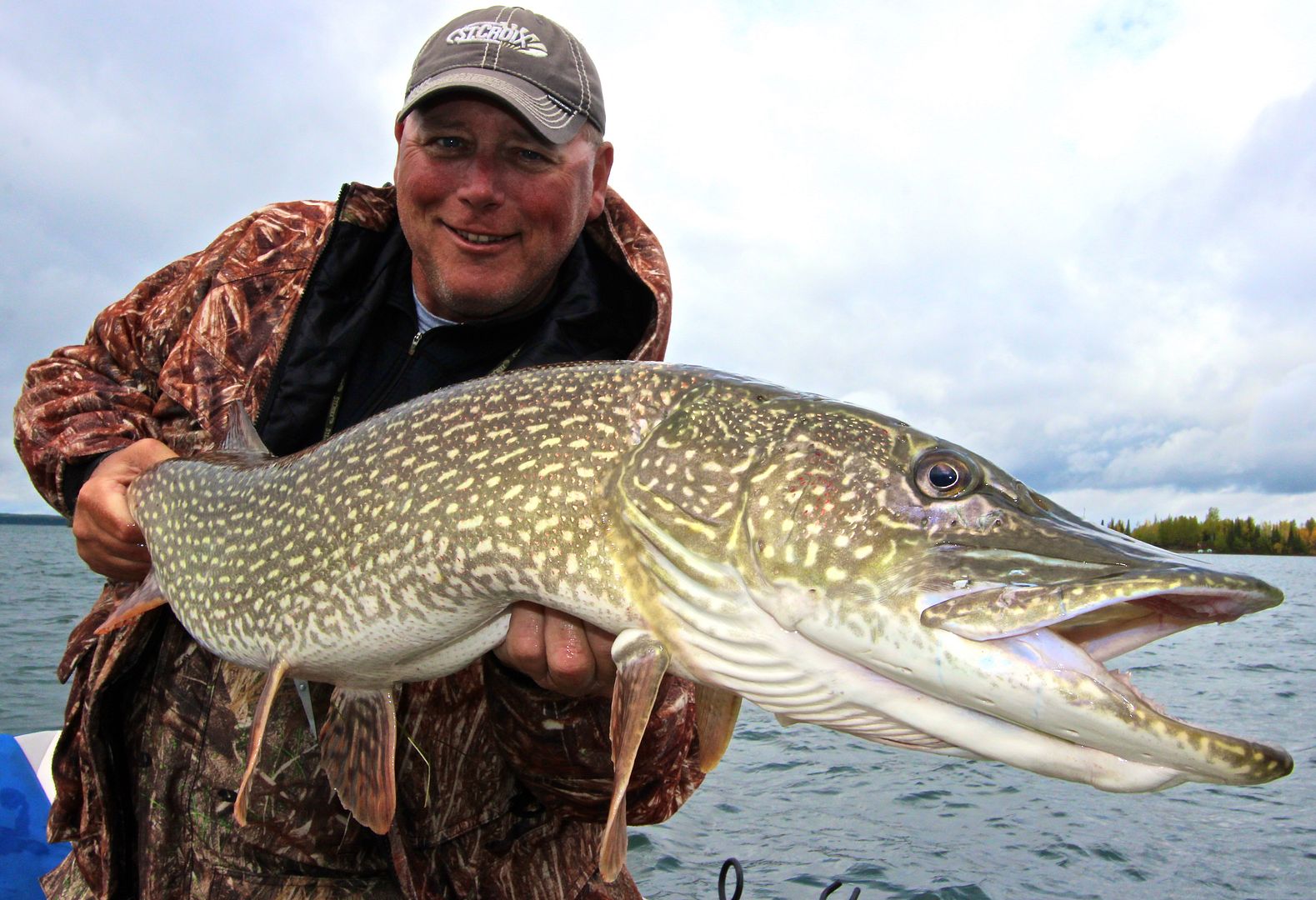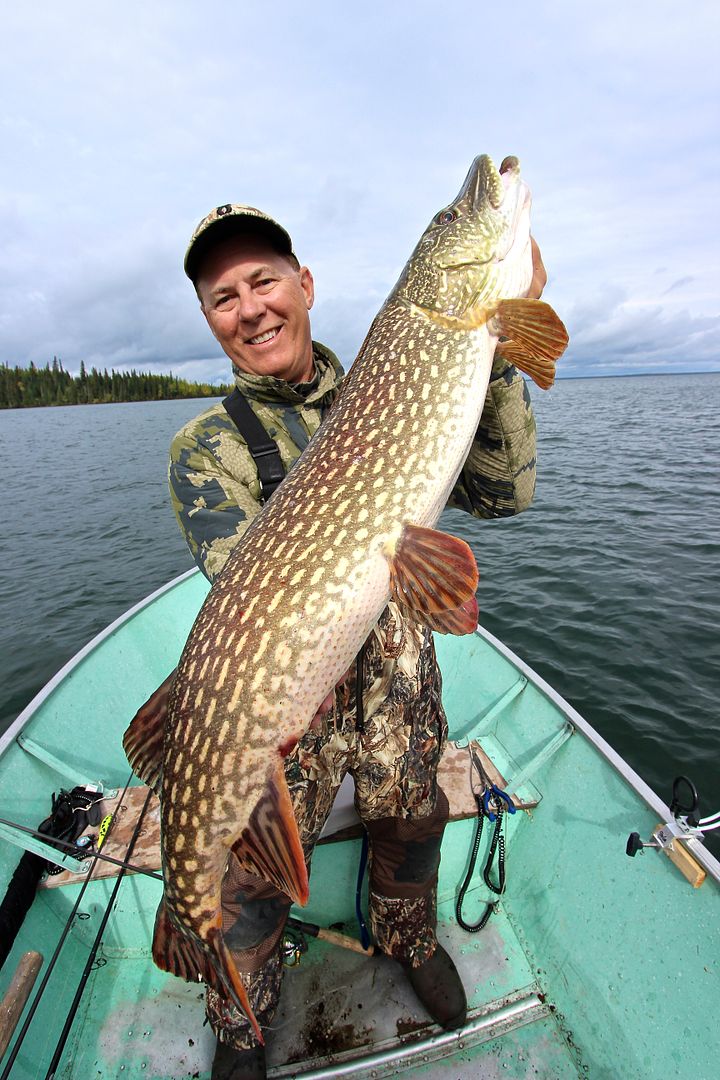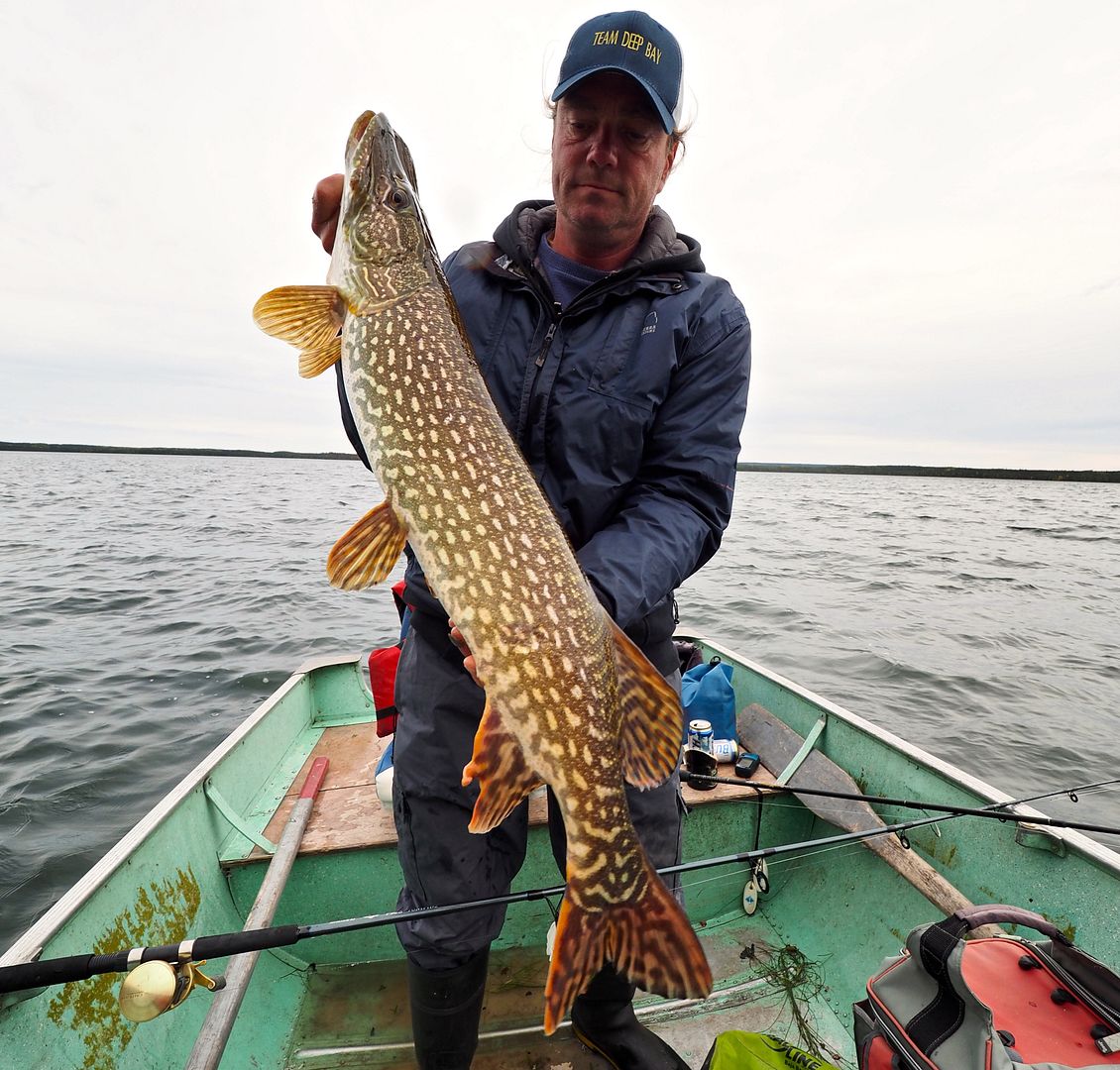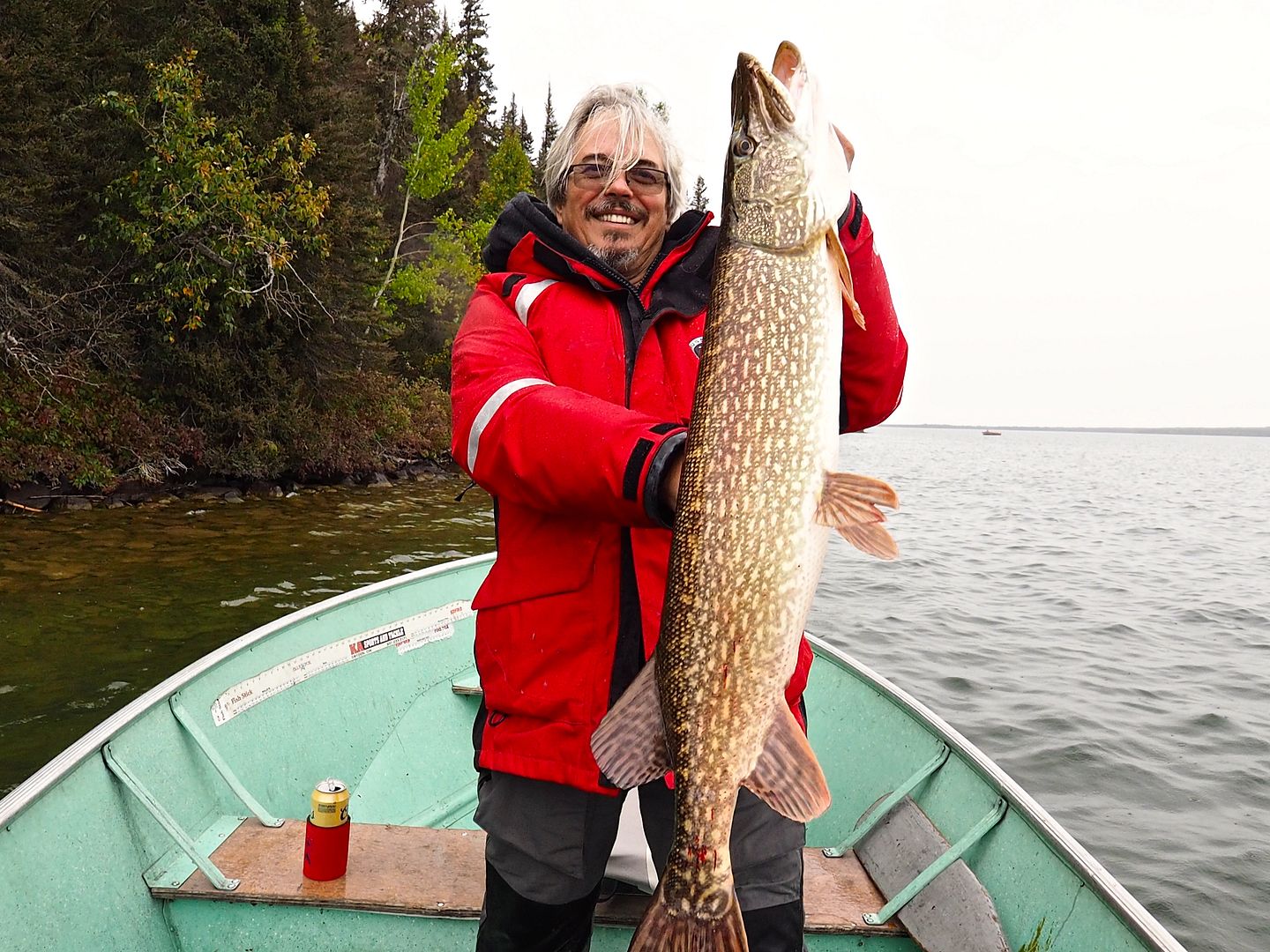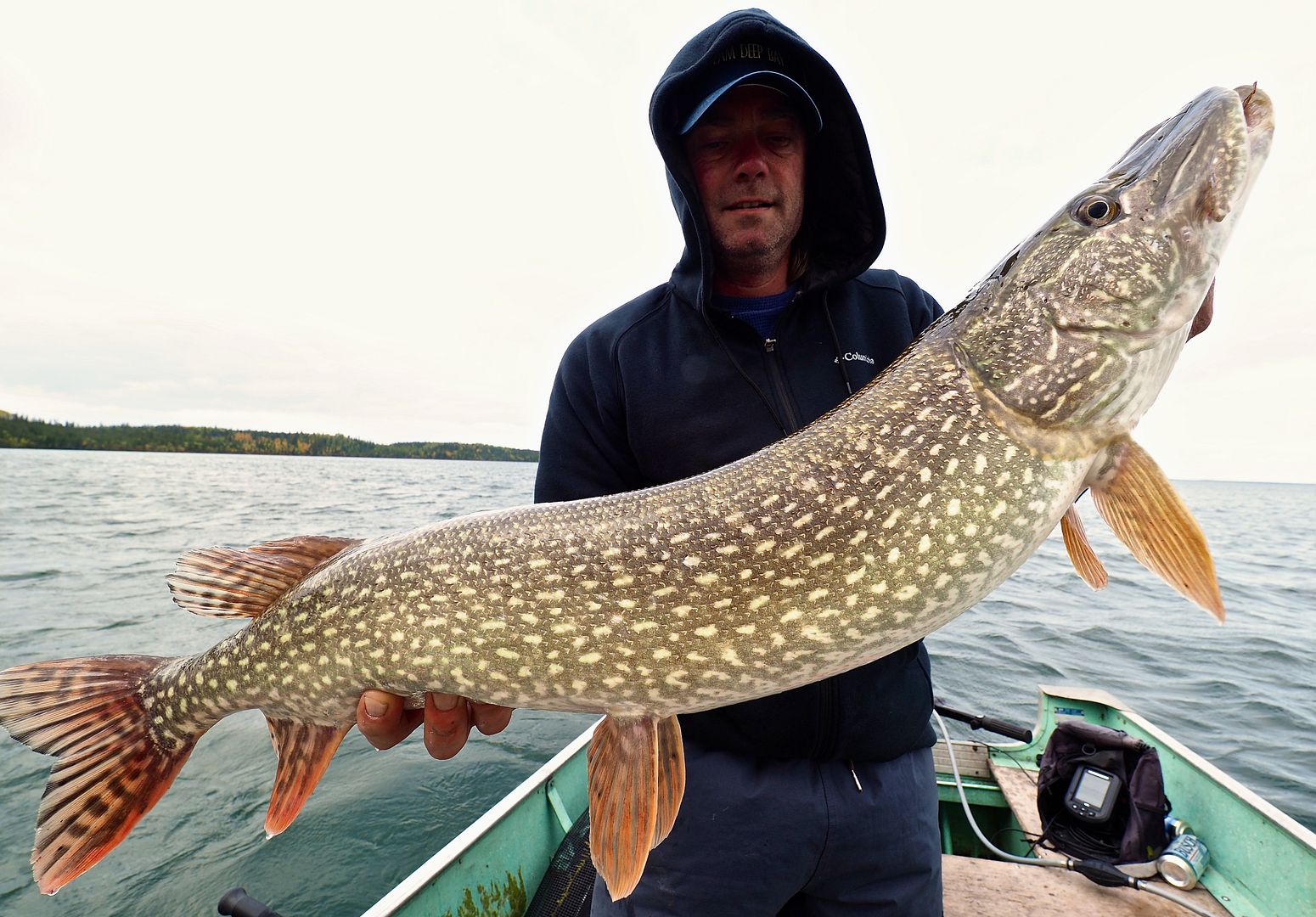 Truth be told I shot far more video of the action than photos, and they really do tell a story. Have a look!
At one point Chris yelled over that he needed to borrow our cradle – he was into something a little bigger and didn't want to lose it. We motored over to assist and watched as he slid a gorgeous 42 inch fish into the cradle. Have a look!
This is just a rough guess, but I'm reasonably sure that between the 4 of us we boated well over 250 pike over the course of two days of fishing. Out of those 250 six were over 40 inches and the rest were all chunky low to mid 30 inch fish. I'd like to ramble on about technique, about how we cracked the code and figured things out but that's just not true.
We stumbled onto the spot and catching them required zero skill. You could blindly chuck out any lure you wanted and catch fish. Having fished all over Canada for pike this type of angling is uncommon and a true testament to the productivity of lightly pressured waters.

The Echoing Lake Dock Challenge
Catching fish almost to the point of boredom we were all pretty worn out by the end of our second day. The wind was still howling, but now the temperature had dipped and rain was falling in sheets. It was nasty!
All four of us were warming up and drying off in the lodge at 5pm unsure of what to do. With dinner slated for 7:30 we still wanted to fish, but we needed some extra incentive to go forth and battle the inclement weather again. With drinks in hand and a warm fire crackling in the wood stove, staying indoors seemed the prudent choice.
We were scheduled to fly into the Yelling Lake outpost the next day and I was suddenly struck with inspiration. "How" I said eyeing the other boys, "do you feel about a little competition?"
Chris and Eddie just laughed, while Russ looked on with a grin on his face.
"No one really wants to fish anymore unless it's worth their while, right?" "What I propose is this. We fish for precisely 1 hour within sight of the dock. Whoever catches the most fish becomes the 2016 Echoing Lake Dock Champion!" "Cool idea, but we need more of an incentive" Chris chirped from behind his can of Busch. Giving it some thought I came up with this. "Whoever catches the most fish does no work at the outpost. No cooking, no cleaning of dishes, no chores at all. He's basically catered to by the rest of us while we're there."
A loud chorus of "I'm in!" ensued and we all scrambled to suit up.
I filmed this video of the short but tension packed tourney. Beyond a brief display of poor sportsmanship from Chris at the end it was a smashing success, and later that evening the coveted Silver Dick was awarded to the victor. I'll let the video tell the tale…
Sunny Skies And Suicidal Fish
The following morning it was still breezy, but the clouds had finally cleared away and the sun was shining. It was a brilliant autumn day!
After breakfast we spent a bit of time packing what we'd need for the outpost then hit the lake. With the plane scheduled to pick us up at noon we had the morning to kill at Echoing and we were determined to make the best of it. The wind wasn't quite as fierce, so Russ and I had plans to fish the same mid lake point where I'd caught the big trout on our first afternoon.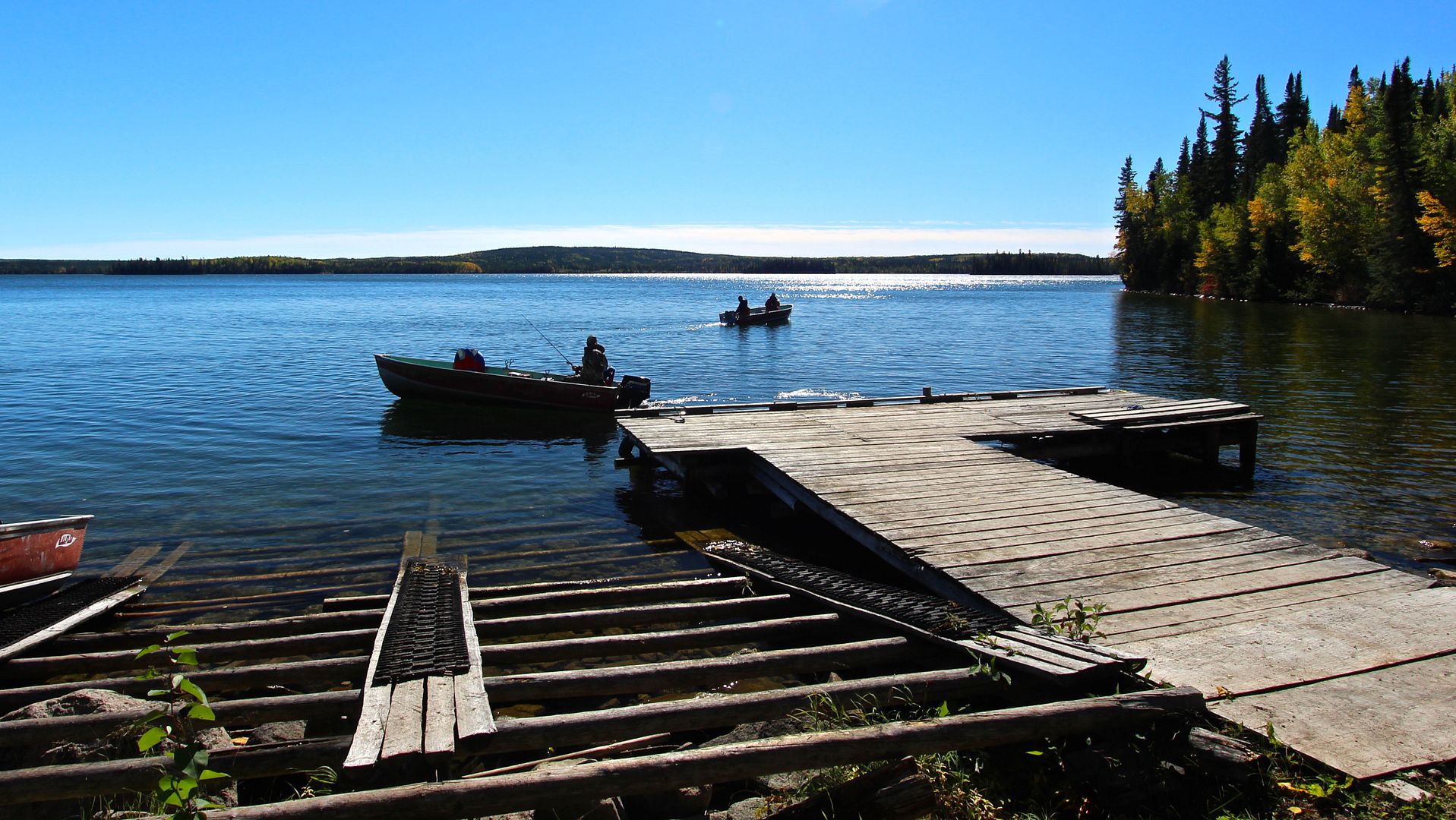 Interestingly we began to catch suicidal whitefish that hammered our large spoons meant for trout and pike. We hadn't caught any the previous two days, but the sunny weather seemed to have turned them on making them hyper aggressive. The lake was obviously loaded with them, another reason why the trout and pike were so fat and well fed!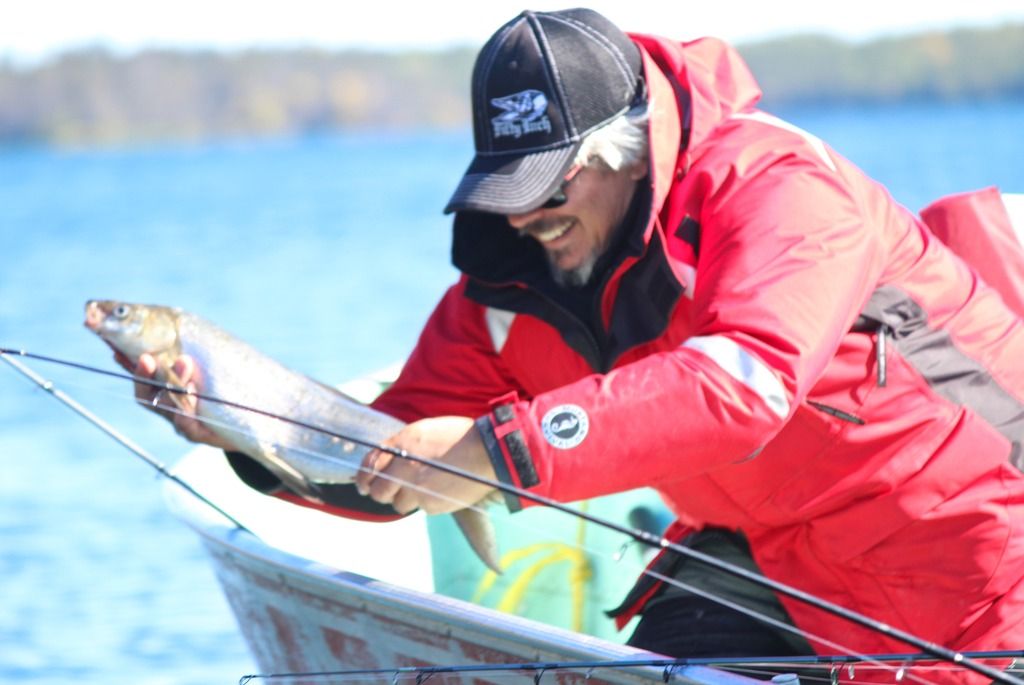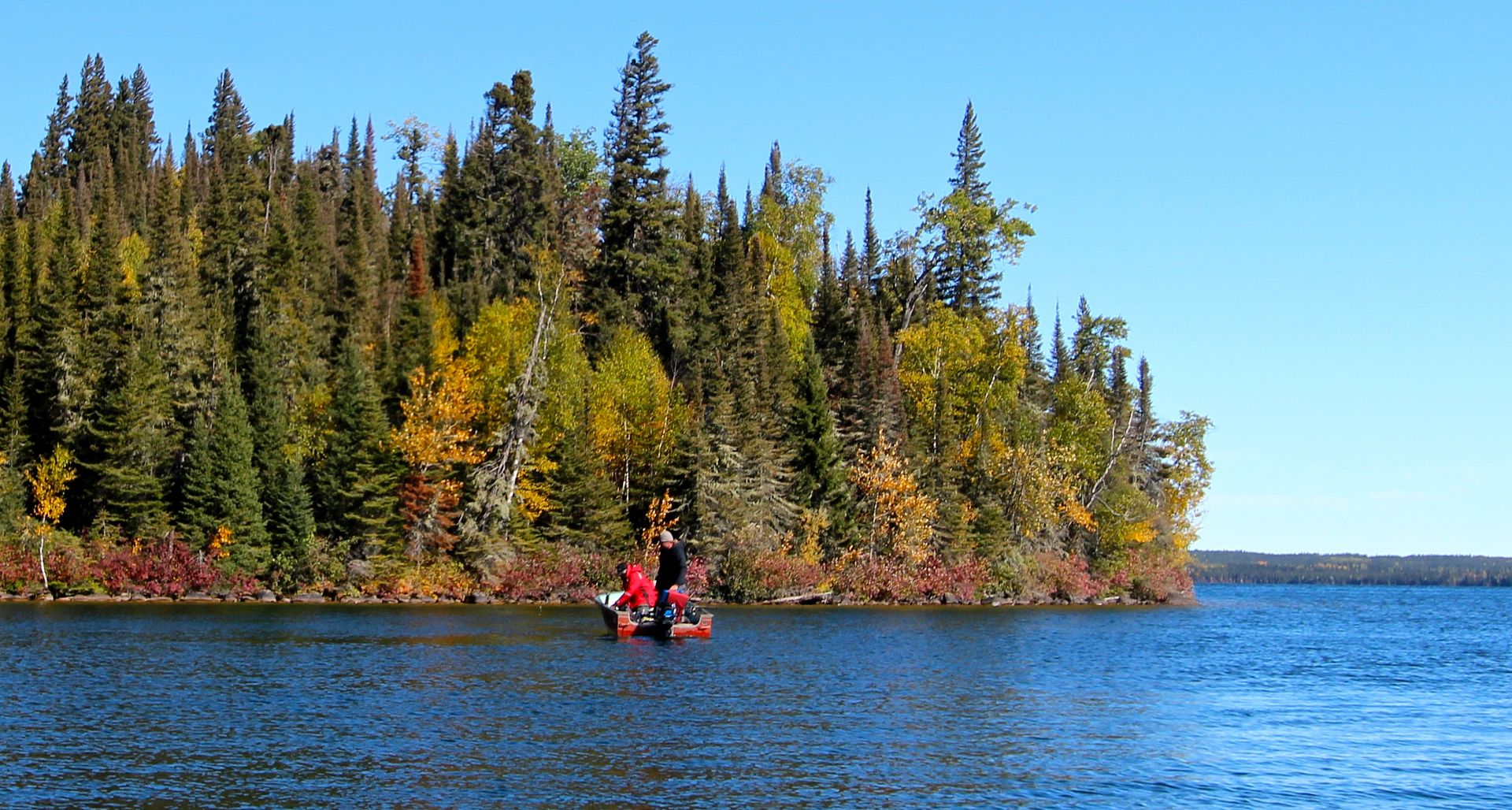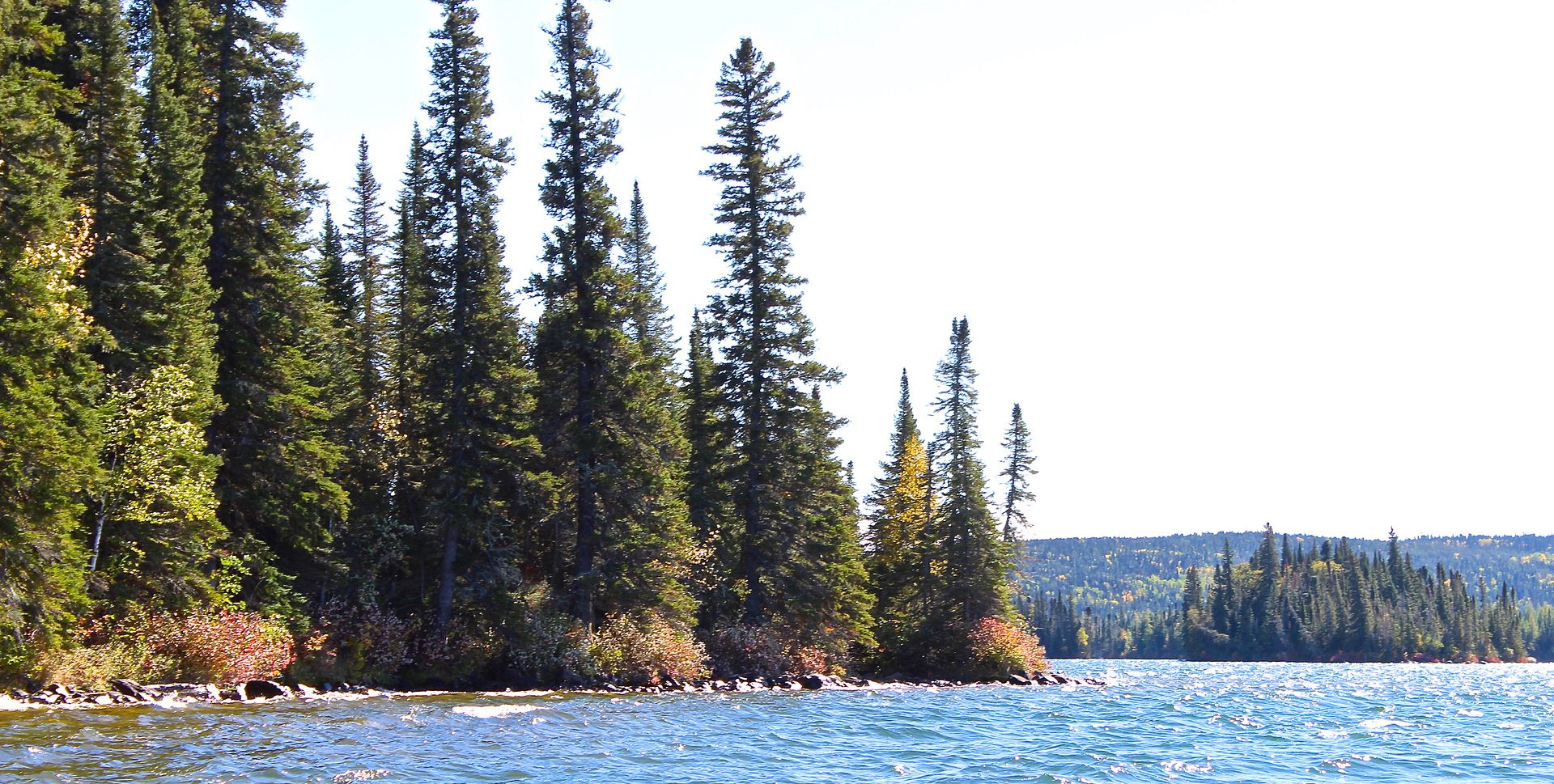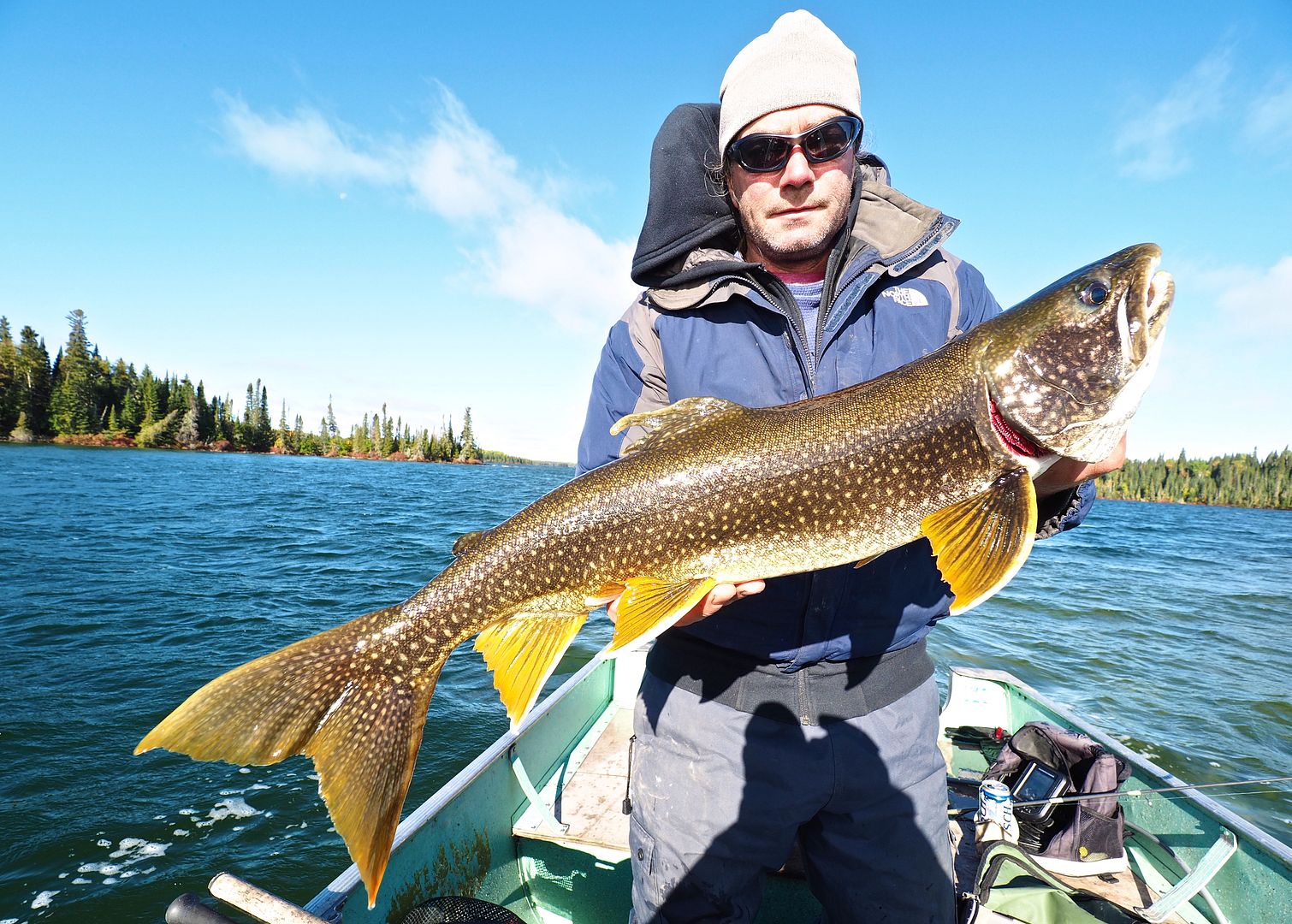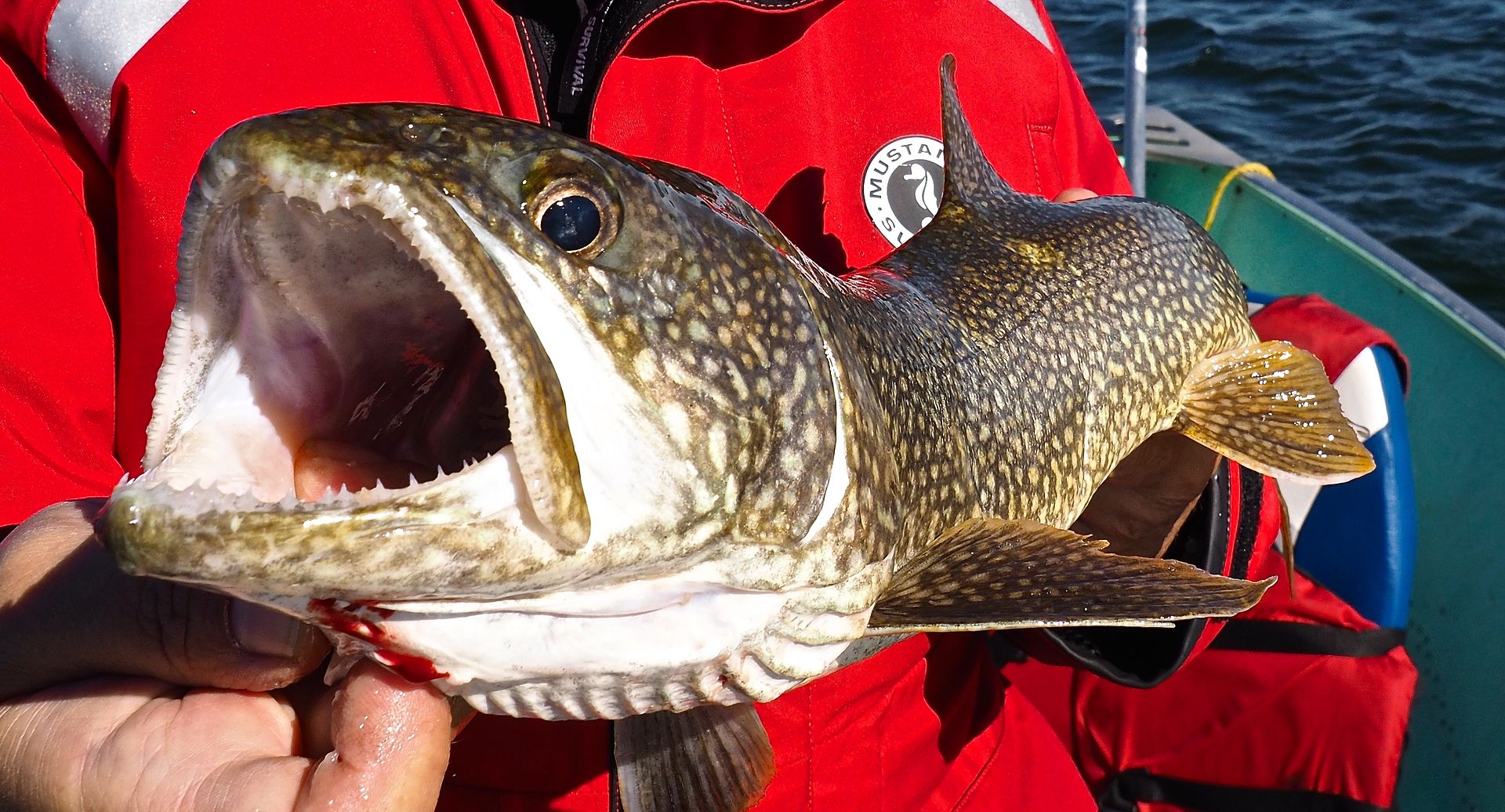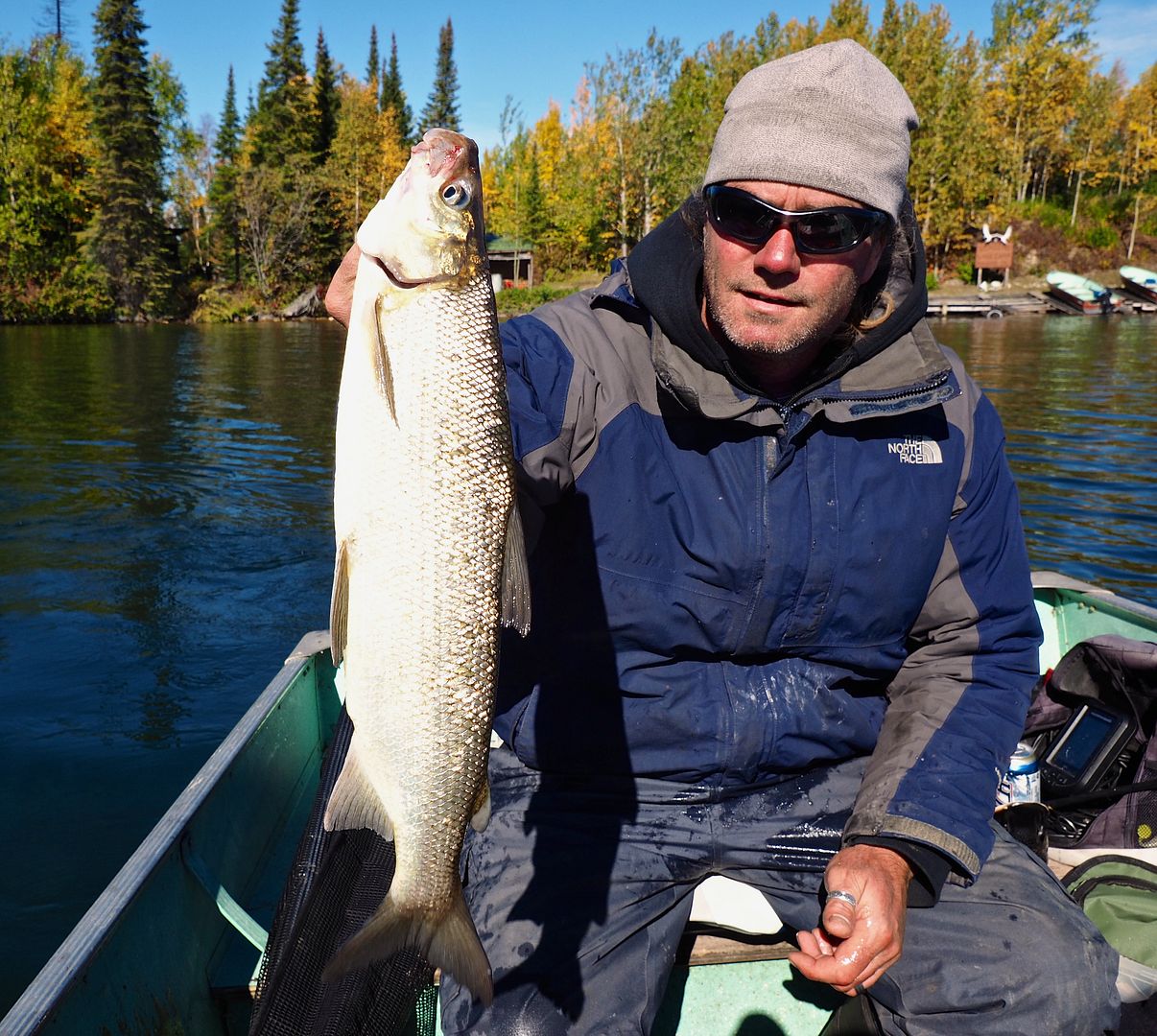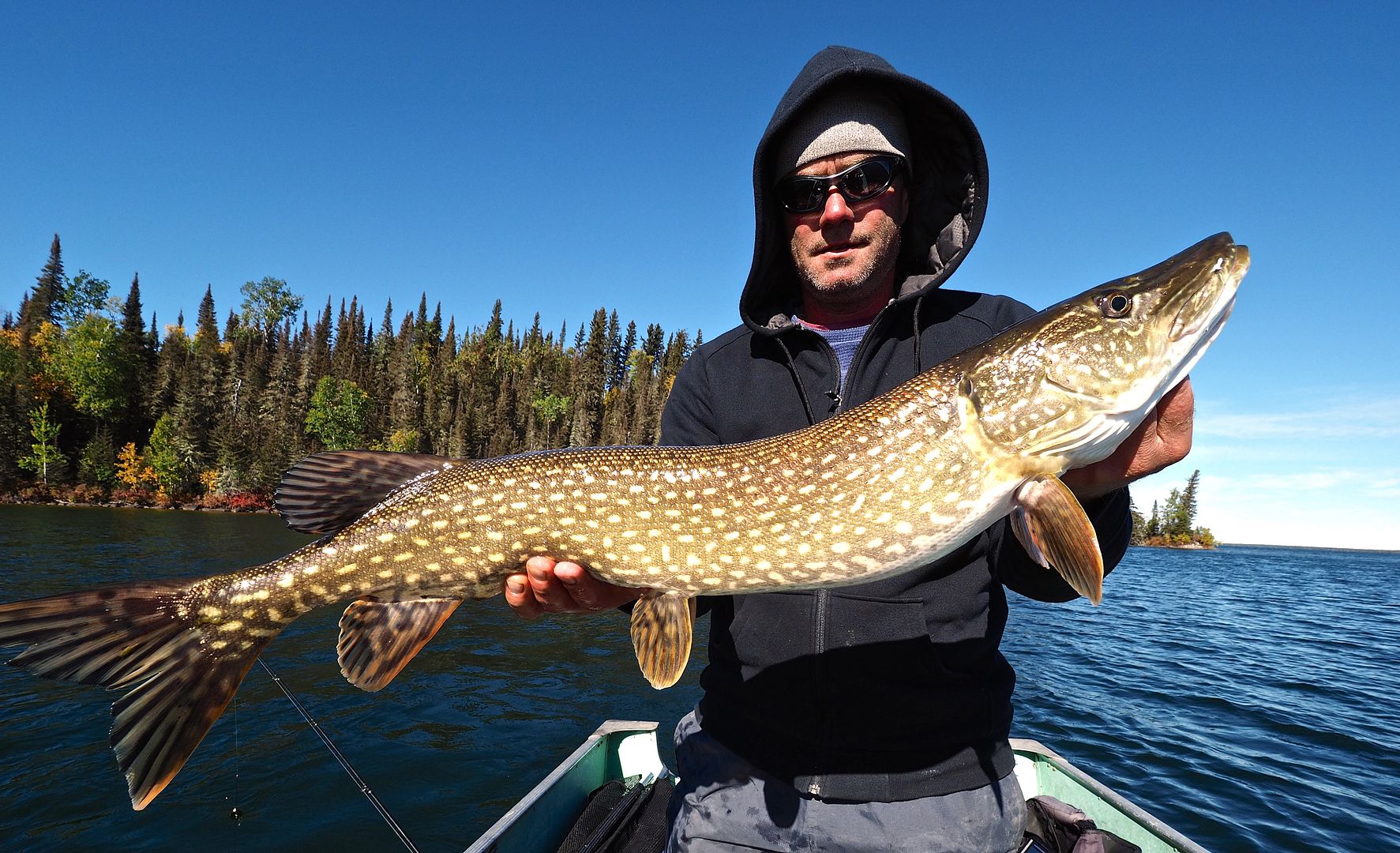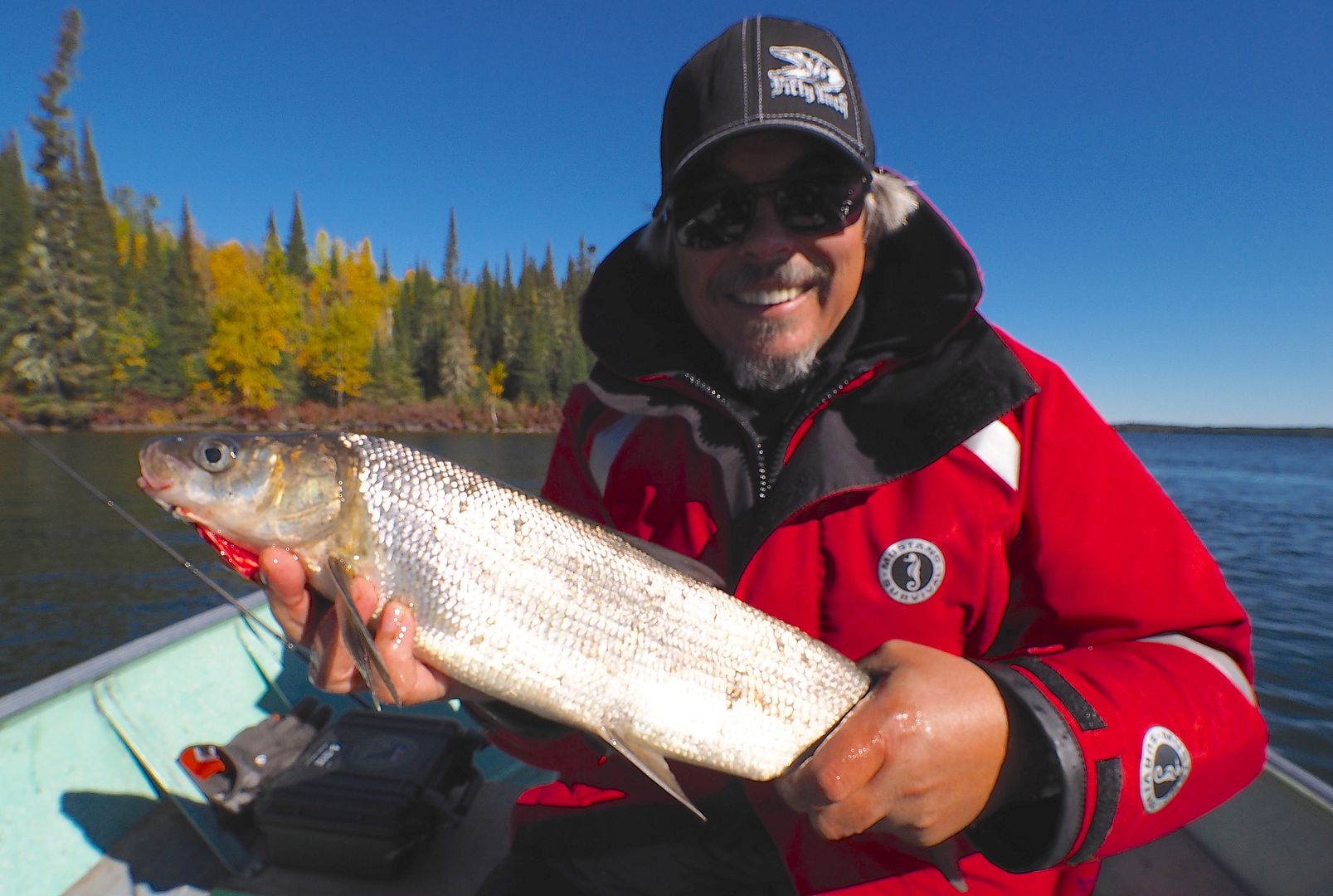 Once again I filmed a short video of the morning's action, check it out!
Onwards To Yelling
Shaun had hauled our gear down to the dock with his ATV and with the bunch of us milling around waiting we finally heard the drone of the float plane shortly after 1pm as it approached from the north.
We had 31/2 days left to fish and after discussing the situation the day before we had opted to spend all of our remaining time at the Yelling outpost. Shaun did suggest also fishing Ney Lake just to the north of Echoing, but we declined thinking we'd maximize our fishing time at one spot. Ultimately it was the right choice, but still, if there's any regret over how this trip unfolded it was not fishing Ney. It's almost as large as Echoing and it has never been fished by anyone. Ney is just one of many virgin lakes yet to be fished, but it will be up to future guests to do the exploration.
Shaun had received notice that Art had bagged his trophy moose the day before and there was a planeload of meat and a pretty impressive rack to unload before we could be on our way. Art was ecstatic and rightfully so when he stepped off the plane. For him it had been the adventure of a lifetime and the culmination of a long time dream…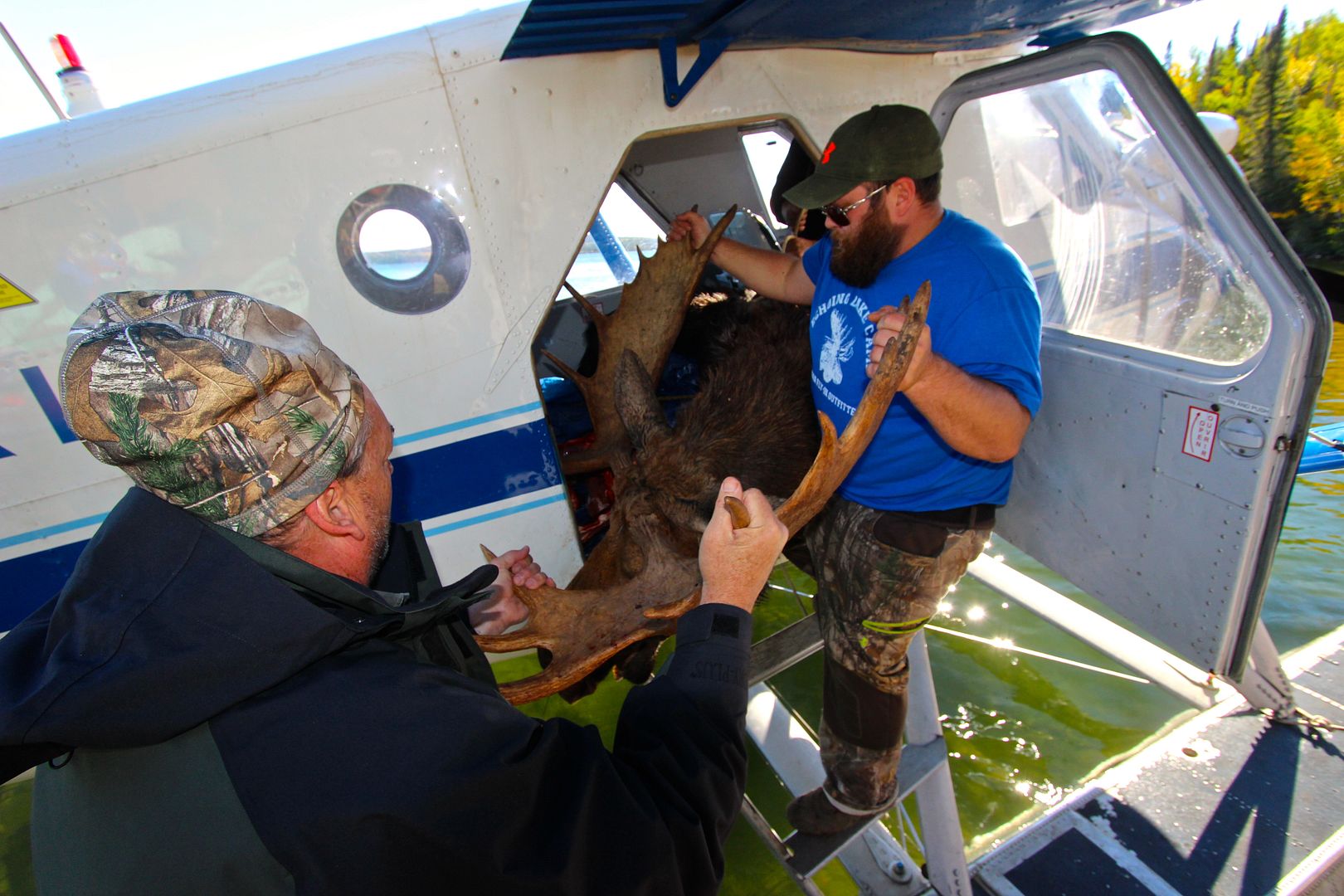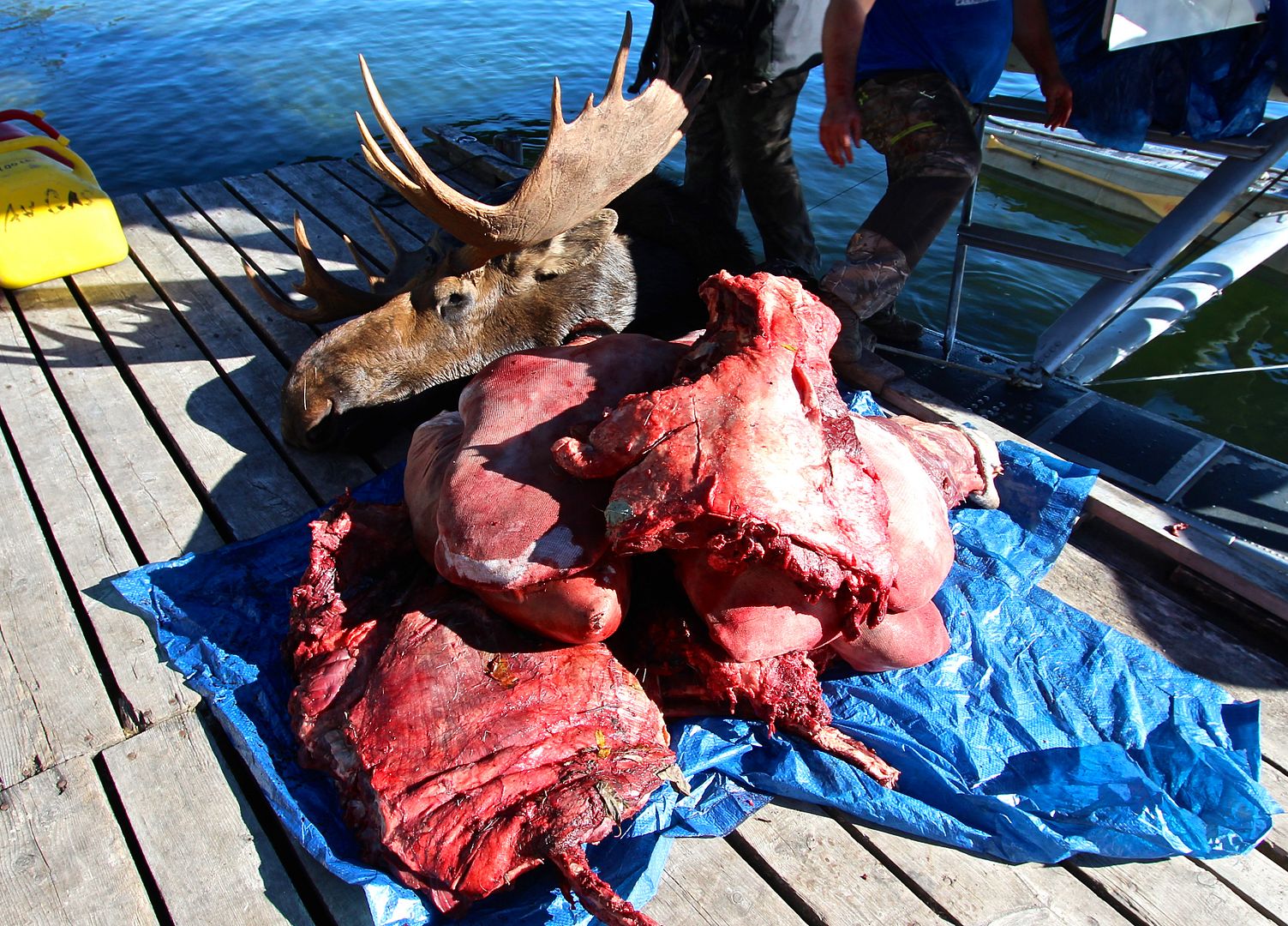 With the sun shining brightly and the fall colors at their peak it was a breathtaking flight to the outpost camp, as always I filmed a short video of the flight, have a look!
The camp, located in a scenic narrows between Yelling and Reider Lake just steps from the water, is like a postcard. An artist couldn't conjure up a more picture perfect spot…
After unloading Chris and Eddie got the boats ready while I filmed this short tour of the camp. As outpost camps go this one is as basic as it gets: one small room, a wood stove for heat, a set of bunks against one wall and a rough table. That's it. I don't mind rustic, and being so remote and so far north, at least for me it lent an air of charm to the entire adventure. We'd be warm and dry and that's all we cared about.
Have a look!
Settling in at camp the only downside occurred when I unzipped my duffle. Back at the main lodge earlier that day Shaun was packing groceries for our trip when he handed me a glass bottle filled with cooking oil. "Hey Mike I'm afraid this might break do you have room in your duffle?" "Maybe wrap it up with something?" Jokingly I said "Yeah right, so it can break inside my bag and cover all of my stuff with oil!" I wrapped it up well and had it surrounded with clothes, sleeping bag and other soft things and guess what? It broke and saturated every single thing in my bag with cooking oil. Live and learn. Of course the other three members of my group found it uproarously funny. "I knew you were a slippery kind of guy" Chris chimed in, "I guess this clinches it!" The rest of the boys laughed while I pulled on my oily boots with plastic bags over my only untouched pair of socks.
By the time we were ready to fish it was kind of late in the afternoon and we didn't stray too far from camp. We caught fish, a mix of smaller pike and walleye all the while marveling at the scenery surrounding us on this radiant autumn evening…
For the first time in days the wind had died down and we were treated to spectacular sunset that night. Looking at the long range forecast thankfully it was calling for perfect weather for the next three days. It seemed as though the tables had finally turned for us…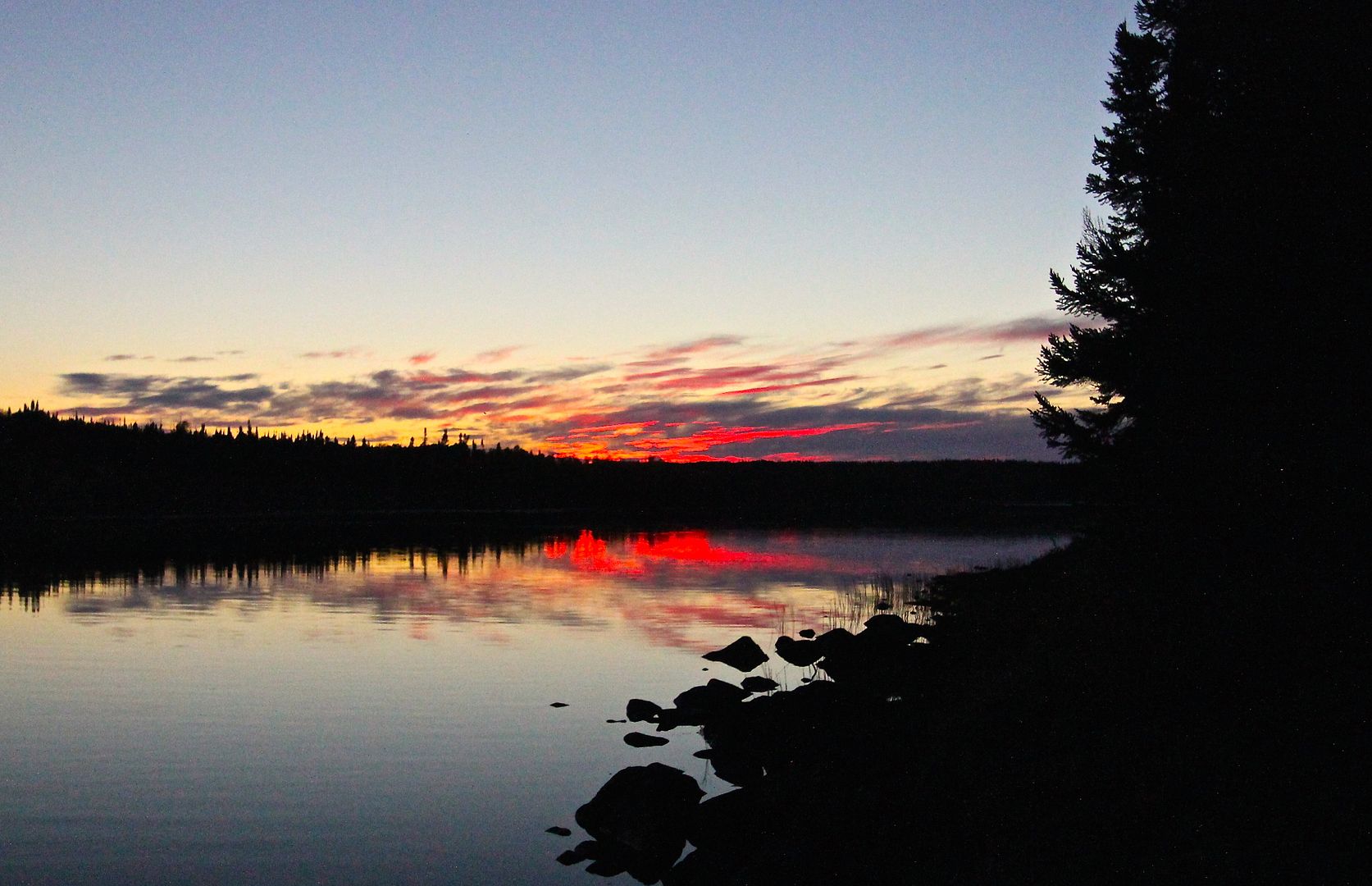 Without a cloud in the sky the temperature dropped fast when the sun sank below the horizon. With the wood stove stoked and humming we were warm and cozy though, especially me as I burrowed deeper into my oily sleeping bag.
Exploration And Success
Up bright and early the next morning we were all anxious to explore the lakes. Wanting to cover as much water as possible the two boats headed in opposite directions. Chris and Eddie south to where the rapids flowed into Yelling Lake, Russ and I north to the outflow of the Echoing River at the top end of Reider Lake.
A little background first on the history of the Yelling outpost. A number of years back Shaun's dad chartered a float plane with one goal in mind: to find some walleye. Echoing is a trout and pike fishery and being a walleye fanatic that situation needed to be rectified. Flying north of the lodge following the Echoing River they spied the heavy rapids pouring into the south end of Yelling Lake and dropped in to check it out. Fishing from the pontoons in the hole below the rapids they caught walleye at will, the vast majority being large thick bodied fish in the 3-5 pound class. Eventually they dropped a boat in there and for a few years they'd fly north for a day of fishing to scratch their walleye itch. In 2012 they built the existing cabin in the narrows now allowing them to stay overnight if they wished, further expanding their opportunities. For any future guests of Echoing Lake Camp it's a fantastic development. You have a wonderfully finished comfortable main lodge to use as a base of operations and a rustic outpost at your disposal if you so wish. It's the best of both worlds, like having your cake and eating it too.
So here's the rub. The Yelling outpost was built with one purpose in mind, to offer guests a crack at some walleye. The few anglers who have fished Yelling did almost all of their fishing below the rapids leaving both lakes still largely unexplored.
The amazing thing is, prior to our trip no one knew there was lake trout in these lakes. Boy did we open a few eyes! But I'm getting ahead of myself here…
Surprisingly Chris and Eddie didn't set the world on fire at the rapids. They caught fish, but no crazy numbers and none of any size. A look at the graph told the story. The pool below the rapids was a good 4 degrees cooler than the rest of the lake. Being late September and post turnover this wasn't surprising at all. Fact is we were the first anglers ever to fish it this late in the season and success or failure would rest squarely on our own shoulders. We'd need to figure things out on our own.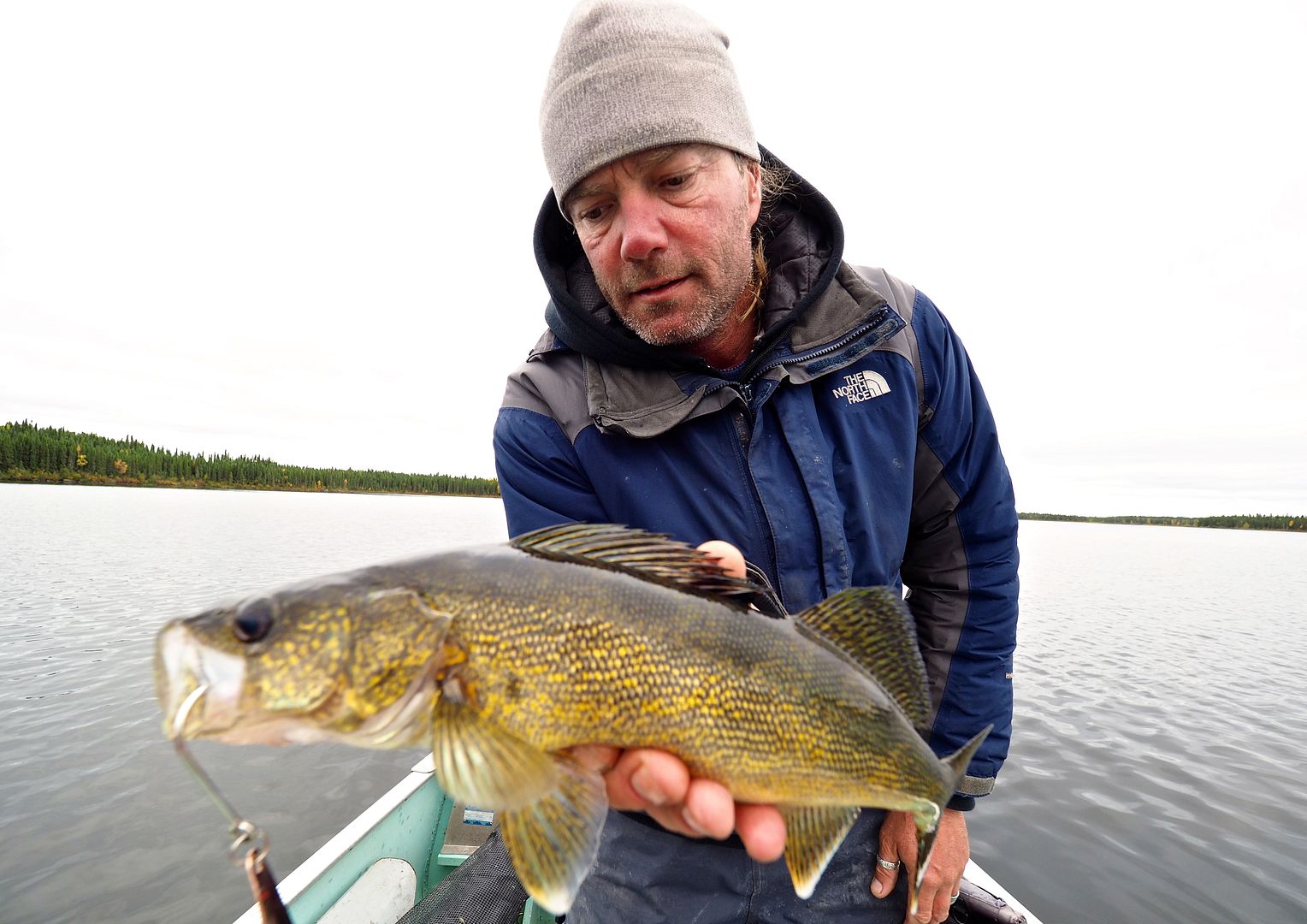 Making our way to the top end of Reider, Russ and I navigated down through two sets of rapids fishing every likely looking spot along the way. The river is navigable for a very long way after the second set of rapids and we traveled as far as we could before coming to pinch point and a churning cauldron of whitewater. At that point we hopped out of the boat and walked downstream to fish on foot. It was wild, untamed country, beautiful beyond belief.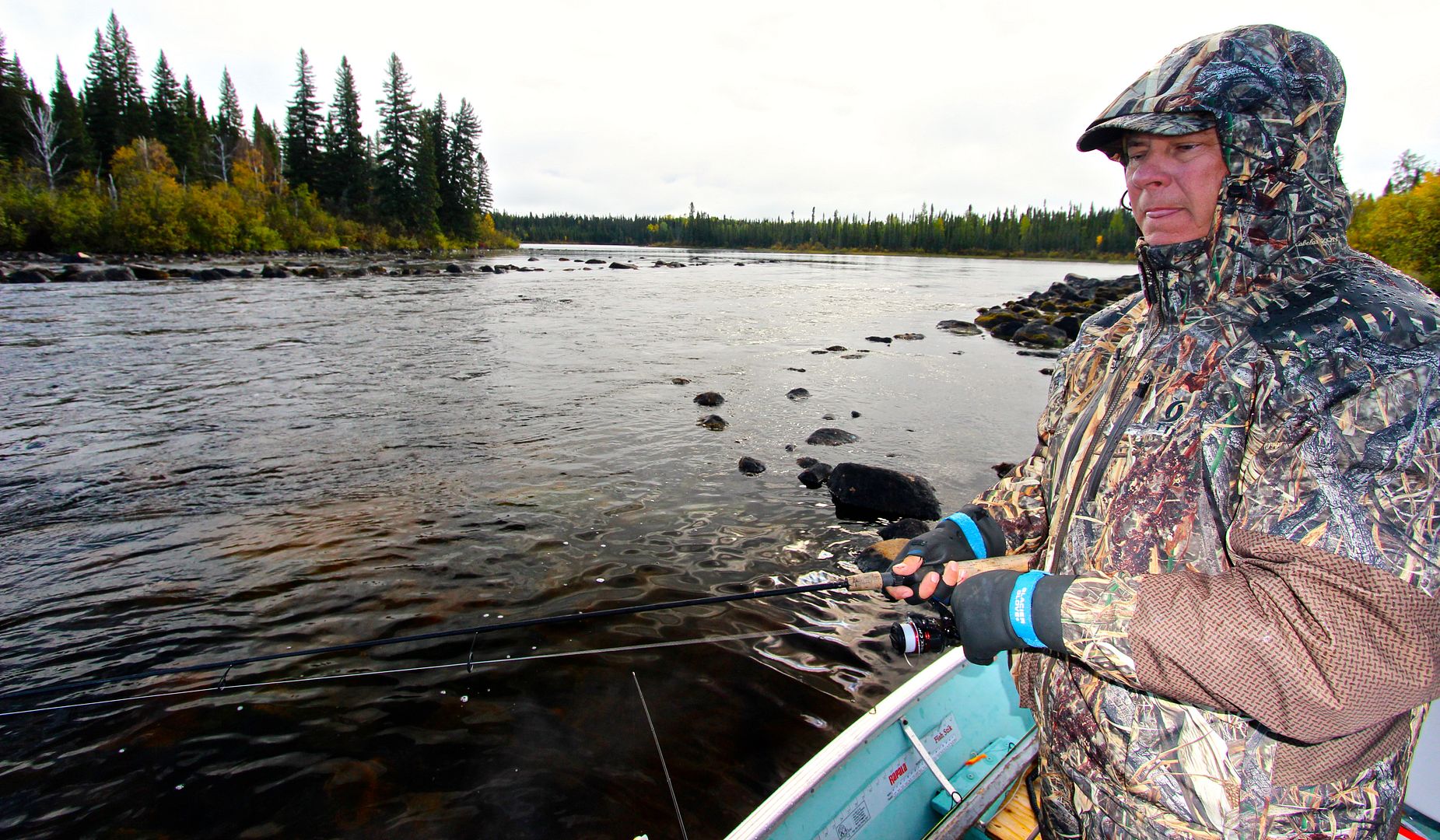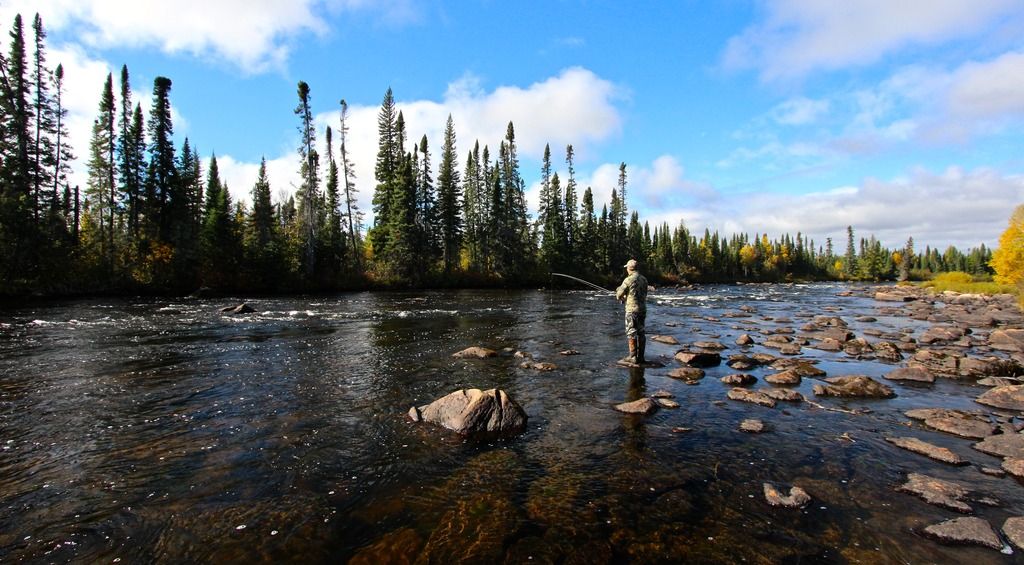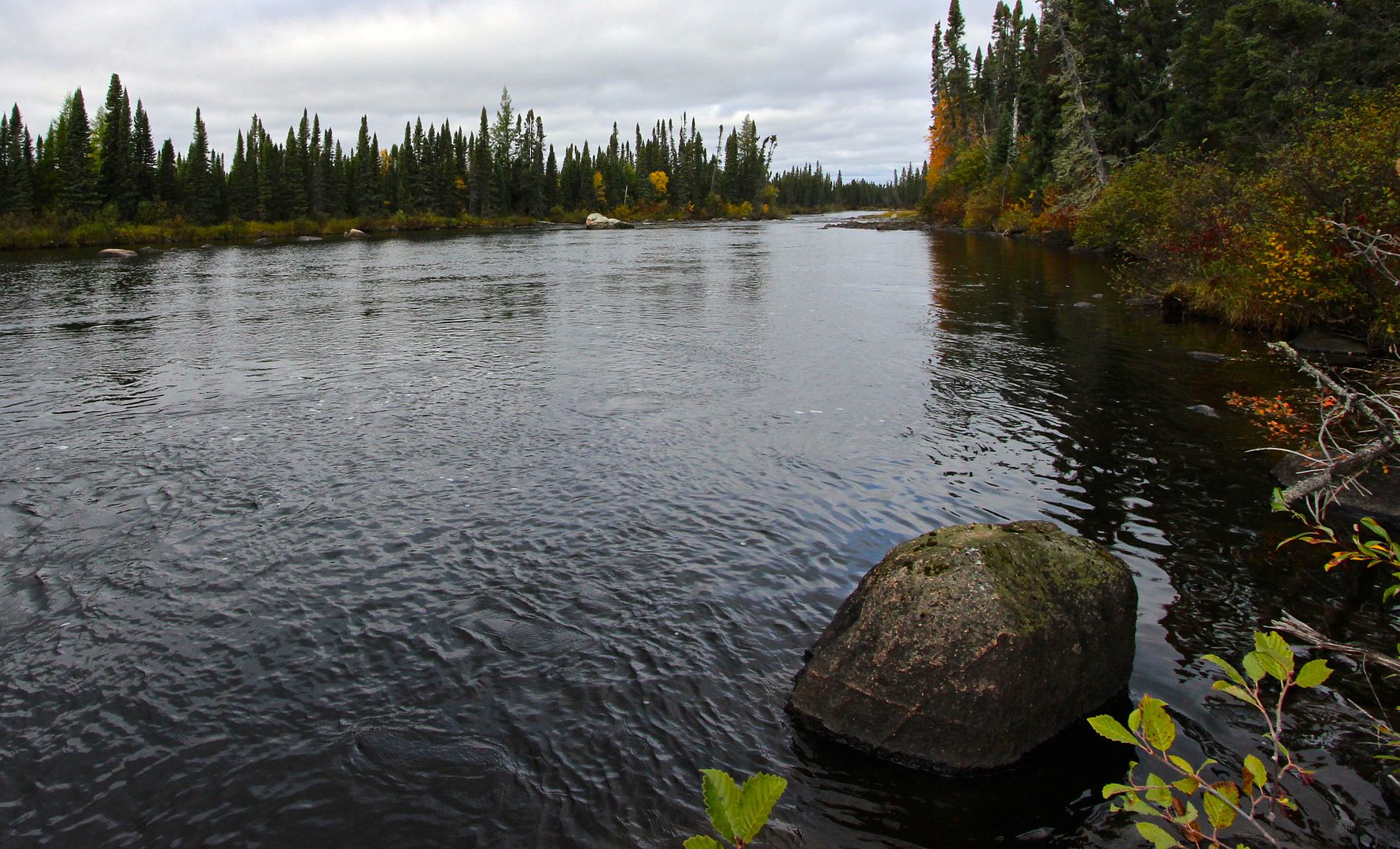 I filmed a short video, check it out!
There were rumours of brook trout in the Echoing River and frankly we were very surprised we didn't catch any. That said when it's spawning time they'll often stack up in the oddest spots, not always where you'd think. My guess is all of those beautiful pools we fished would have trout in May and June. Again, it'll be up to future guests to find out.
We did catch a number of smaller walleye and pike, but just like Chris and Eddie nothing of any substance.
Around midday we worked our way back upstream to the lake and began to break things down. Not far from the river's outflow there's a well defined narrows and a cluster of small islands. Fishing there with jigs and plastics we began to catch walleye hand over fist. Not long into it the boys showed up and joined us and very quickly all four of us were into fish.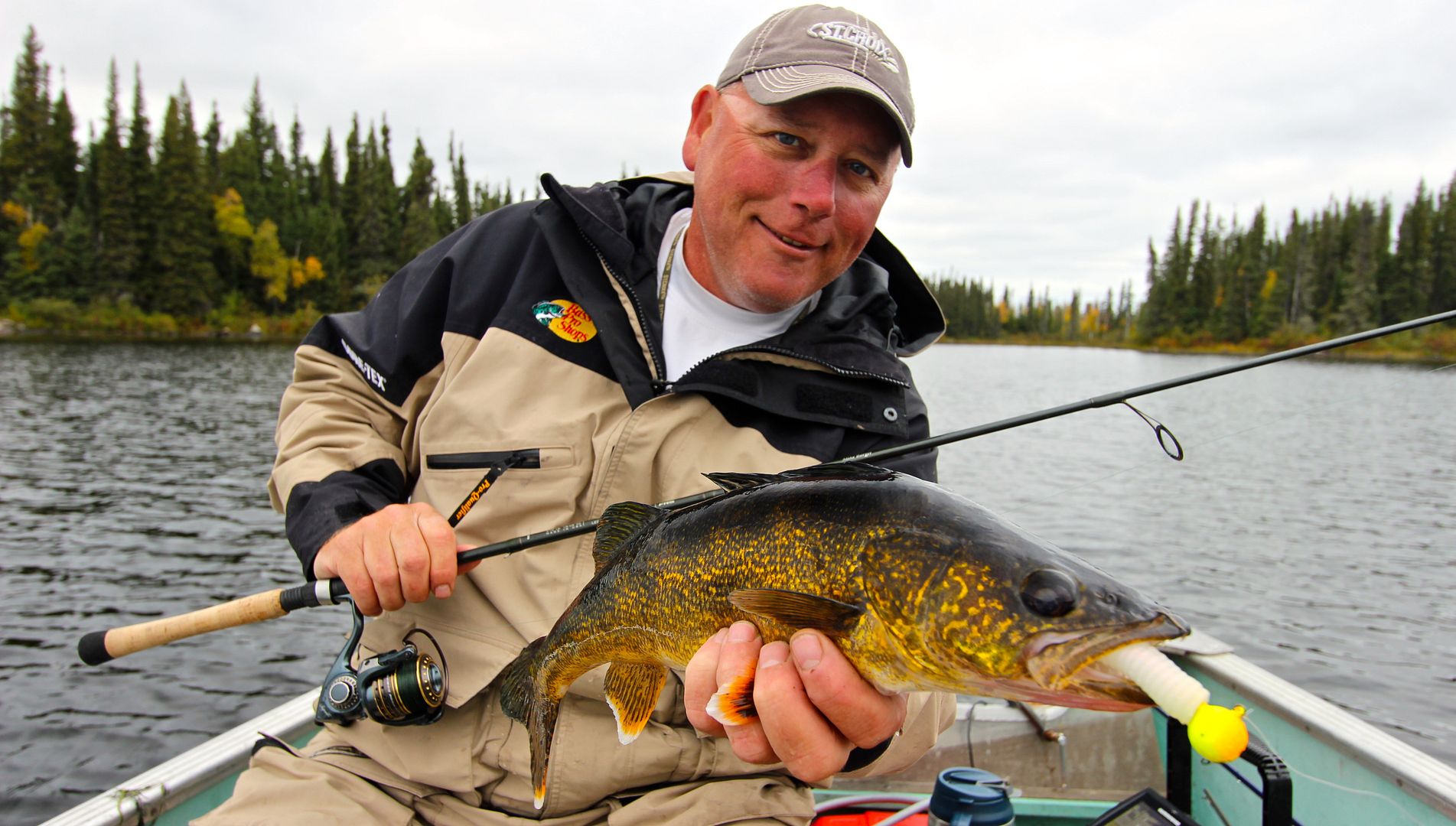 Check out the video, it was pretty crazy action!
Late in the afternoon Russ and I left the boys and began to work our way back towards camp. We'd stop at any likely spot trolling crankbaits to cover water quickly and caught fish everywhere.  The narrows between the two lakes close to camp was stacked with fish and we caught quite a few as we trolled leisurely back towards the cabin. In certain spots the graph was just black with fish and I really thought we were onto something. Have a look at the video…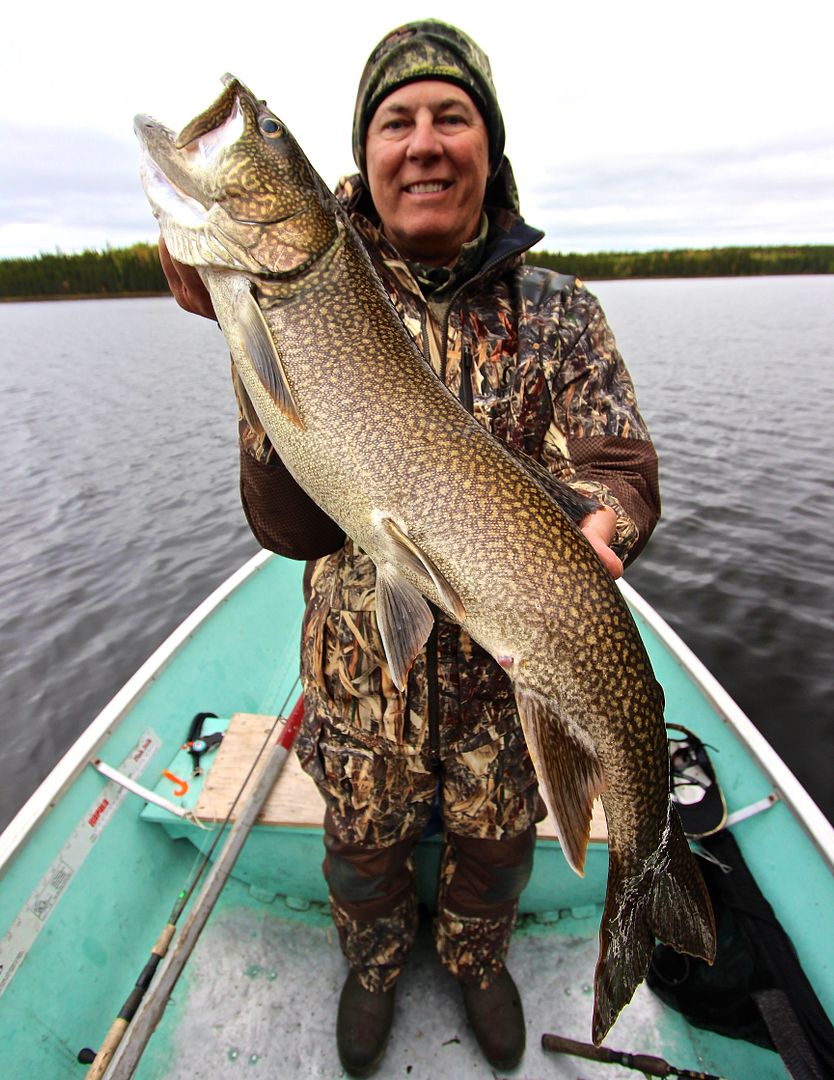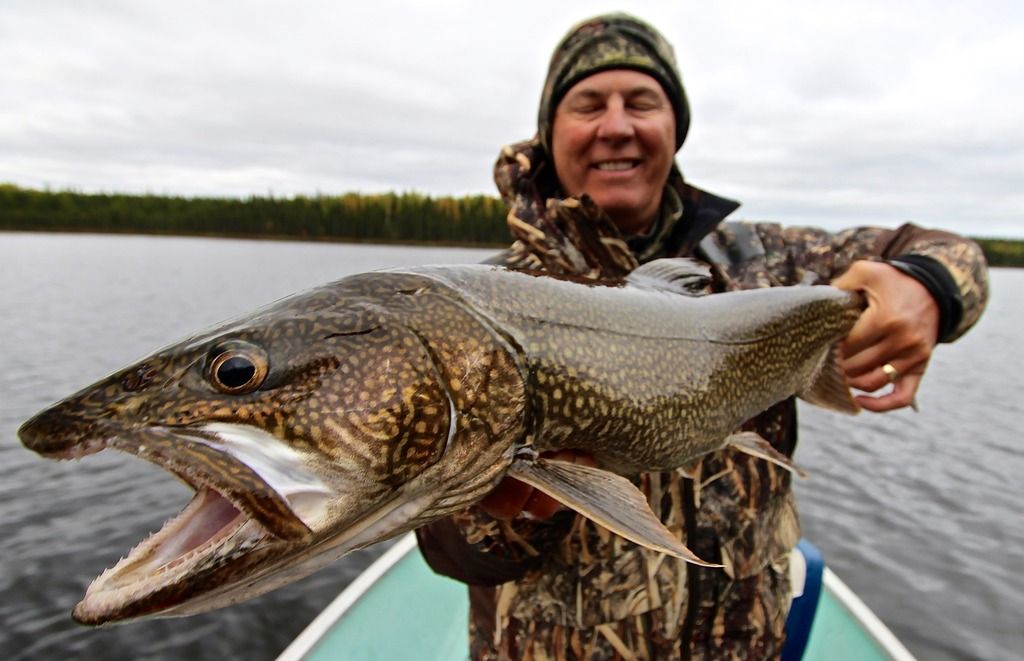 Back at camp Russ got a fire going while I puttered around preparing dinner, all the while wondering where Chris and Eddie were. We'd left them at the narrows three hours earlier and figured they'd have been back by now. Finally just as the last rays of sun were sinking behind the hills they puttered up to the dock and tied off with wide grins on their faces. "Guys" Chris said breathlessly "you won't believe what we found!" Do tell.
"After you left we were fishing our way back to camp and found a killer spot for trout!" "We caught over dozen on consecutive casts" Eddie chimed in, "the biggest was probably 15 pounds!"
Heading south back to camp Russ and I had chosen to fish the much rockier and more interesting looking western shore. Those guys chose to fish the eastern shore and it was a good thing they did. All the credit goes to them because it's unlikely I'd have fished this innocuous little stretch of shoreline. Blindly, they'd stumbled upon a virtual motherlode of lake trout spawning in the rocky shallows…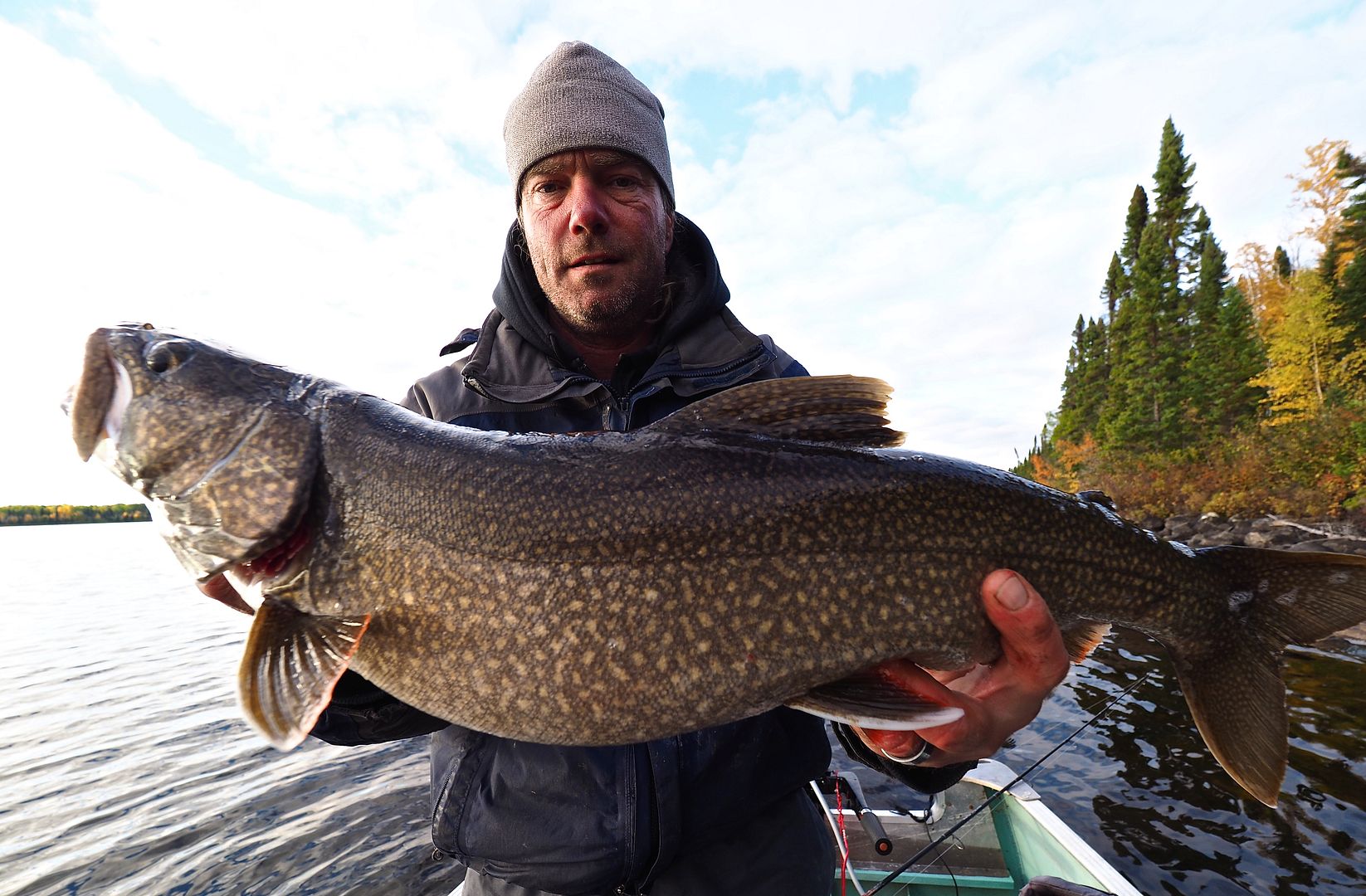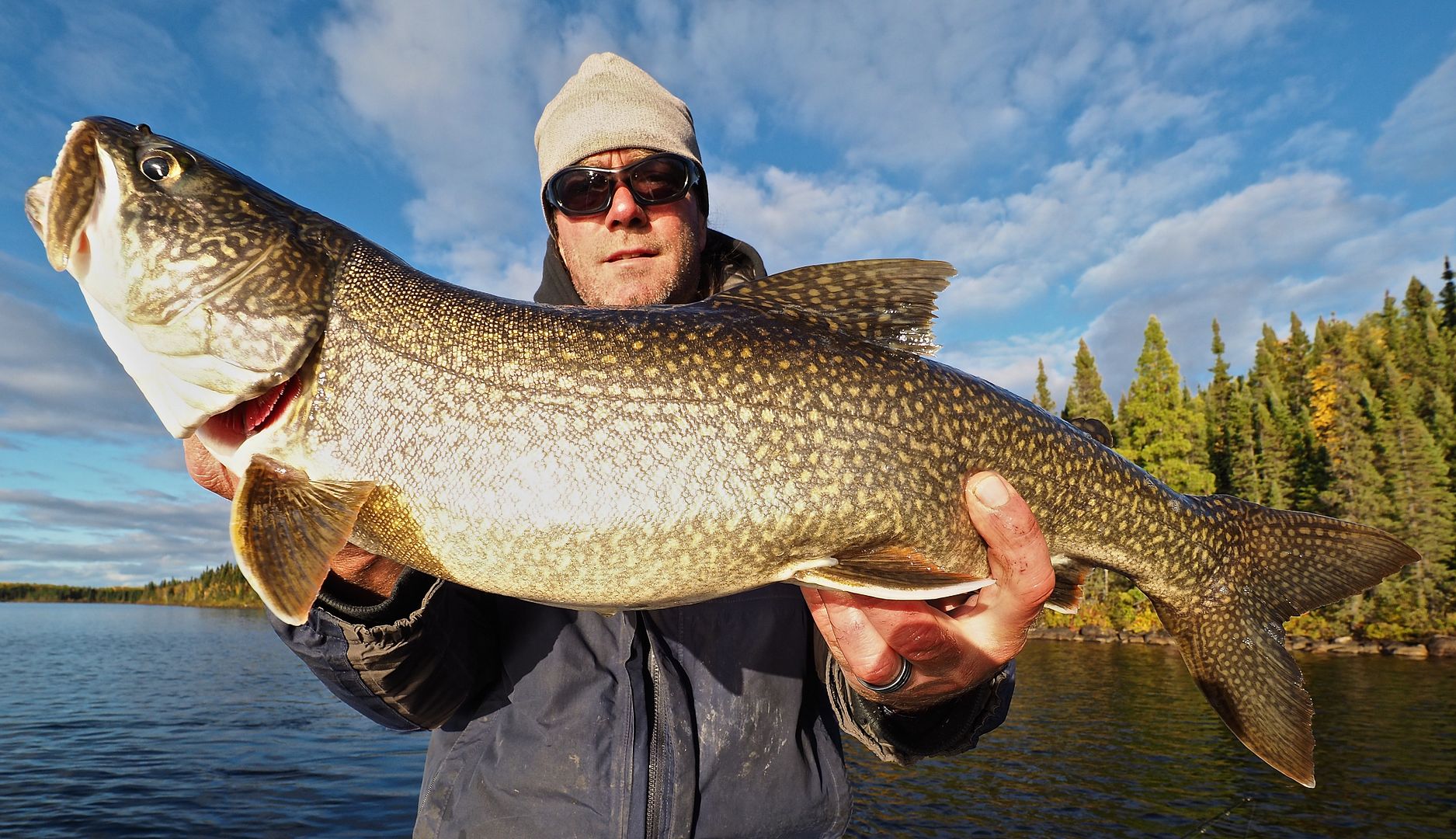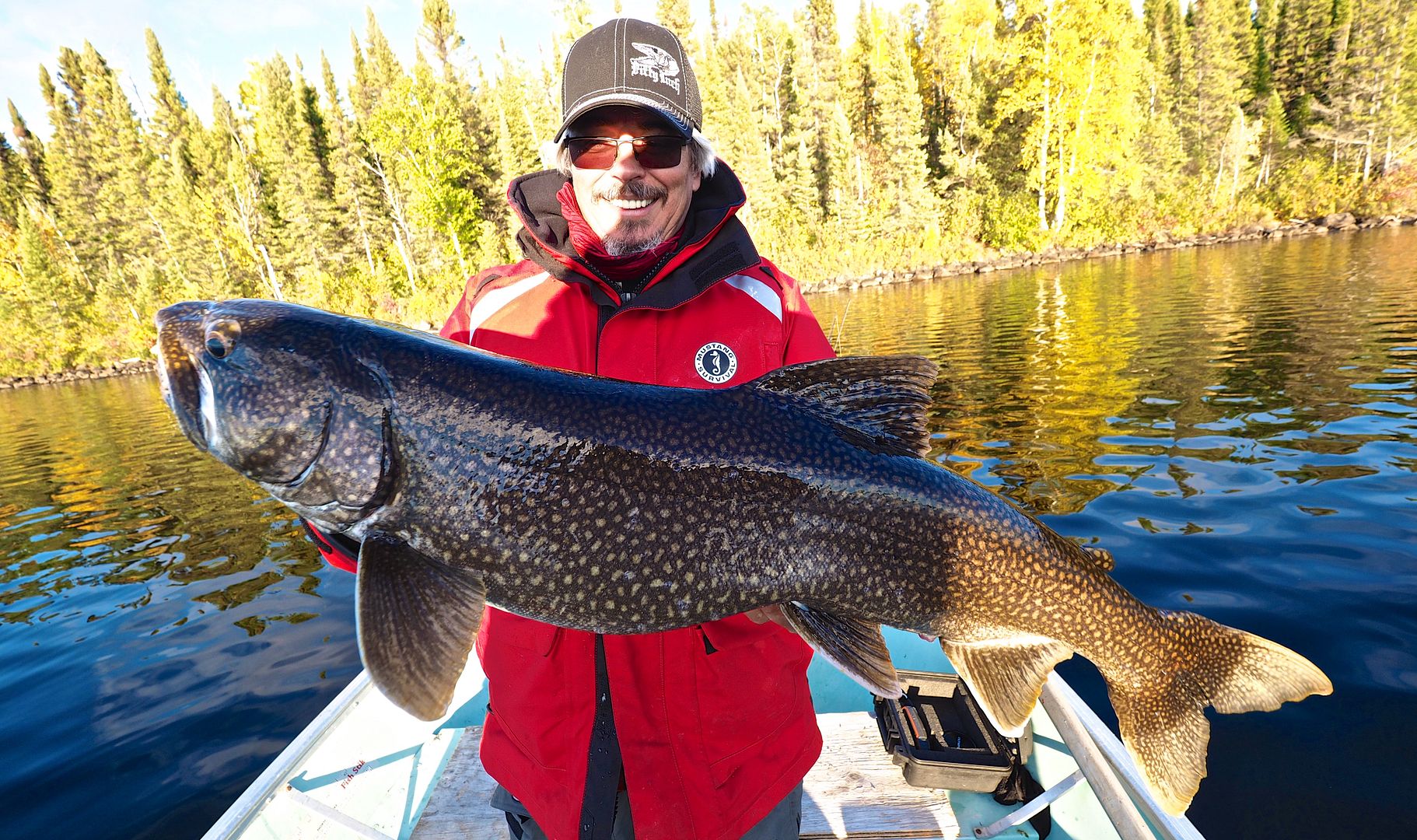 There was one more incident of note on this day. With dinner started the boys busied themselves with the task of starting a campfire, leaving Russ and I with some time kill. Hopping in the boat we pushed off from shore and dropped our jigs to the bottom for 15 minutes of leisurely fishing before dinner. Almost instantly I hooked a nice fish and my light rod was bent double under the strain. Right at the boat my line went limp and the fish was gone – my knot had failed. Nonetheless it made for a fun little video, have a look!
Lesson learned, next time I won't be so careless tying my knots…
An Expectant Air
Up early again the next morning, but this time with a palpable air of expectance, we were greeted with another stunning sunrise. Once again it had been a chilly night and waves of mist billowed off the water in the cool morning air.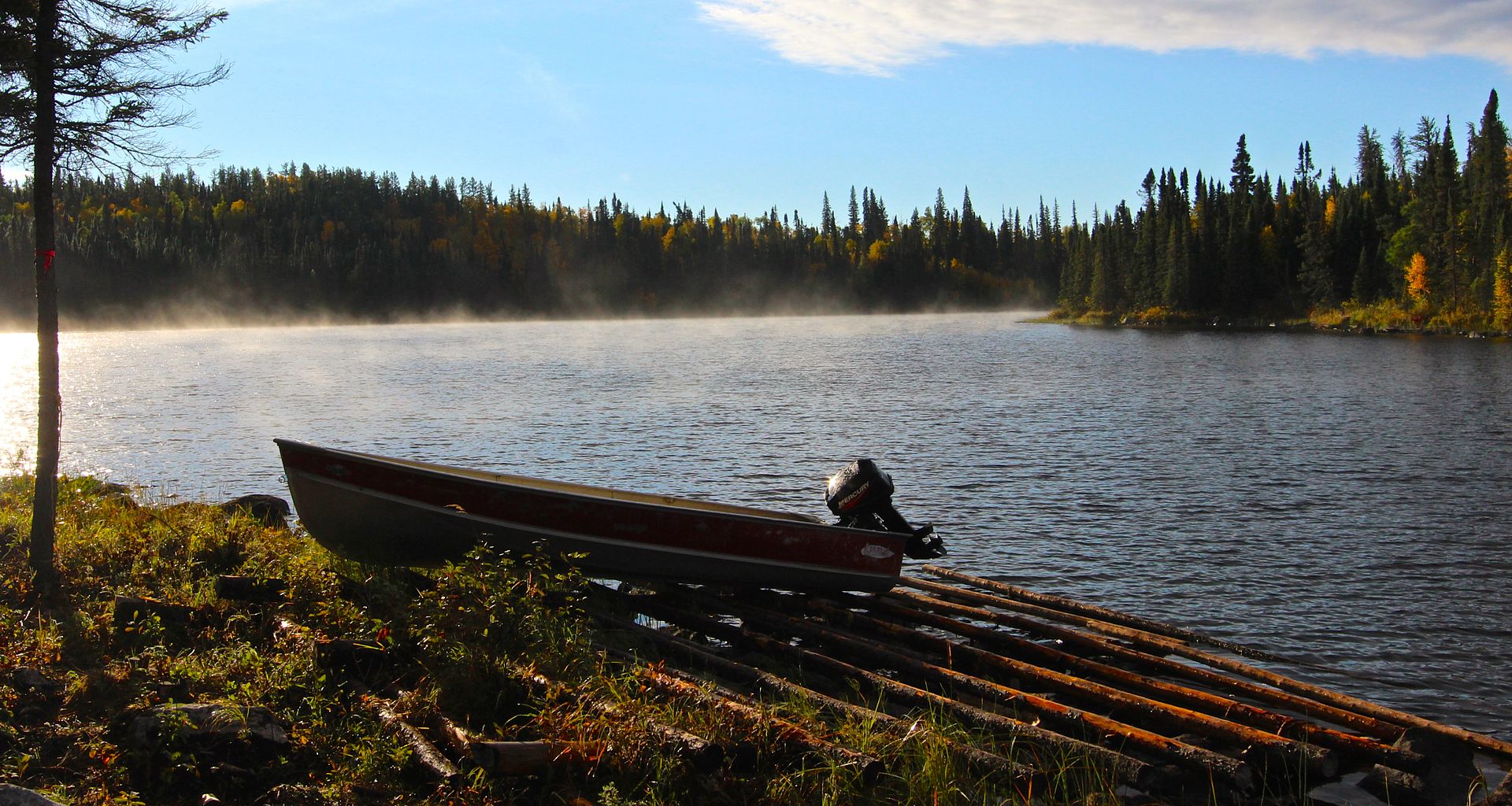 All four of us were anxious to fish the spawning shoal the boys had found the previous evening, but before we did that something needed to be struck off the list. Russ and I hadn't seen the Yelling rapids yet so it was decided both boats would head there first fishing along the way. Then we'd turn our attention to the trout.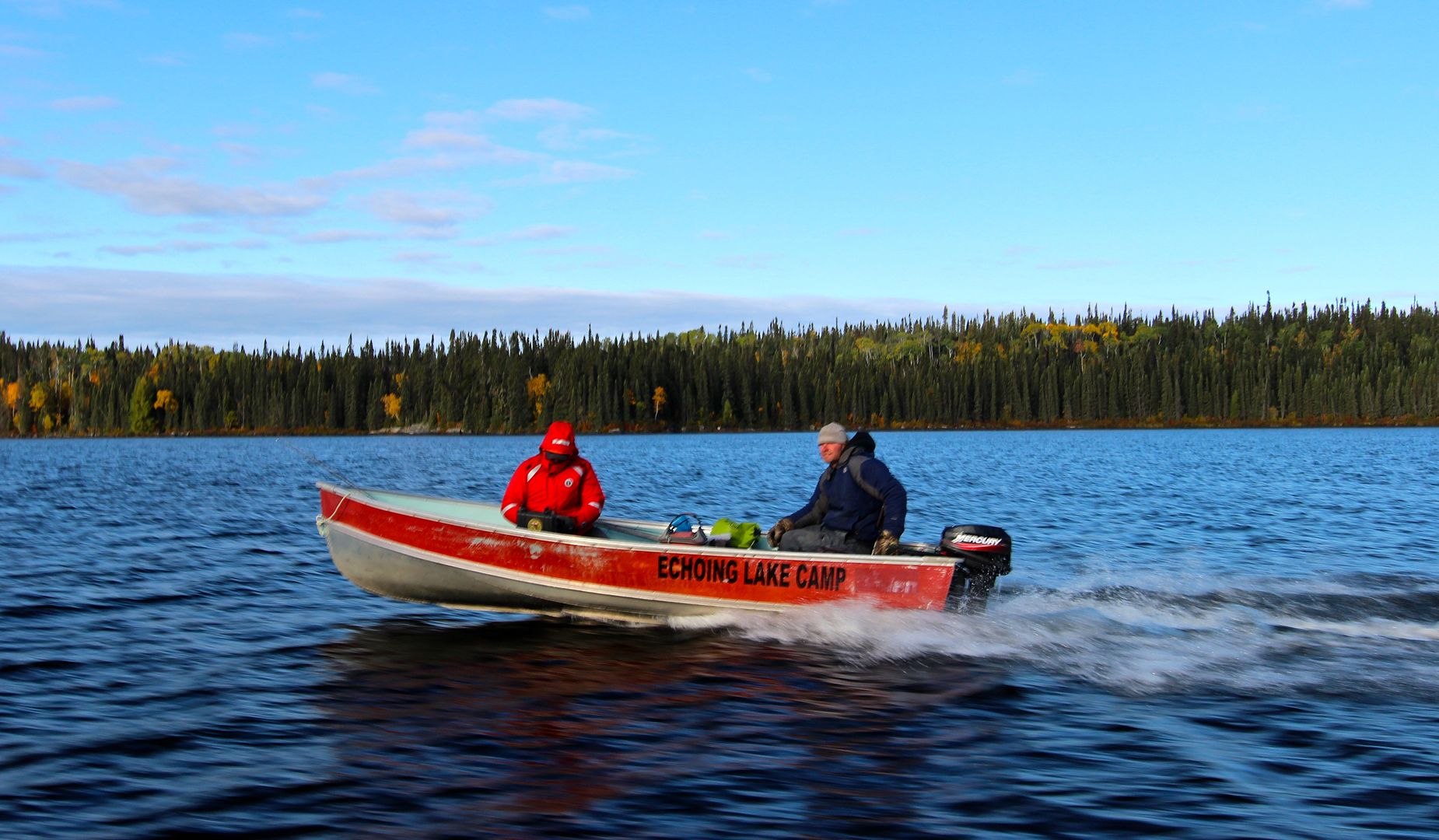 About halfway down the lake we stopped and began to troll and jig every likely looking spot en route to the rapids. While we didn't set the world on fire, the fish, especially the walleyes, were noticeably larger. The only issue was they were scattered all over the place which honestly is common in the north post turnover. Still, it was a ton of fun!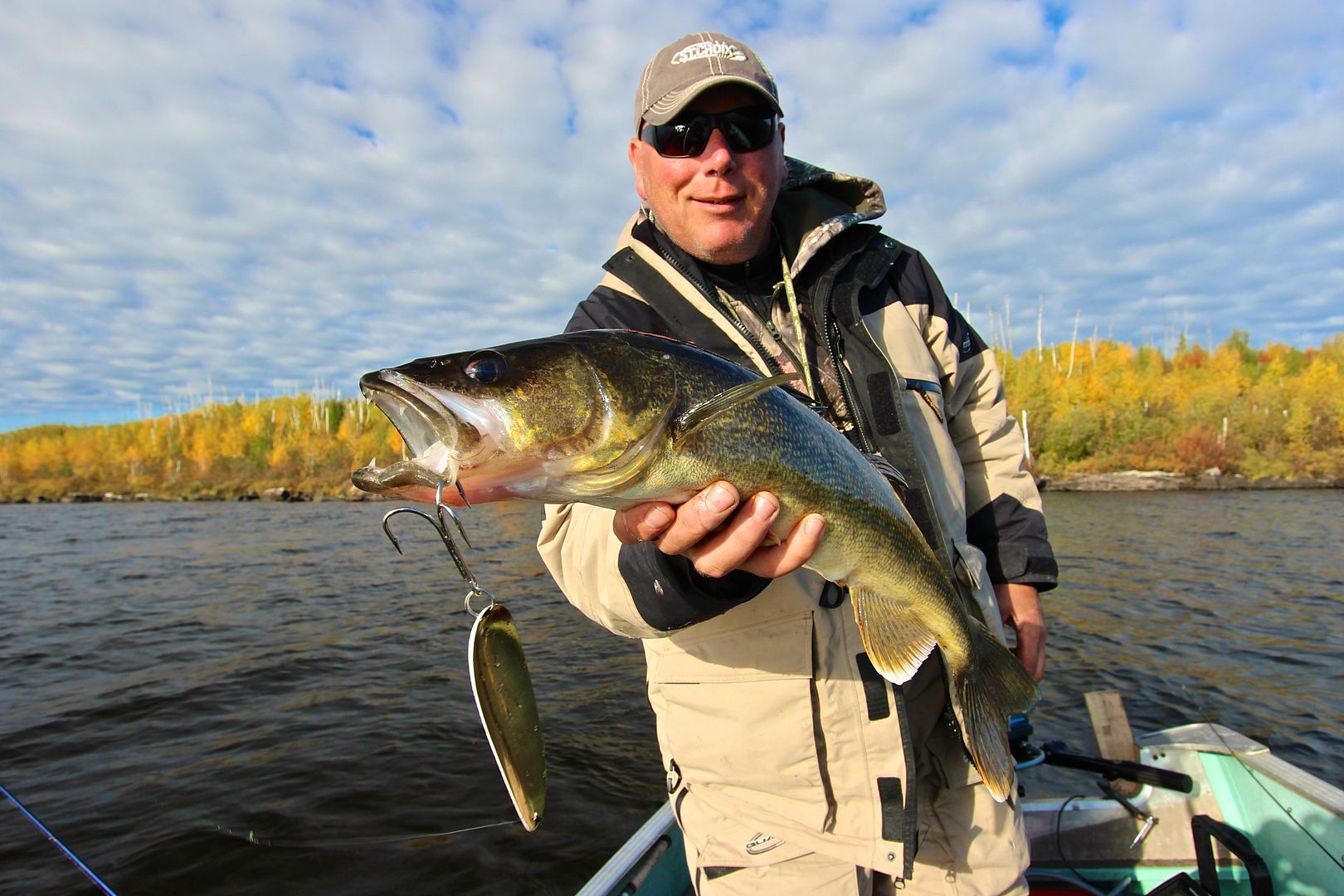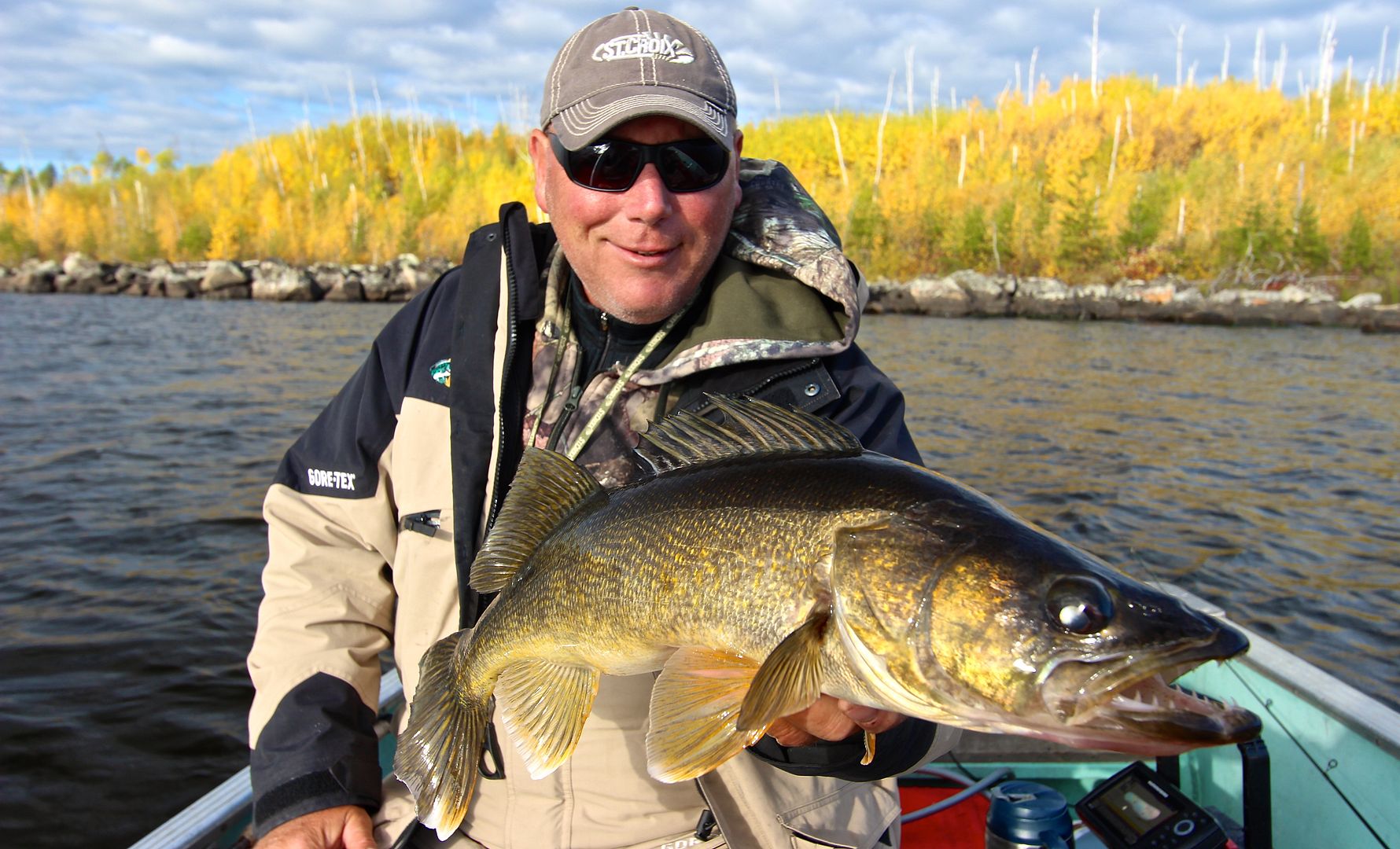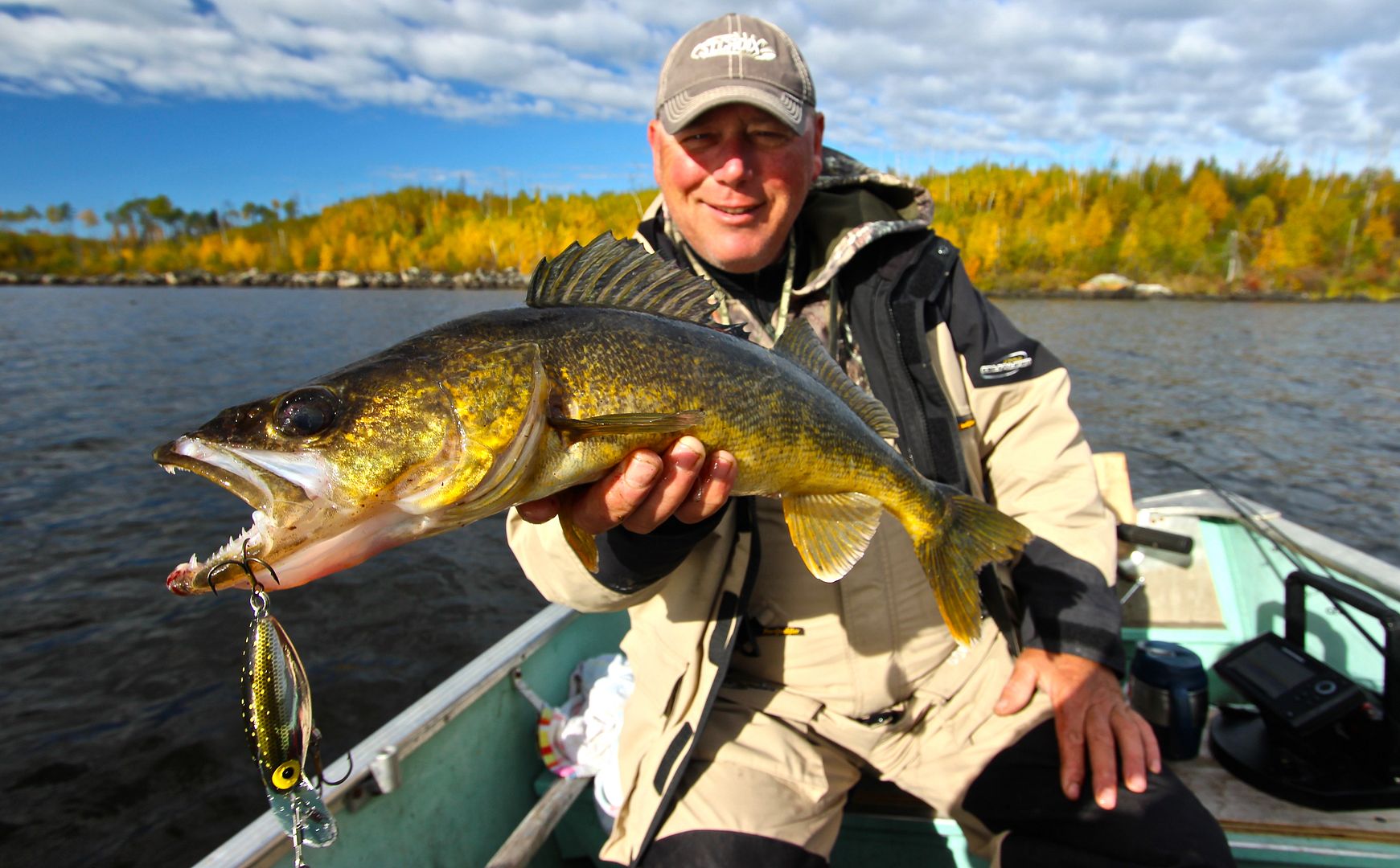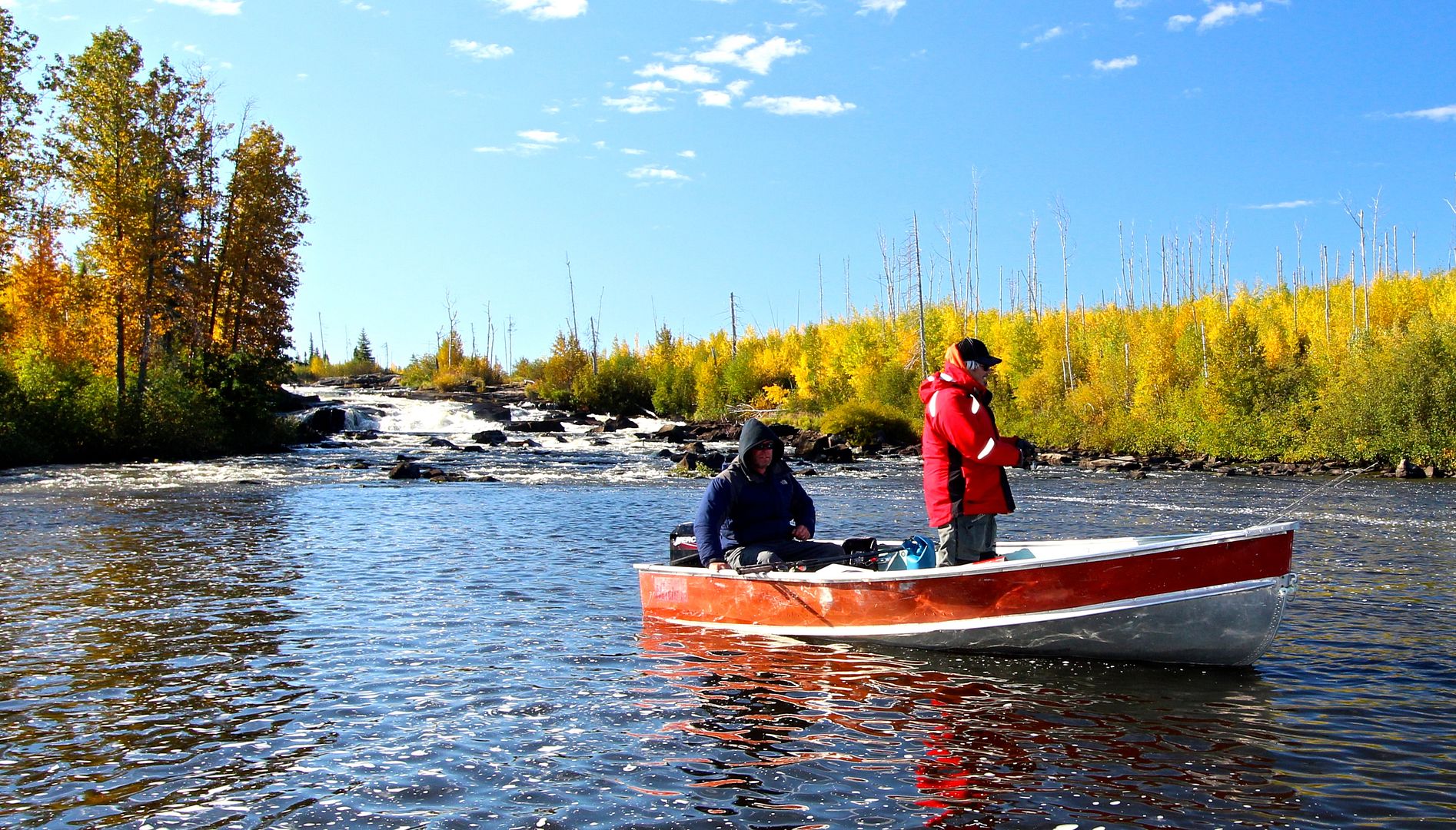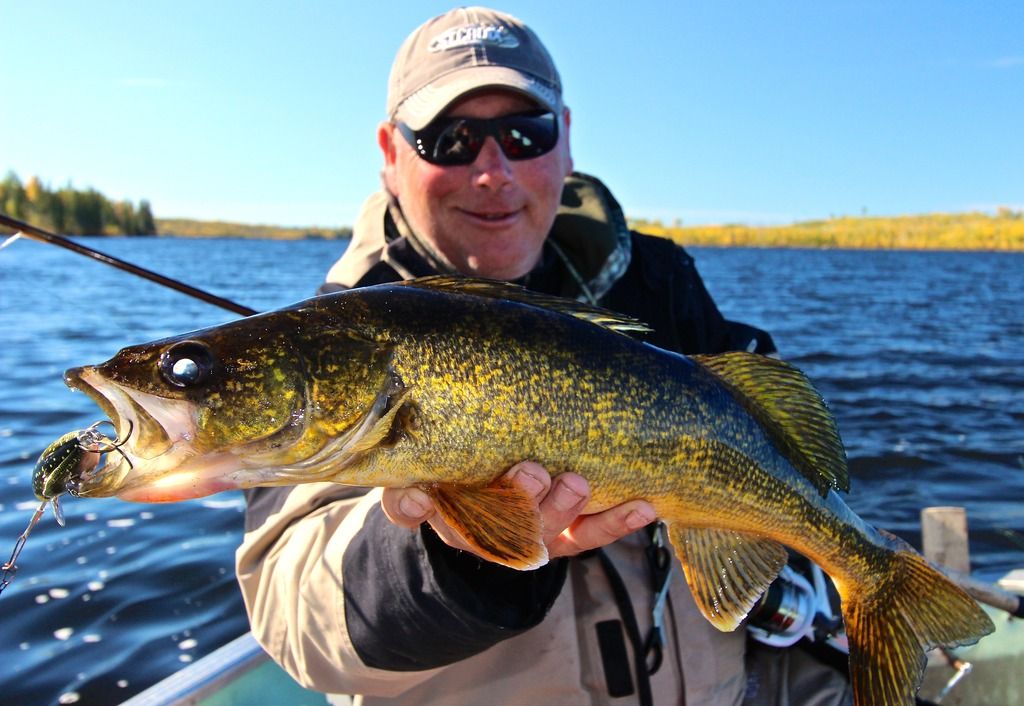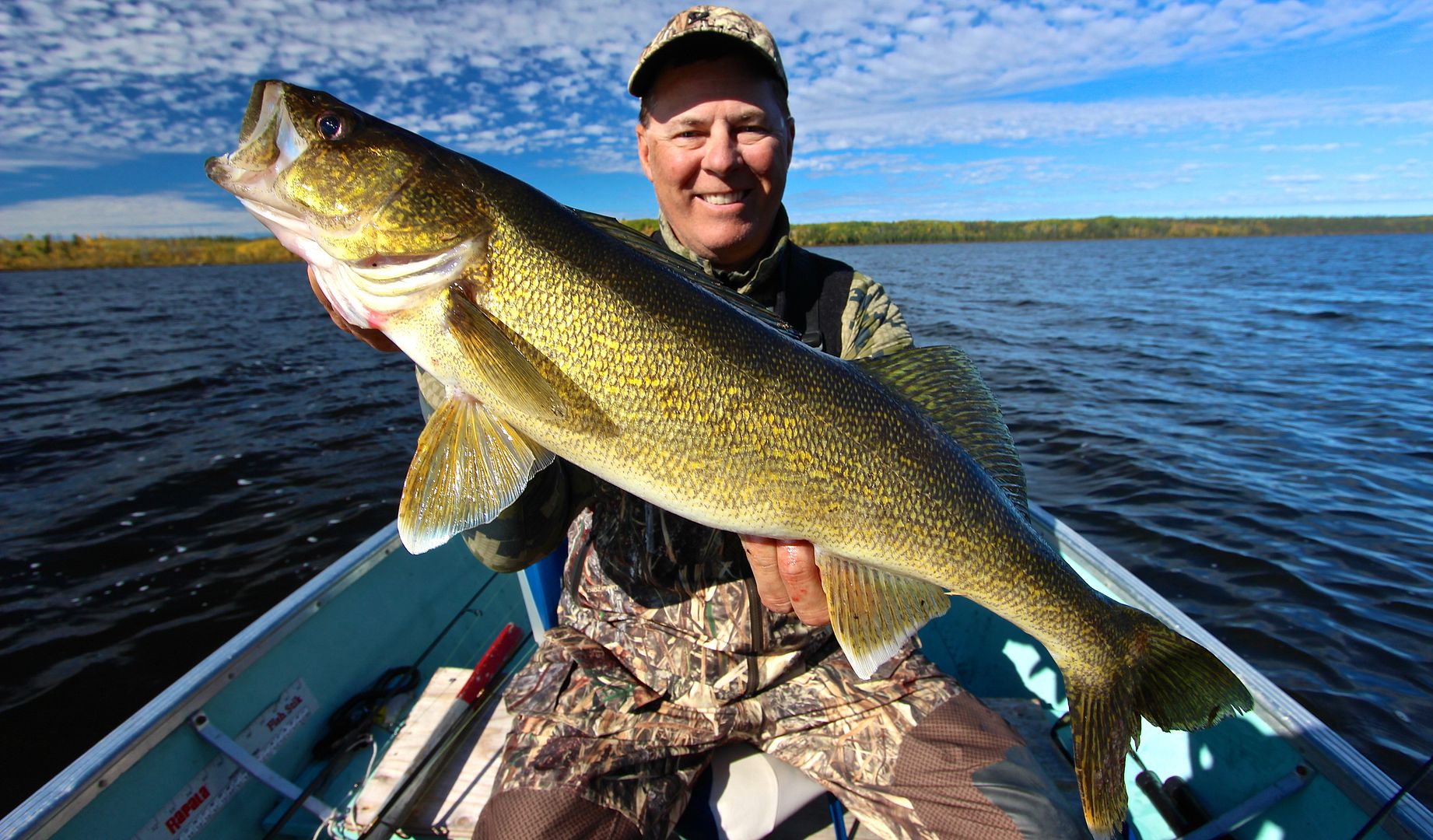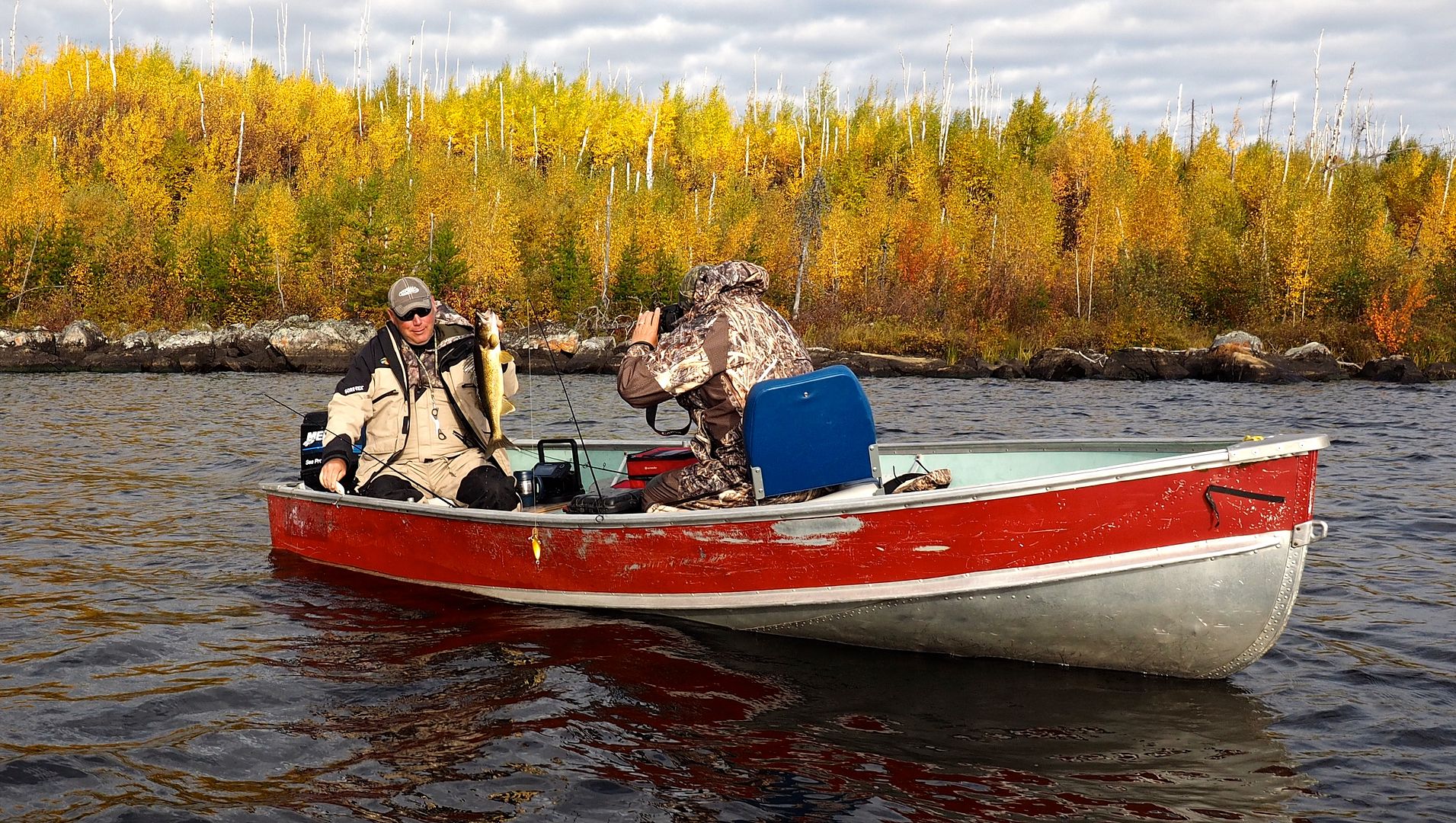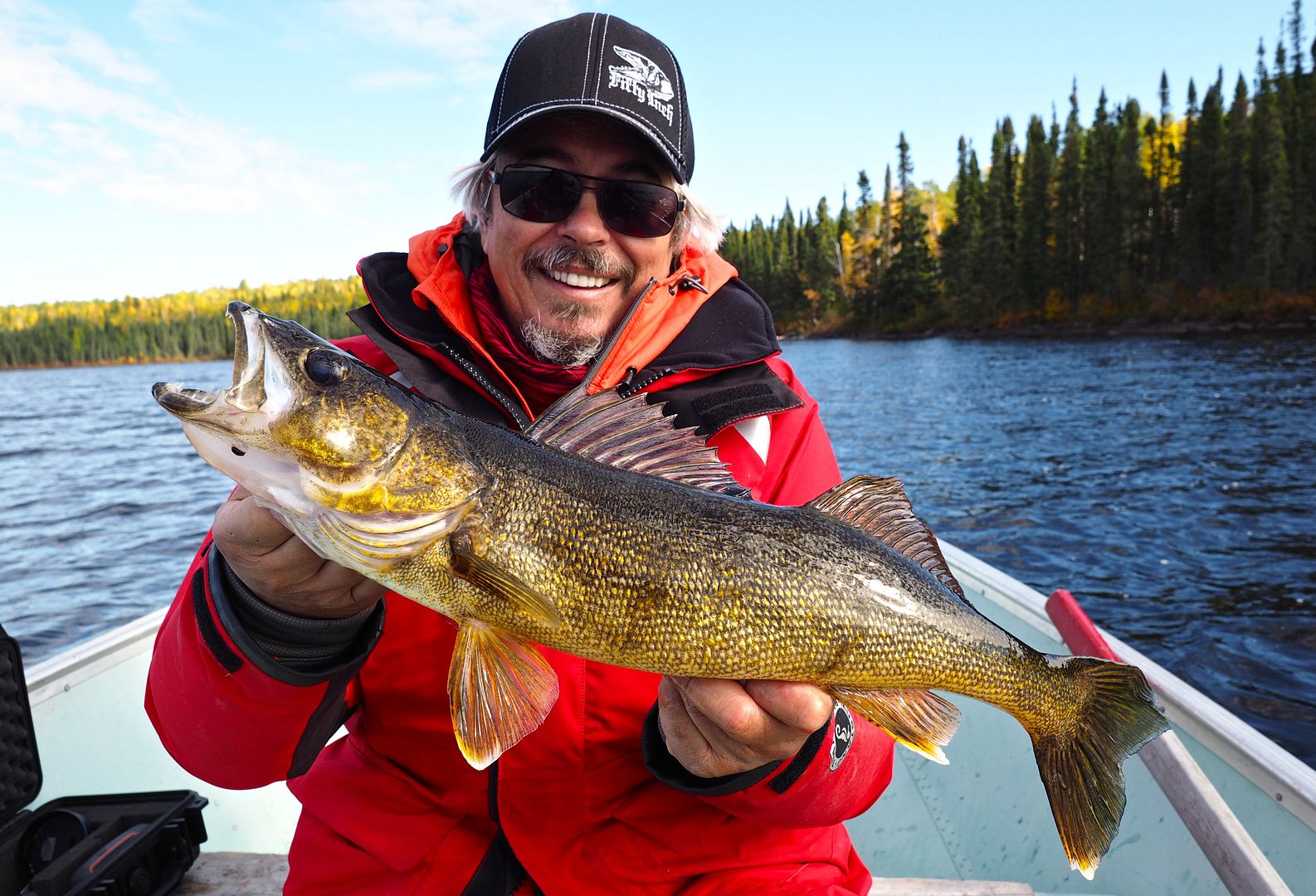 Check out the video, it paints a far clearer picture than mere words can express…

With that little chore out of the way it was now time to fish for lake trout. Not unlike the crazy pike action on Echoing, what ensued was easily the best 11/2 days of trout fishing I've ever experienced in my life…
Sunburns And Sore Arms
Following Chris and Eddie they stopped alongside a completely nondescript stretch of shoreline roughly 2/3 of the way up Reider Lake on the east side. "Here?" I yelled over to them. The question was answered instantly as Eddie hooked a fat trout within seconds. Alright then.
Above the surface there was nothing in particular that stood out, no points, no rocky outcroppings, no steep bluffs, but it's what lay beneath the surface that made it special. A 10-15 foot shelf laced with perfectly sized boulders, rocks and gravel extended out from shore a good 50 to 100 yards before dropping quickly into deeper water. The funny thing was they thought the spot they'd pinpointed was small and isolated, but it wasn't. It soon became clear that the spawning shelf ran for almost half a kilometre and every inch of it was stacked with trout. Again I'd love to explain how our incredible skill and savvy choice of lures tricked the fish into hitting, but I can't. There was no skill required here at all, these fish would hit virtually anything…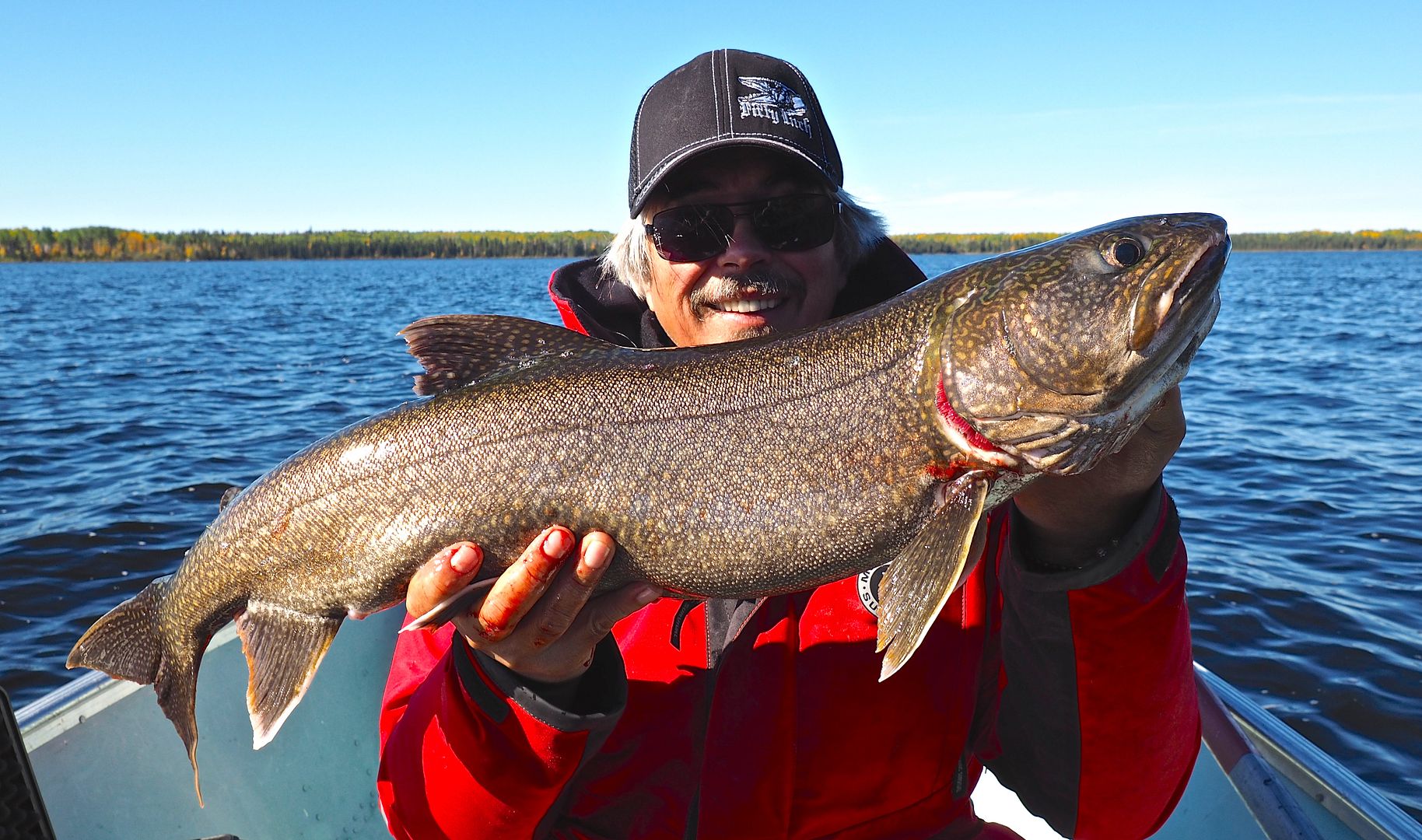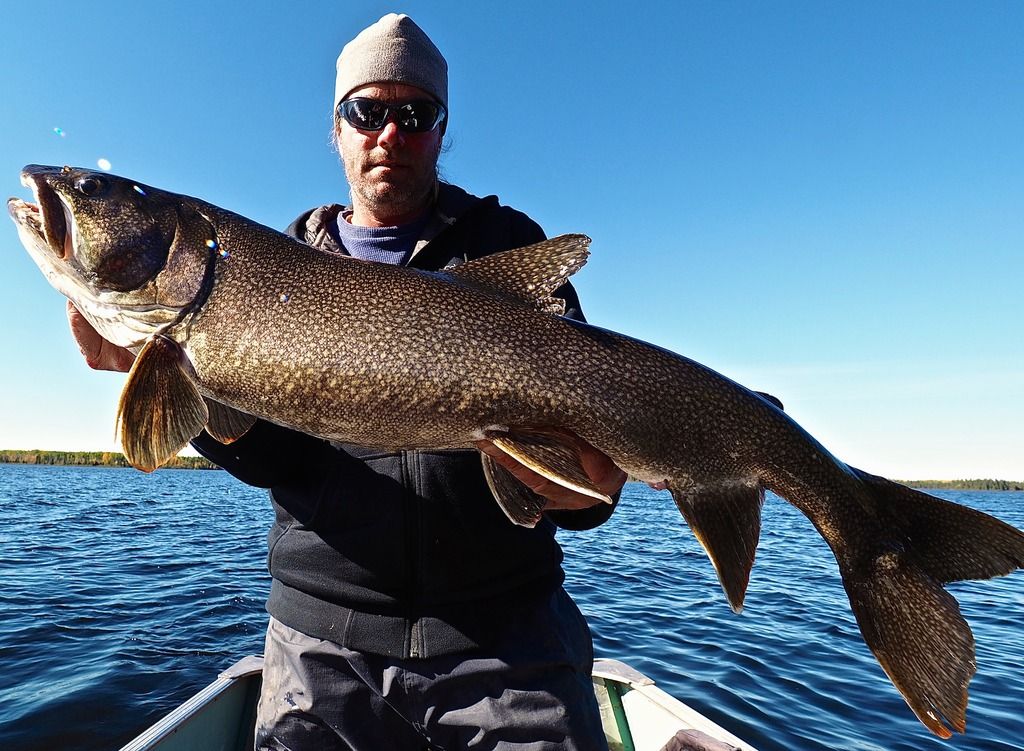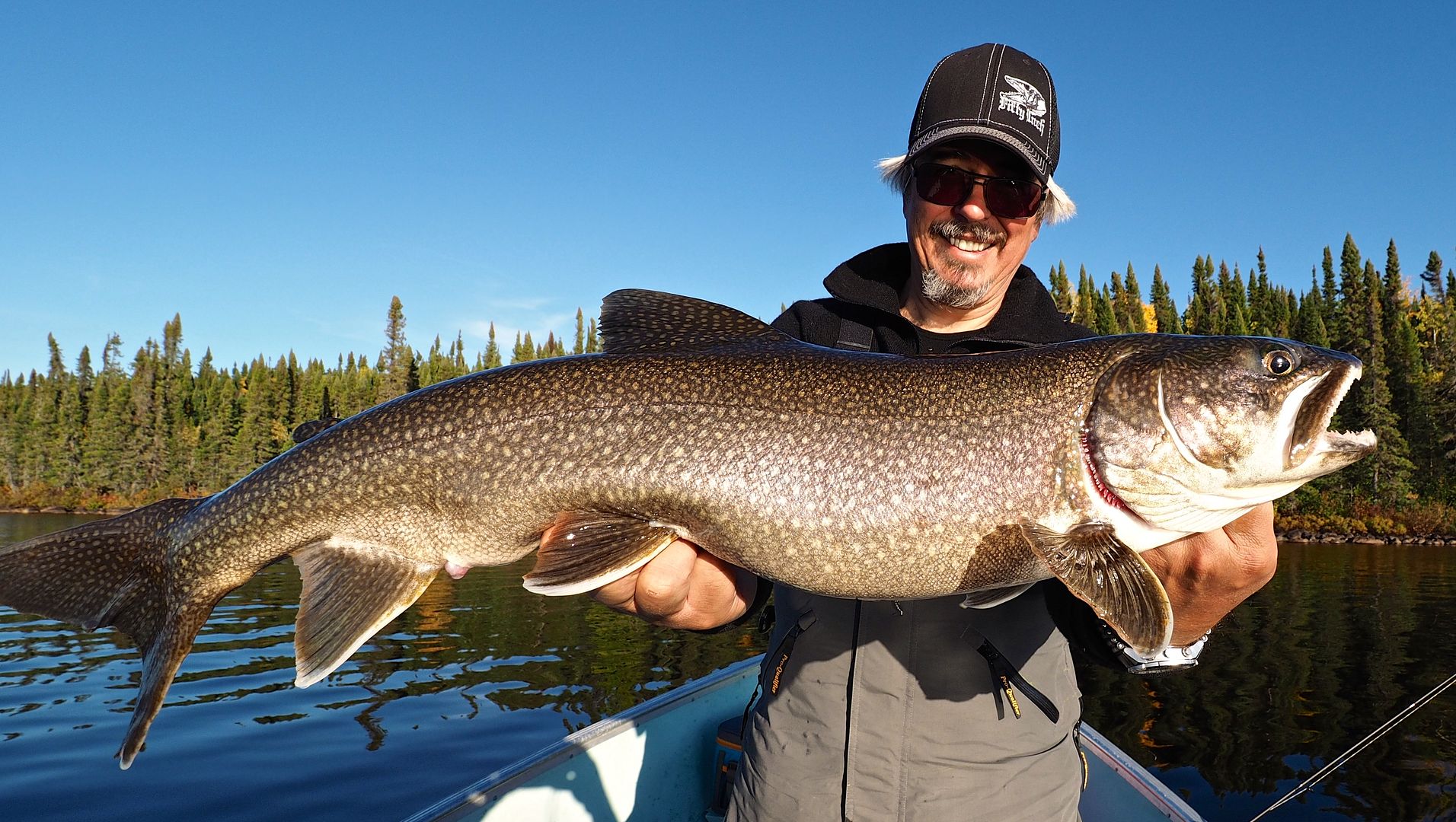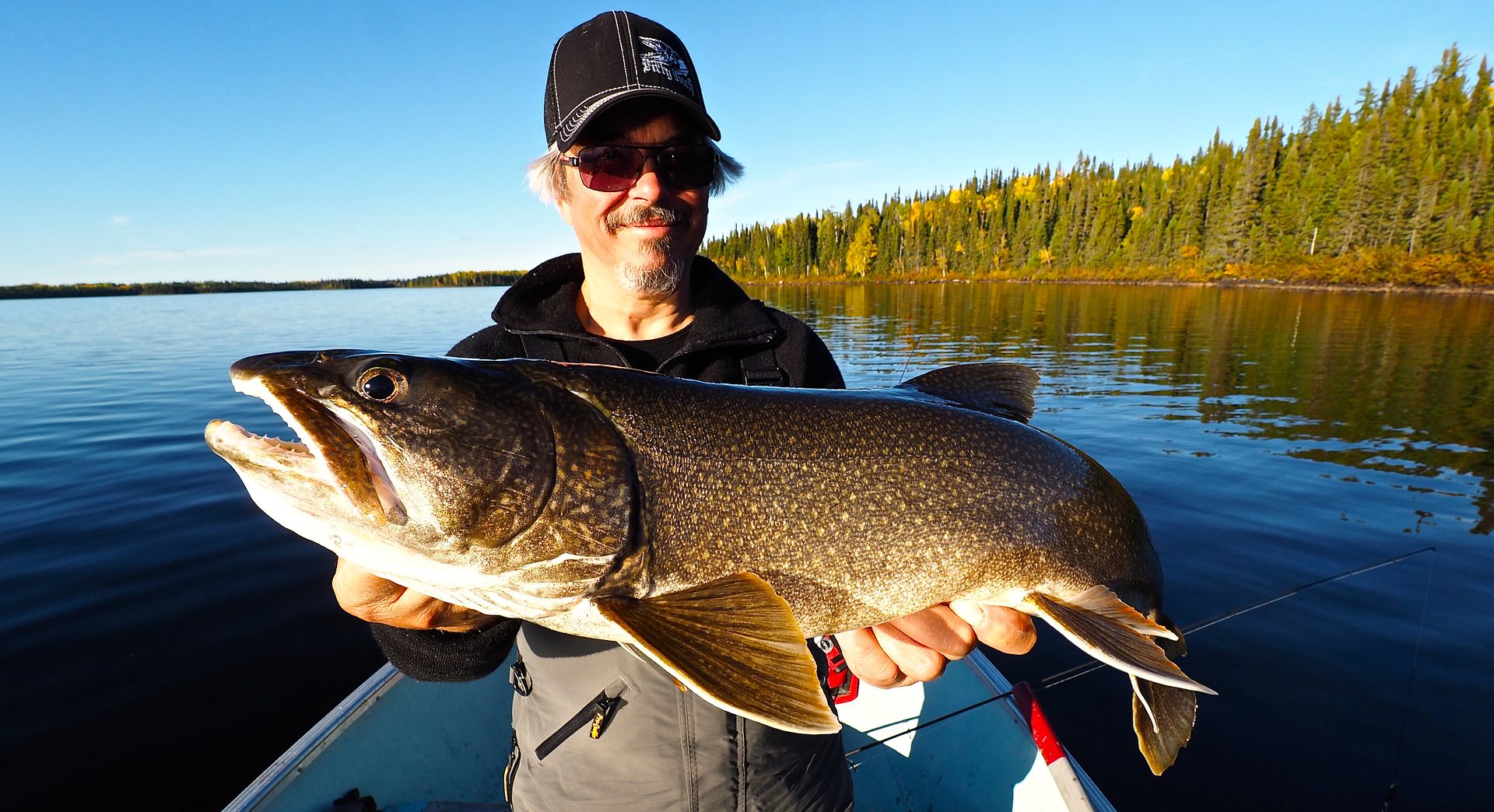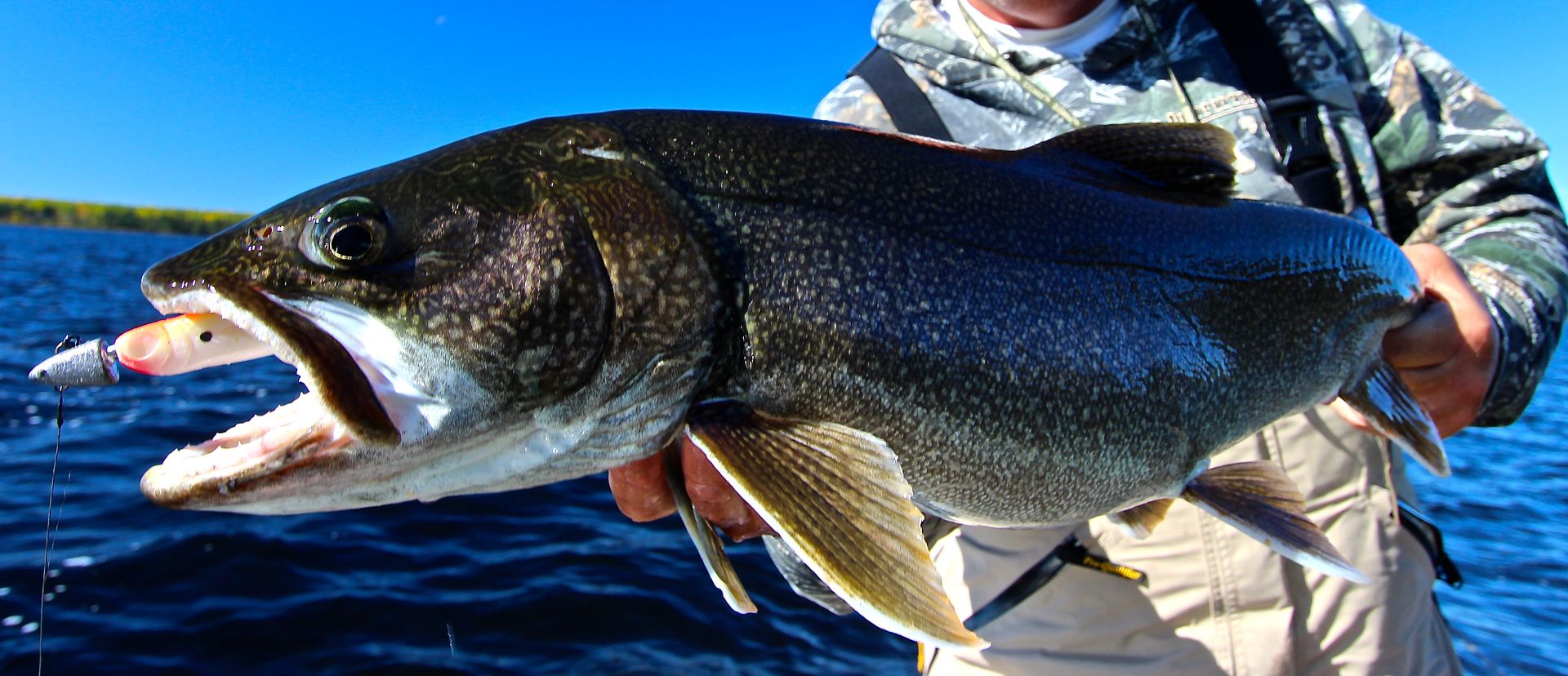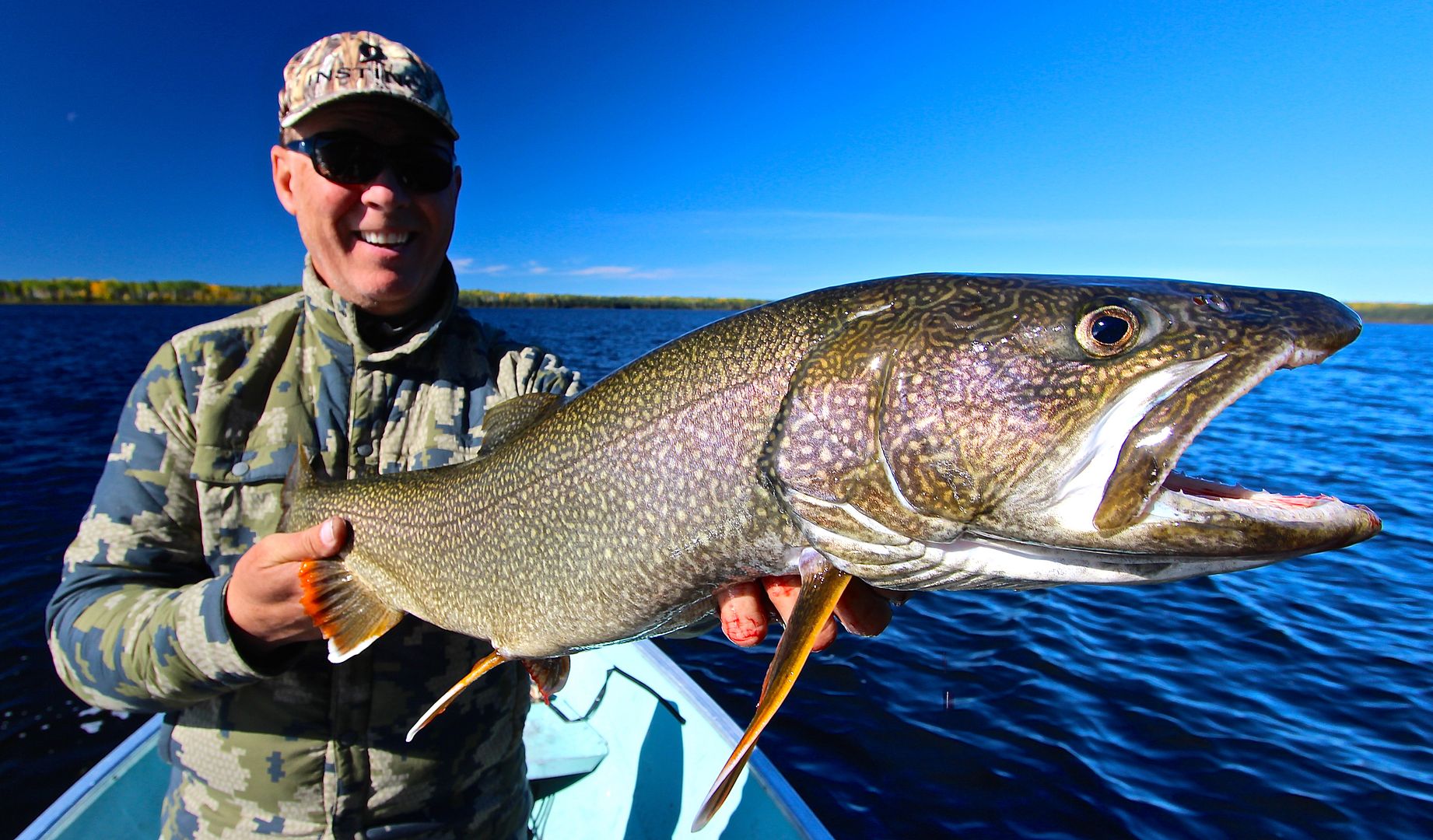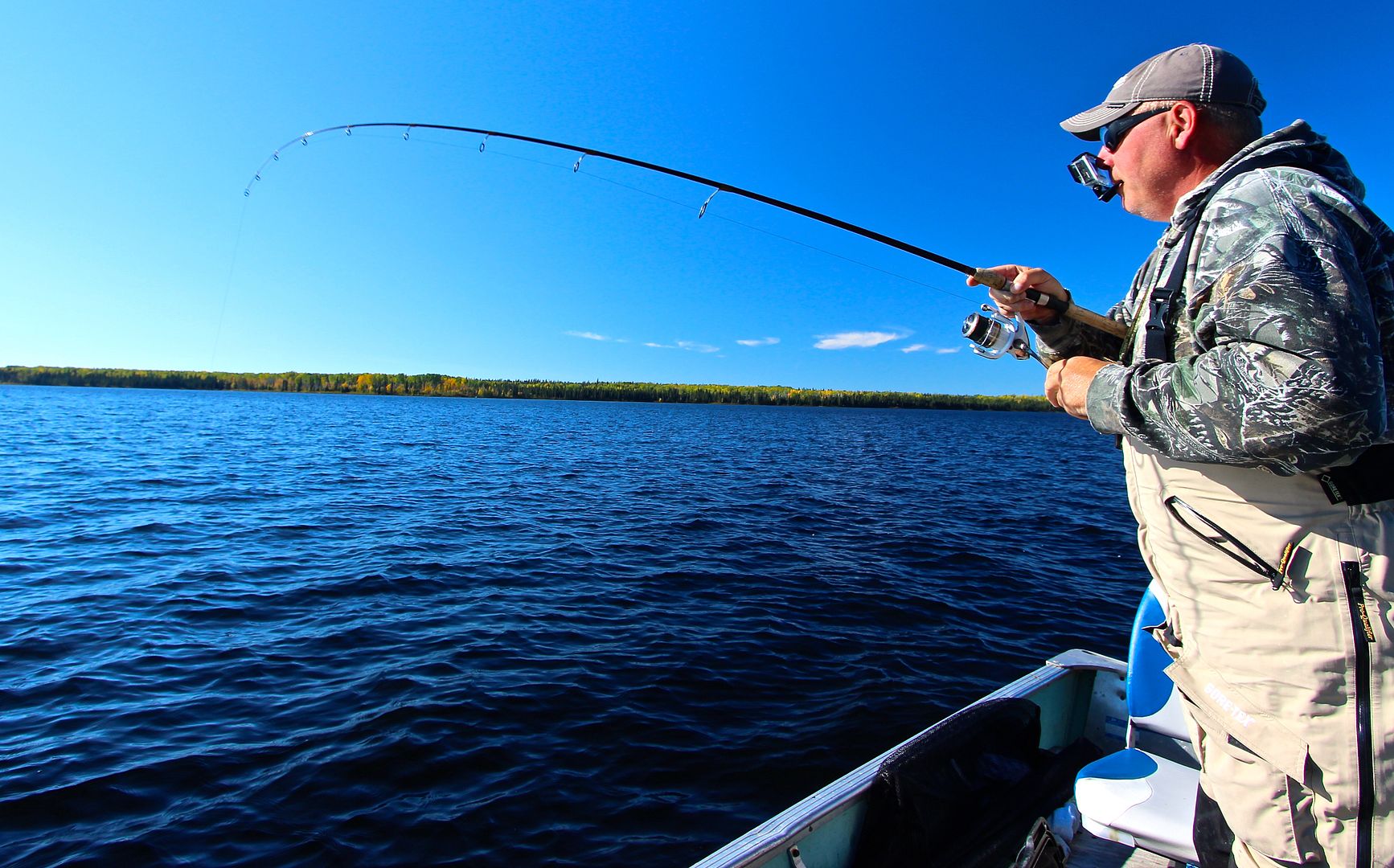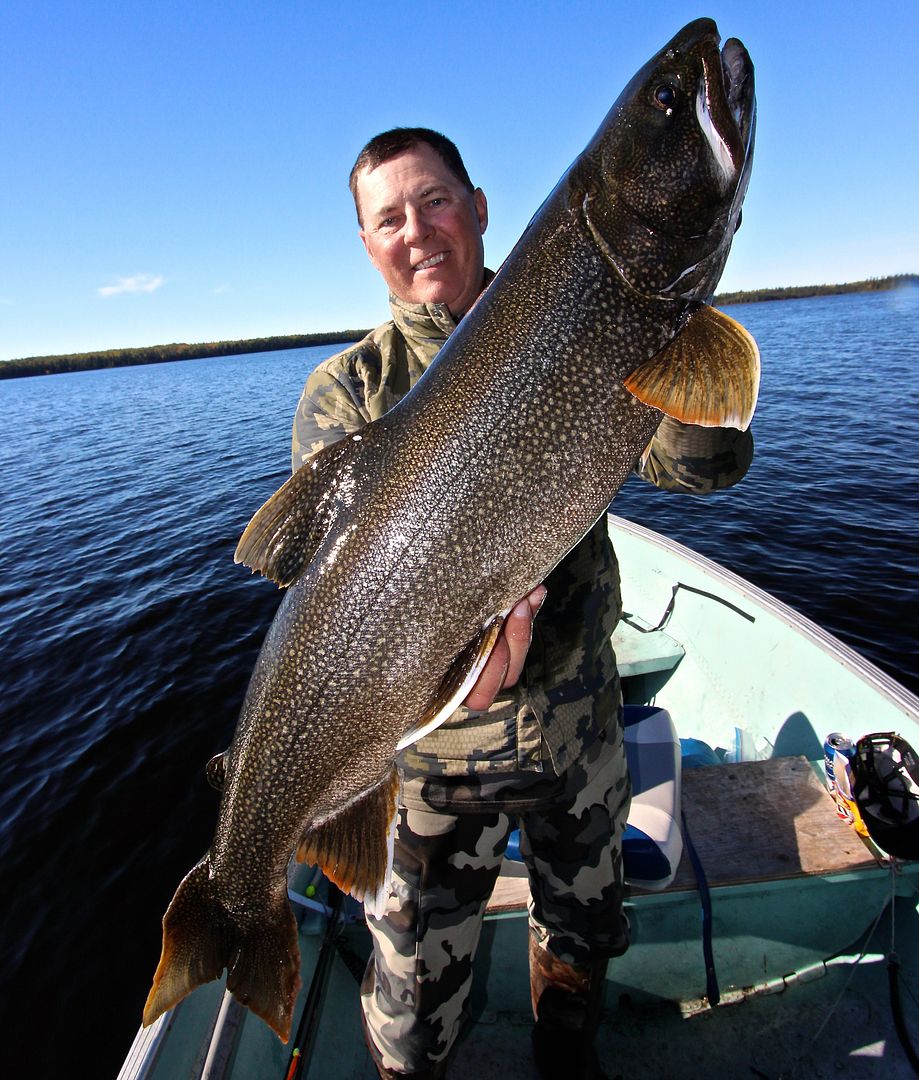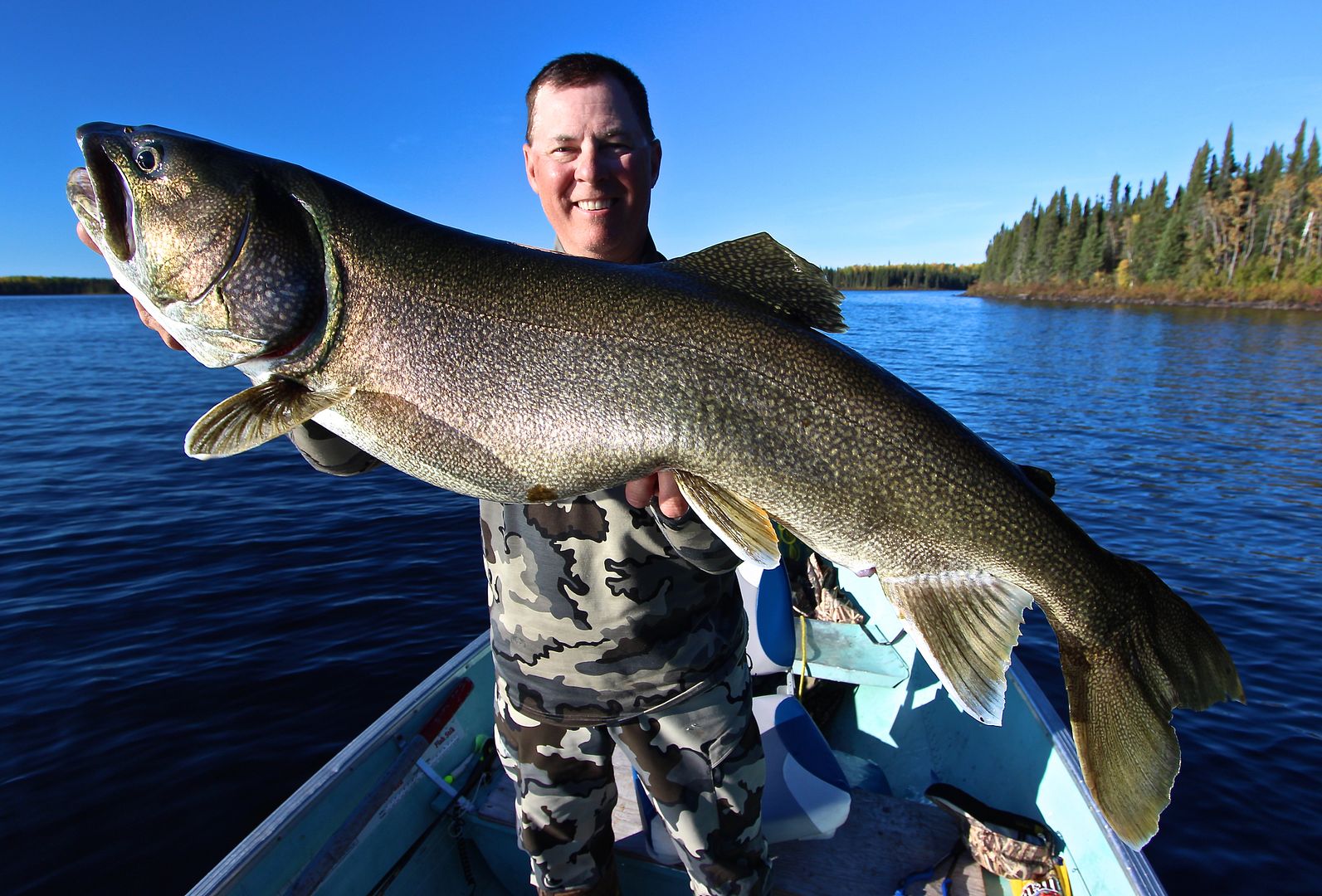 I filmed a ridiculous amount of video of the action, and here's a few short clips. To truly get a feel for just how incredible the fishing was, take the time to watch them!
Kind of surprisingly at one point Russell latched into a behemoth pike mixed in with all the trout. There was a tiny patch of reeds along the shore and that fish was sitting right in them. Most likely slipping out now and again to snack on a smaller trout, it was the perfect ambush spot!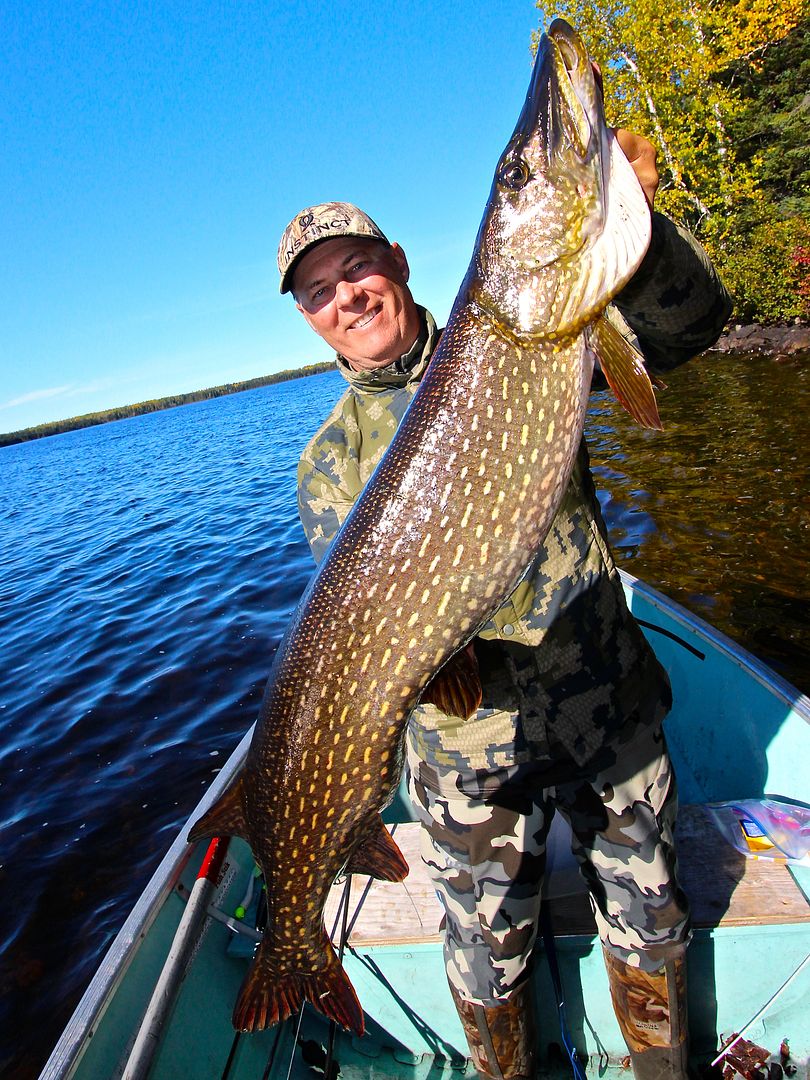 Check out the video!
It's interesting to note that just prior to our trip into Yelling Shaun Szachury had a pike story to tell. Earlier in the summer he was fishing a small bay loaded with cabbage right next to the Yelling outpost when he saw a pike that in his words "was way over 50 inches". It cruised up behind his lure before slinking back into the depths, almost giving him heart failure in the process. I believe it. The fishery at Yelling is still so new and unknown, but there's little doubt it has all the ingredients to produce big pike. To date no one has seriously targeted pike in those lakes, how crazy is that?
At one point Russ and I slid off the shelf into deeper water to troll cranks for a change of pace. Almost instantly a nice fish belted my lure and once again it was a surprise…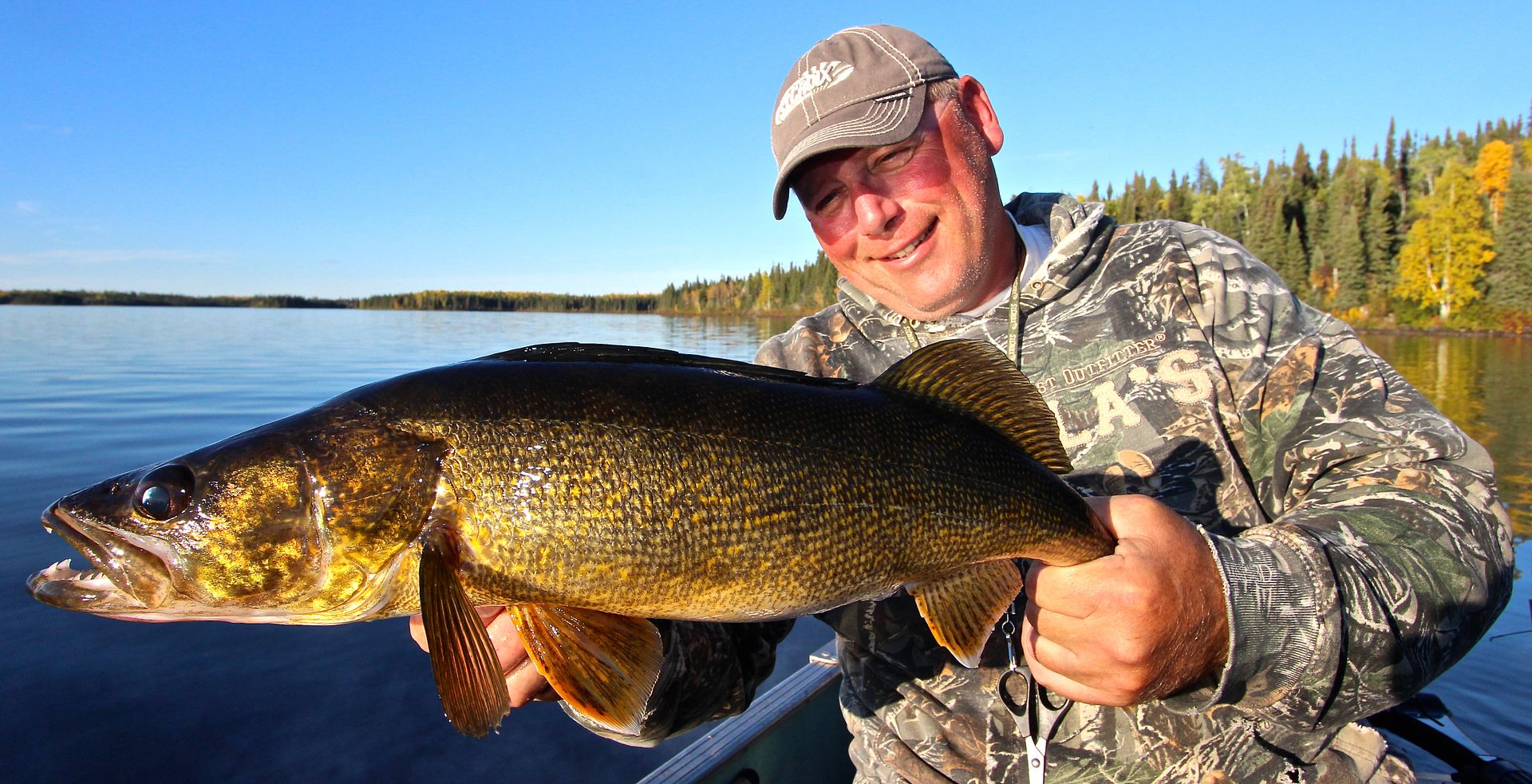 The fact is these lakes are chuck full of all three species; lakers, pike and walleye. You never really know what you're going to catch which makes it pretty interesting!
By the end of the day we were one happy a group of anglers. Perfect weather, not a breathe of wind, and so many hard fighting fish we lost count. Sunburns and sore arms all around. I was suffering a bit more than the others as I'd tweaked a pectoral muscle earlier in the trip heaving a boat onto shore. Near the end of the day it became agonizing. I'd cast, hook a fish, then almost cringe from the pain as I reeled them in. It was a good pain though, the kind any angler worth his salt would take. Who wouldn't? "Catching all these giant trout is starting to hurt, I think I'm going to stop!" I don't think so.
Fittingly we were treated to a spectacular sunset that evening capping off the days festivities with style. Milling around the campfire that evening each of us nursing a drink, Chris looked up, smiled softly and said quietly, "guys, it doesn't get any better than this."
He was right.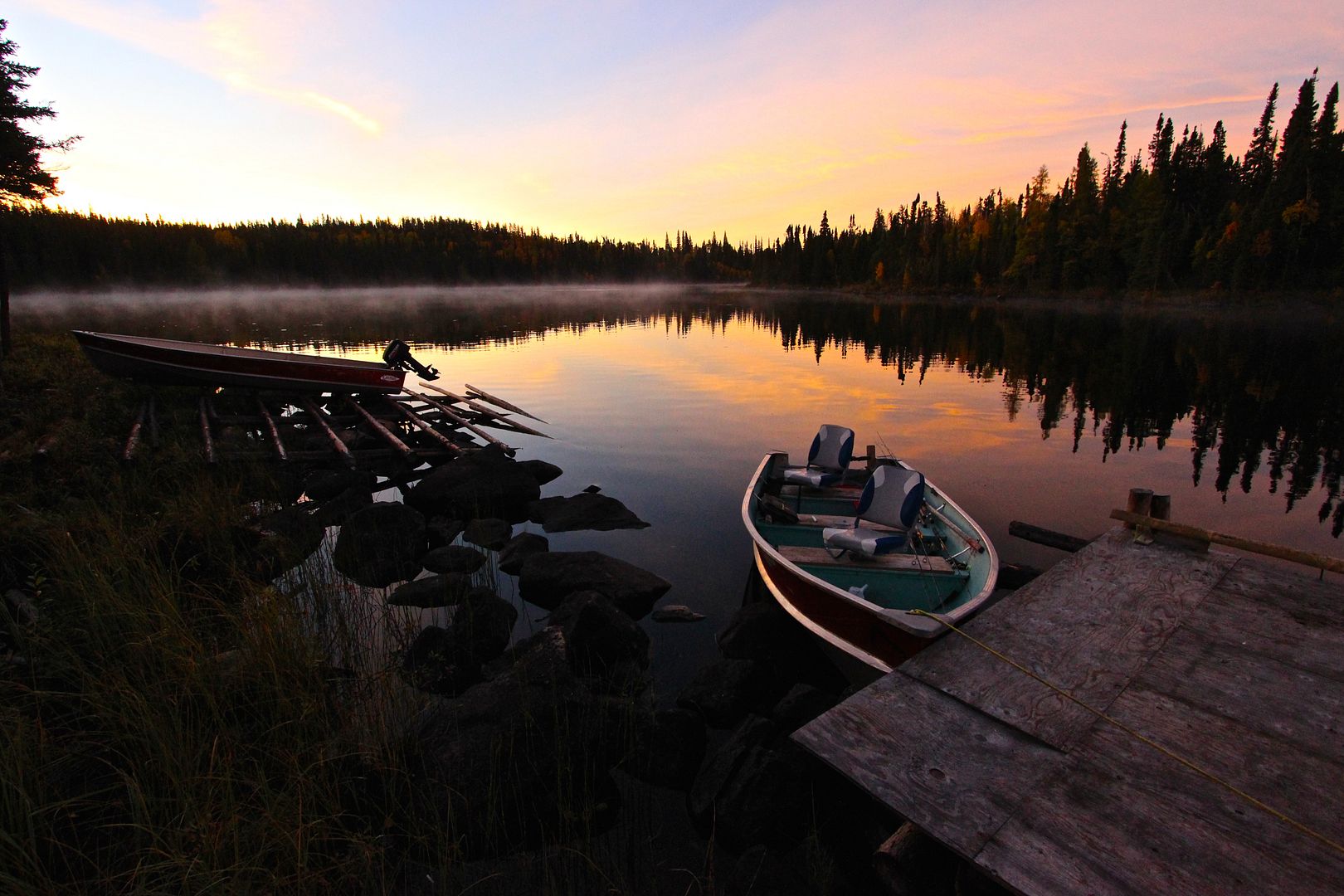 Brief Visitors In A Wild Land
Lying in my oily sleeping bag at 5am I could see my breathe in the chill morning air. The fire in the wood stove had petered out hours earlier and the cabin was now like an icebox.
Rousing myself I got up with my flashlight and built a fire while the other three slumbered on, warming the tiny shack in short order. The next order of business was coffee and with that chore done I slipped outside to a remarkable scene. It had been cold overnight and everything was covered with a thick layer of frost. The sun was just starting to peak over the horizon as I stepped carefully onto the dock, coffee in hand. Silence does have a sound, and this was deafening. You could have heard a pin drop. The lake was as calm as a sheet of glass and not a single leaf rustled as I scanned the scene before me.
As I stood there watching, suddenly I heard a yip to the north, then like a switch was flipped an entire chorus of wolves began to howl and yelp in the still morning air. It lasted for maybe a minute then they stopped, enshrouding me with silence again.
We were just brief visitors in their land and I felt fortunate to have heard them. Such wild and remote country…
This was our last day, and with the plane scheduled to pick us up at 3pm we still had some fish to catch. The rest of the boys were up not long after me and after a quick breakfast we spent a bit of time packing everything up and cleaning the cabin. There would be no mad scramble later that afternoon, all we had left to do now was fish.
Heading up Reider both boats made a beeline for our trout spot and upon arrival nothing much had changed from the day before. We started things off with a double, and it never slowed down for a moment. Have a look at the video!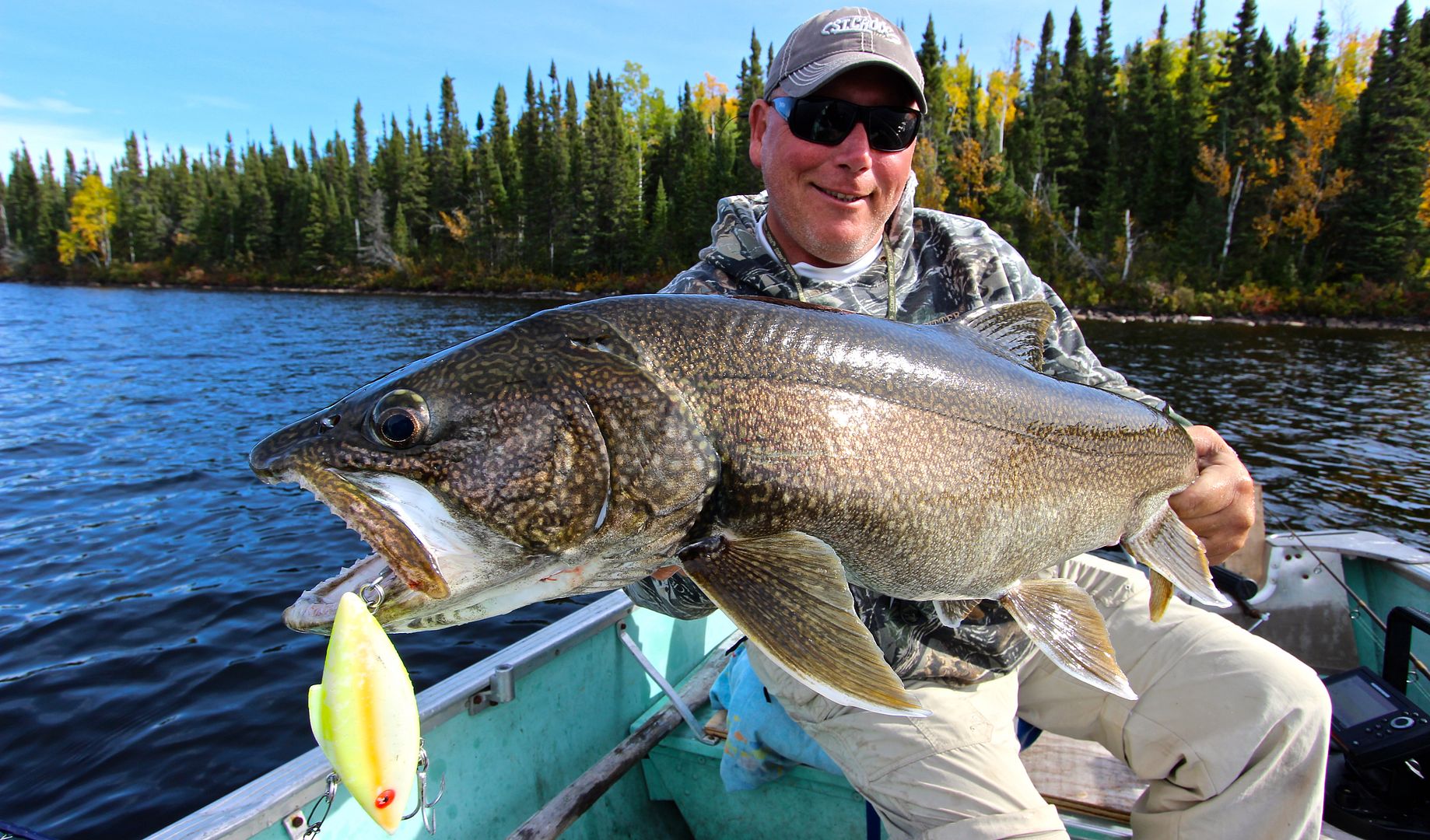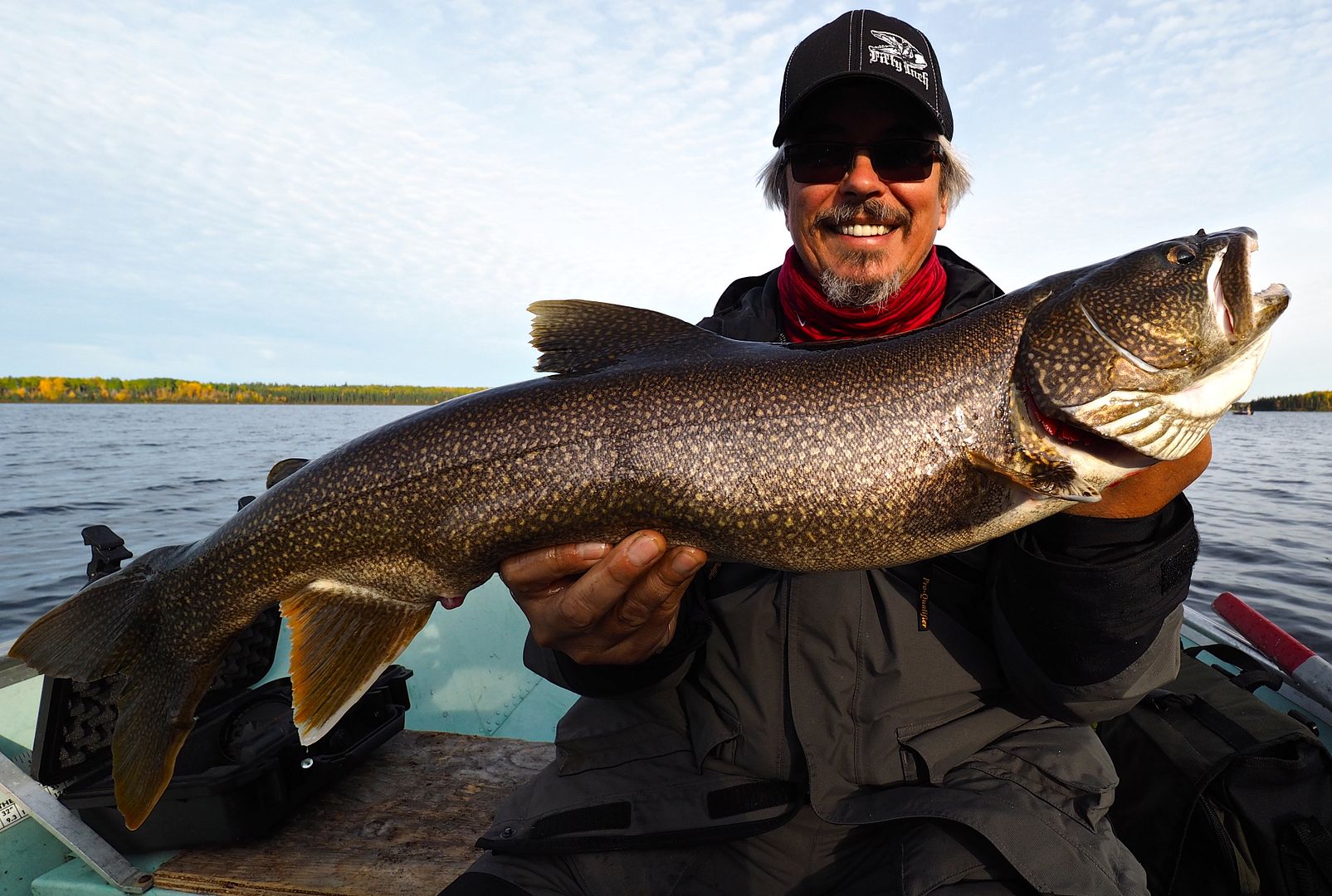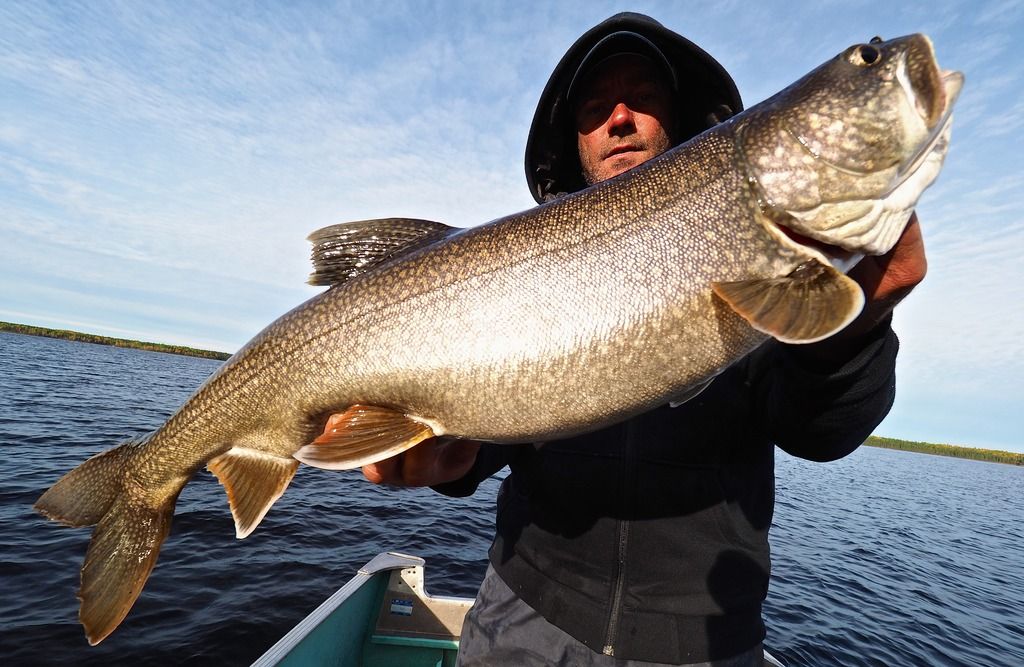 As always there was a ton of video highlighting the incredible action, take the time to check it out!
It's worth mentioning that while these fish would hit almost anything, we both gravitated towards certain lures. I caught fish on a variety of spoons and soft plastics, but the one I was partial to was a 31/2 ounce oversized saltwater Rattle Trap. You can cast it a mile and its noisy rattle seemed to anger the trout. That particular bait isn't commonly available in my neck of the woods so it had to be ordered specially. Just a fantastic versatile lure that can be cast, jigged, trolled or whatever.
On Russ's end he'd dug into my box the day before randomly selecting a hammered pearl Husky Junior spoon from Eppinger. It had a green diamonds on its face with a brass back and for whatever unknown reason it was pure magic. He never took it off for the rest of the trip until he finally snagged on the bottom and lost it.
In this short clip it's right near the end. I've already stopped fishing and am now just filming Russ as he tried to catch one last trout on something other than his magic lure. It didn't take too long…
We had timed things so we'd have one last crack at the walleye before calling it a trip. Some of the guys wanted fish to bring home so the lot of us sped over to the narrows just north of our trout spot and broke out the jigging rods. Just like the trout, the walleye were there in abundance and it took us maybe 10 minutes to catch our take home fish.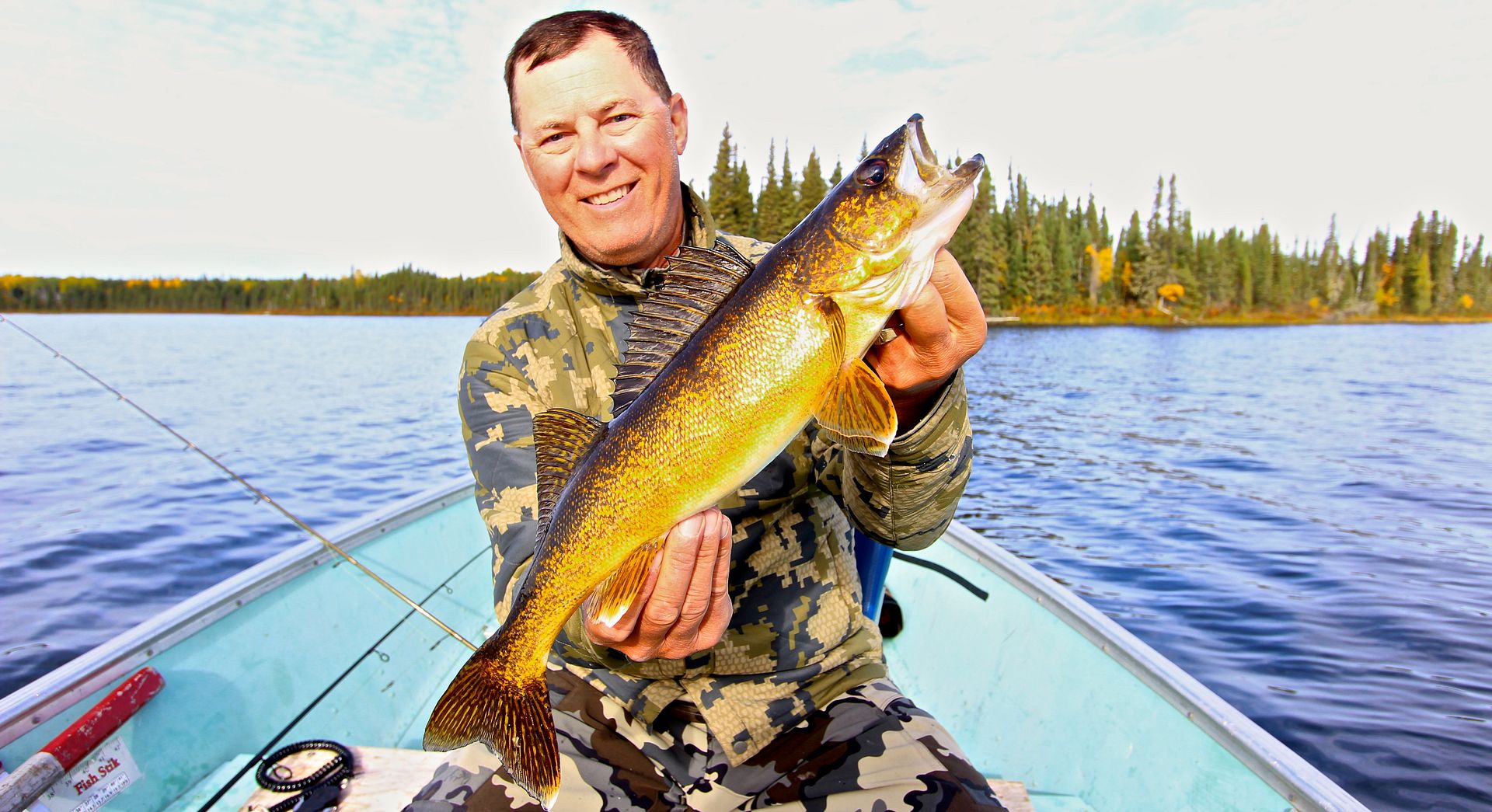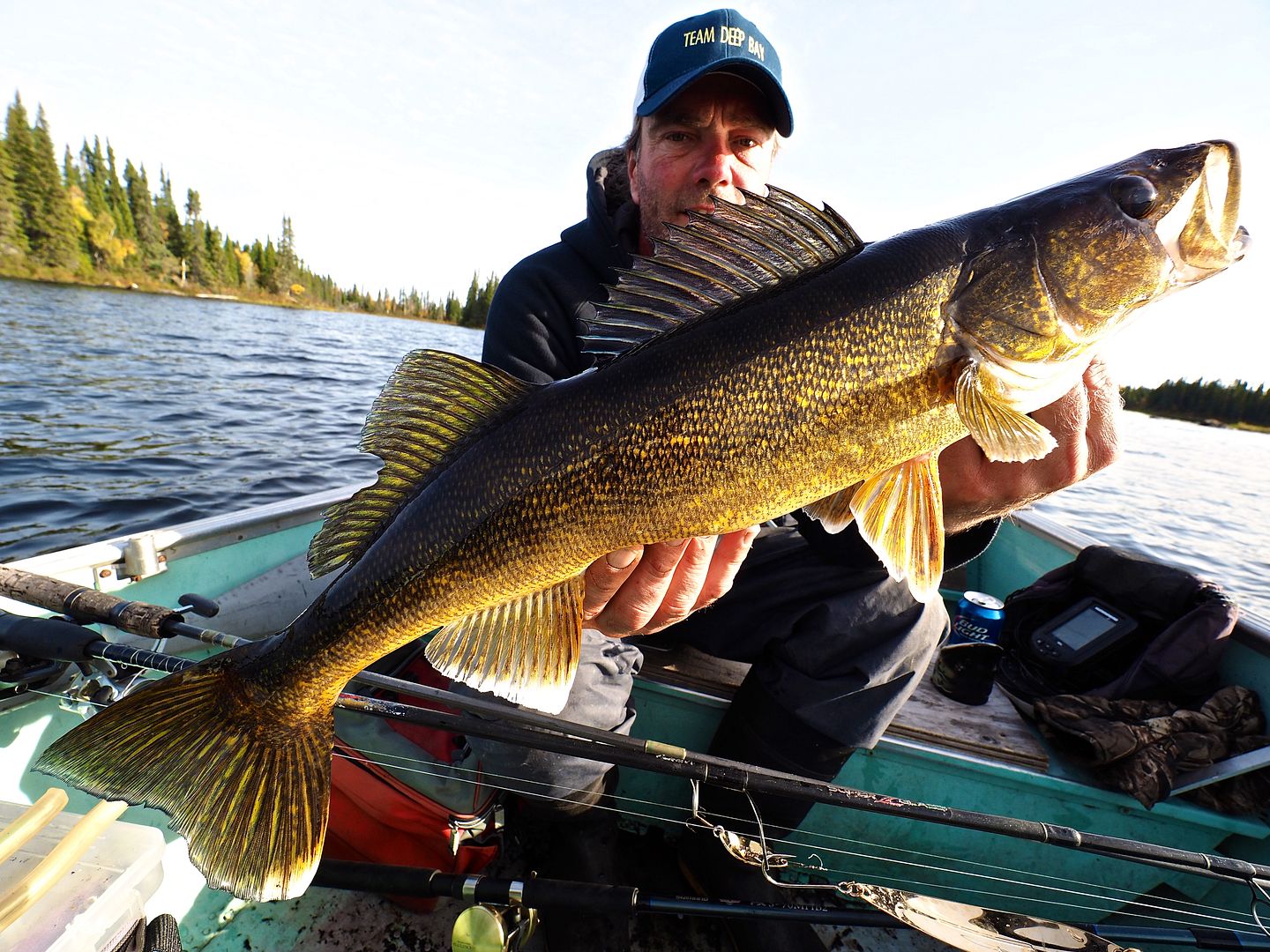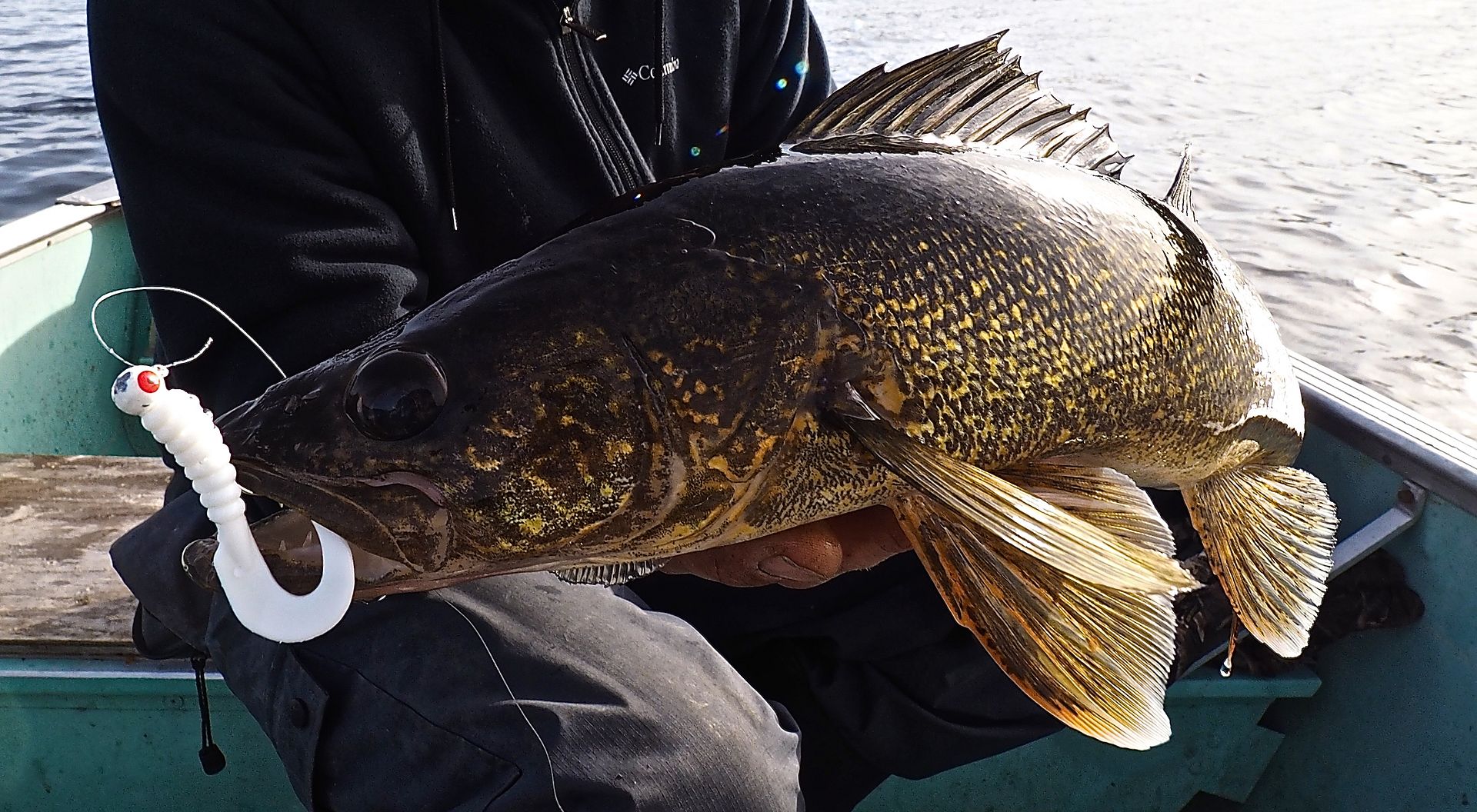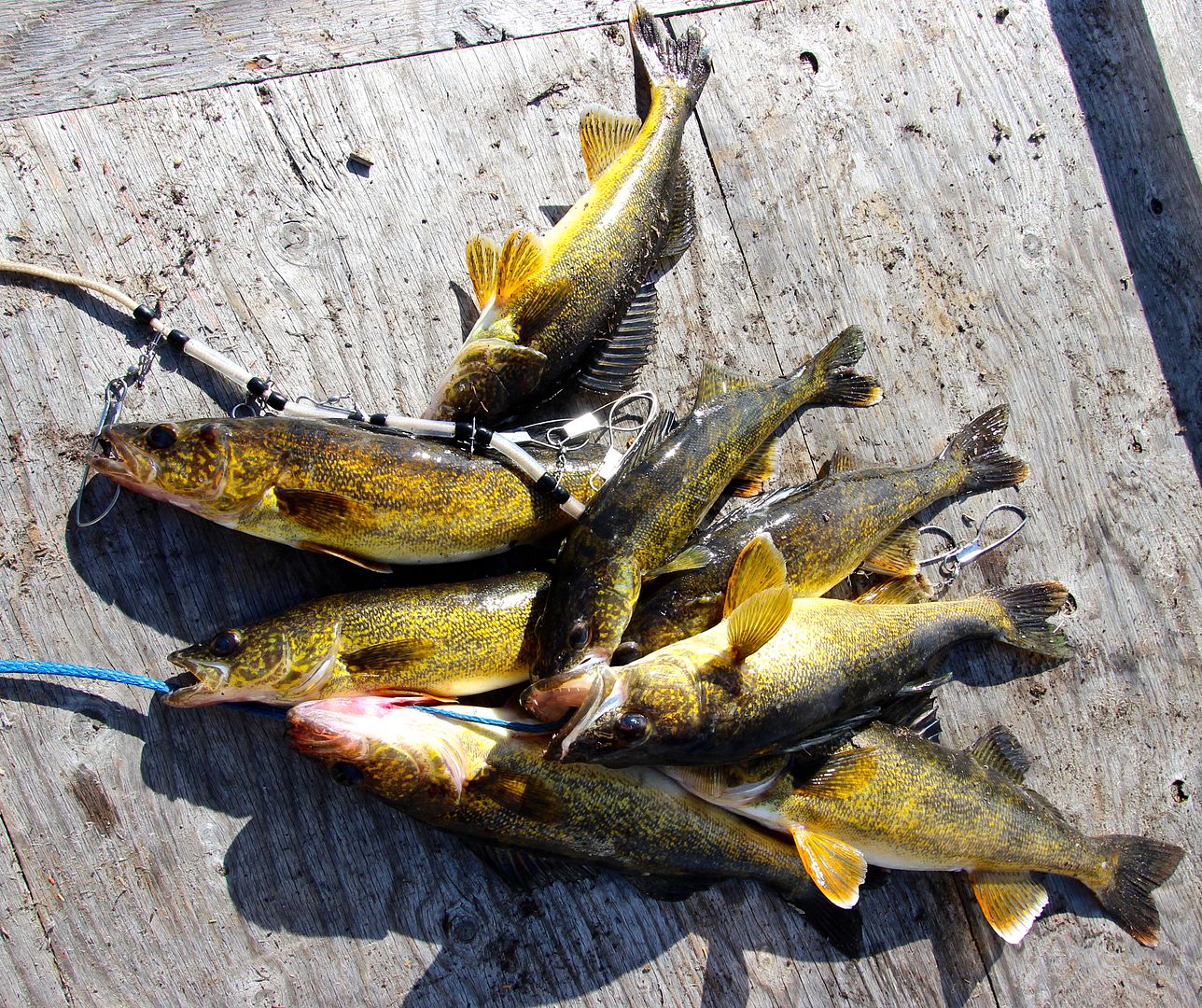 Shortly after the fish were cleaned and packaged the plane came right on time, whisking us back to the main lodge at Echoing under calm skies.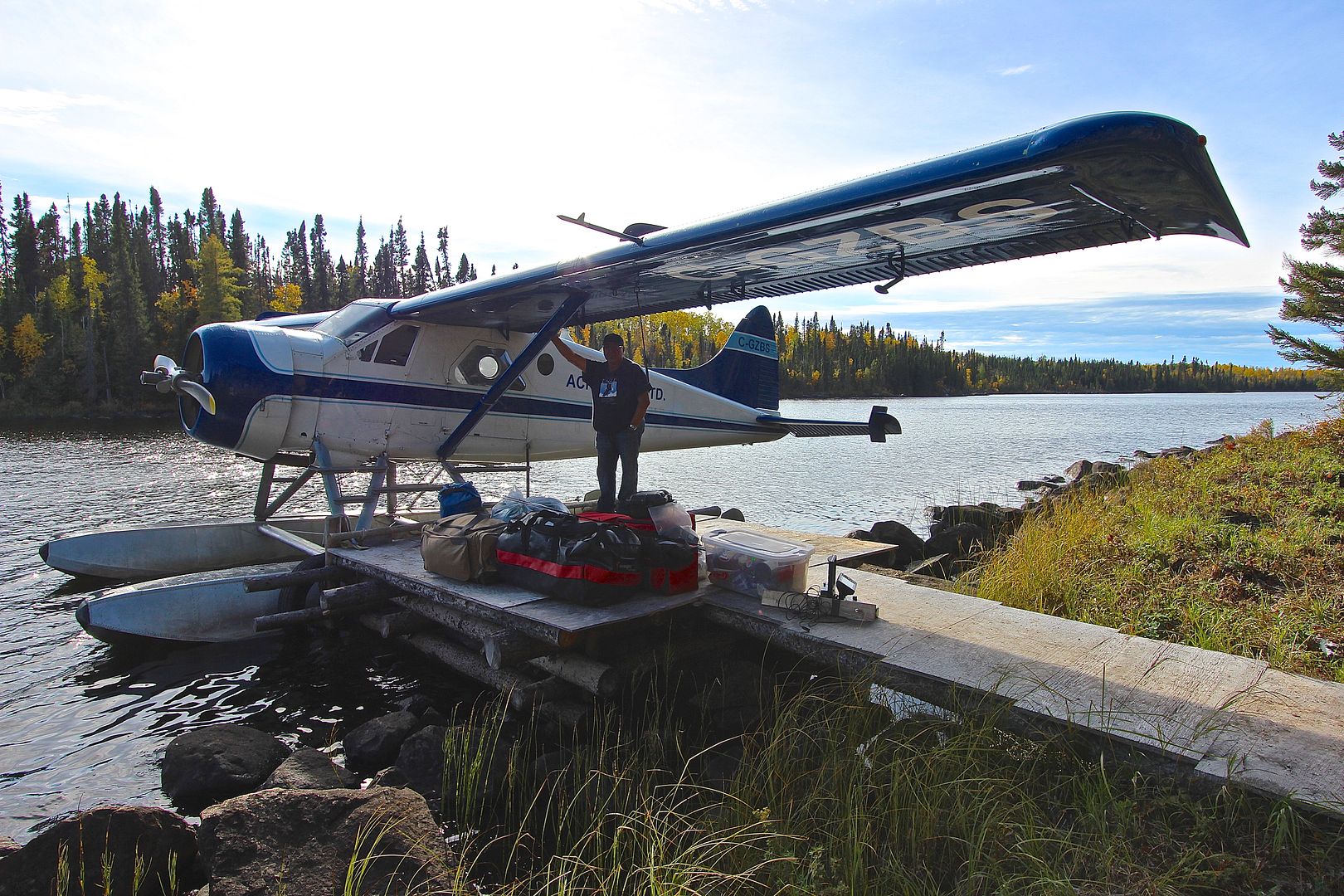 Back at the lodge we were content to relax and finish the rest of our packing. We had one more night before the plane came to take us back to civilization, and for all intents and purposes we were done.
So many trips don't live up to expectations, but Echoing did and in a big way. It was by far the most fish I've ever caught in a week and that's saying a lot. Especially when 2 pound walleyes are usually what accounts for the big numbers. The majority of our fish were oversized pike and lake trout, all of them pulling hard, straining both our tackle and endurance. We were literally beaten up by fish.
While we were at Yelling, Art had some time to kill with his hunt already over, and he caught a ton of fish himself. His best being this beautiful 40 inch lake trout, well done sir!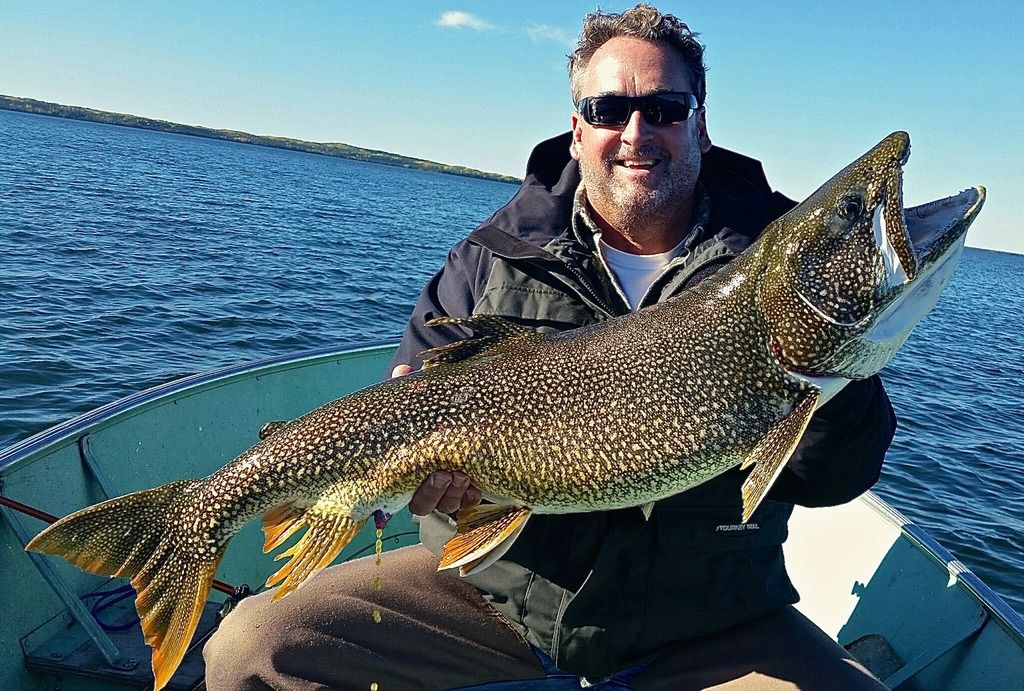 His best matched mine and there's no doubt in my mind if we'd have fished Echoing with favourable winds, we'd have caught way more giants. Not complaining mind you, how can I? It was incredible. However, further exploration of this amazing fishery will once again be up to future guests.
A Closer Look At The Facilities
As always I filmed a short video tour of the facilities at Paradise Island. Photos are great, but this paints a far clearer picture for anyone contemplating a trip. As I've said it's not a large operation, but that's what I like about it. I believe in most cases one large group would have the run of the entire lodge all to themselves, an enticing prospect. Have a look!
This story would not be complete without some input from Shaun Szachury, the young man who's running the camp. He's as likeable a person as any I've met and is a large reason why this trip was so memorable for my group and I. In this short clip Shaun talks about the history of the camp and its incredible fishery, check it out!
A big thanks goes out to Shaun for hosting my group and making this trip extra special for everyone involved. You're a good man and an even better host!
Echoing Lake Camp stands alone as the last untouched angling frontier left within the province of Ontario. It's a special place, a land of wolves, moose, caribou and unspoiled lakes teeming with fish. It's a place that allows intrepid fishermen the opportunity to be angling pioneers and how rare is that?

Hope you enjoyed the tale, until next time…