Stunted spruce trees, large areas of burn, and tannin stained swamps – that's all we could see as we cruised north on the James Bay road in far northern Quebec en route to kilometre 237, a roadside milepost in the middle of nowhere. It's the literal definition of remote. Earlier that day we'd stopped in the small frontier town of Matagami to gas up and stretch a bit, and the smiling young girl at the counter told us in broken English "say hi to Jim for me!"
Jim Saari was our host on this trip to sprawling Lac Evans and it seemed everyone in the region knew him. It was a natural assumption as Jim operates the only camp in the entire region of vast roadless wilderness north of town. Why else would anyone drive north from there with two eight foot rod tubes strapped to their roof racks?
Having traveled all over northern Ontario I can say with authority that this region of Quebec is much different. It's virtually the same latitude as Nakina, but the similarities end there. In Ontario every little community you pass through is a bustling beehive of activity and there's always a constant stream of traffic on the Trans Canada highway. Quebec is much wilder and less civilized. There's nothing but rocks, trees, lakes, and the occasional sorry looking roadside shack as you drive ever further north.
Not long past the big mining town of Rouyn Noranda you drop off the shield and from then on it's pure James Bay lowland terrain. Flat and featureless, but awe inspiring in its own way.
As a confirmed big pike nut Evans has been on my radar for years, although somewhat surprisingly it's not real well known by the angling community at large. Don't know why, but I suspect that may change now.
To put Evans in perspective it's a virtual clone to the famous Kesagami Lake north of Cochrane in Ontario. Both are large, shallow lowland lakes and both are noted for pumping out large numbers of trophy pike every year. The difference is Kesagami has had a large American plan lodge operating on it for over 50 years. Evans does not. Jim opened up the lake in the late 1980's and operates three rustic but comfortable outpost camps at different spots on the lake. It's seen far less pressure than Kesagami over the years and in my humble estimation fishes like Kesagami probably did 50 years ago. For the hardcore big pike nut who doesn't need any frills and likes to fish long and hard on his own schedule, Evans is a very special place.
No matter what the time of year big fish are caught in two to four feet of water casting to vegetation. You could plan a trip to Evans and pack nothing more than a box of weedless spoons. I kind of like that.
Big Water And Bluebird Skies
As mentioned Evans is a big body of water, from point to point it's over 50 kilometers long and 26 wide. The camp we stayed at on this trip was West Point, a location central to much of the lake's best fishing and marked on the map below. West Point is actually Jim's personal camp built for him and his sons. He often offers it up to guests though, and we happened to be one of the chosen few. Thanks Jim!
Tired and a little road weary we finally arrived at kilo 237 around six pm. At that point you need to jog east a couple of kilometers on a gravel road to get to the airbase. My young son Brendan was with me on this trip and when he asked for the 100th time "are we there yet?" I was mildly relieved to tell him yes. It felt pretty good.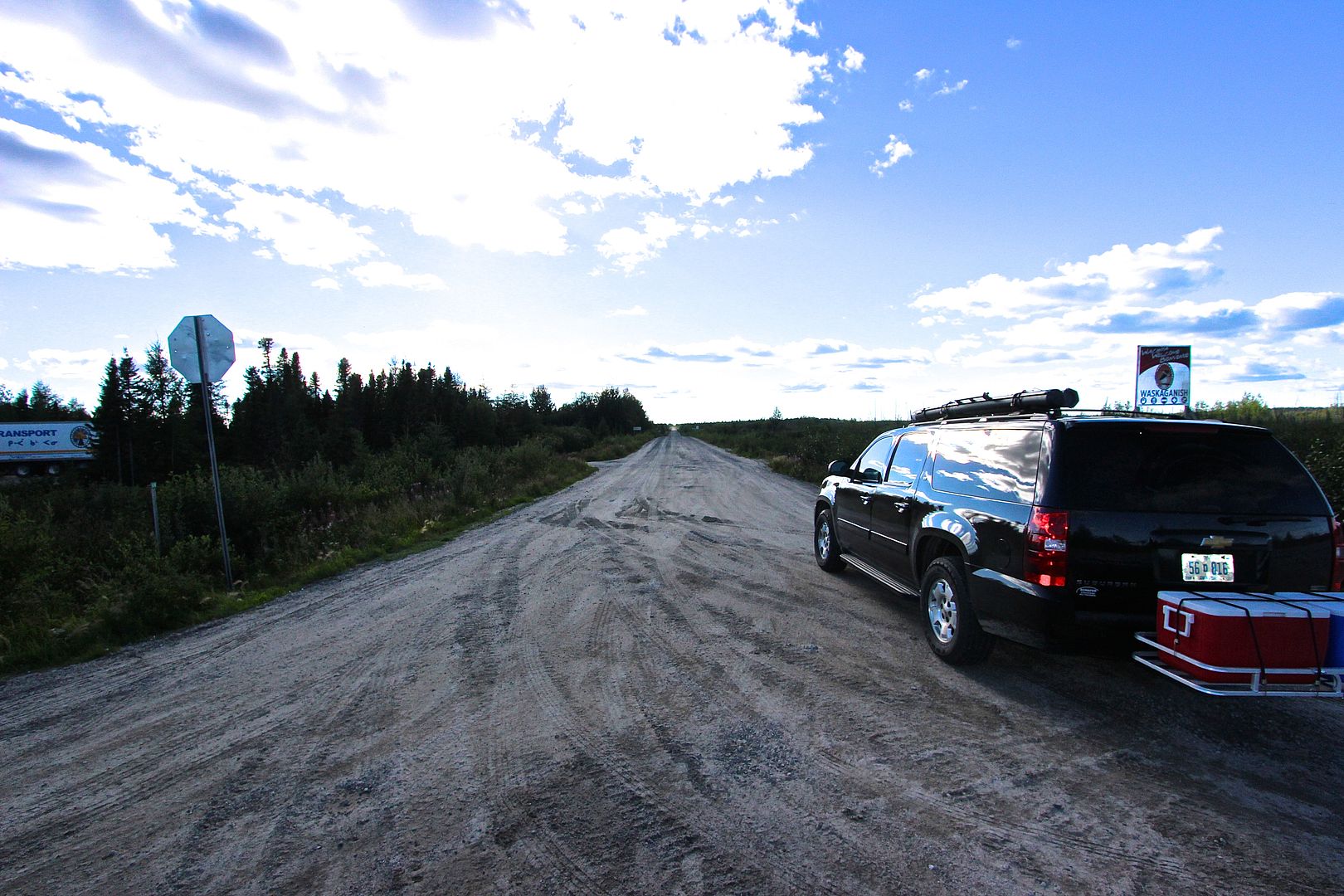 Jim has a couple of rustic cabins for use at the base for guests to overnight in. Many people choose to stay in Matagami before departing for the base, but we opted to drive all the way. With an early flight into camp scheduled the next morning being right there at the plane base was a bonus…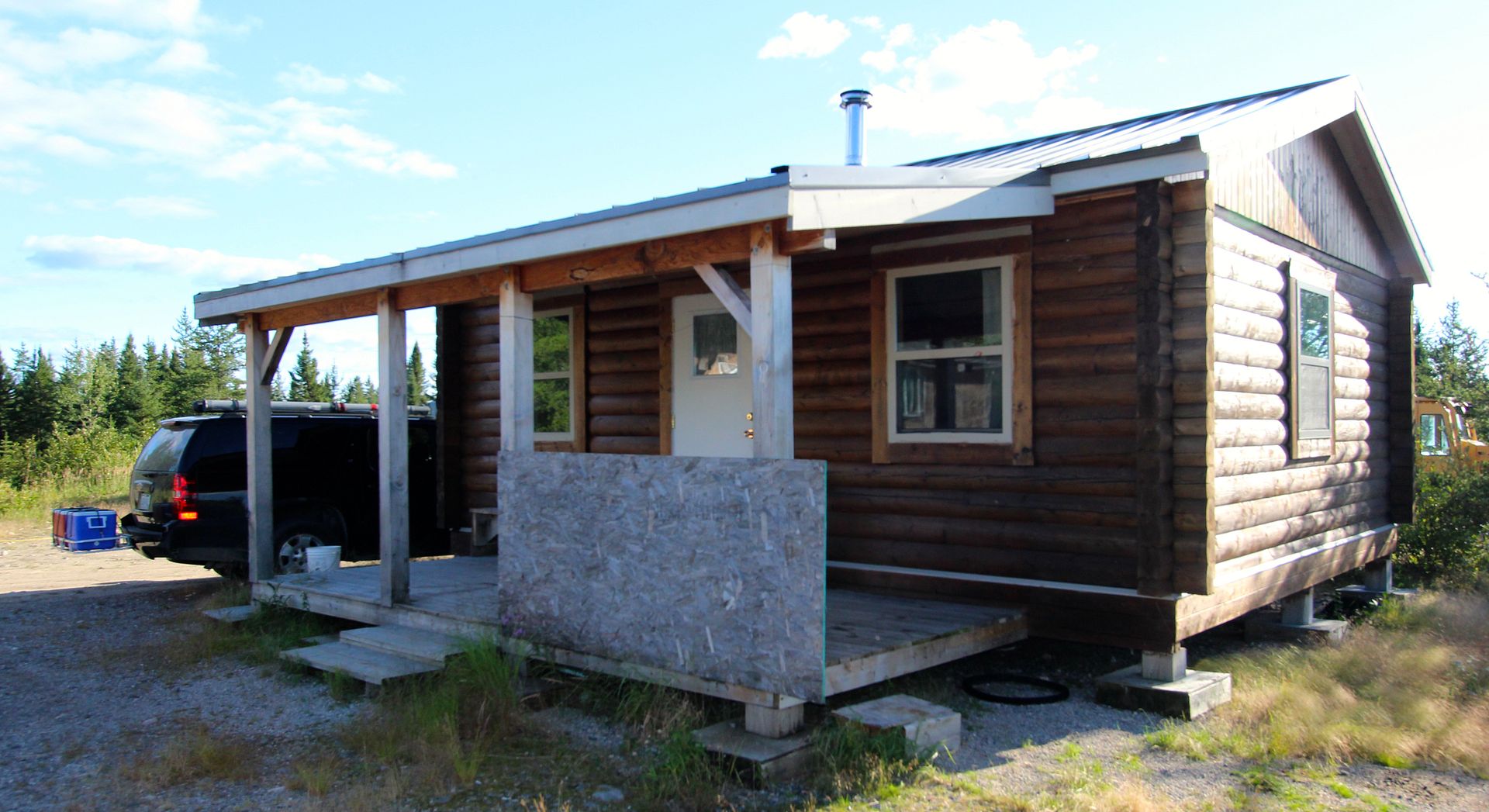 Joining Brendan and myself on this adventure was my good friend Russell LaFave and his buddy Colin. Russell is an interesting guy, and is perhaps the only person I know who does as many fly in trips as me. That's saying a lot. Bottom line is Russ has been around and knows his stuff. Colin, it needs to be said is an ace. A bit younger than Russ and I, he's a fishing fanatic and proved that emphatically on this trip as you'll see. Those two fished Evans the year before the very same week with huge success. It was their wild tales of legions of giant pike that set the wheels in motion for this years trip. I knew Evans was good, but after listening to Russell's stories, coming here was a foregone conclusion.
We awoke early the next morning to coolish temperatures and a perfectly clear bluebird sky. Always a huge bonus when you're flying! Boiling up some water we brewed some coffee and scarfed down a couple of pastries procured at the truck stop in Matagami. There seemed to be signs of life at the plane dock so we drove over with the truck and backed it up to the weigh scale. Seven am, and the pilot and dock attendant were already raring to go…
It's easy for me to get a little jaded now and then. It's not that I don't love these trips – I do. But when you do anything too much sometimes the novelty wears off. This particular morning I was as jacked up as I've ever been, as was everyone else. My son especially was bubbling over with excitement. He likes casting for pike as much as I do and was itching to get going. "How long is the plane flight dad?" "Did you pack my good baitcaster?" "Will we be guided? – I hope not!" "Is the cabin nice?" "Will we use weedless spoons?" "I don't like weedless spoons!" On and on, it was fun.
In very short order the plane was loaded, the four of us clambered inside, and the turbine engine began to roar.
Now as I've said this is James Bay lowland terrain, very featureless, but with a rawness and a true feeling of wildness about it. I shot this short video of the flight into camp capturing the essence of the land. Have a look it's pretty cool!
True Grit And Steely Determination
Arriving at camp we were met warmly by Jim and camp caretaker David, both instantly likeable fellows. Jim would be with us in camp this week and it was immediately clear that it would be a fun week. Fact is by day two it was "uncle Jim" for Brendan. Jim has a definite way with kids and the two of them played and joked around together every evening.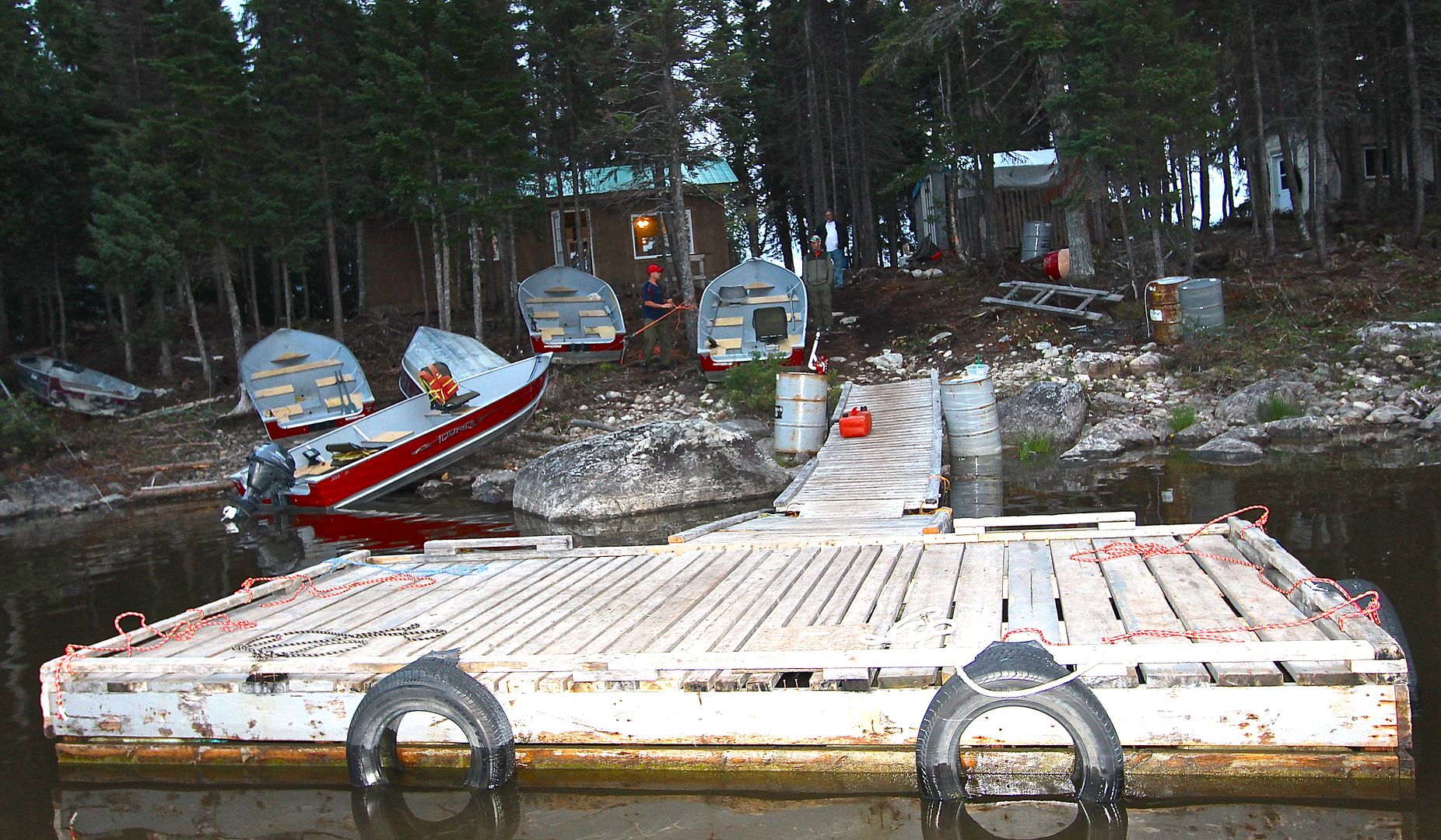 As is always the case, when you first arrive at a camp we were eager to fish. After unpacking and settling in the lot of us hurriedly rigged our rods and tackle, anxious to hit the water. This is the only explanation I have for what transpired later that day. I rushed and was careless and I'm blaming no one but myself. I mulled over possibly not telling this tale, but the story is simply too good.
As it turned out this first day evolved into a gruelling test of endurance for Brendan and I. True grit and steely determination were on full display and that's what carried us through. I'm darned proud of my boy, he's definitely his fathers son.
As we were leaving the dock I asked David how the gas was. "Full" he said, "you're good to go." Then Jim approached wanting to know where on the lake I was going in case something happened. I pulled out the map, showed him and we were off. Evans is a big, wide open shallow lake so any amount of wind can be an issue. On this first day we were blessed with warm sunny skies and a very light breeze from the east. I planned to take full advantage.
Typically I tend to fish quickly when I'm pike fishing, not wasting too much time in any given spot. In my experience if the fish are there and feeding they'll usually hit. So eyeing my GPS Bren and I raced east across the lake and began a long milk run hitting every single little bay that looked interesting.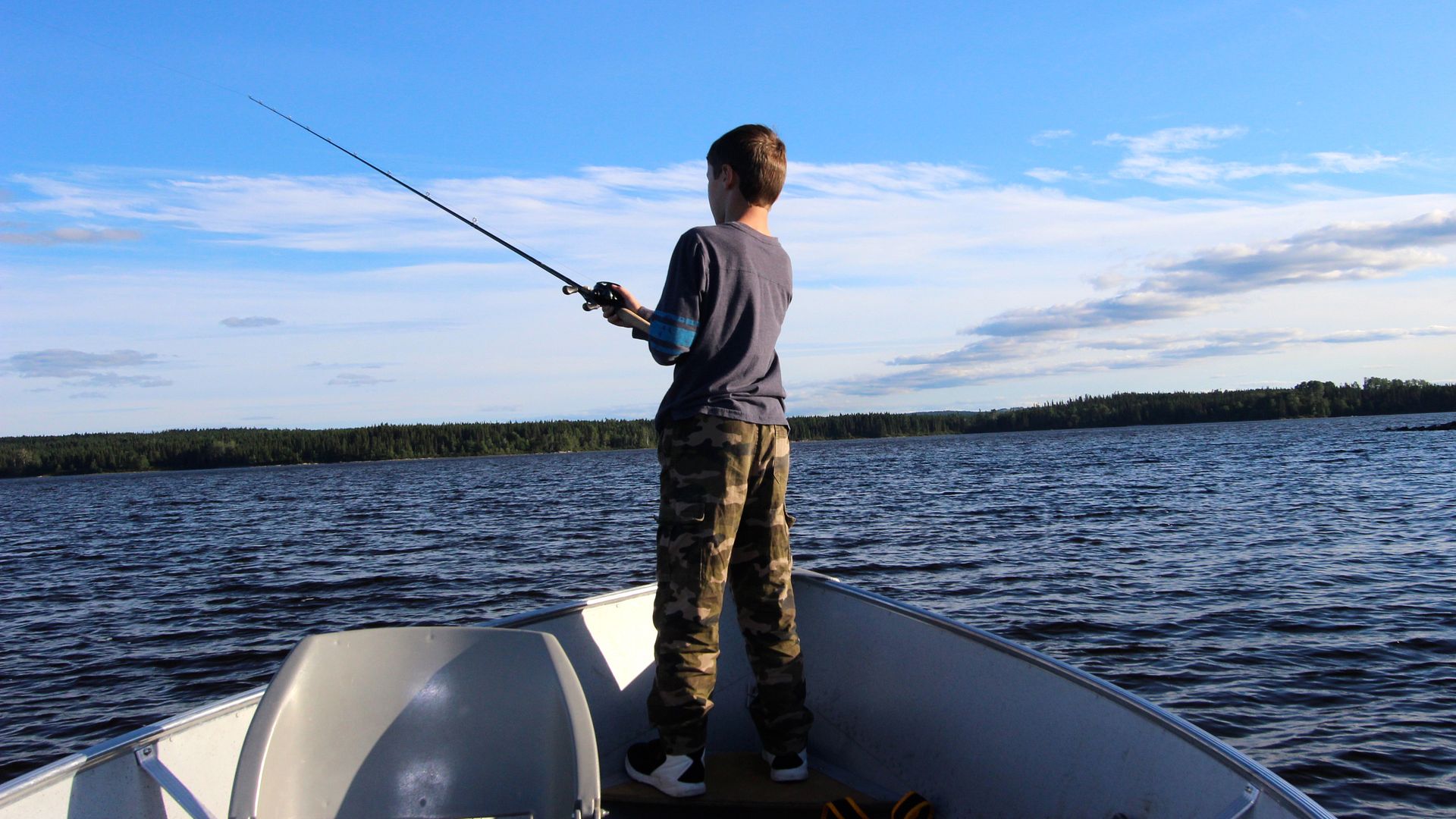 We worked our way more than halfway up the long northeastern arm poking our noses into a number of interesting spots. We caught fish, but nothing huge, and frankly we were both enjoying the exploring as much as anything.
Round about 2:30 I started heading back in the direction we'd come figuring we'd start fishing our way back towards camp.
Looking at the GPS it suddenly dawned on me just how far we'd come, and slowing down I reached to check our gas. At that moment I knew we were in trouble. It was virtually bone dry. I always bring a spare can of gas with me. Always. In my rush to get going I never gave it a second thought. Beyond that I didn't check the gas until it was too late. Still, I wasn't worried. It was warm and sunny, Jim knew roughly where we were on the lake, and I had plenty of food and drink. Brendan didn't say too much at that point, he tends to roll with the punches, but I could tell was a little worried. "Will we be okay dad?" "Will they come and find us?" I promised him we'd be fine, and yes, someone would come looking.
At that point I pulled out my Delorme inReach communication device and messaged my wife. She responded immediately and I had her call Jim's number and leave a message explaining the situation and where we were. Jim told me he checked his messages every evening using a satellite phone. What I didn't know was the number Joanne called wasn't the one he was checking.
At roughly 3:30pm the kid was getting antsy just sitting there so deciding to be proactive I suggested we start paddling back in the direction of camp. I figured the more ground we covered the quicker we'd be saved when they did come and find us. The problem for Brendan was the paddles were heavy eight foot long oars that were very difficult for a little guy to use. But he gave it his all.
Bear in mind at any time I could have went to shore, bunkered down and lit a fire, but I truly believed someone would come looking. By 8:30 pm we'd been paddling for five hours and it was starting to get dark. I figured anytime now we'd hear the buzz of an outboard and we'd be saved but it never happened. By 9:30 pm it was obvious that we were on our own and I had a decision to make. Do I continue onward or camp along the shore for the night?
I knew that eventually we'd make it back to camp and considering the perfect conditions I felt it was the right choice to continue.
At 10 pm we silently approached a mid lake rock pile and were suddenly dive bombed by at least thirty screeching arctic terns. Bren dove for cover in the bow while I forged ahead trying mightily to paddle away from the angry birds.
At that point Brendan broke down a bit and began to cry a little, but I soon comforted him and he collapsed in the bottom of the boat sound asleep, covered with my goretex jacket. The little guy had been paddling non stop at that point for almost 7 hours. I forged ahead determined to get us back to camp safely.
The only way I could do it was kneeling right in the very nose of the boat. Three strokes on one side, switch, then three strokes on the other. Navigation at that point was incredibly difficult. The backlight on my GPS was dim and I could barely see it, and it was disorienting out on the open lake in the pitch black.
To make matters worse the wind had shifted slightly and we were now faced with a cross wind. If I had stopped paddling for even a moment we'd have been blown way off course.
Finally at 11 pm I rounded the point of an island and for the first time could see the lights of the camp far off in the distance.
Instantly buoyed I roused Brendan to show him and he jumped right up and grabbed the second heavy oar to help me. Physically I was starting to lose it a bit at this point. My arms and legs were trembling, both hands were covered with blisters, and I was exhausted. Still I didn't let up.
At roughly 11:45 pm we were devastated to see the cabin lights blink out and everything go dark – they had gone to bed. Our beacon now gone navigation was a combination of dimly lit GPS and stars, a little more difficult but I was highly motivated.
At precisely 1:20 am the boat bumped up against the shore 300 yards north of camp – we had made it. At that point Brendan rushed up to me and hugged me more fiercely than he ever has in his life, saying simply "oh dad!"
I paddled us around the point into the sheltered cove where the dock was and tied off. When we entered the dark camp at 1:30 am, to say the other guys were stunned is an understatement. They were in total shock.
We didn't talk too much that night, Bren and I were both dog tired, but I did get an explanation. They were 100% positive that we were camped along the shore somewhere and had planned on getting up early to find us.
Jim apologized profusely suggesting he should have come looking for us, then said this. "What you just did was more than impressive. I've been on this lake since the late 1980's, have had thousands of guests and I'm not sure if anyone else could have done what you just did." Cold comfort but I'll take it.
All told Brendan and I paddled 18 kilometers in a heavy aluminum boat for well over 10 hours. Other than the hour where my boy collapsed in the boat from exhaustion he paddled right alongside me.
He's a tough little kid and I couldn't be prouder. It was a hard lesson learned for me though and a mistake that will never be made again.
Still, as tough as the situation was there was no real danger and it bonded the two of us together like nothing else before. I know for a fact that kid will be telling and retelling the story of what him and his dad did for the rest of his life.
Monsoon Rains And Mammoth Pike
Surprisingly Brendan and I were up early the next morning with the rest of the gang. A bit hungry but none the worse for the wear. My boy surprised me the most as it almost seemed as though what had happened was an ancient memory. "C'mon dad, we still haven't caught any big pike, let's go!" Kids are resilient.
After a huge breakfast we geared up and were down at the dock by 7:30. The first thing I did was have David put two extra tanks of gas in the boat for me. Like I said, never again.
The problem was the weather had turned and was looking downright nasty. The wind was blowing strongly from the southwest, the ceiling was black and low and a light mist was falling.
Still, undeterred we plotted our game plan. We'd run up the west side of Kirk Island fishing as we went. There are a number of prime spots along the way including right at the end where there the outflow of the Broadback River begins.
Russell and Colin went in another direction. Already familiar with the lake they were looking to build on their success from day one. While Bren and I had enjoyed a fabulous boat ride and 10 hours of paddling, those two wily dogs had bested four mammoth pike!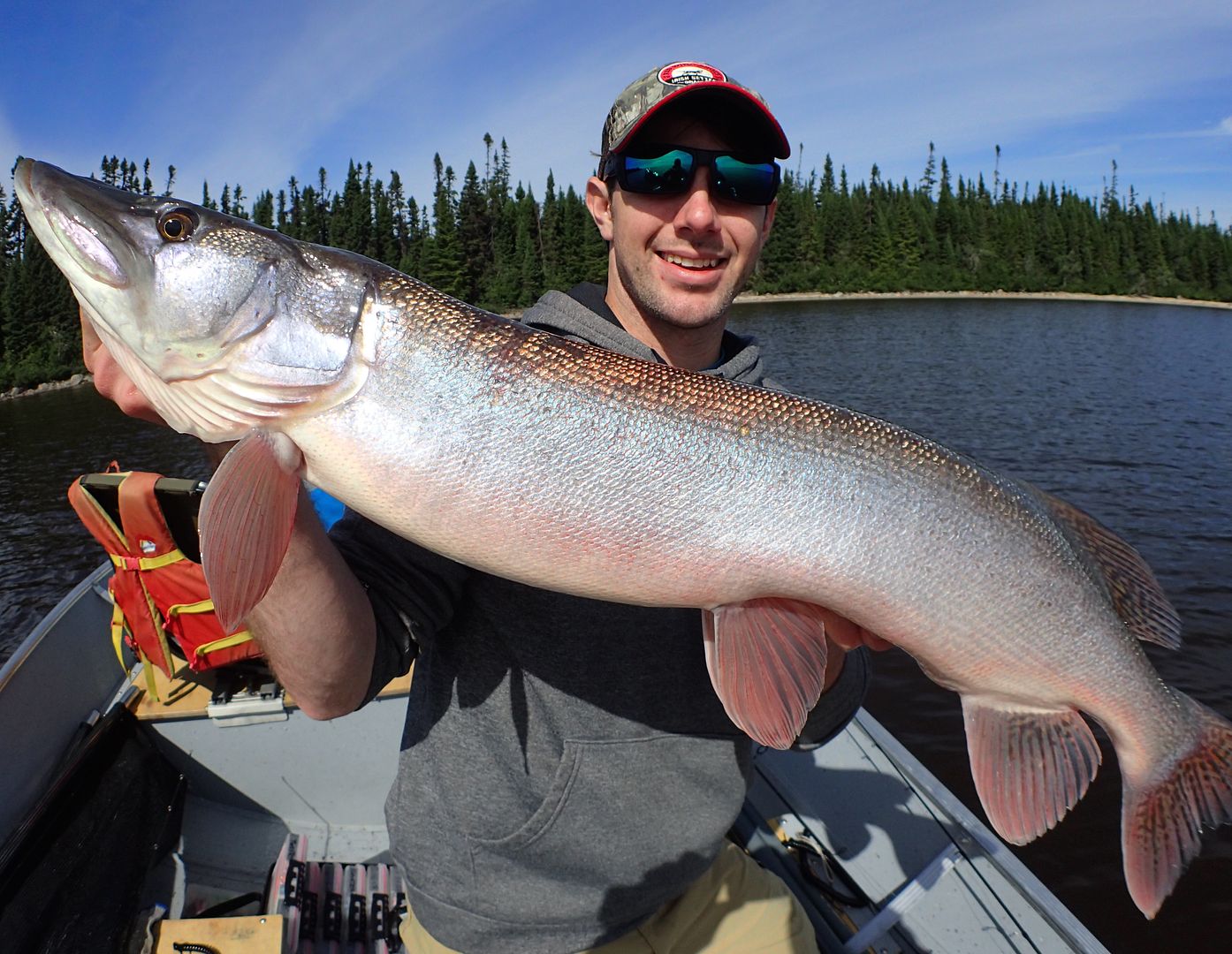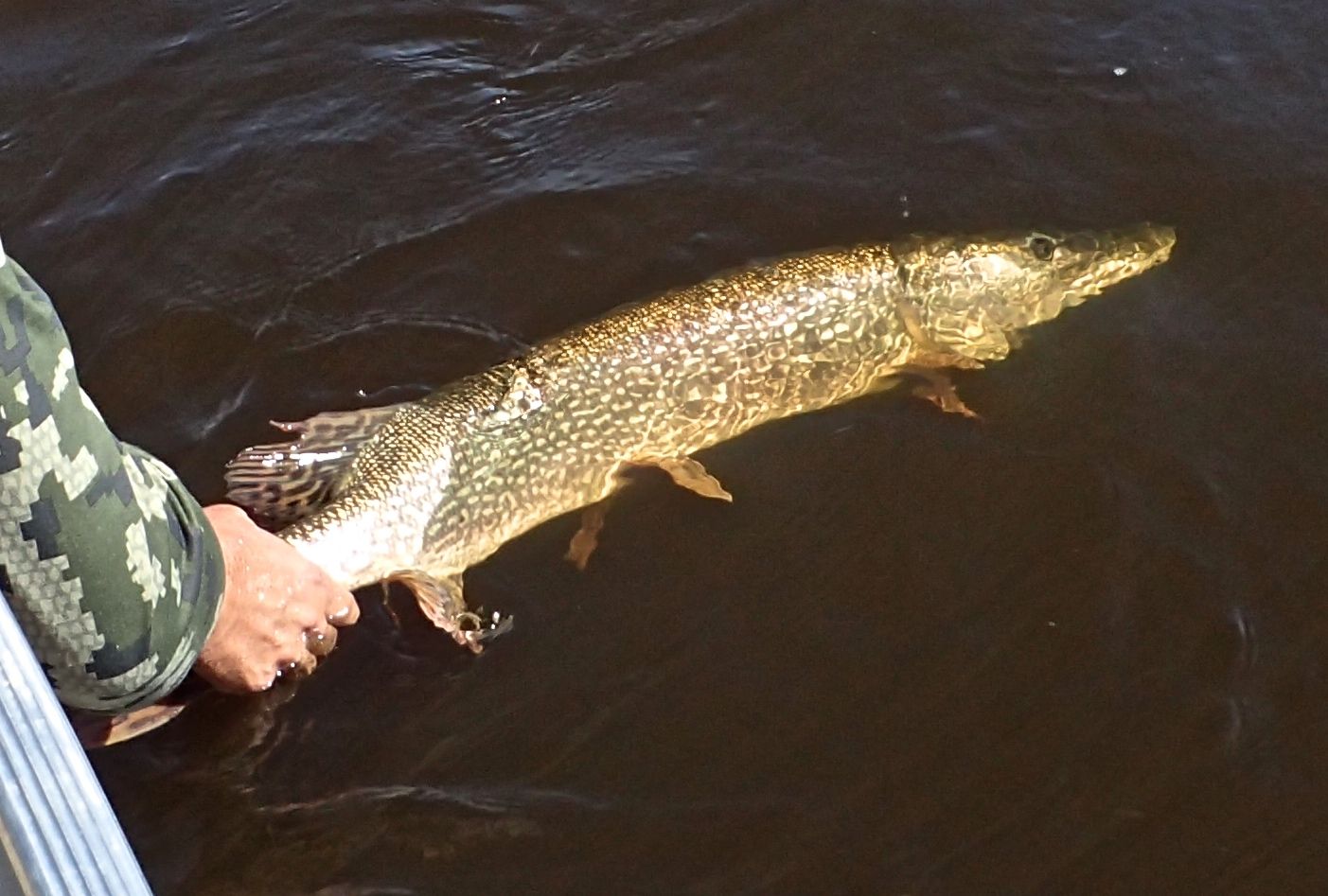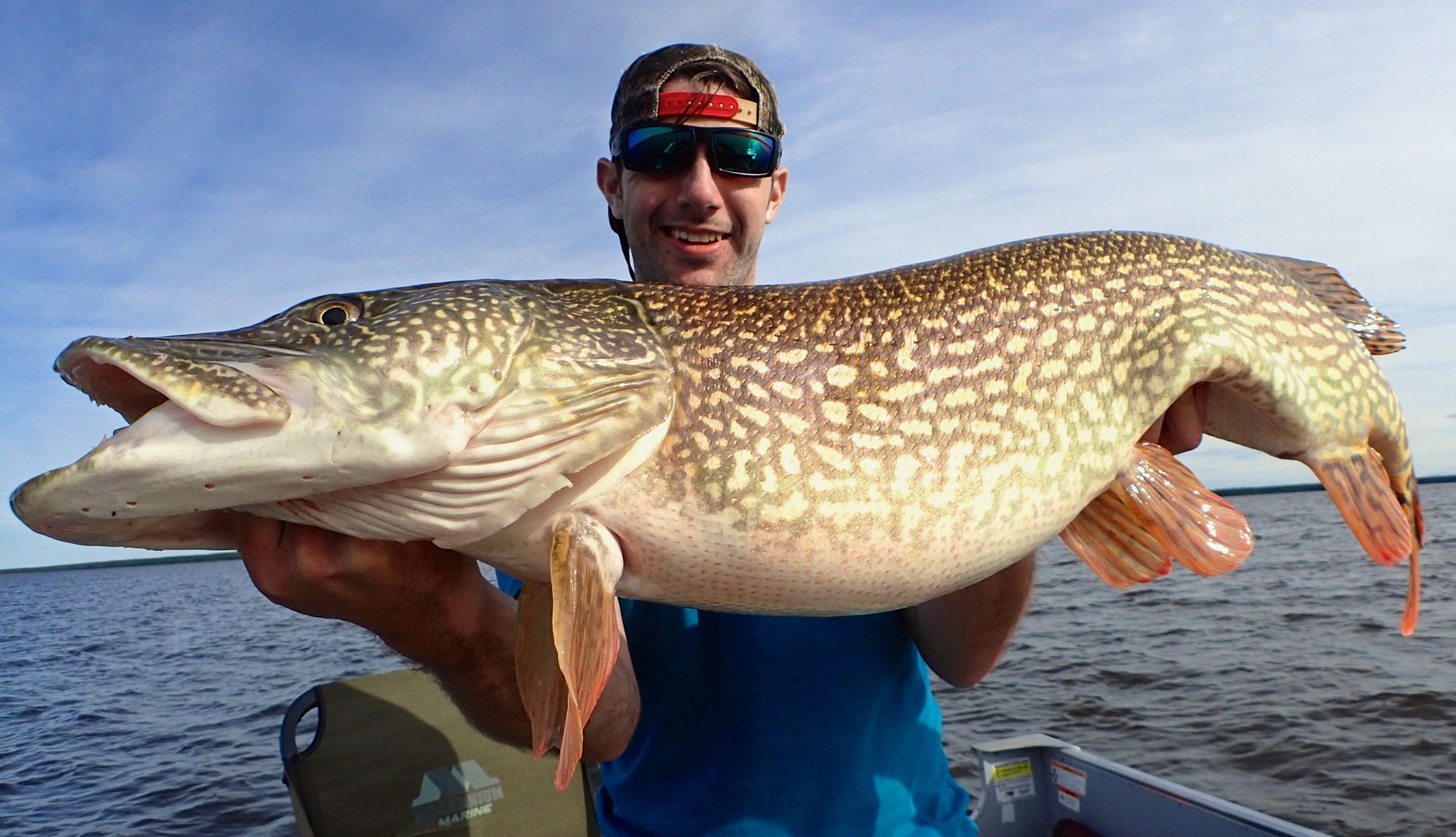 Of course I was thrilled for them. And knowing the pike were there and biting was inspiring. We picked their brains a bit on where and how they were catching their fish and it really wasn't a huge mystery. Shallow bays with grass and cabbage, casting weedless spoons directly into the vegetation. Typically if I'm pike fishing the north in late August I'm pulling 8 and 10 inch Depthraiders around rock structure directly adjacent to deep water. This was easy fishing in comparison!
Saying our goodbyes at the dock we headed north while they went east. Bren and I fished a couple of bays that looked dynamite but caught nothing of substance. Still, it was enjoyable. At roughly 11 am the skies opened up though and heavy ark building rain began to fall from the sky in sheets.
I would have stuck it out, but I had no interest in punishing the kid after our ordeal the day before. By noon he was shivering and asked if we could head back to camp. I agreed. A crackling fire in the wood stove and some hot soup were starting to look pretty good to me.
We were both exhausted as well, finally succumbing to the toll yesterday's adventure had taken on us. It was back to camp we went.
I was honestly surprised to not see Russell and Colin's boat already there as it really was nasty weather. Those lads were proving to be quite impressive!
It didn't stop raining the entire day except for a brief spell around 6 pm. At that point we decided to give it a go and hopped in the boat to fish a couple of known bays close to camp. I was shocked at how roiled and brown the lake had become in the heavy wind – it was seriously dirty! Pike being sight feeders that's a pretty major disadvantage and frankly I had zero expectations. It was however pretty nice to be outside again shaking off the cobwebs. We caught only a handful of small fish, but enjoyed every minute of it.
Russ and Colin finally rolled into camp at 8 pm, as wet as drowned rats with happy grins plastered all over their faces.
They'd fished most of the day in the cold rain and wind refusing to give up, and guess what? They didn't set the world on fire, but they caught two more trophies fishing at the east side of the lake. Good on ya boys!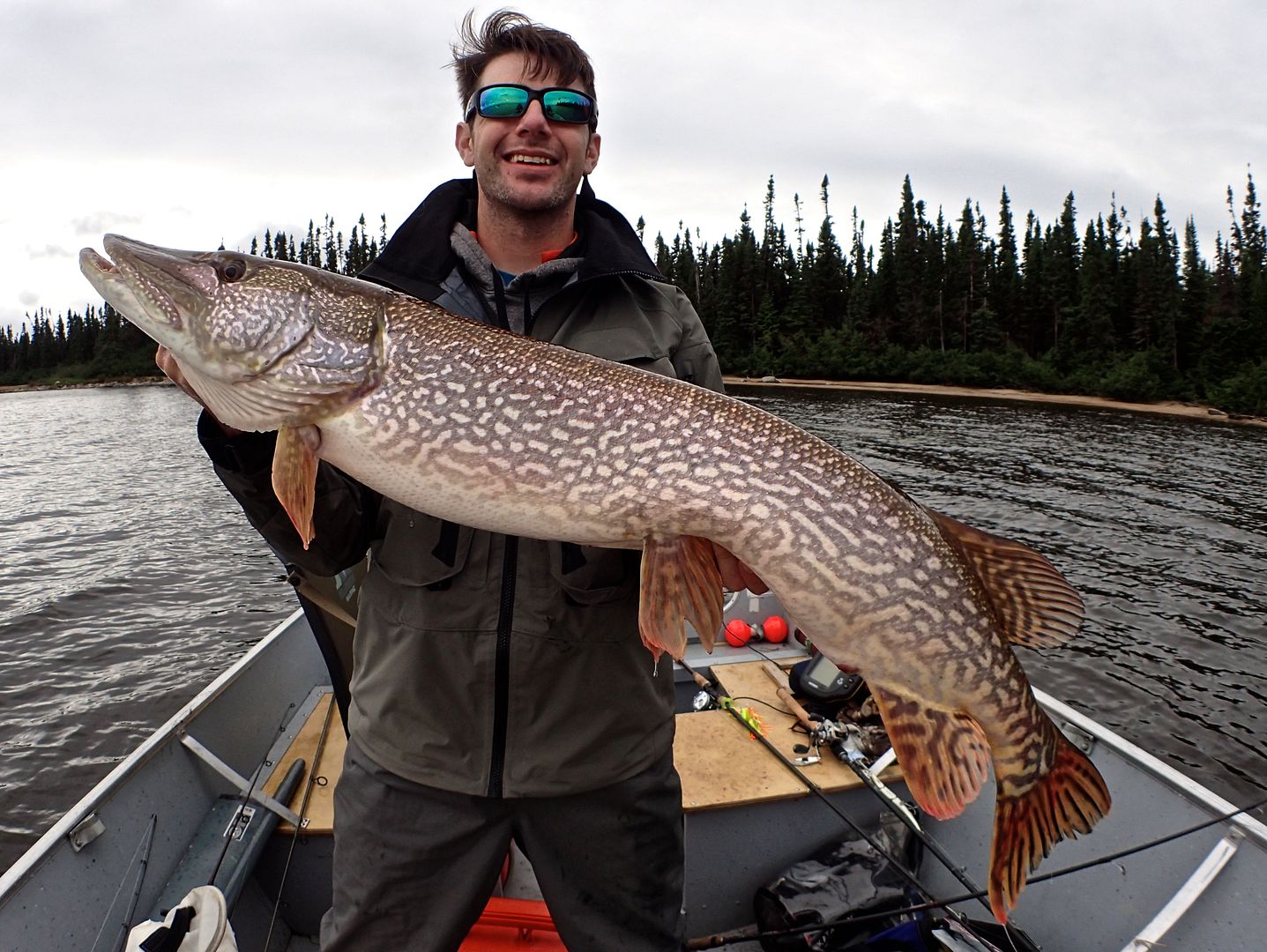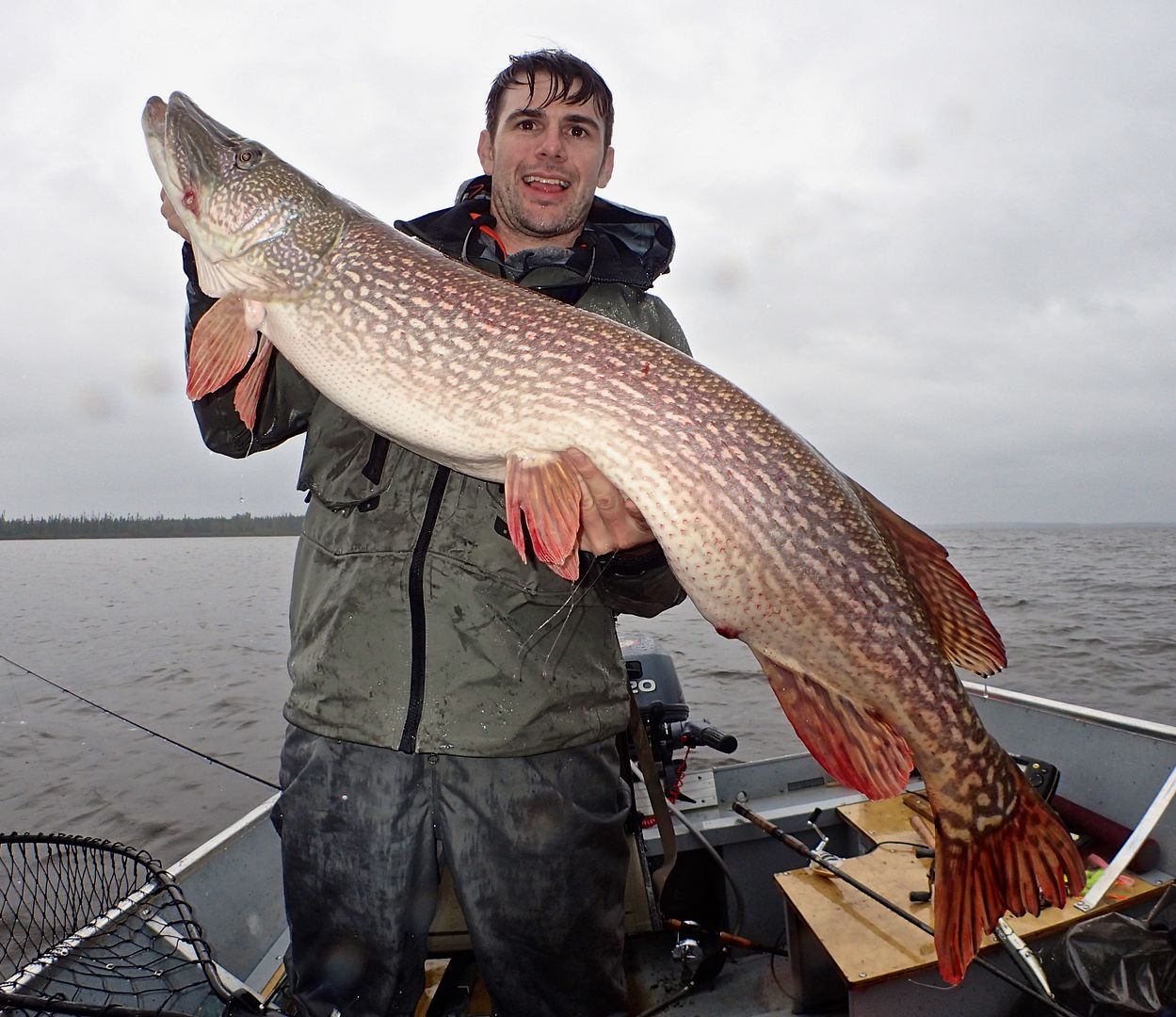 Brendan and I had some catching up to do!
Big Heartbreak And A Tag Team Effort
Day three saw Brendan and I up at 6 am eager to get getting. We'd received a favourable weather forecast the night before and planned to take advantage. Russell and Colin were right behind us and after wolfing down a quick breakfast we were in the boats and off.
The kid and I headed northeast to work our way up the west side of Kirk Island, to this point in the season the most productive zone according to Jim. It was also the same area of the lake where the boys had done so well on their first day. Seemed as good a starting point as any.
Working our way up the shoreline we fished every single spot that looked even mildly interesting, catching fish as we went. Again nothing big, but I knew it was only a matter of time.
Always on the lookout for wildlife Brendan spotted something moving in the back end of one of the bays. The kid has sharp eyes, better than mine – it was a cow moose! We motored slowly towards it while it continued to munch on vegetation not concerned in the slightest. After a couple of minutes she turned, raised her head, then trotted off into the brush. For me it was old hat, but the kid had never been that close to a moose before and he was in awe.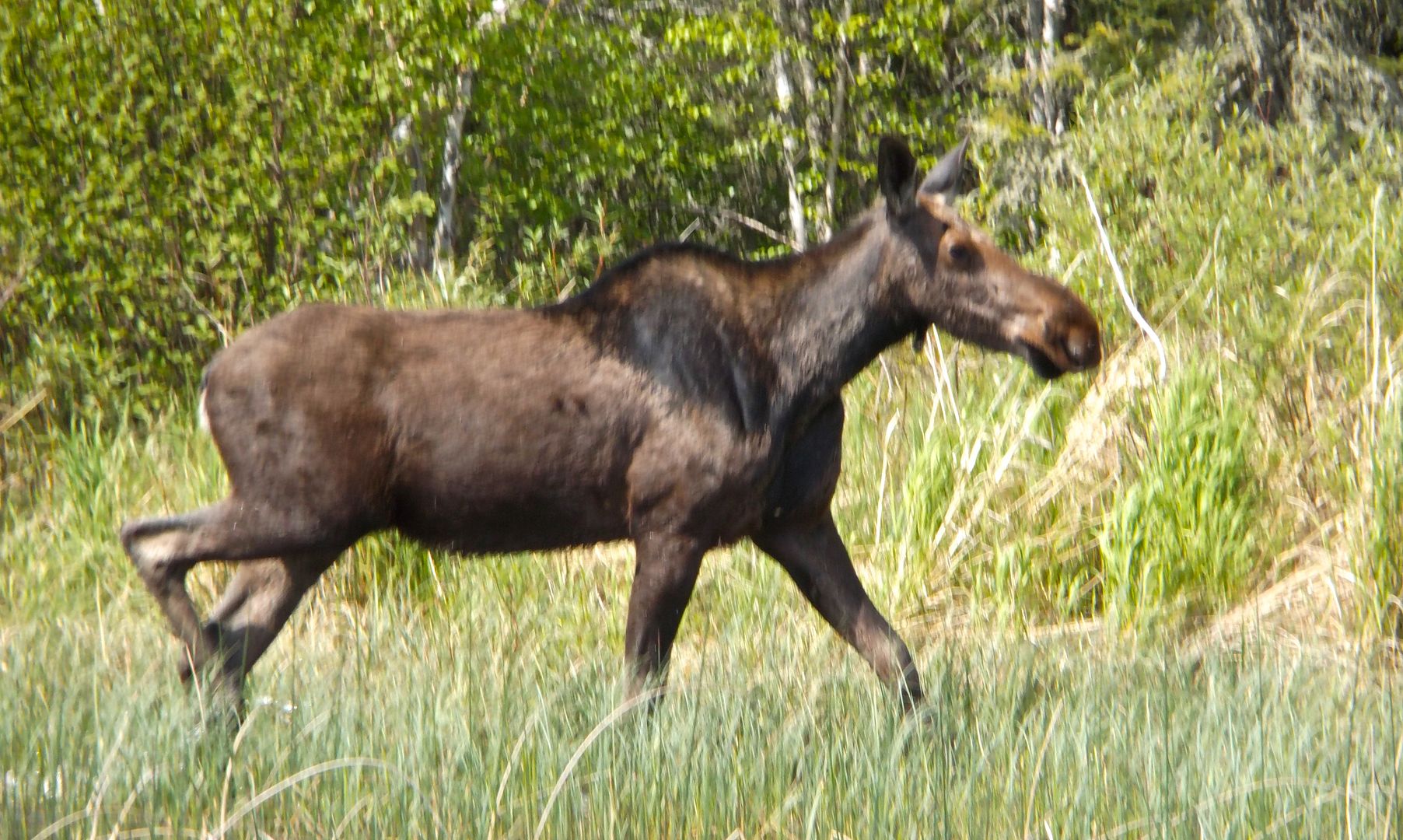 Around noon we passed a small rock island with a single tree growing on it not far from shore. Just past that a line of big boulders extended out into the water in a half moon shape. There was a big mat of grass in the back corner of this quasi bay and a little further out was a big patch of deep cabbage in roughly ten feet of water. Fifty feet past that the bottom dropped down into thirty. It was literally a perfect spot. Tons of structure, weed, and directly adjacent to deeper water. Even though fish are caught in shallow water on Evans in late August it's not a typical early season bite. In June they're stacked in the bays like cordwood and often feed ravenously. In August it's a bit different. They're at the peak of their metabolism, fat and heavy, but normally they'll slide in and out of those feeding shelves. When they're in a negative mood or more simply not there you won't catch them. The trick is being in the right place at the right time. You must have the ability to identify those grade A spots and continually come back and fish them. Just because a good looking spot didn't produce doesn't mean a whole lot. You need to return and fish it at different times of the day. That exact point was driven home emphatically later on that day…
As Brendan and I pulled into that perfect little half moon bay a gigantic fish boiled thirty feet to our left. With both of us on high alert Bren hurled his spoon past the spot and almost instantly hooked up. "Dad – this is a big fish!" Only nine and he acts like a seasoned pro. Honestly I was more excited than he was especially after I got a look at the fish. It was beastly! Honest truth, that was one of the largest pike I've ever laid my eyes on, easily pushing fifty inches, possibly more, and FAT! Funny thing is the kid had been telling anyone who would listen that was going to catch a fifty one inch fish. He's definitely not lacking confidence!
Brendan did absolutely nothing wrong and suddenly his line went limp and the fish was gone. As it cruised by the boat all I could see was the leader protruding from its mouth. It had completely engulfed his lure and I believe he didn't really get a hook into it. The fish simply opened its maw and the lure popped out.
Absolute total heartbreak! I did however capture the moment on film, have a look it's a pretty cool little piece of footage!
Shrugging it off we continued our pursuit and found ourselves along the east side of Long Point in the late afternoon. We'd fished a couple of those grade A spots with nothing to show for it when we bumped into Russell and Colin. They'd just come from the southeast corner of the lake and had planned on fishing the water we'd just covered.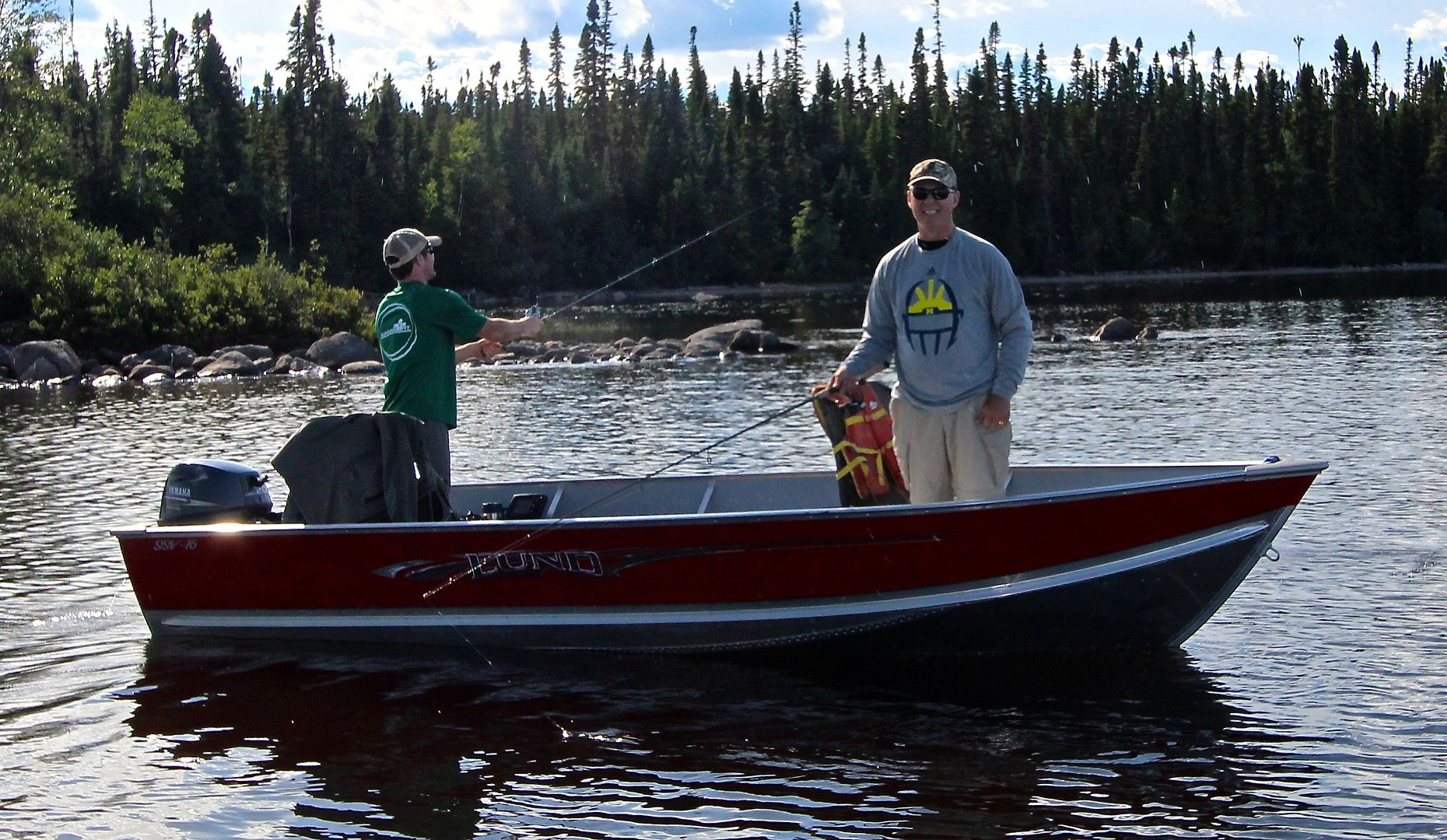 We wished them well then sped off in the direction they'd just come from. Unbeknownst to us to very same water they had just left!
Pulling into a small well defined bay with a creek filtering in we began to cast…
I struck first with a girthy fish that hammered my spoon right near a clump of grass then took off on a sizzling run before being subdued. I'm not going lie, it was a bit of a relief!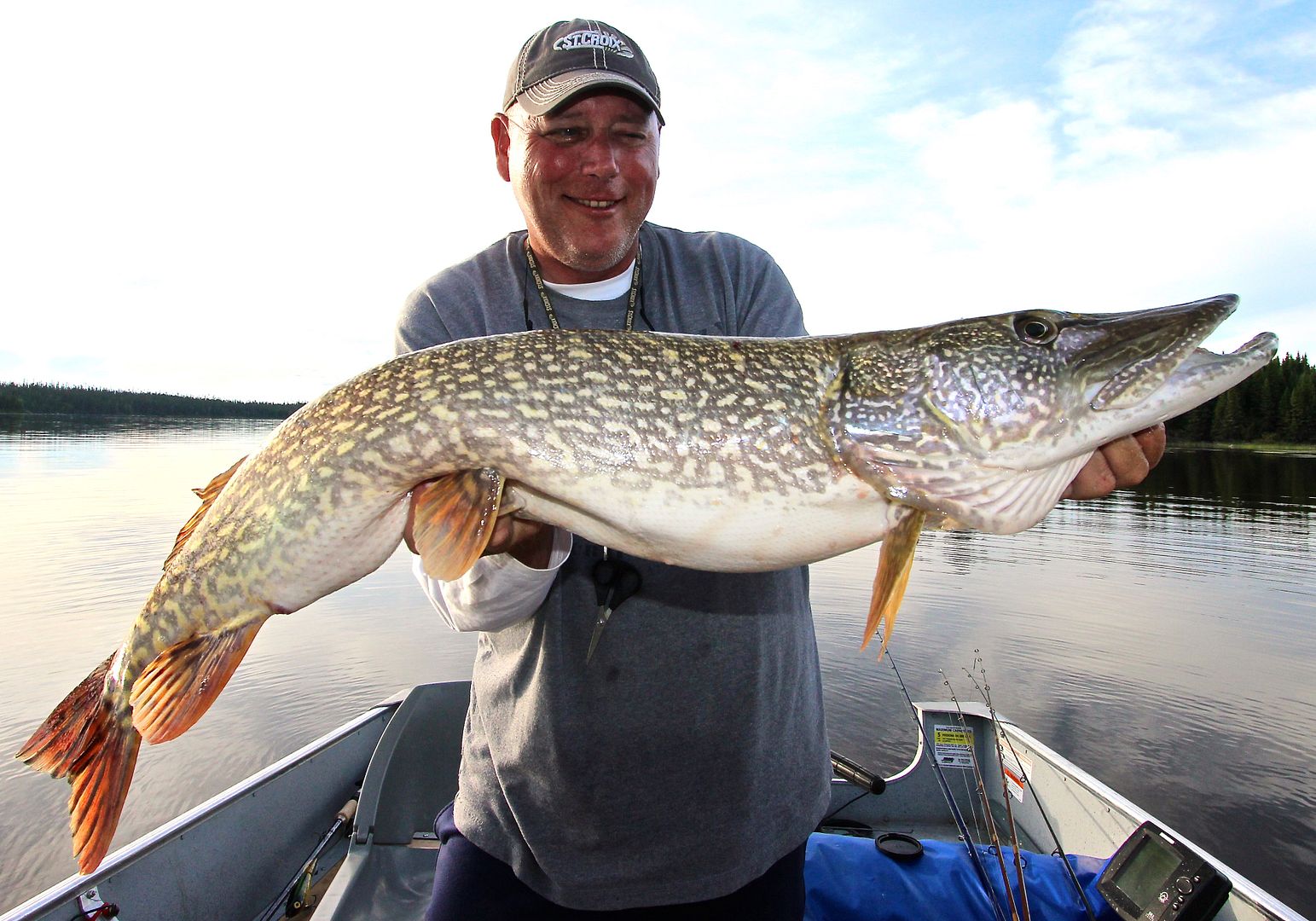 Not long afterwards Brendan was up to bat nailing another beauty on a pumpkinseed coloured Pelican spoon. It's kind of a neat spoon as it's the only one on the market that I know that's painted on both sides. The kid was pretty happy!
I filmed this short video of the action, check it out!
Back at camp comparing notes with the other guys we were all kind of stunned. Within half an hour after Bren and I had left the bay where we met them, they bested two giants of their own!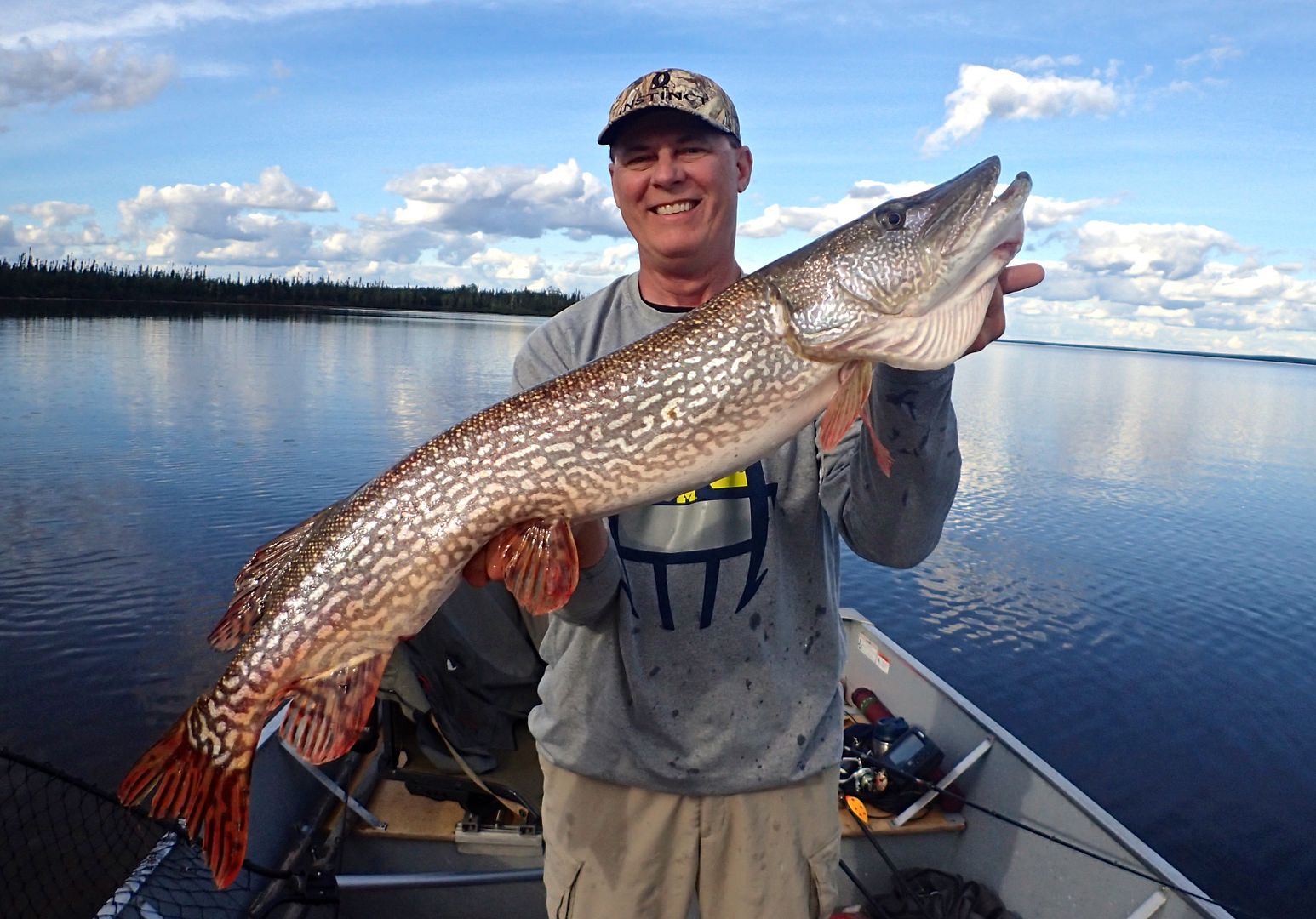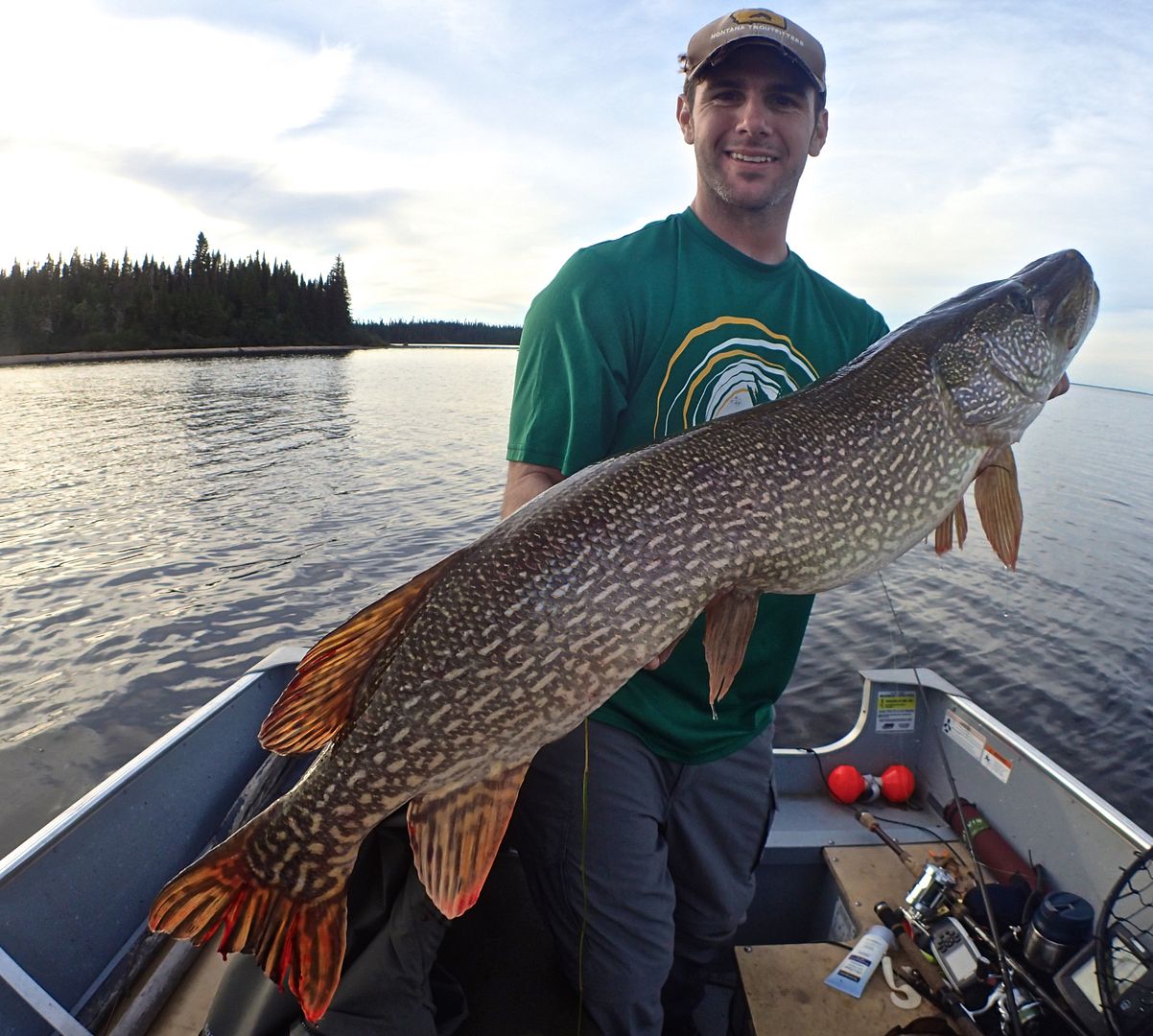 When they questioned Brendan and I about where we'd caught ours, it was clear that we'd jumped right into the same spot they had just left.
Pretty funny eh? But as I said earlier it proves the point pretty emphatically that these fish will turn off and on like a switch. We tag teamed those fish and it paid off!
A Long Run And Loads Of Fish
Prior to the trip I'd studied a topographic map of Evans pretty intensely and one particular area jumped out at me – the very end of the long northeast arm where three different rivers filtered in. It looked like a magnet for pike, problem was it was also the furthest point from camp, a run of well over fifty kilometers one way. Asking Jim about it he said this, "It's one of the best spots in the lake Mike, tons of giant pike are caught there but not many people make the run." That was more than enough for me – I was going! Russ and Colin were on board with the plan too and Jim suggested strongly we go in tandem for safety reasons. All things considered I couldn't disagree with that logic and the plan was set. We'd make the long run when we awoke if the wind and weather cooperated.
Russ and I were up super early, the two of us muddling around making coffee and packing lunches.
A quick look outside and a check of the weather forecast on my Delorme unit made the decision for us: it was go time!
I got Brendan up and dressed and Colin joined us shortly afterwards. A quick breakfast and we were suited up and ready for the long run. Both boats had lots of extra gas, food, drink and spare clothes in dry bags. We were as ready as we'd ever be.
Ten minutes into the long run Brendan actually fell asleep in the boat seat, something he does fairly regularly. My dad can sleep like that as well – pretty much just closes his eyes and is out like a light no matter where he is. I wish I could do that, but it's not in my DNA.
I sipped on my coffee while we skimmed across the lake and my boy slept. Honest truth is I was feeling pretty good. Moments like that are what I live for, it was heaven.
As we approached the tip of Long Point I spied two small islands offshore that I hadn't fished yet. Motioning to the other boys I sped over to them to check out the saddle in between. The wind wasn't real strong but it was blowing right down the pipe and I figured if the saddle was shallow enough there'd be some cabbage.
Mid lake saddles next to deep water are always a prime spot for late summer pike. To date we'd been focusing on bays but I wasn't planning on leaving any stone unturned.
To my delight there was indeed some cabbage between the islands and the depth was perfect – ten feet in the middle with the water dropping quickly on either side into 20 plus.
Choosing an oversized spinnerbait just to be different I nailed a beauty walleye on my first cast that Brendan had the honour of showing off.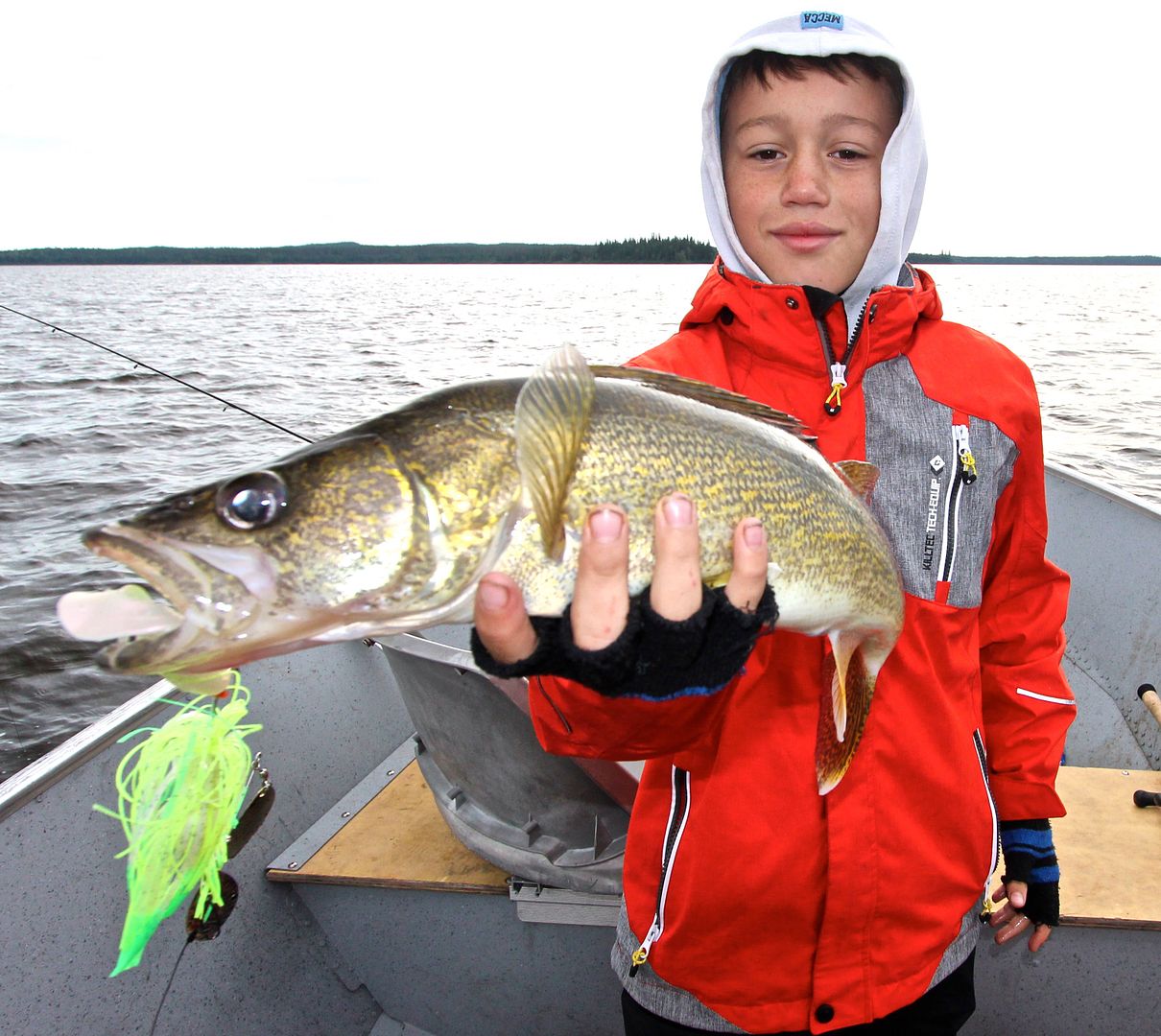 "Hey, I want to use a spinnerbait too dad!" he cried, then he proceeded to grab my rod and make a cast across the top of the cabbage. Immediately the water boiled behind his bait and a nice pike smashed it! A great start and we weren't even at the good spot yet.
I could have easily picked away at that spot for a while, but the other boys rightfully so came alongside and suggested we not get sidetracked. We still had a long way to go. Obviously they were right and off we went. Brendan is as light as a leaf so my boat was noticeably faster and we pulled ahead of the boys as we headed north up the long northeast arm.
I was watching my graph the entire way and the depth was a pretty steady fifteen feet. Some areas were shallower, some a bit deeper. About thirty minutes into our run we reached the first obvious neck down and the start of Northeast Bay proper. At that point I saw the bottom drop to twenty seven feet. As we skimmed past a tiny mid lake island it rose quickly back up to ten. It looked real interesting and I filed it away for our return trip.
Continuing on I was quickly dismayed to see a constant depth of four feet on the graph. The further we went up into the long arm the shallower it became which really isn't ideal. My hope was we'd find some deeper slots where the creeks filtered in.
Unfortunately that wasn't the case. The entire thing was super shallow and the water temperature was pushing 68, a good five degrees warmer than everywhere else we'd fished. Still we'd come all this way and weren't going to abandon it without trying.
At the furthest point right where the Peace River tumbled into the lake we finally found some deeper water. A long slot fifteen feet deep in the middle was carved out by the current and it pretty much screamed fish.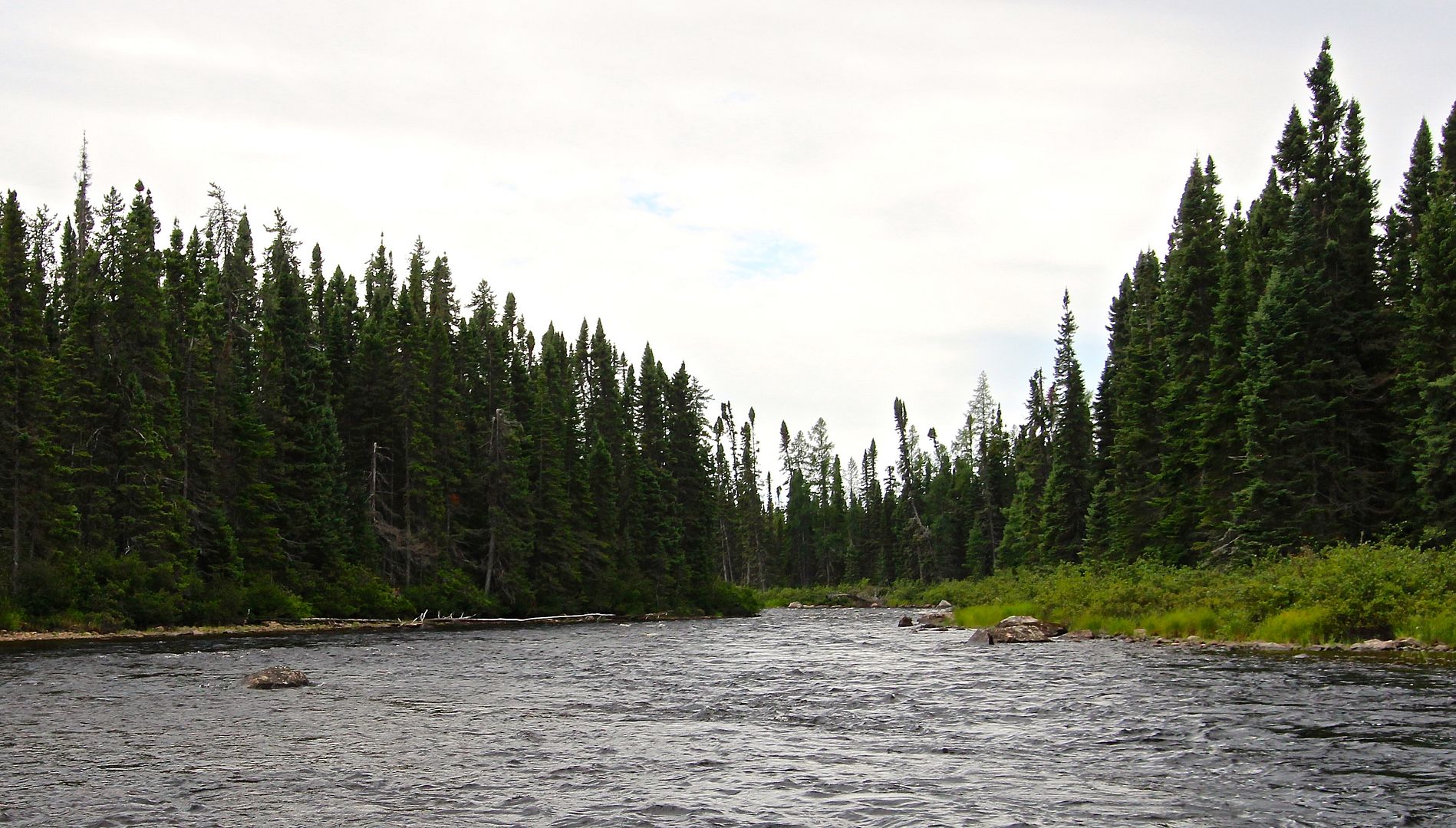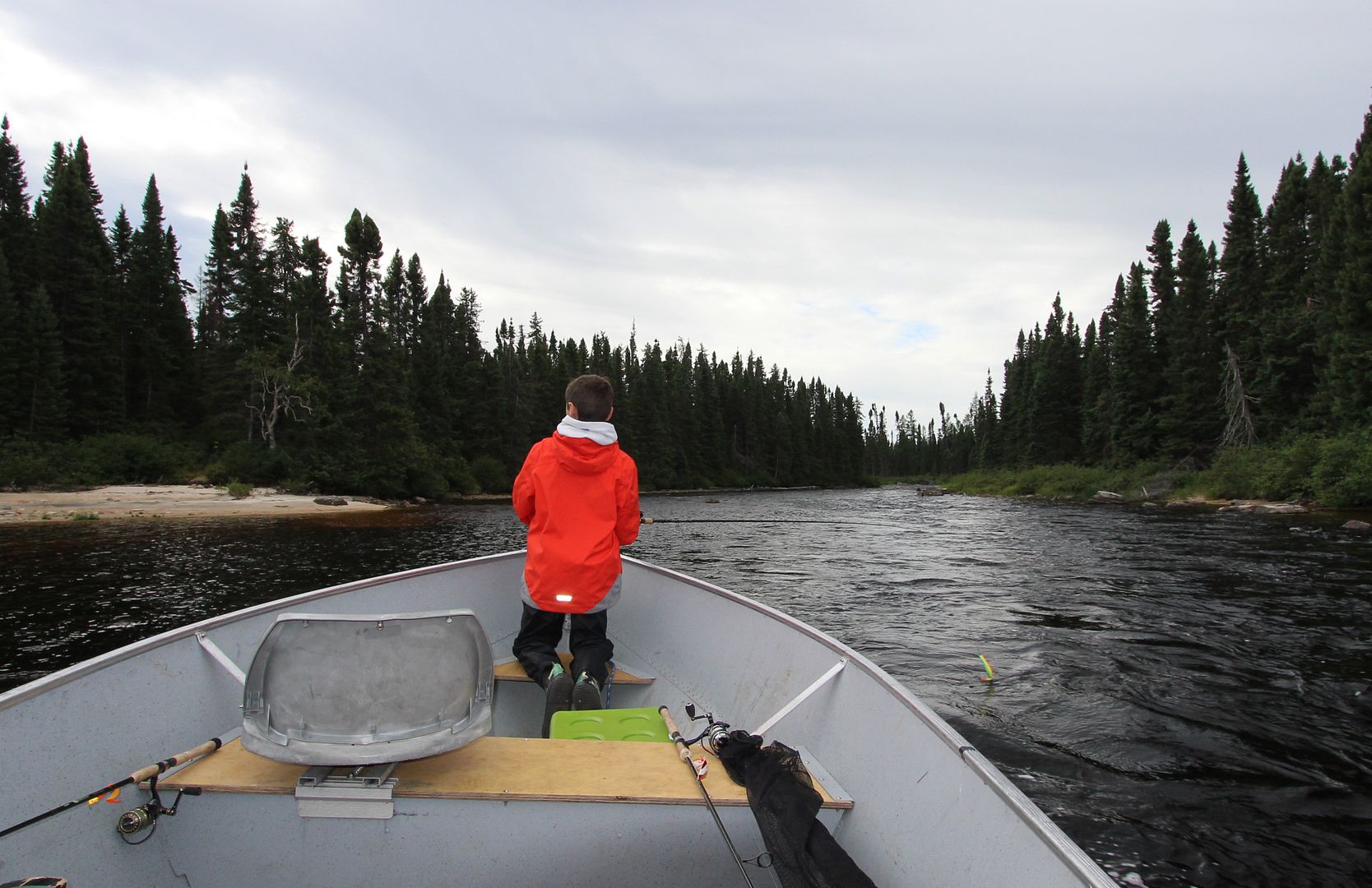 I do believe we could have caught dink walleye all day long in that slot – the spot was stuffed with them! We'd brought our lighter rods along and every drop with a jig and twister resulted in that familiar "tick" and another chunky walleye twisting and turning on the end of our lines. We did that for about half an hour before growing bored – we were there to catch pike. As is the case in most northern walleye and pike lakes, where you find concentrations of walleye you'll usually find big predators lurking nearby.
Once again using a spinnerbait I made a long cast across the deep slot and slowly worked it back towards me, blades throbbing rhythmically. Right in the middle of the trough I had a savage strike and managed to land this beauty.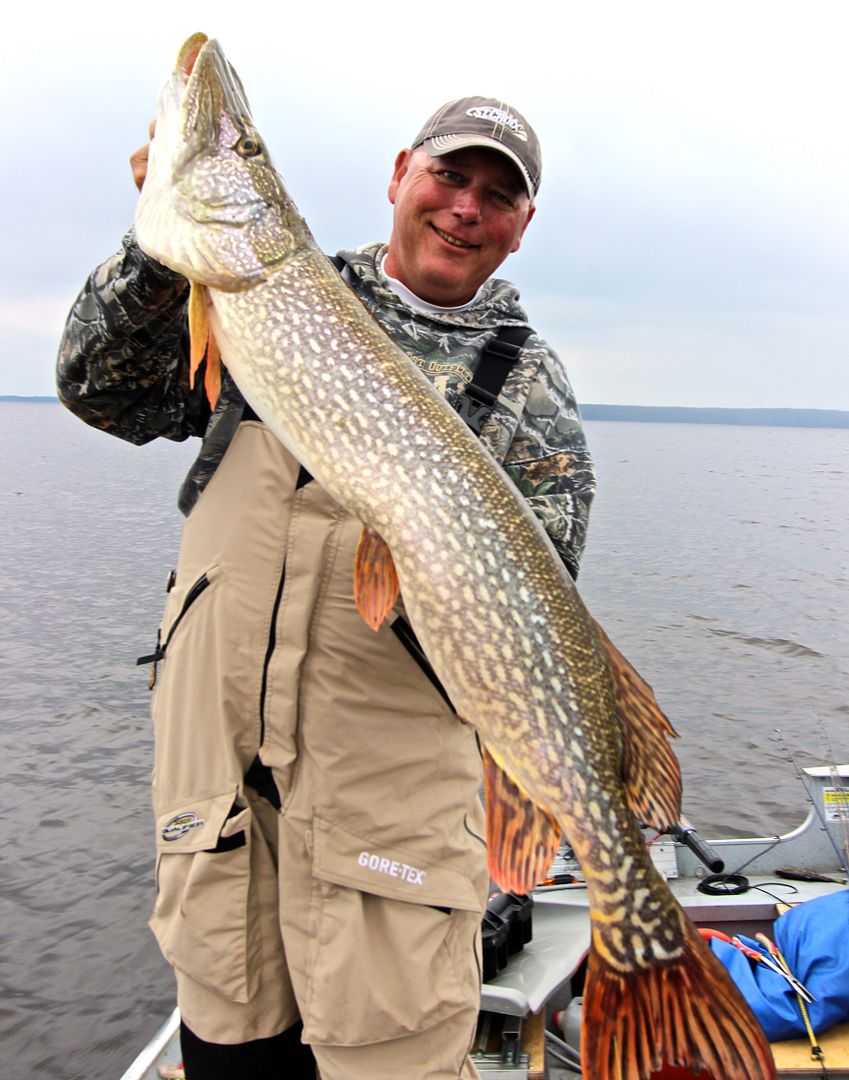 The other boys were fishing nearby and every time I looked over at them they were landing another fish. A mix of walleye and smaller pike, but no giants. The spot wasn't real huge and it didn't take us too long to be done with it. There might have been more big fish there but we'd burned it out pretty well and we had a ton of water to fish en route back to camp.
Colin and Russ sped away to another part of the bay, while Bren and I immediately began heading back out to the main lake. I was thinking about that twenty seven foot hole I'd spied on the way in and wanted to fish it. After that we didn't see the boys until the end of the day back at camp. This would prove to be a banner day for all of us with each crew having its own epic tale to tell. Here's how it played out for the kid and I.
Pulling up to the deep hole next to the small island we simply began to troll our pike baits and started hammering walleye after walleye. There was most definitely fish here! I worked my way over to the shallower north side of the island and was pleased to find a large swath of cabbage. Perfect!
We worked it over thoroughly catching scads of small to mid sized pike but nothing huge. There was however zero doubt this was a spot.
Pushing onwards from there we began to work every bay of substance along the east side of Long Point heading back towards camp. What can I say? We did pretty well!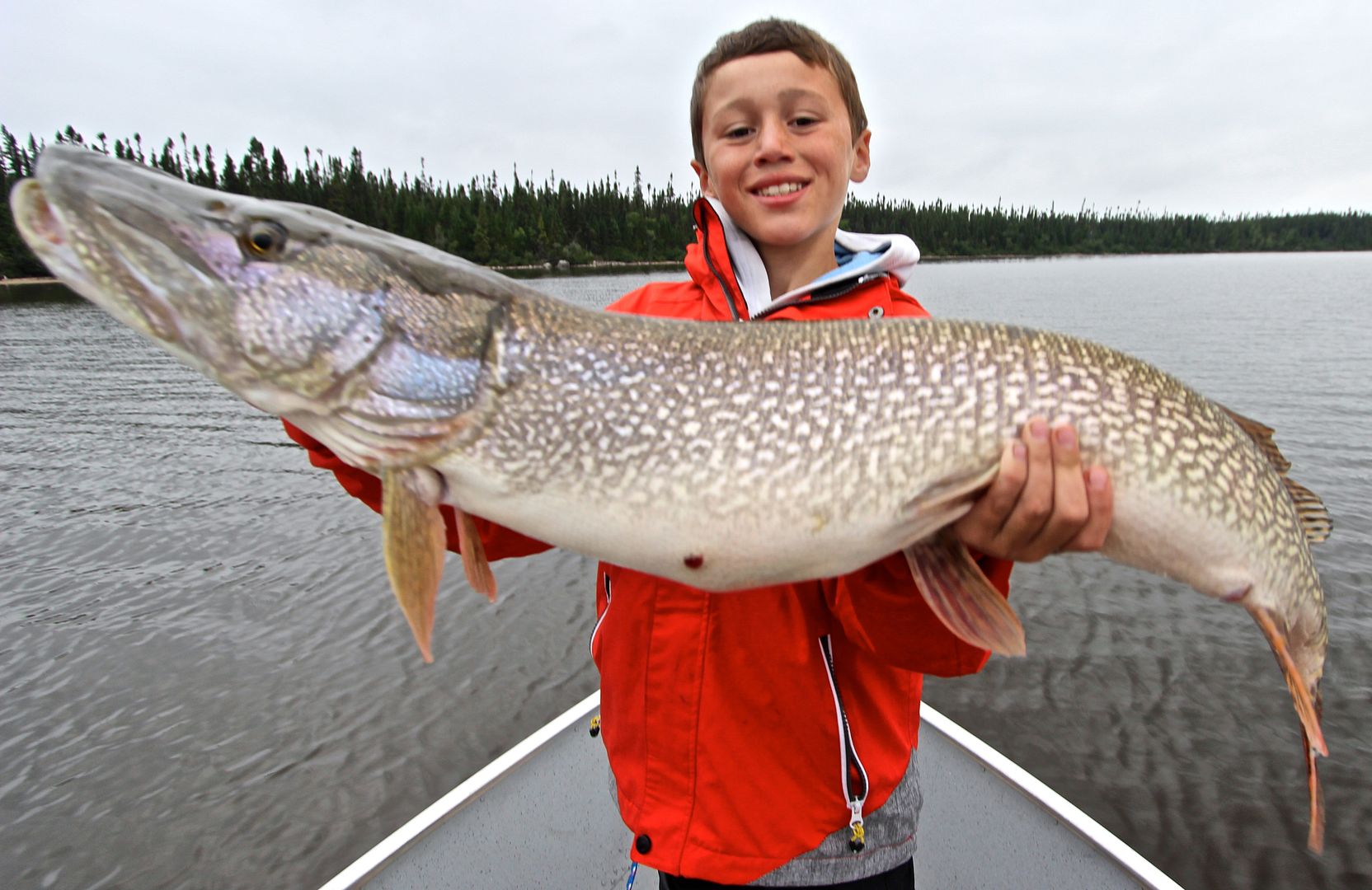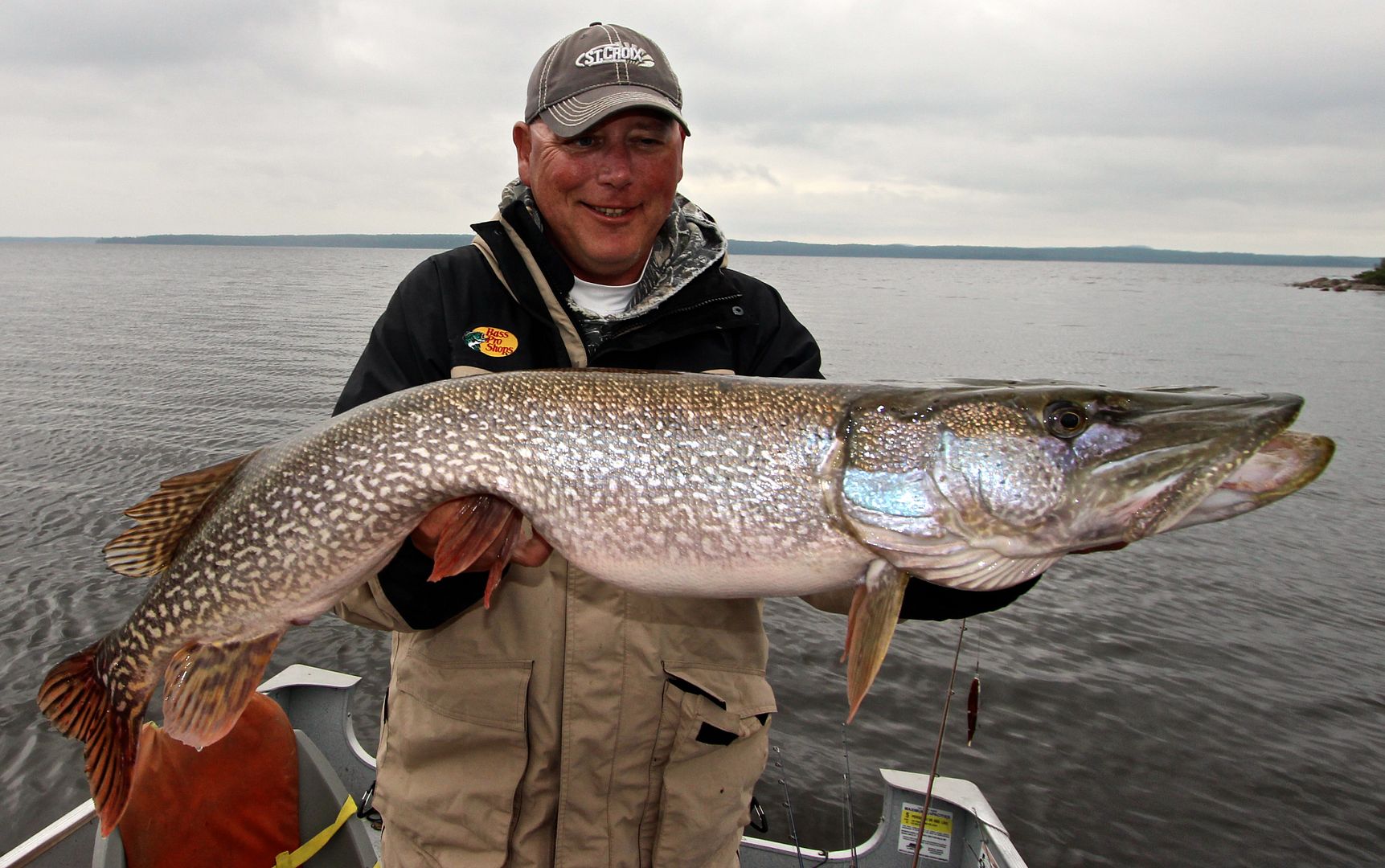 I filmed a couple of short clips highlighting the action. This first clip is kind of a memorable moment for me. A big fish chased my spinnerbait right up to the boat and turned away in a flash. We had drifted away from the weeds and the bottom was pretty clean there so I grabbed a second rod rigged with a hard swimbait and the first cast this fish just engulfed it! It was pretty cool!
In this one Brendan hits pay dirt with the orange and copper coloured Doctor spoon. By far my favourite and most reliable spoon when fishing for pike in the north. It's always money. Fact is we weren't able to fish non weedless lures very often on this trip, but we took advantage whenever we could. Have a look!
The spot where Bren had lost his giant earlier in the trip had been renamed "Brendan Bay" by Jim, and the lad was eager for another crack at that fish. I couldn't disagree so we made a long run over there at the end of our day to give it a whirl. Unfortunately we came up empty, but we headed back to camp on a high – six giant fish in one day tends to do that!
We pulled into the dock at 8:30 pm and the boys were right behind us with a story of their own to tell.
Fishing their way back to camp in many of the same bays we had earlier they caught eight giants of their own! I told you Colin was an ace, the young man led the way with five all on his own. Well done boys!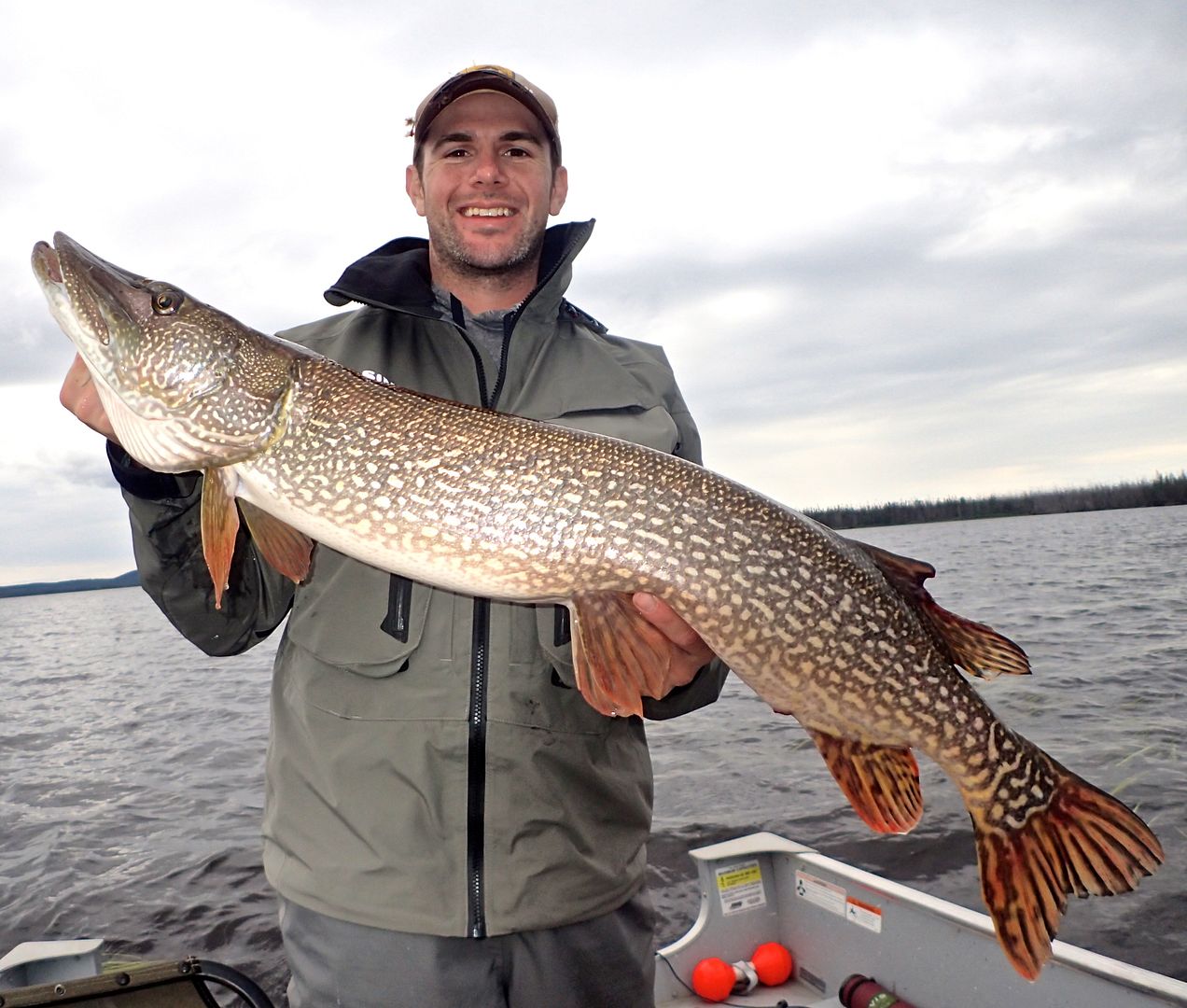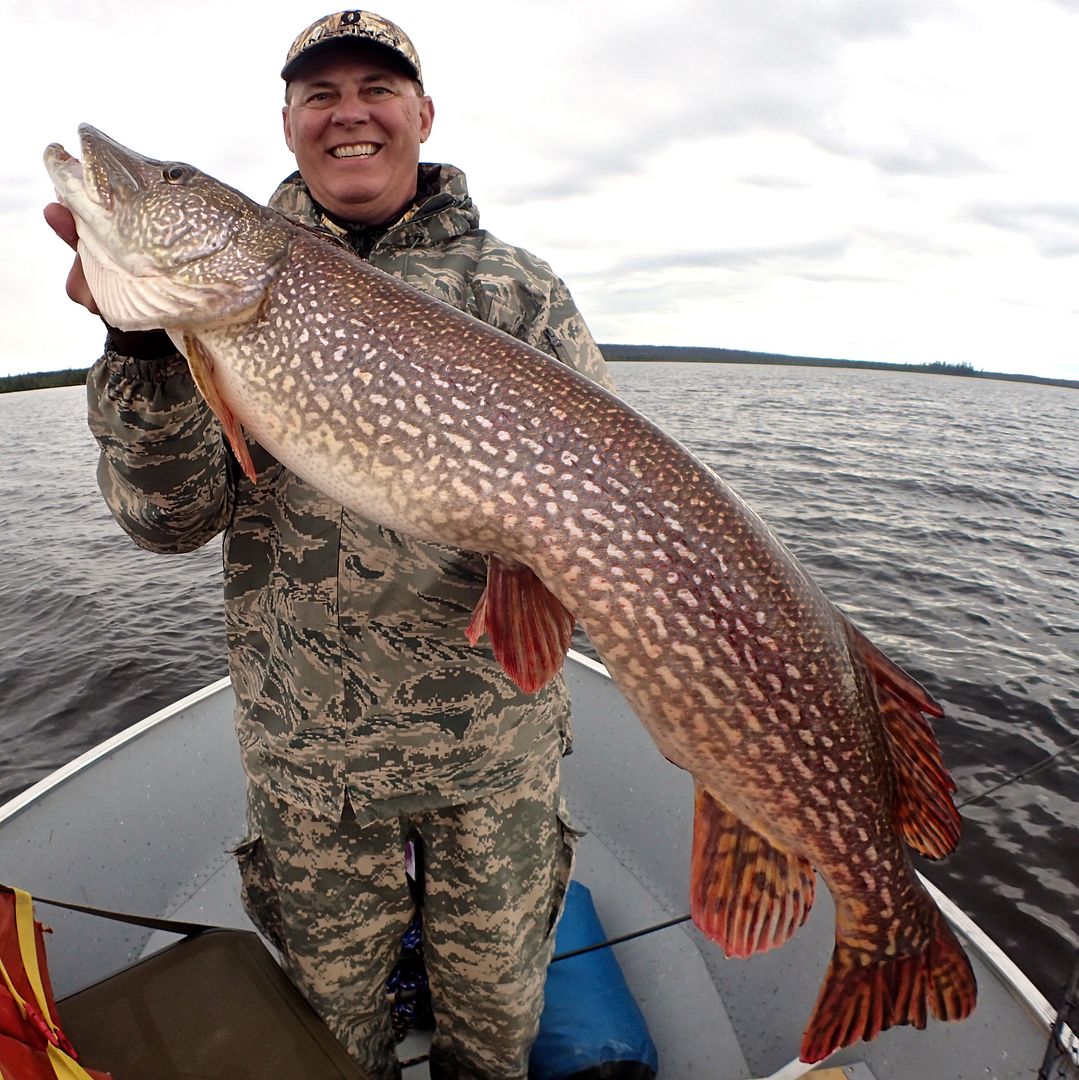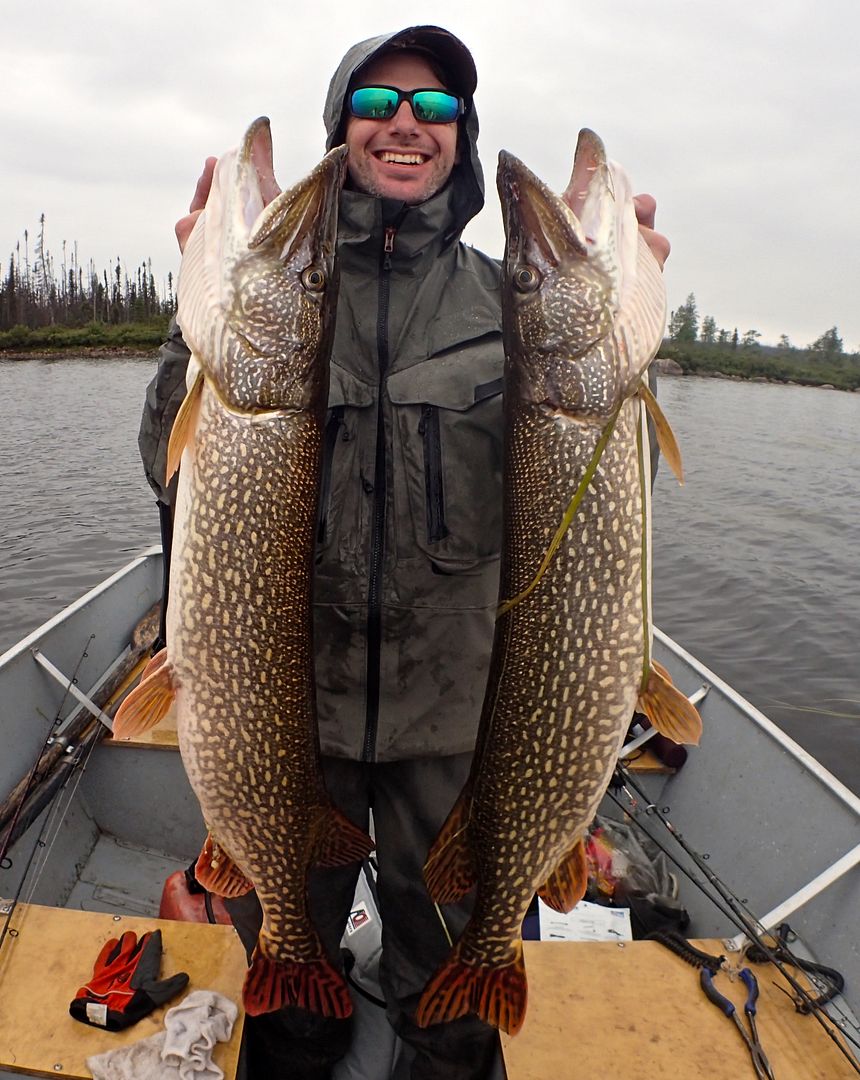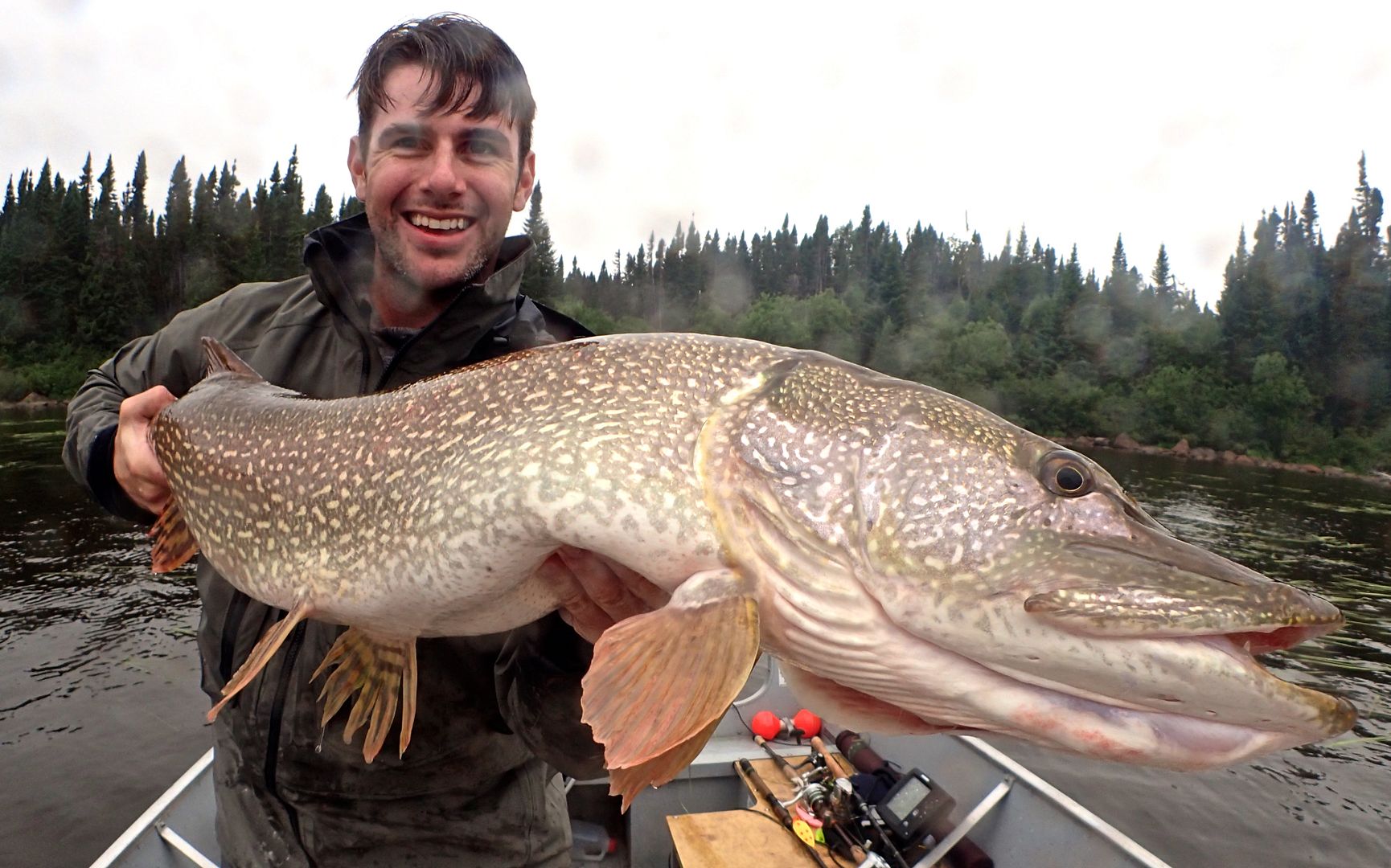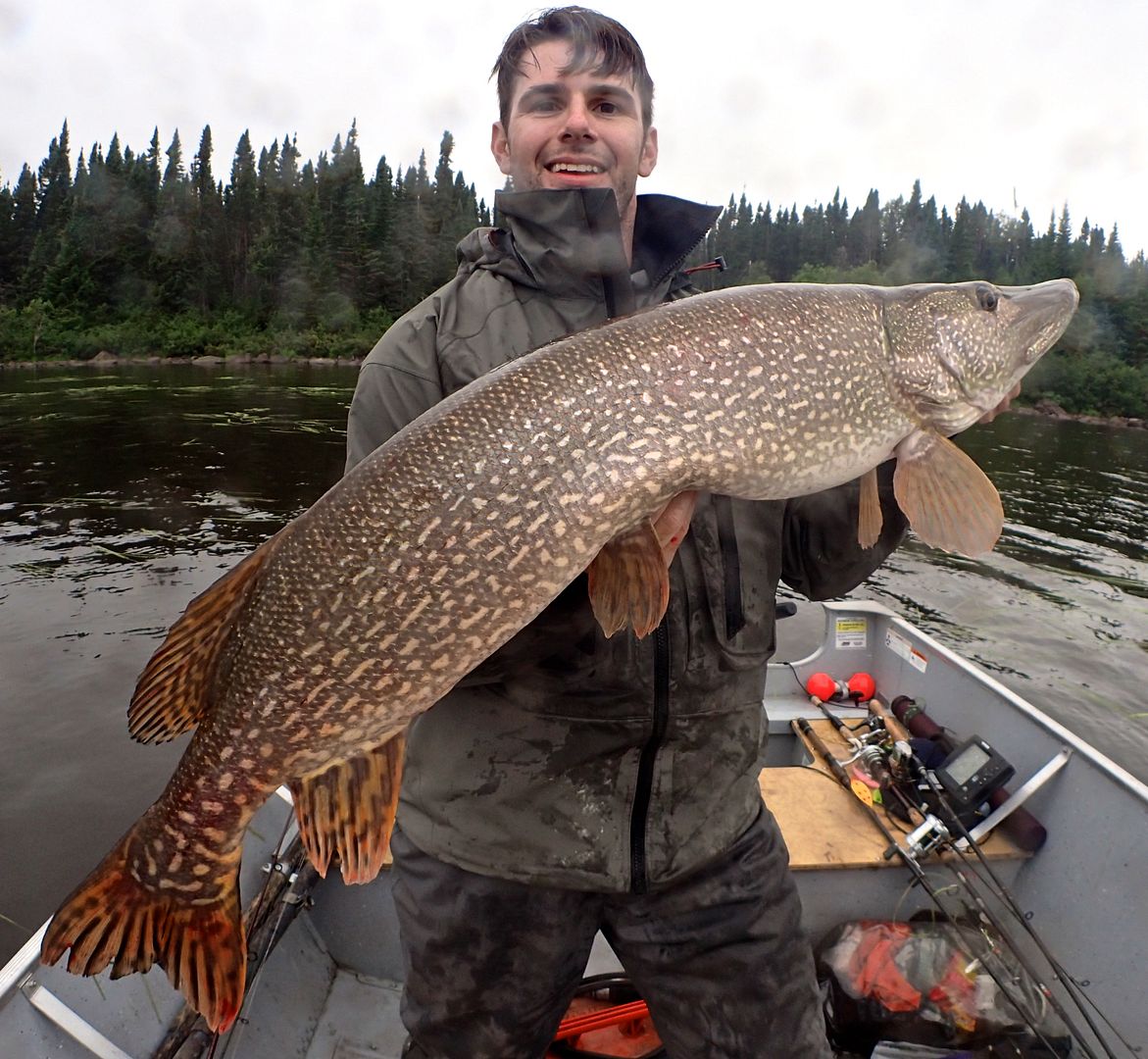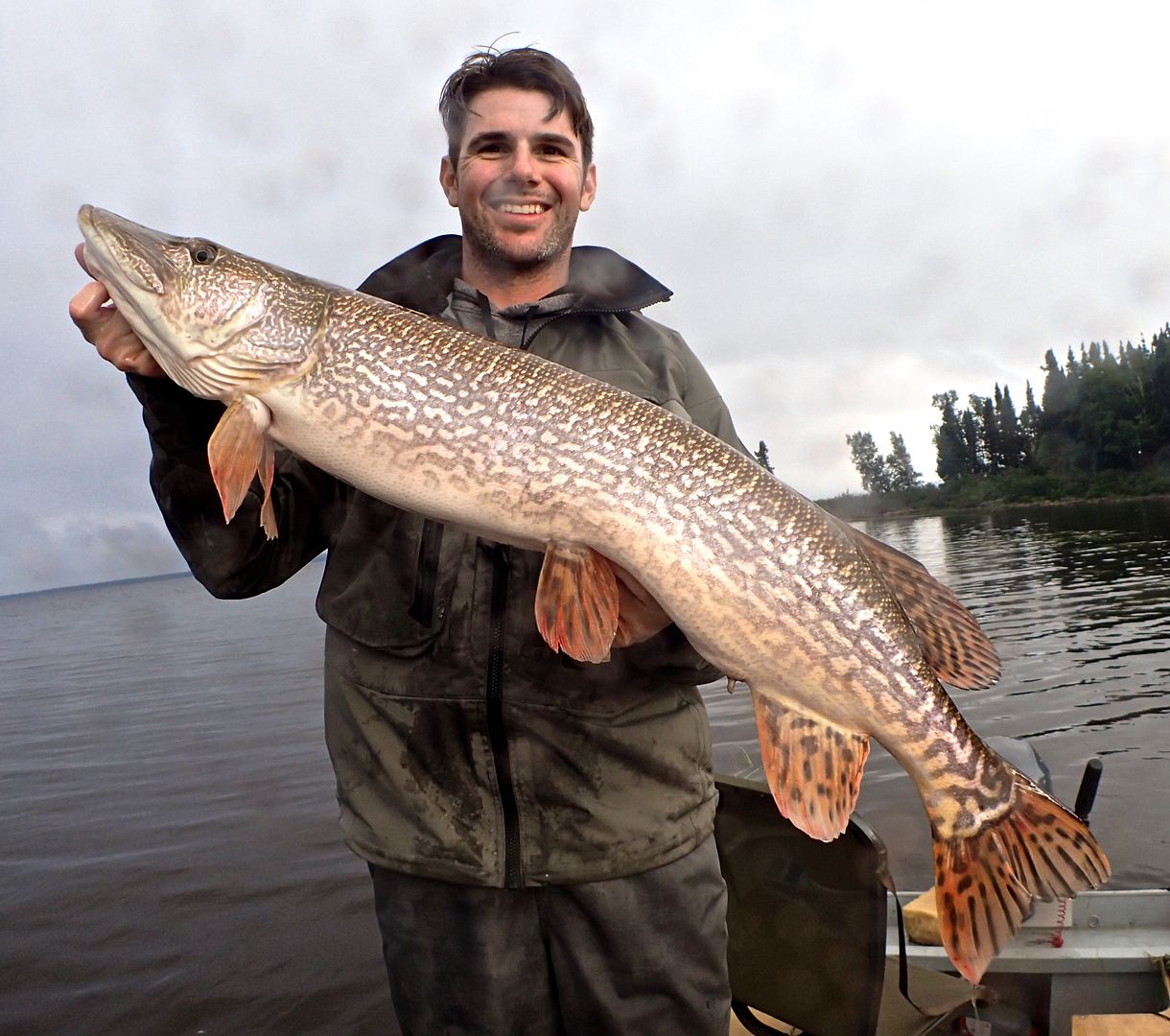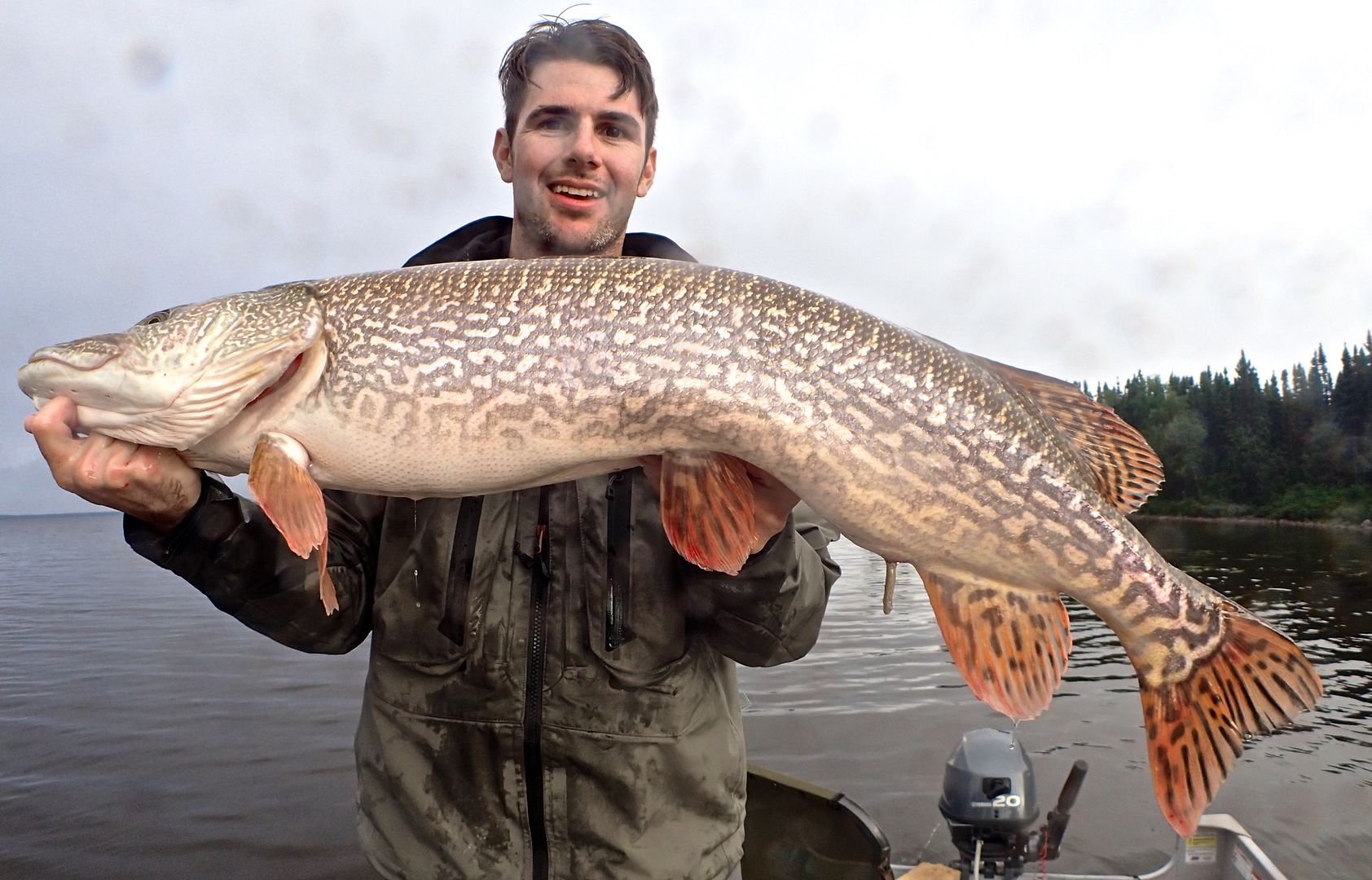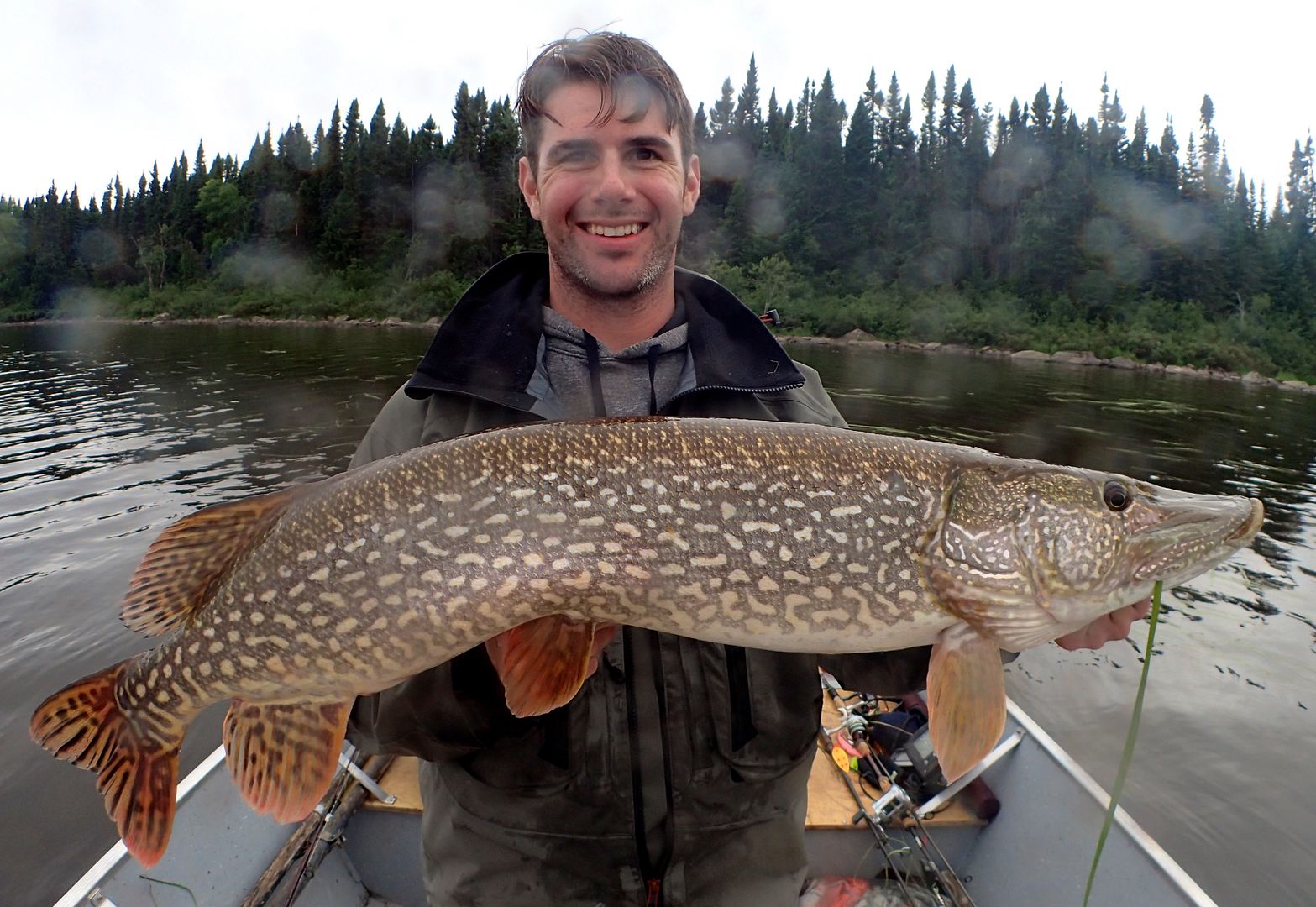 Our timing was impeccable. Shortly after arriving back at camp a violent thunderstorm hit – we'd missed it by maybe ten minutes. In retrospect that arriving front may have had something to do with fish we'd caught.
Needless to say the mood in camp that night was festive…
Blustery Weather And Bruiser Pike
The next morning I awoke at 6 am to the sound of rain drumming a beat on the tin roof. The crappy weather from the night before had carried over to the next day it seemed. However the forecast didn't sound too bad, it was calling for minimal amounts of rain with very manageable wind.
Undaunted we planned our assault for the day. Brendan and I would head north up to the Broadback outlet again, this time checking out the western shore on the way up. We figured we'd been shortchanged by the weather our first crack up there and it was worth another shot. Colin and Russ headed east then north, wanting to fish the east side of Kirk again.
By 7:30 we were suited up and fortunately the light rain had stopped. The boy and I took that as a good sign and rode a light tailwind north up the western shoreline. As always I checked out every little nook and cranny that looked interesting and finally stumbled onto something interesting.
About halfway up we cruised into a small bay that at least on the surface didn't look like much. There was no creek flowing in and it wasn't very big…but it immediately looked good. The back end was covered with mats of grass which quickly dropped into a huge patch of deep cabbage in eight feet of water. Right next to that it dropped very quickly into twelve, something that was rare in many of the bays. Most of them were quite shallow right from the mouth all the way in. This little gem was deeper, then had a perfect feeding shelf in its back end. Brendan actually said "I'm getting a tingly feeling dad, this looks good!" The kid is already at the point where he can recognize a good spot when he sees it. He really was making me proud on this trip.
With both of us almost expecting a big fish it was still slightly shocking when one did make an appearance. I lazily reeled my Silver Minnow spoon across a thick patch of grass reeling it casually back to the boat when a giant fish rushed at it boat side and missed it. Bren was on point and fired his own spoon in the direction the fish had turned, reeling it in a bit too quickly I thought. The fish thought otherwise and a monstrous pike pounced on his lure in a massive spray of water!
I filmed this great little video of the fight, check it out!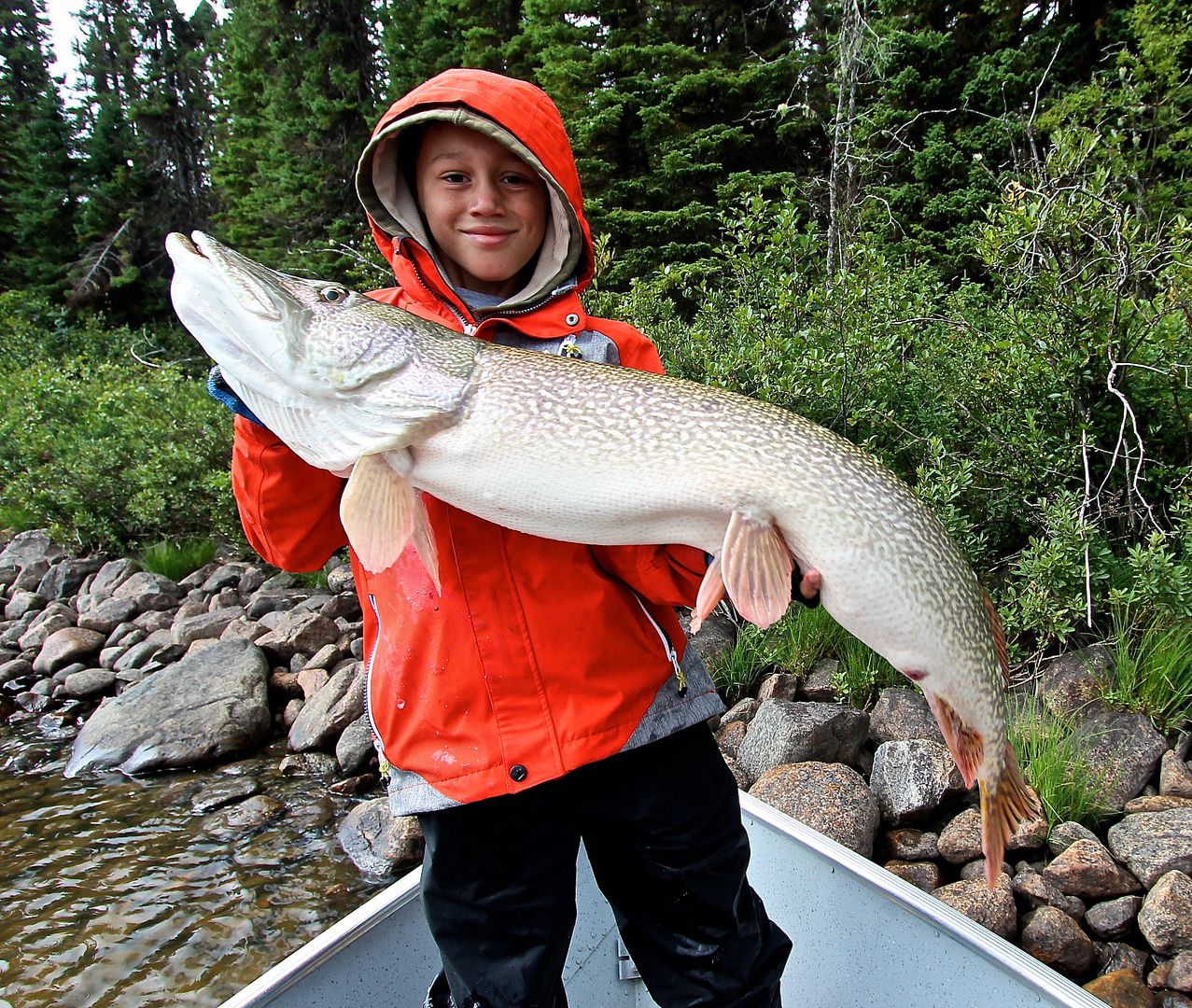 Not long after that I raised and missed two more fish on the outer fringe of cabbage before finally nailing this beauty. Another memorable fish. We'd worked over every inch of the weedy shallows, but I was loathe to move on before trying something. Clipping a Bulldog onto my leader I fired out a long cast in twelve feet of water parallel to the cabbage. It was almost back to the boat when this fish engulfed it right in front of me. Way cool!
Finally pushing on from there we continued north up to the river's outlet. That spot is many miles from our camp and is also the location of Bushland Adventure's most popular outpost camp on Lac Evans, Kirk Island. Situated right at the entrance of the outflowing Broadback River it's perfectly situated as it offers the angler many miles of prime water, much of which is protected from the fury of the main lake. We stopped in for a look…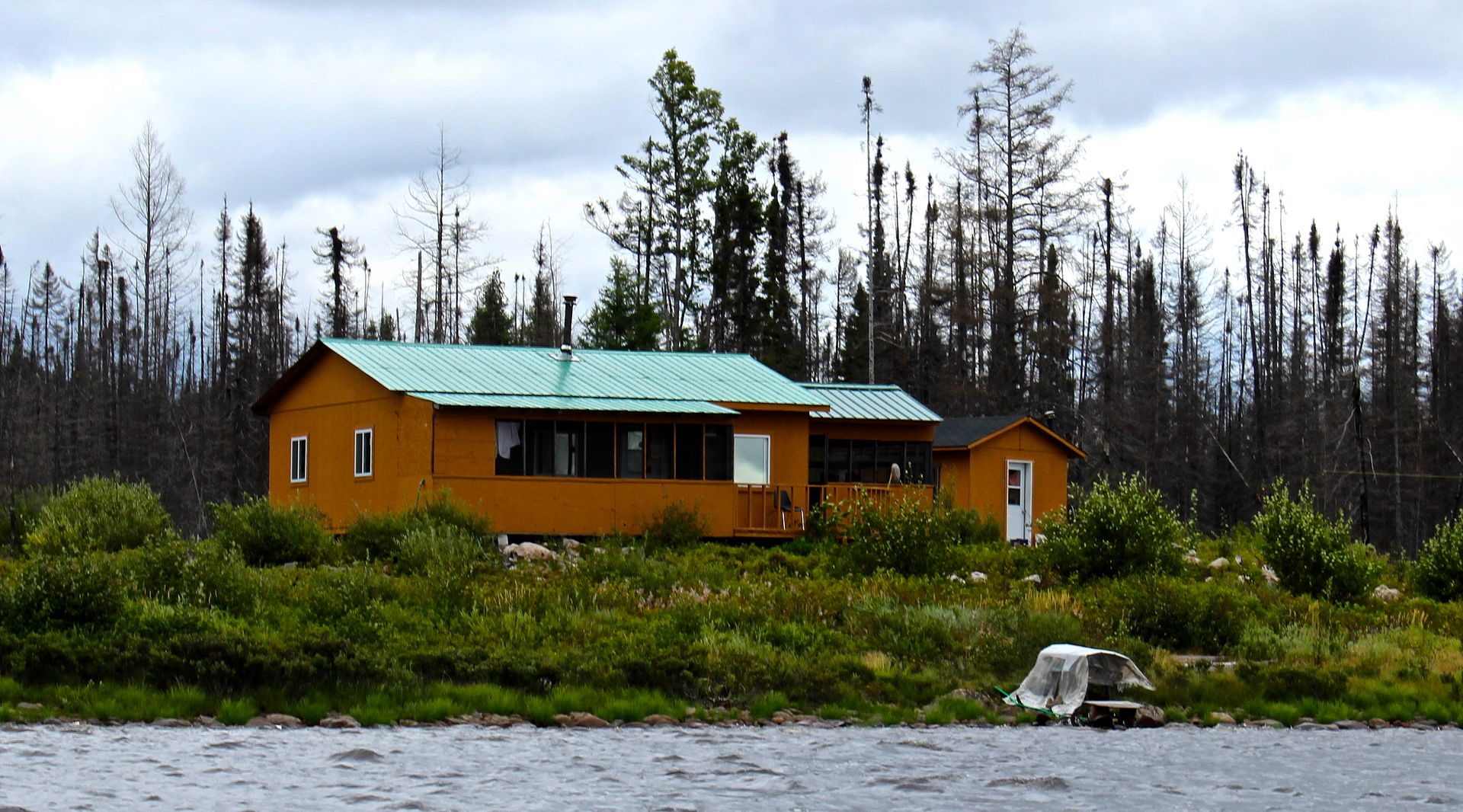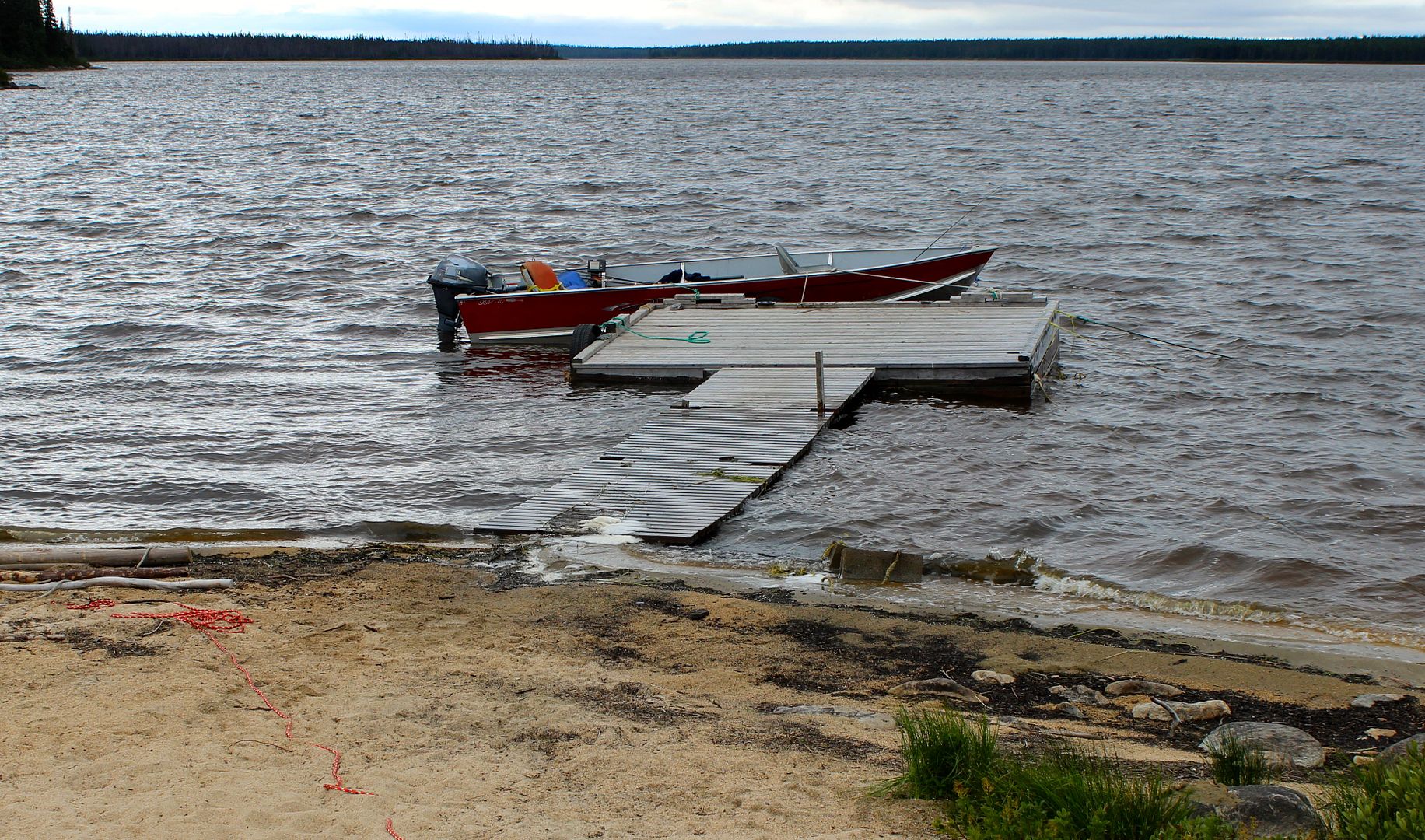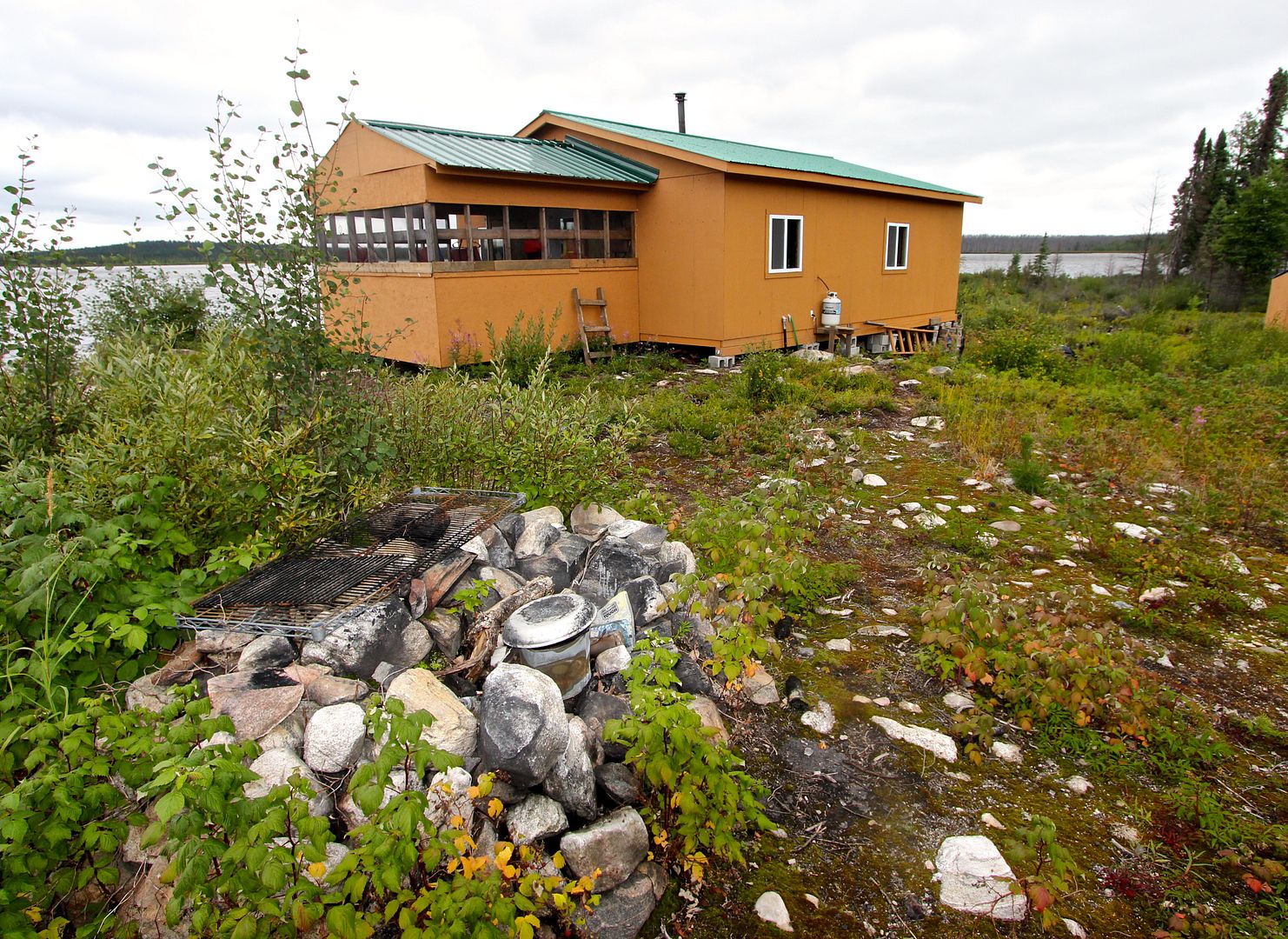 We poked around in the river current for a bit jigging up a bunch of walleye before the lure of more big pike pulled us away. Again, this is a spot where I believe you could catch walleye all day long if you wanted to. I love walleye fishing, but if I'm on a body of water capable of producing numbers of large pike like Evans I'm primarily fishing for pike!
Heading back out towards the main body of the lake there is a very well defined deep channel carved out by current that snakes it's way through that part of the lake. In a couple of spots we found more than fifty feet of water! It did cross my mind to troll this channel with big baits, but we were on a pattern that was working so I decided to stick with it.
At one point a large sandy point jutted out into the lake reaching close to the deep channel. The north side of the point ran parallel with the channel and the water closer to shore was thick with grass. Another grade A spot. A shallow grassy flat with direct access to one of the deeper basins in the lake!
Our motor was running perfectly, but it was idling a bit too high for my liking. Earlier that day I'd popped off the cowling and adjusted the idle using a small screwdriver borrowed from camp. What a difference! At idle it purred as smooth and quietly as a kitten and when I popped it into reverse it crawled along at a snails pace. The line of grass along that shelf was a long one so I started at the end and using my knees to steer with the tiller we crawled along that weed edge slowly in reverse casting to every inch of likely looking water. It was another one of those moments on the trip where I expected fish. When you've been at this long enough you just get a sense sometimes. Mother nature has a sense of humour it seems though, because just then it began to rain steadily. "Well that clinches it bud" I said, "we're going to get one now for sure!"
About two thirds of the way down that weed line and getting closer to the point a big girl finally showed herself. Casting my spoon across a thick mat of grass I let it flutter and drop and as it cleared the edge and a massive fish boiled up underneath it moving a ton of water in the process. Reeling in quickly I once again threw a follow up bait at the fish, this time a small white plastic jerkbait, but the fish was gone.
Working my way around to the other side of the mat I threw my weedless spoon into the grass again and was instantly connected to a giant! She engulfed my spoon and took off in a rush slicing my line through the grass like a scythe. What a rush!
Despite the light rain I managed to capture a short video of the fight. Have a look, it was pretty epic!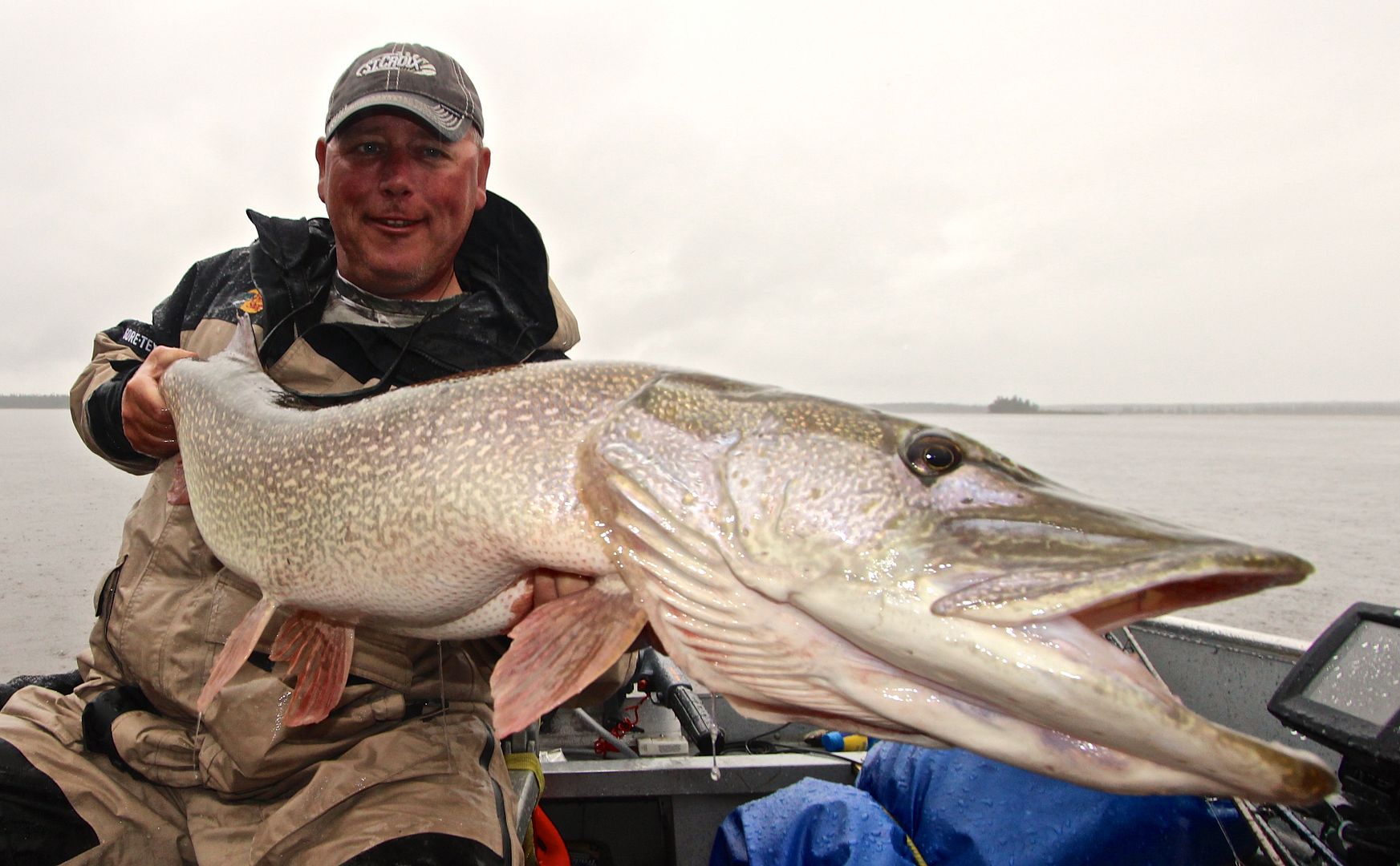 No more than fifty feet further down the weed line and almost right at the point, Brendan hooked a goliath of his own. Once again it smashed his weedless spoon right in the thick grass in three feet of water. If anyone reading this has never caught large aggressive, shallow pike like this before, let me tell you it's an incredible thrill! It's just as much visual thing and the hits are usually heart stopping. I love it. It's the primary reason why large pike are a favourite of mine.
By this time it was really raining so filming was not really an option. Even taking a photo was incredibly difficult, but we persevered. The kid was pretty happy!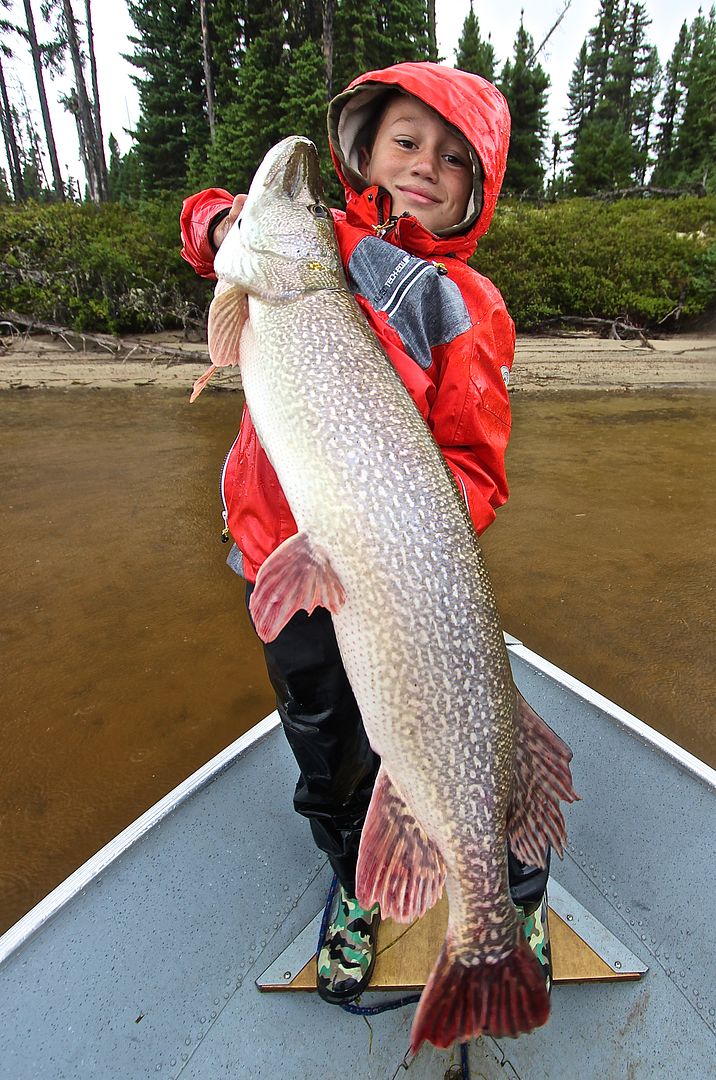 By this point it was early evening and the rain showed no signs of letting up. Getting a bit chilled and more than happy with our day we packed it in and headed back to camp.
The boys had ground it out pretty hard along the east side of Kirk and their streak of trophy fish on every single day of the trip continued. They managed two big fish of their own this day and raised a few others. Despite the inclement weather Evans was more than living up to its advance billing. It's a trophy pike factory, no doubt about it!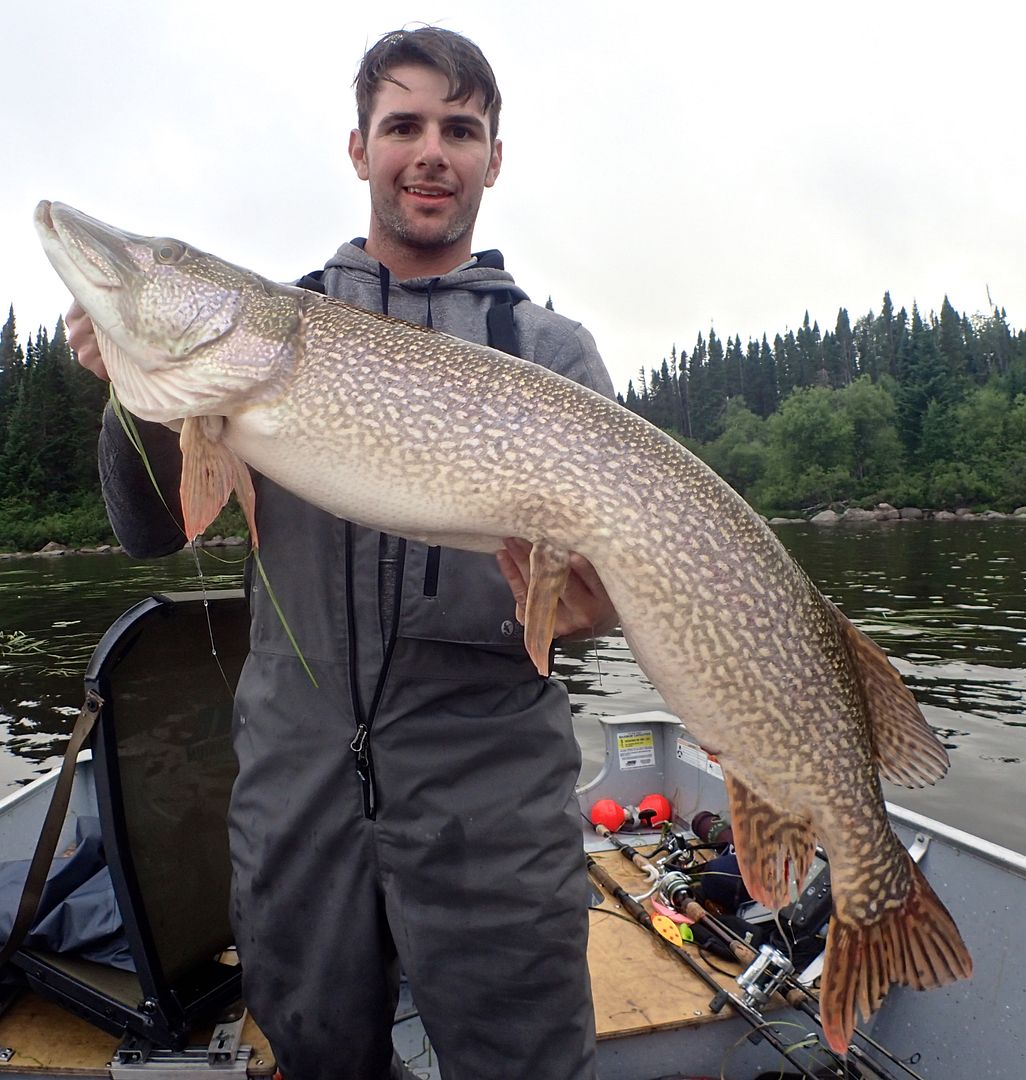 The Perfect Storm
This was another day that will go down in infamy. Again, one of those things I debated writing about, but the bottom line is it's part of the story and needs to be told.
By this point in the trip we were pretty well dialled in on where and how to fish and both the kid and I were anxious to keep things rolling. Without a doubt the east side of Long Point had been the most productive zone for everyone and I had it in mind to head back over there.
Around 7:30 my daughter sent me an updated weather forecast on my Delorme and it didn't sound great. Cloudy with a 30 percent chance of showers and 20 kilometer winds from the west. Long Point was due east of camp, so that meant returning to camp "could" be a challenge. As mentioned it's a big, shallow wide open lake and waves can kick up in a hurry. As Jim says it's like a mini Lake Erie. Nevertheless I decided to go for it. I knew 20 kilometer winds were manageable and I've never been one to base a decision on what "might" happen. It's like someone who stops at a green light because he thinks it might turn red.
The other boys being a bit more prudent headed north up the lake to fish the more protected waters my son and I had fished the day before.
We wished them well and sped off to the east riding a light wind and small rollers the entire way.
Almost the instant we neared Long Point the wind picked up even more and we suddenly found ourselves in a sea of three foot waves. Still not a huge deal and I was pretty sure the lee side of the point would be manageable. It really wasn't. I turned the corner and my heart sank as we were faced with another sea of angry waves seemingly coming from the north. There didn't appear to be any way of escaping the wind on this day.
Still we tried, but every bay was whipped into a sea of frothy waves and the mats of grass were obliterated by the choppy water. Worst of all boat control was next to impossible.
After an hour of being tossed around in the waves I made a move to Southwest Bay, a huge body of water unto itself that I knew would be more protected and also the location of Jim's third outpost camp. I figured it made sense. We'd fish the more protected waters and if need be we could wait things out in the cabin.
Getting over there was a bit of a challenge as the waves were hitting us almost broadside. I had to tack into them a bit more than I'd have liked taking a longer but safer route to get to the bay, but we made it.
Upon arrival I was drenched from spray and wanted a break so I made a beeline for the vacant camp and tied off at the dock.
We spent about two hours in there lighting a fire in the wood stove, drying off, and eating a late lunch. At roughly 3 pm we headed back out and fished the bay for a spell, but my heart wasn't in it and I was once again close to having a decision to make. Should we bunker down in the cabin for the night or attempt a run back to camp? I had no desire to put my boy in danger, but I'm also pretty confident on a tiller. I figured it was worth a shot. By the time we were ready to leave it was five pm and the gale force winds, easily forty kilometers plus, had definitely eased up somewhat. I cinched up Brendan's life jacket, did the same with mine and we were off.
What transpired next was like a scene right out of The Perfect Storm. (If you've never seen that flick before it's a good one). Bren and I rounded past the tip of Long Point heading across open water towards Kirk Island, and although the waves were large, I was taking them head on and they were manageable. About one third of the way over though the wind picked up and suddenly we found ourselves bobbing in a huge sea of waves. In all honesty some of those rollers were eight feet high. When we were in the bottom of the troughs all we could see was water!
My hand has never gripped a tiller harder in my life and it was nerve wracking! Our pace was incredibly slow as any momentum would have seen us crash through the waves or worse rise straight up in the air and crash back down. For almost an hour we slowly rolled over those giant waves riding them smoothly up and then down, inching closer and closer to Kirk. My boy was in the front and happily oblivious of the tension I was under. At one point he yelled out "It's just like a roller coaster dad, this is fun!" Despite the situation I still had to chuckle.
We made it back eventually, quite surprisingly ahead of the other boys again. I figured they'd be there sipping scotch next to the wood stove. My hand was so cramped and sore from clutching the tiller in a death grip I couldn't move it or make a fist. It was killing me. I actually had to soak it in warm water for twenty minutes to loosen it up and ease the pain.
Once again another memory that will be remembered by both of us for a very very long time!
The boys rolled in fifteen minutes after us very glad to see we were safe. They knew where we'd gone and being familiar with Evans knew darned well what it must have been like.
On the fishing end of things they produced some big fish once again (thanks to me this time!) I clearly marked the spots on the map for them that were productive for Bren and I the day before and that helped. In precisely the same spot at the end of the lake where we'd caught two of the giants (I think it was the very same patch of grass actually) Colin bested two big girls of his own! They were definitely on the feed as one of the pike actually had a small burbot sticking out of its mouth.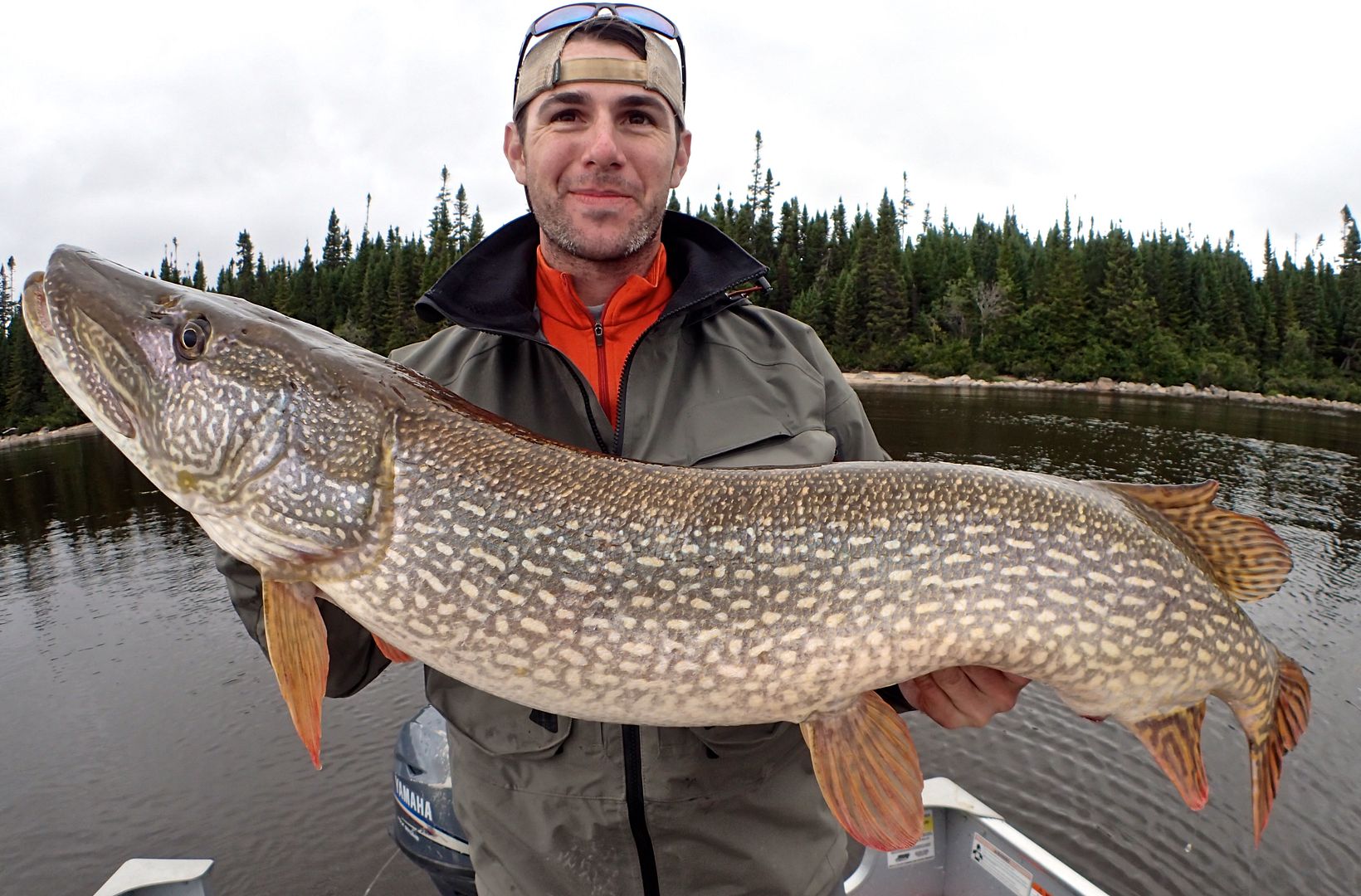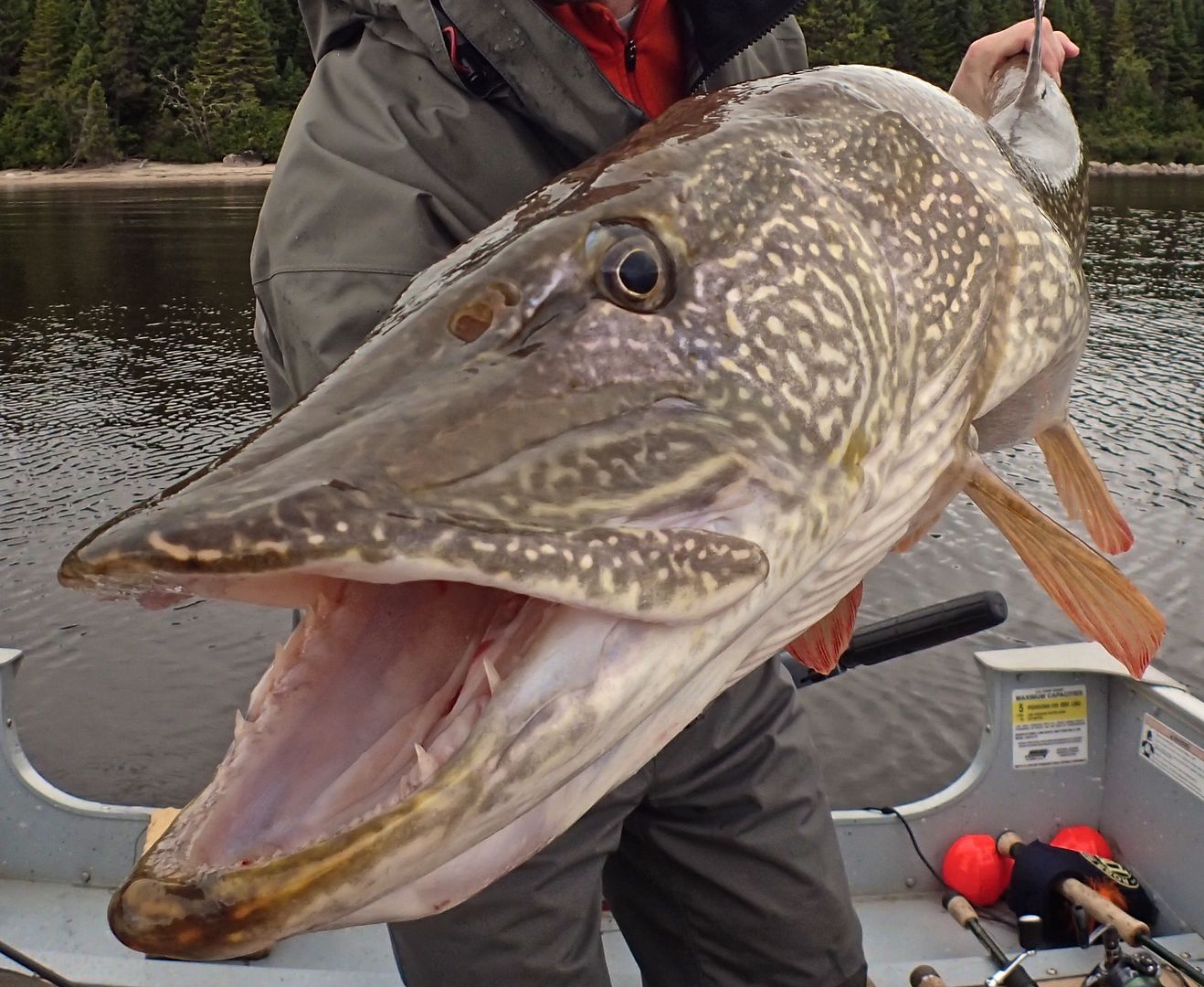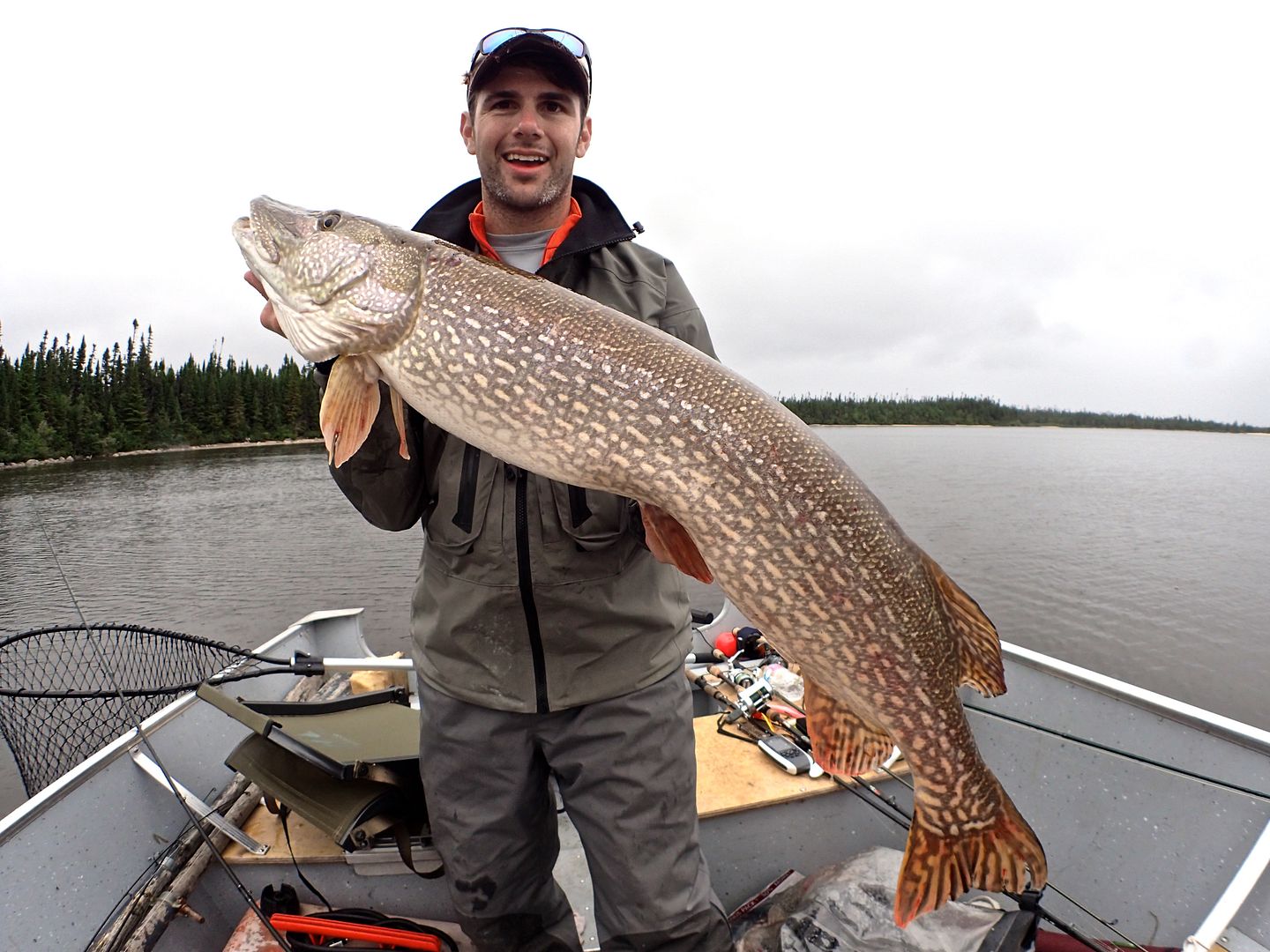 Colin's streak was still alive!
Saving The Best For Last
These trips always seem to fly by in the blink of an eye and this one was no different. It seemed as though we'd just arrived and it was already time to go. I'm not quite sure how a week at home in the office can drag on for seemingly months, yet fishing trips race by. Why is that? I can tell you I've met a ton of people on the dock over the years as I've been arriving at camp and I always hear the same refrain time and again. "It was a great trip, but we're ready to go home!" I don't get that at all. I love every minute of these adventures and it's always a bit of a wistful feeling when they end.
We'd packed a lifetime full of memories into the previous six days and all of us aimed to make this last day something extra special. Fortunately for us the weather looked good. Mother Nature had decided we'd payed our dues the day before and was giving something back. While it was overcast the updated forecast was calling for no rain and virtually no wind. Perfect!
After yesterdays fiasco I figured the east side of Long Point owed us something and we planned to head straight back there. Colin and Russ planned to start along the east side of Kirk Island, then work their way over to where we were. "We'll probably see you guys by mid morning unless we start pounding on them" Colin said with a wave as we puttered out of the small bay the camp was in. We wished each other well and were off.
Success with this type of fishing is often directly attributed to nothing more dogged persistence. Like I mentioned earlier you need to identify the prime spots and keep returning to them – sooner or later you'll intercept big fish. Each one of us including my son had fished hard on this trip and we'd earned every single big fish we'd caught. Today as you'll soon see this persistence paid off in spades. I won't pretend to understand why the fish were on, perhaps they were ravenous after not feeding during the previous days big blow. Whatever the reason the fish were absolutely on fire – they were electric! Almost every spot we fished produced at least one, and sometimes two big fish. It was incredible, easily our best day of the week!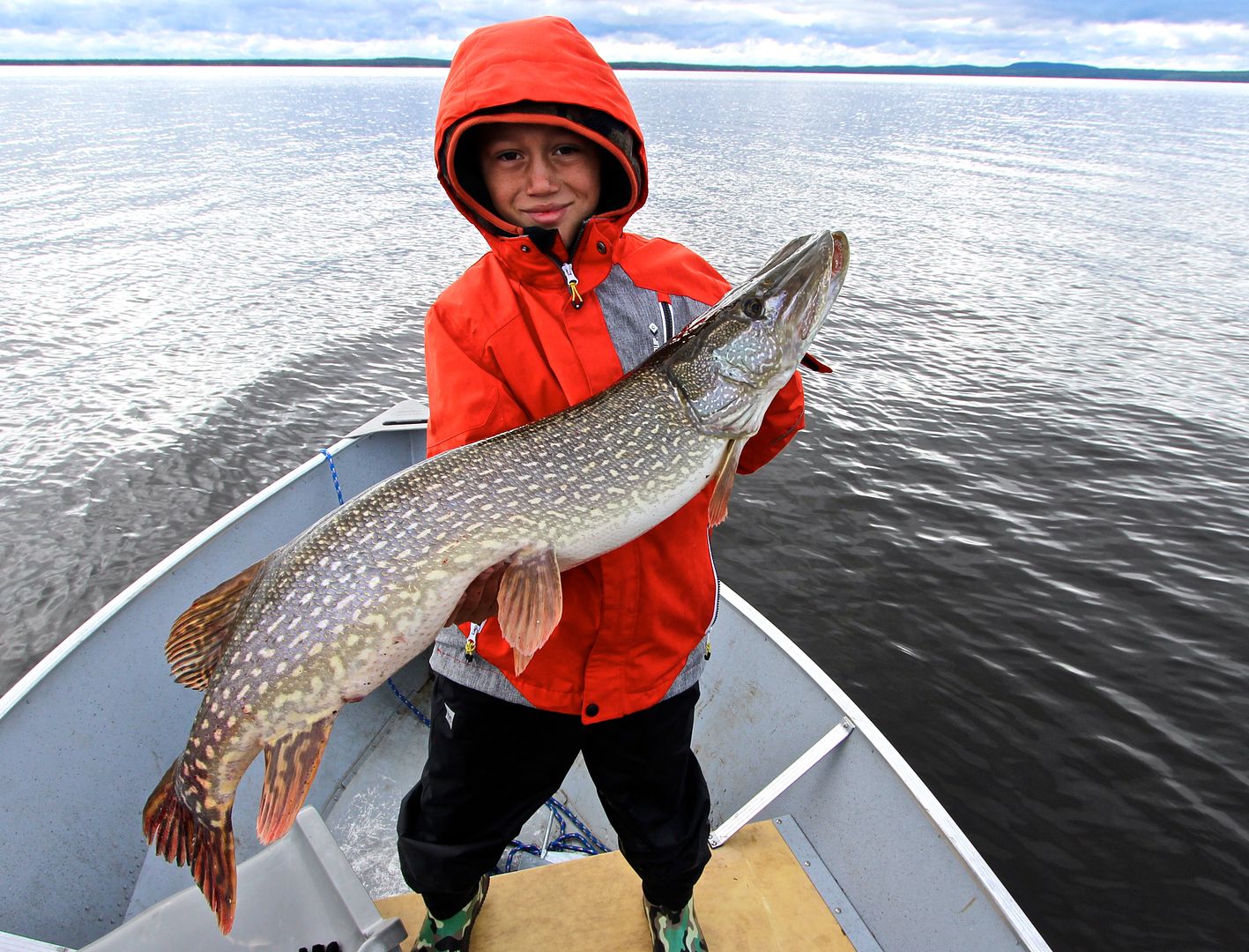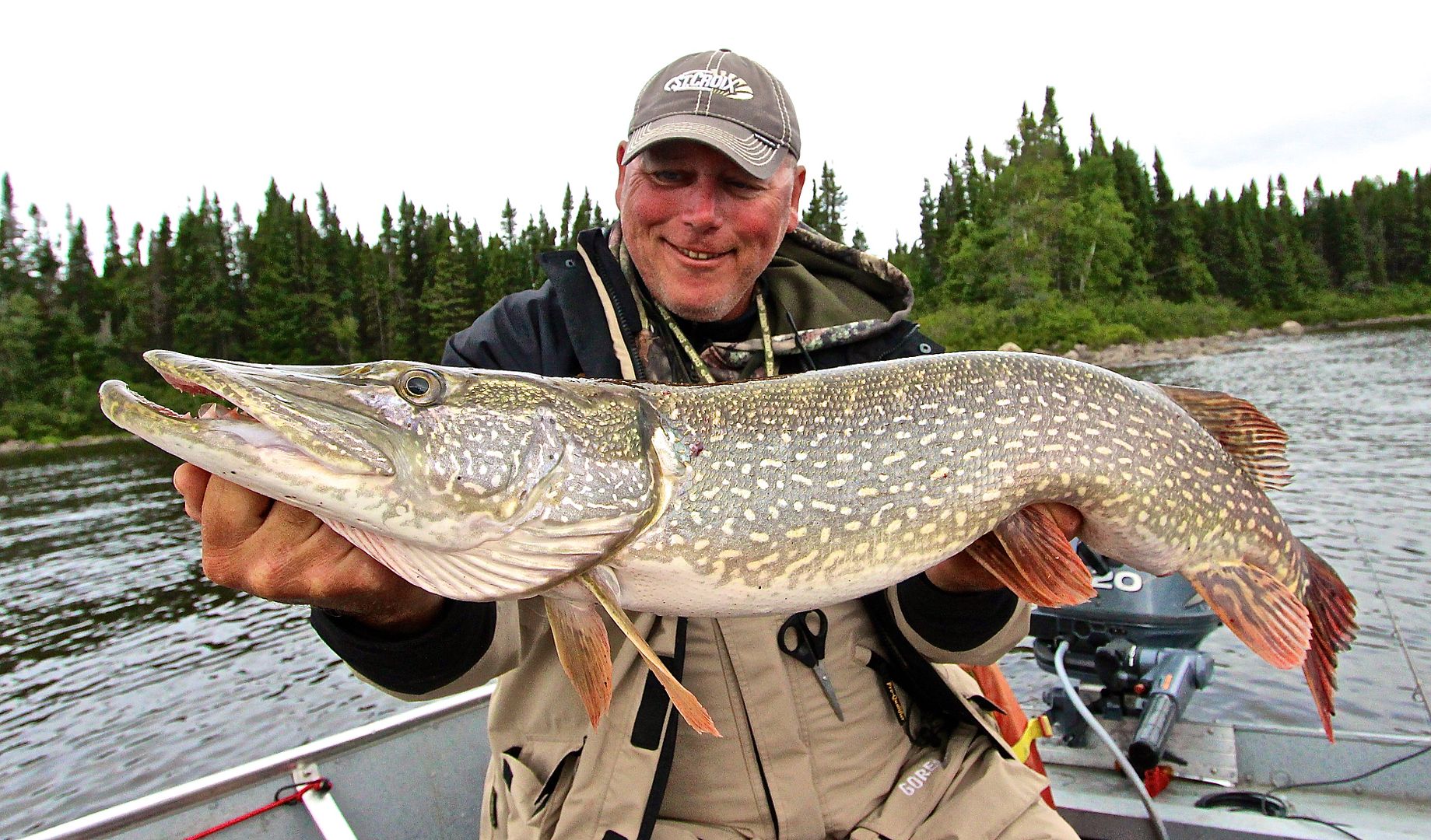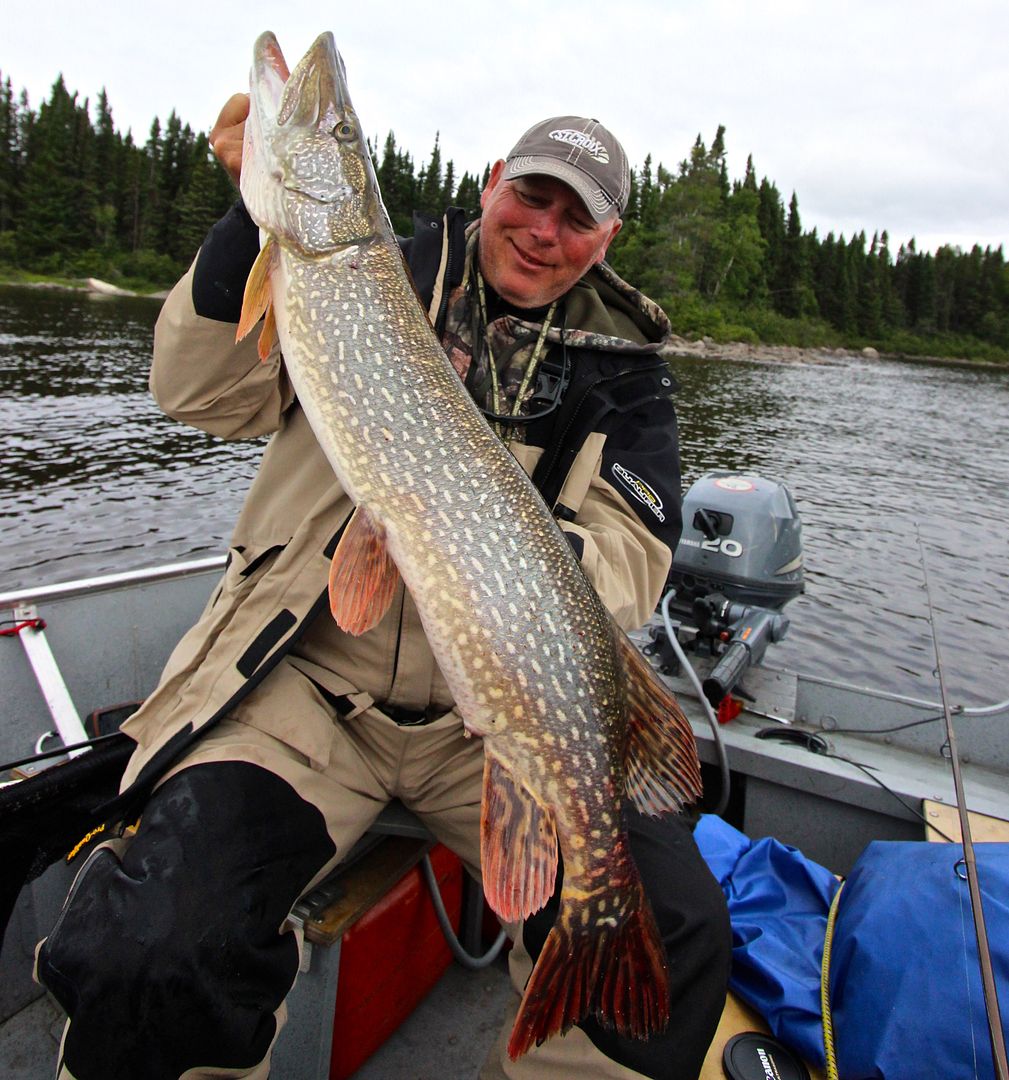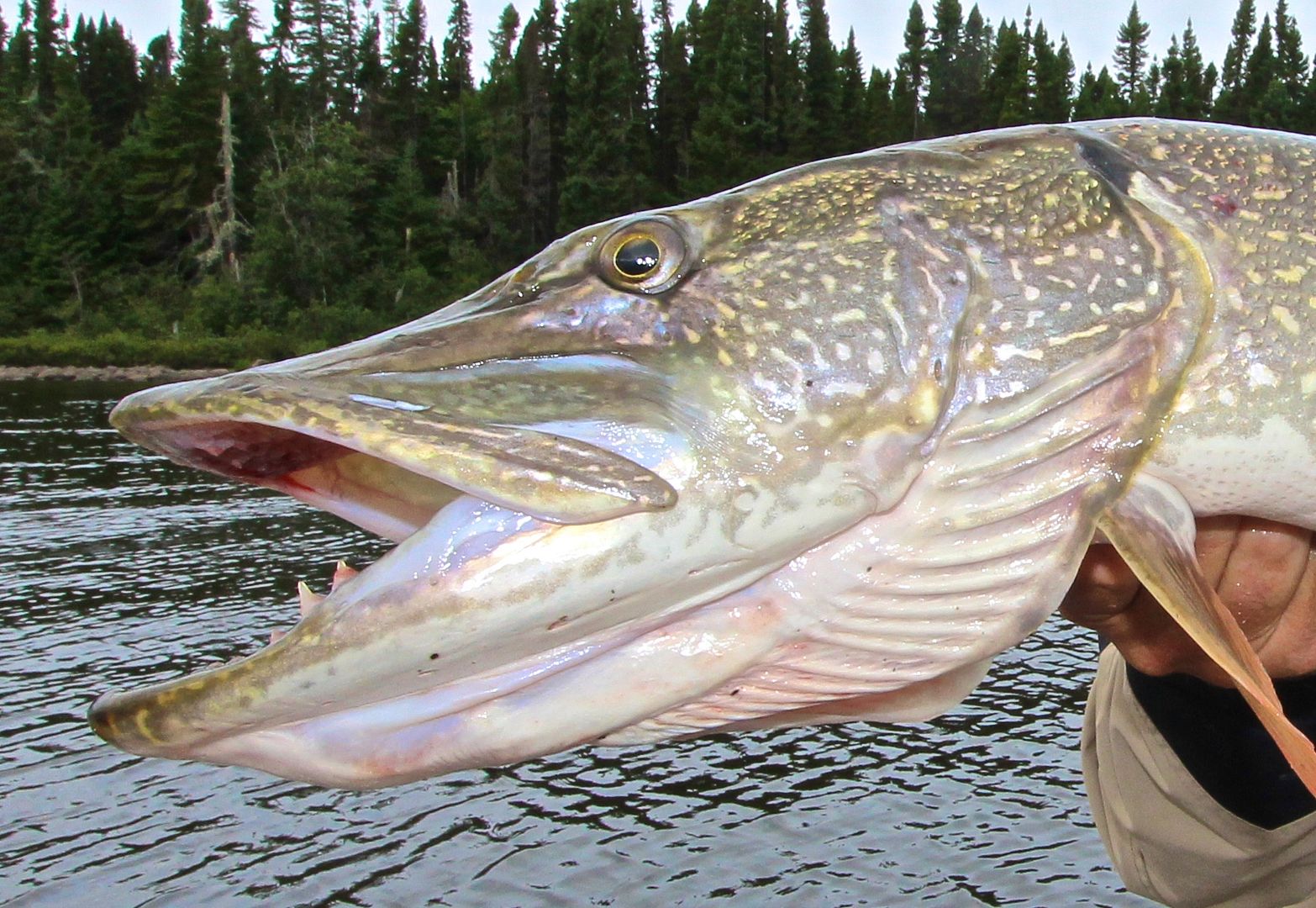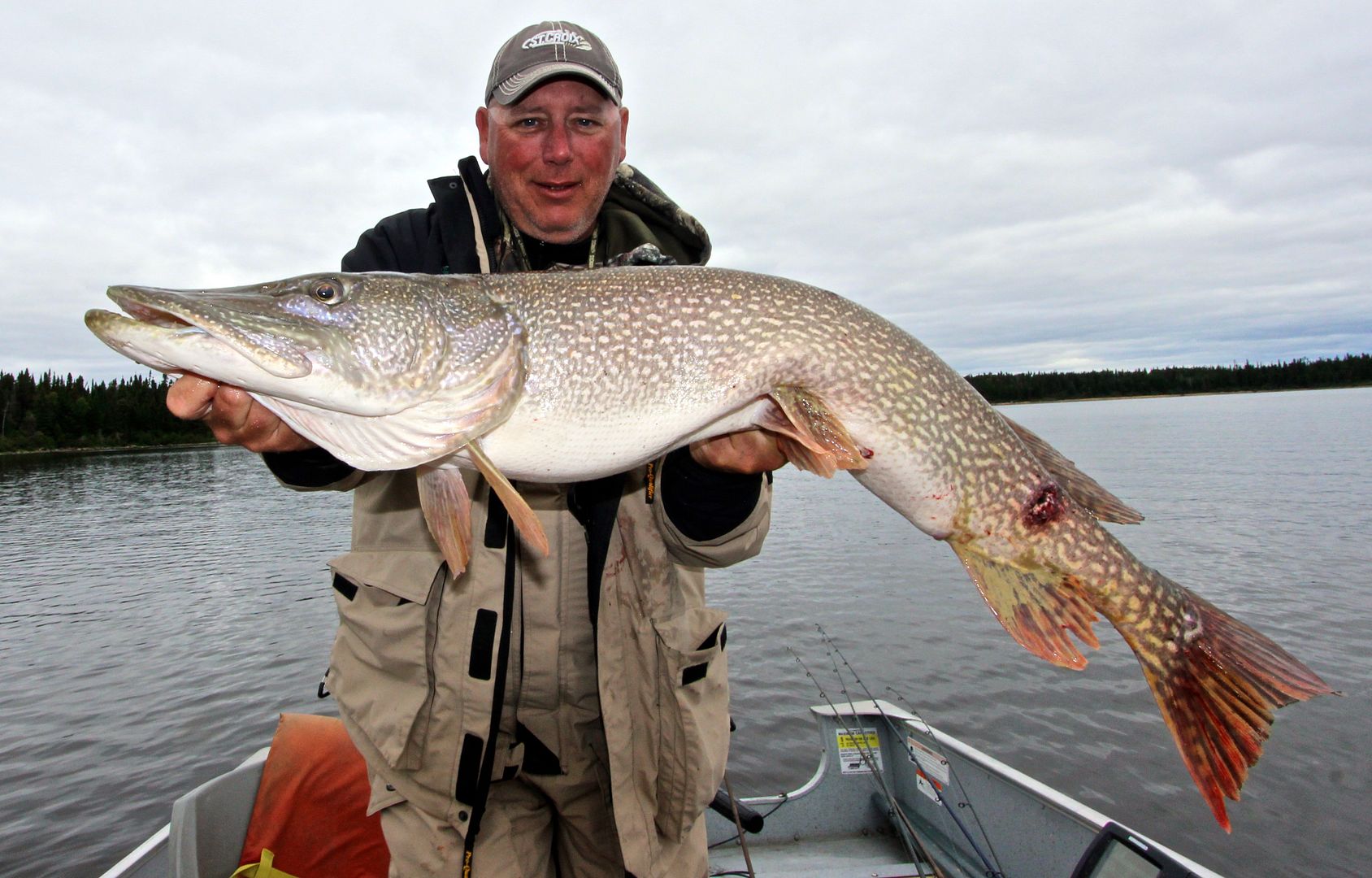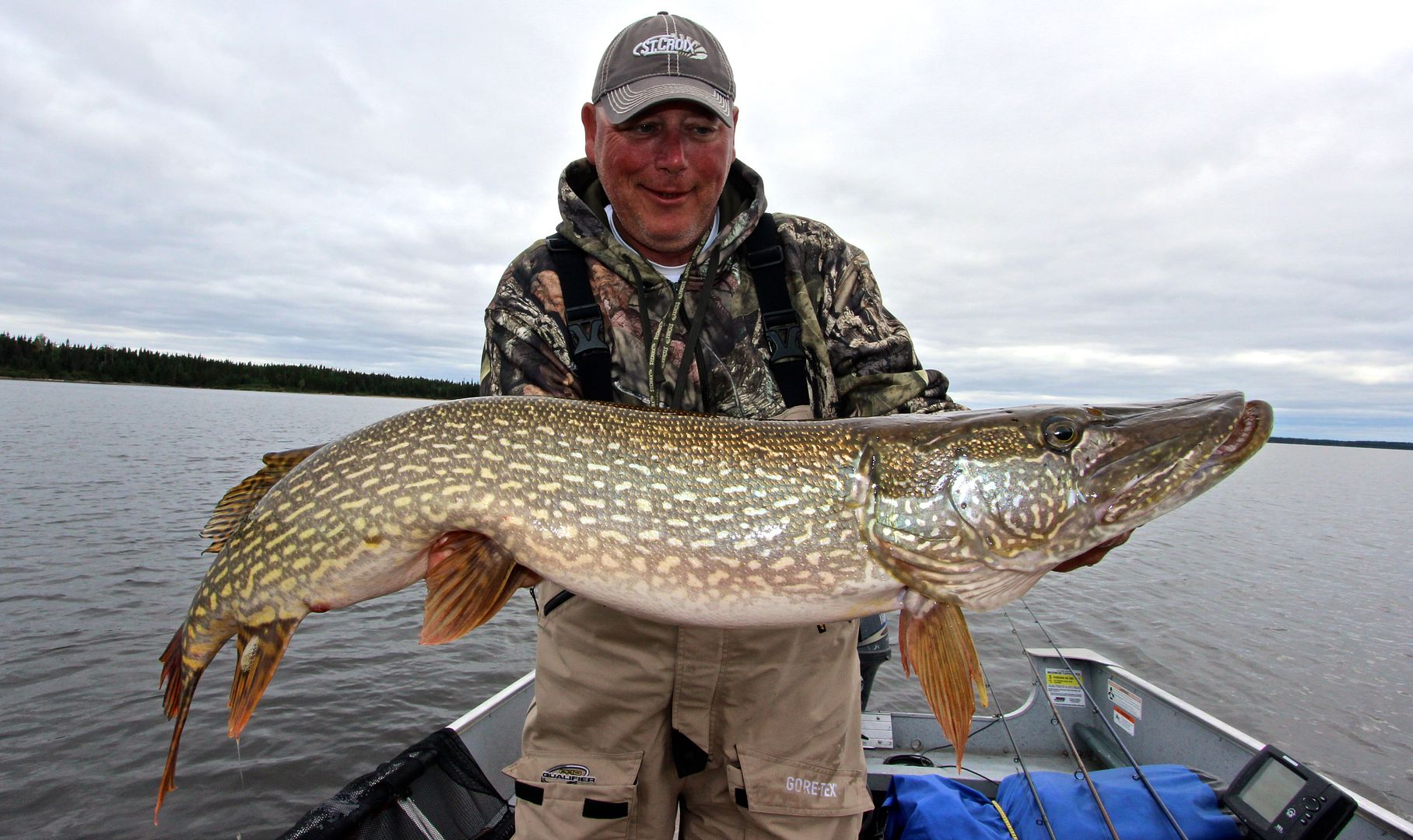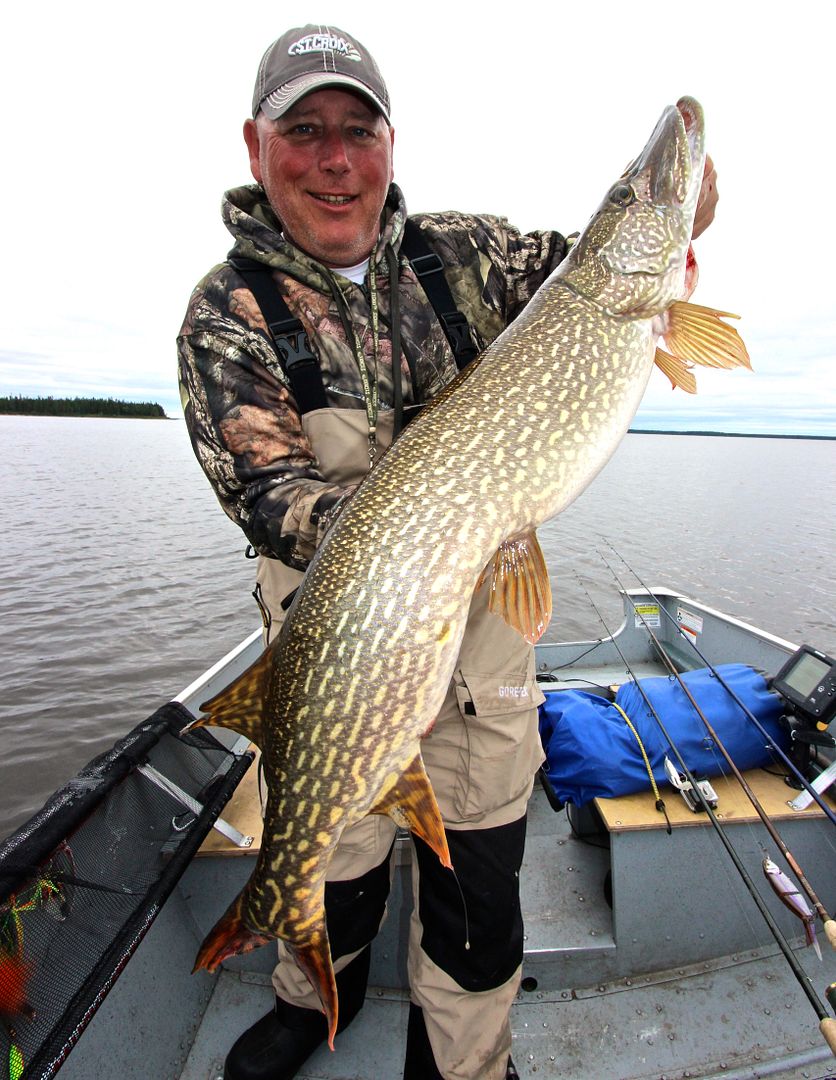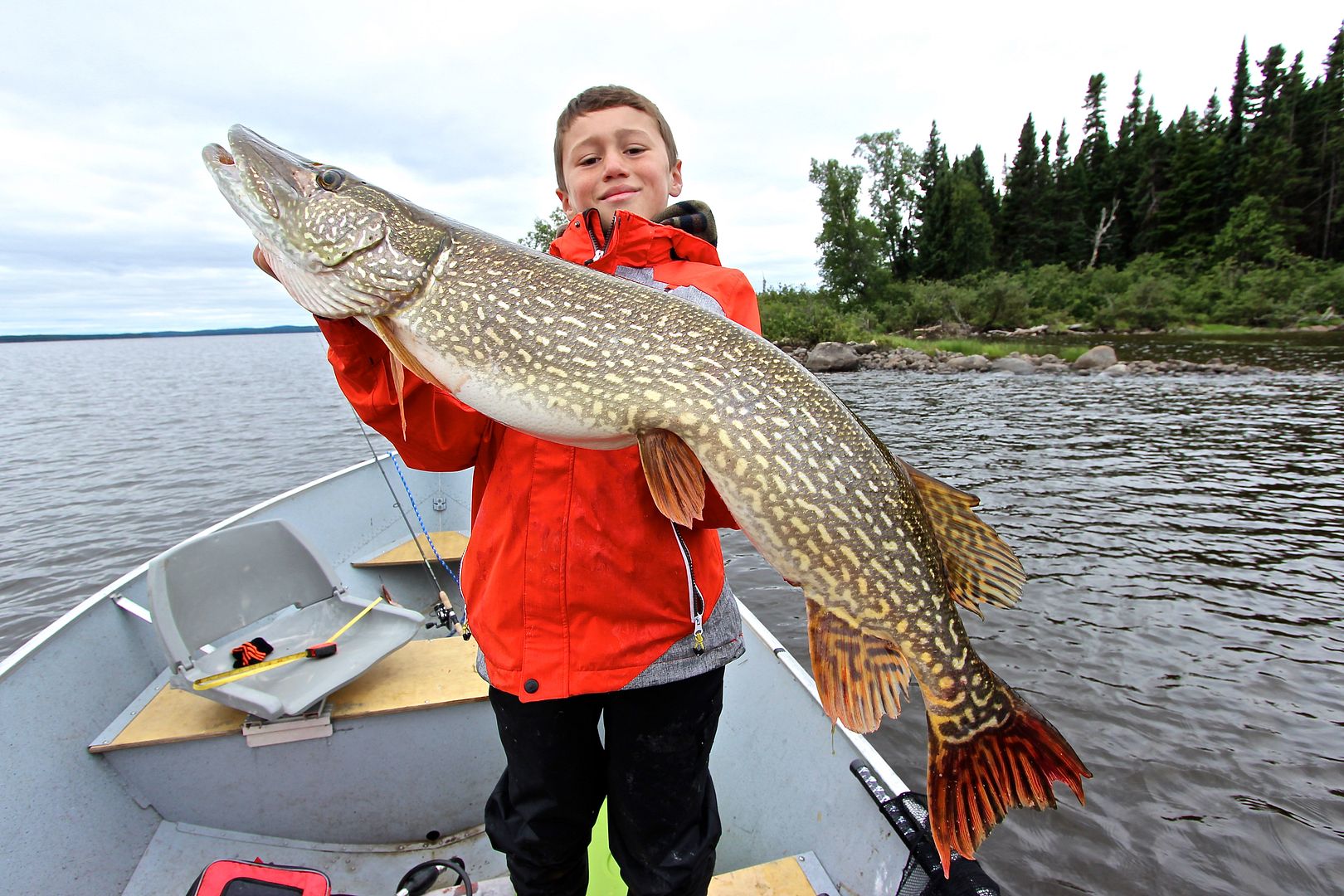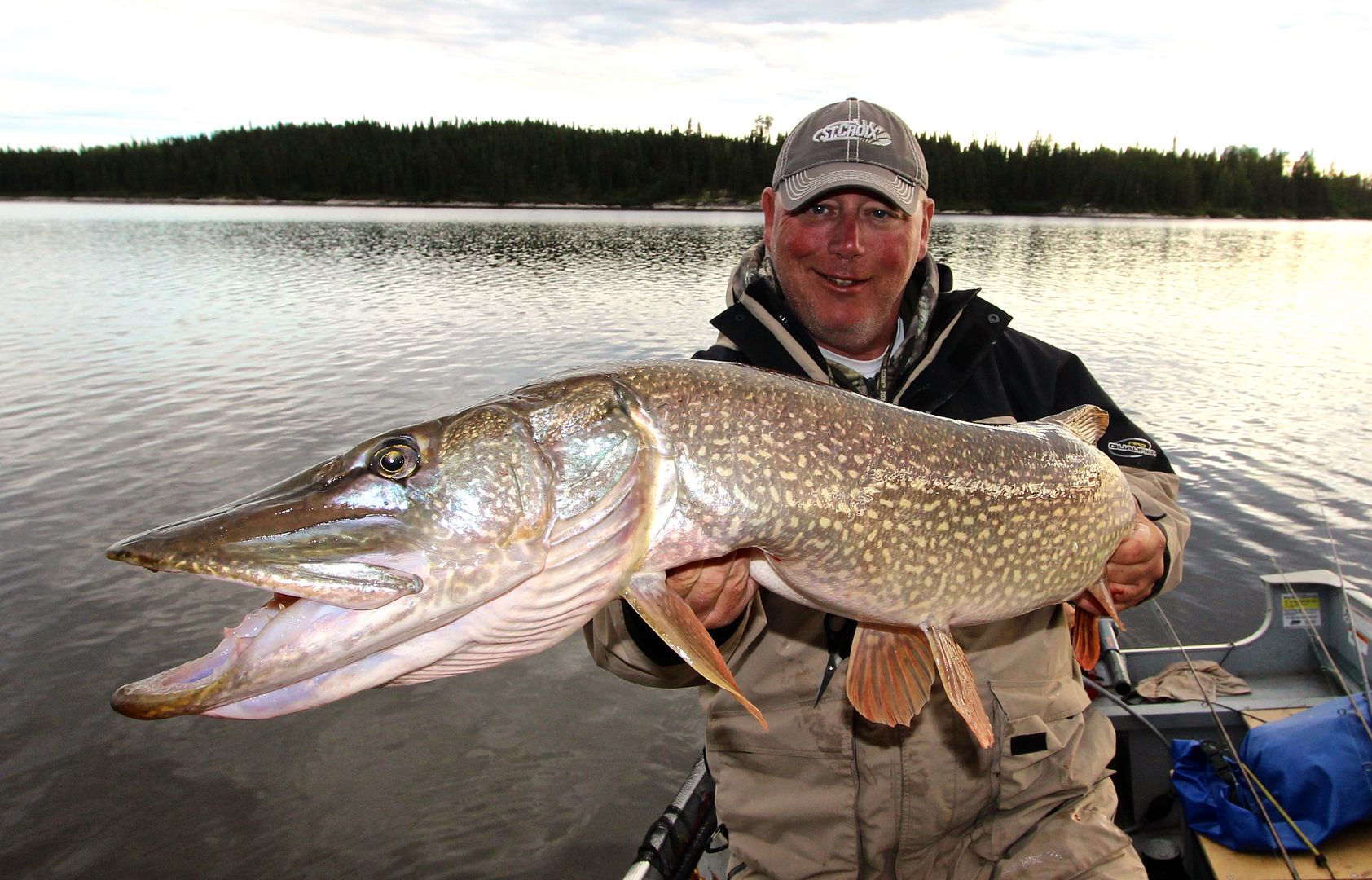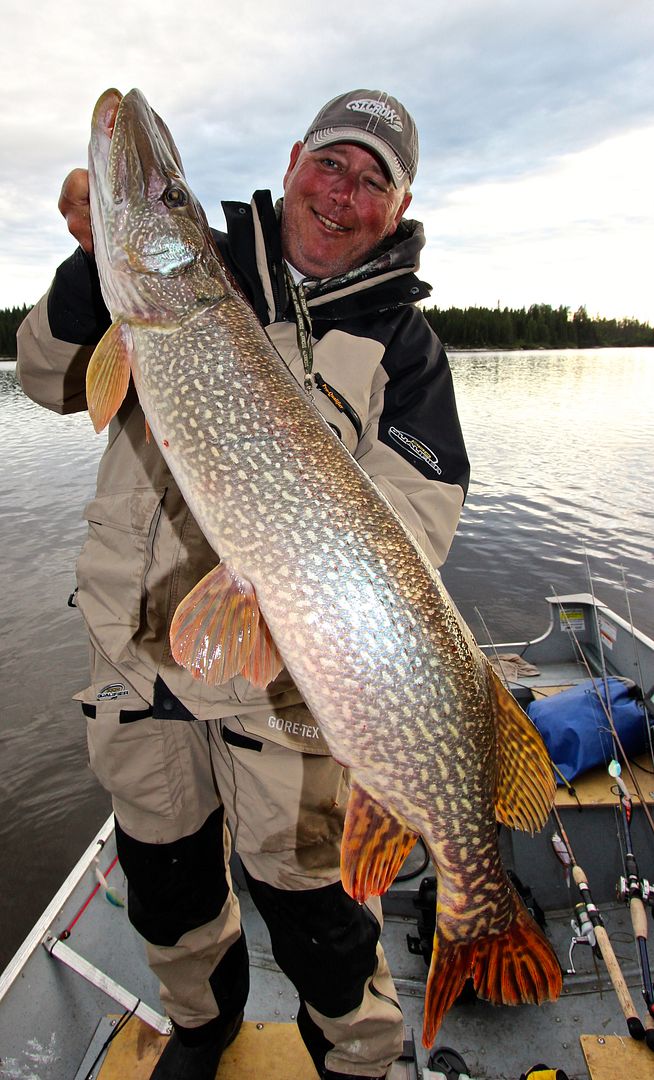 We had saved our best for last and all told we'd caught eight giants on this last day! Does it get any better than that that? This trip had already been one of the most memorable ones ever for a bunch of reasons, but this capped things off with a resounding bang! I can tell you it's incredibly gratifying when your hard work pays off and you can fish a very large and unknown lake for the first time this successfully. For me, this is why I love this sport so much. The challenge comes from hunting down the fish and figuring out a successful pattern. The catching is almost secondary. Almost.
As always I filmed a few highlights of our great day including a brief interlude where we stopped to troll a neck down for walleyes, catching a bunch of them and giving our casting arms a break for half an hour.
Have a look it's pretty awesome stuff!
Russ and Colin had another banner day themselves catching four more big fish of their own, (to be precise Colin did) . At one point they raced past us and entered a large shallow bay that Brendan and I had skimmed over previously. It was a huge broad four foot deep flat and I honestly thought it was too shallow. Casting to isolated patches of grass way out in the middle of an open expanse of water they picked up two trophies! Just goes to show you that a different set of eyes will sometimes key in on something important. Kudos to both of them, they're darned good anglers!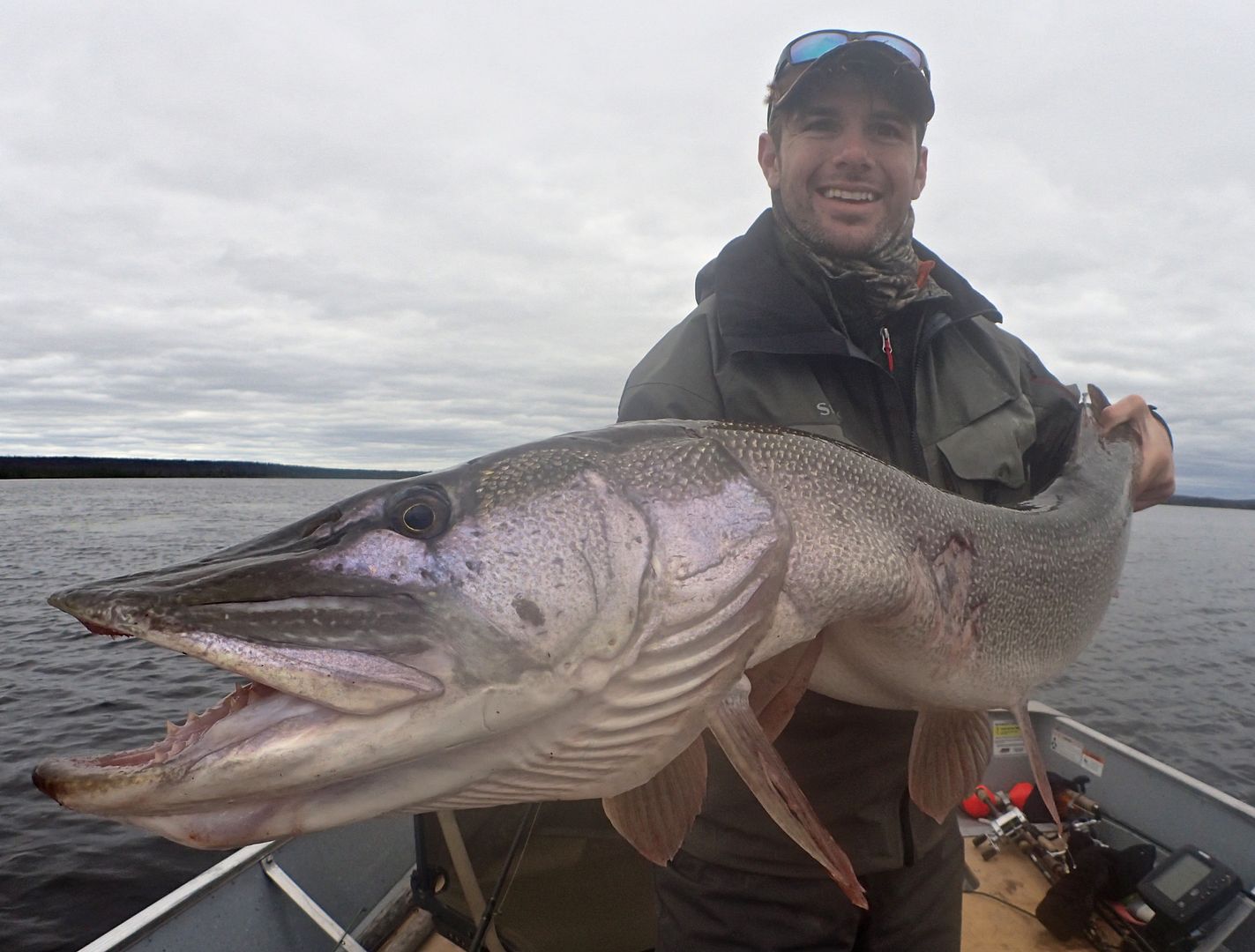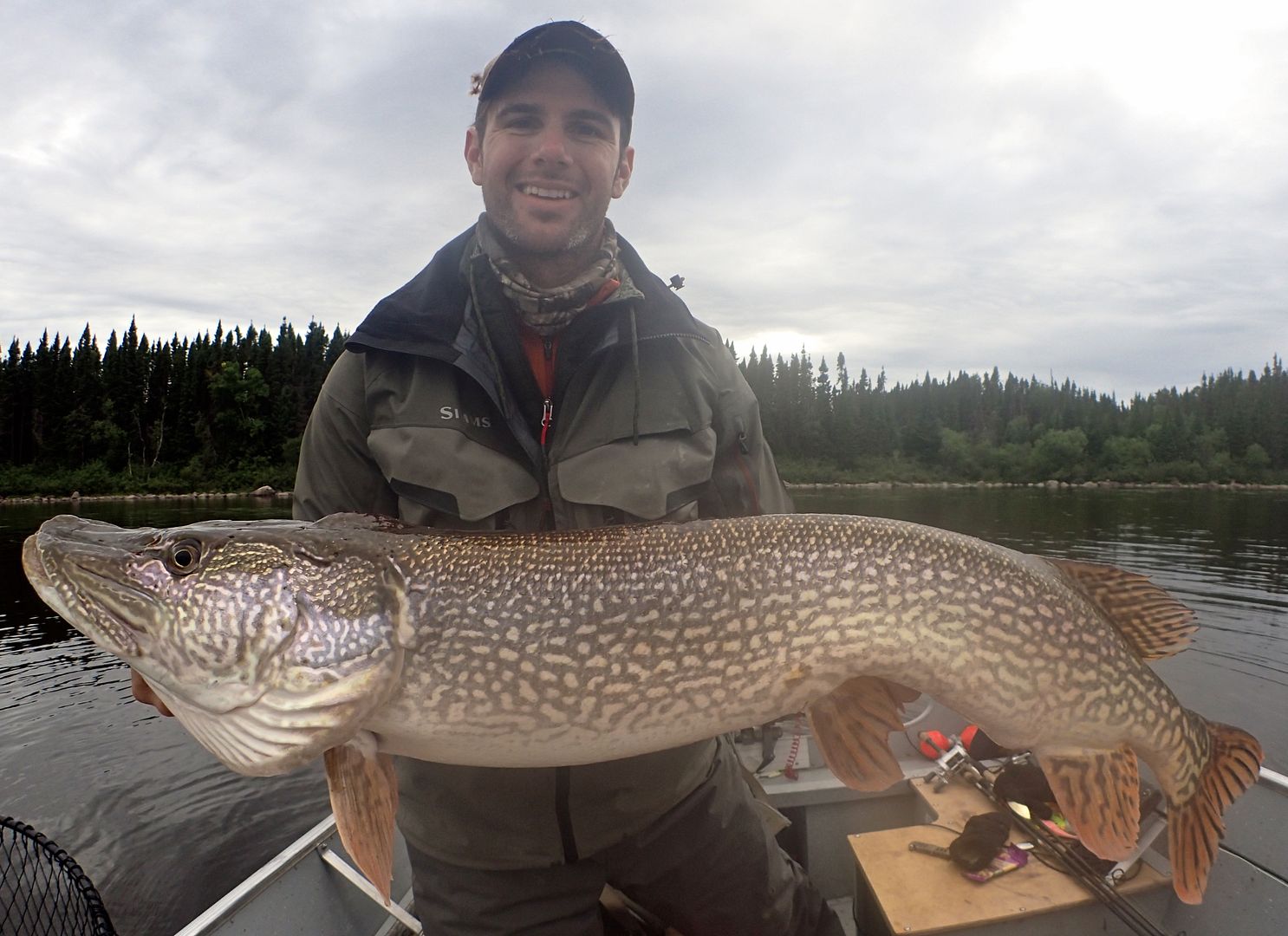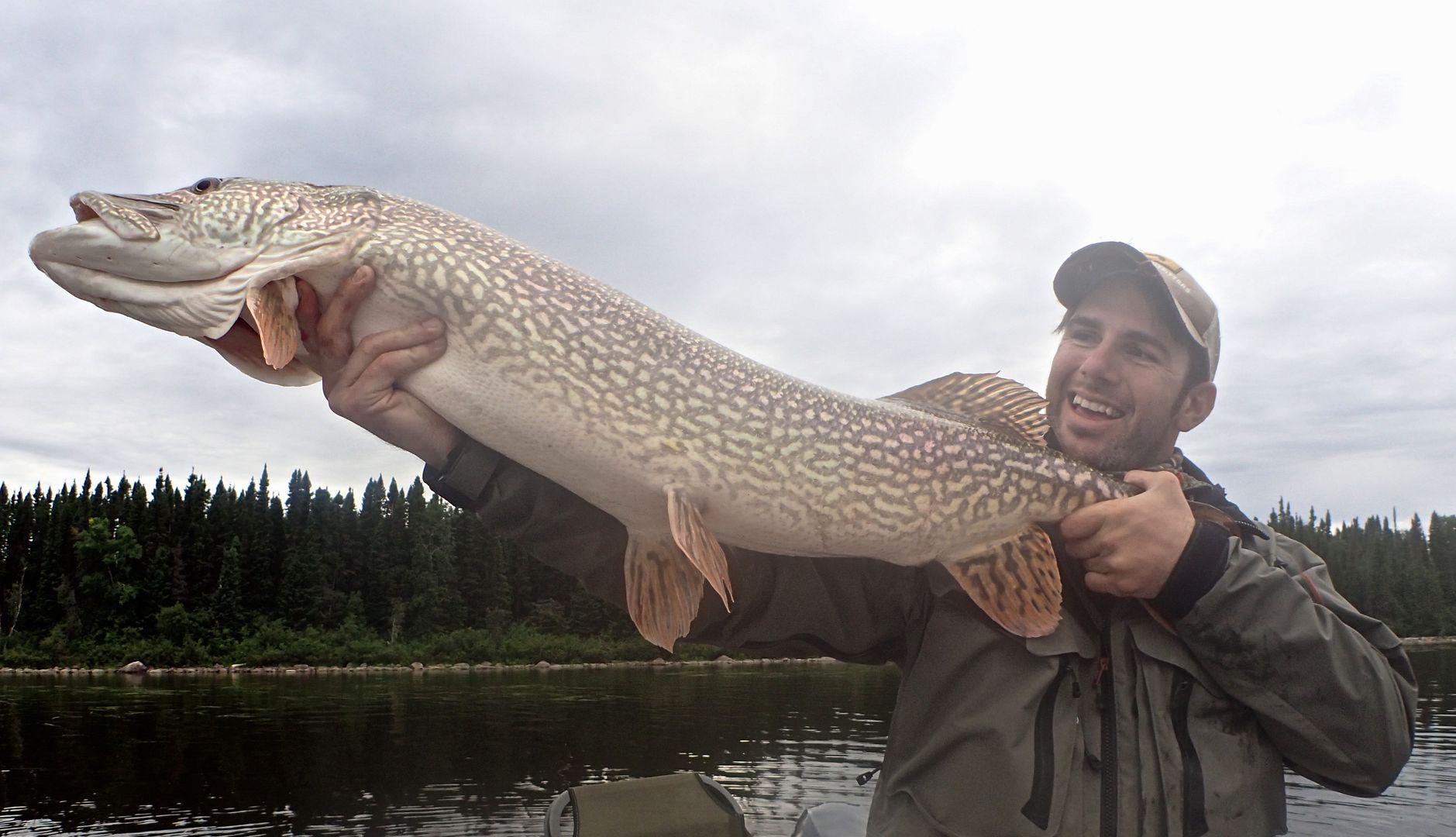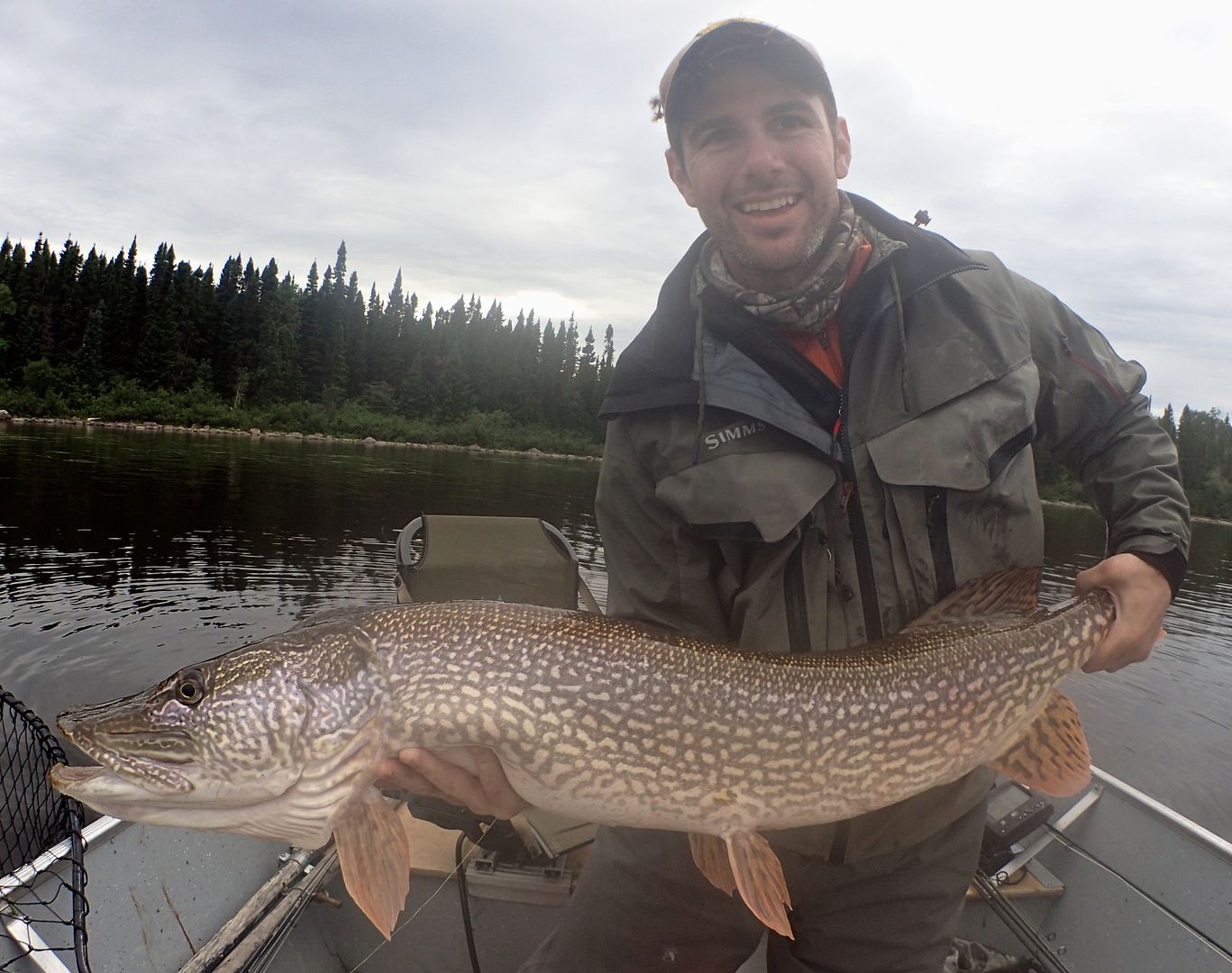 I have been all over the north chasing big pike and never once have I managed to catch at least one trophy fish on every single day of a trip. I've come close, I've had trips with huge overall numbers, but I've never done that before. Colin did that on this trip and he did it in style. Well done young man!
We were back at camp by 7:30 not wanting to make it a crazy late day. We had an early flight out scheduled for the next morning and we needed to get some packing and cleaning done.
Brendan and Jim joked around together chattering happily while Colin and I tidied up and packed a few things. Russ, good man that he is prepared our final meal; thick bacon wrapped sirloins on the grill, baked potatoes, salad and garlic bread. A fitting meal to help cap off our wonderful week. It was a happy comfortable evening among a group of people who were now fast friends.
A Talk With Jim And A Closer Look At The Camp
Jim Saari is not only a likeable guy, but the history of his operation on Evans is fascinating. He's the caretaker of the resource and rightfully so he's proud of what he's accomplished there. Evans is flat out one of the best trophy pike lakes in Canada and I took the time to sit down with him to discuss it. Have a look, it's pretty interesting!
For anyone wanting more detailed information on the operation including prices and contact information for Jim it can be found at www.bushlandadventures.com
As always I filmed a short video tour of the camp. It's not the ritz, but it's big, clean and totally comfortable. Most importantly the boats and motors were fantastic, always important on large bodies of water like Evans. Along with that every one of Jim's outposts has a full time caretaker on site to gas boats, stoke the wood stove and assist guests in any way needed. Our caretaker David was like a ghost. He'd do his job and when you'd see him he'd smile and wave then he'd disappear. That's not a bad trait really as your privacy is ensured and he handles all of the nasty chores. Have a look!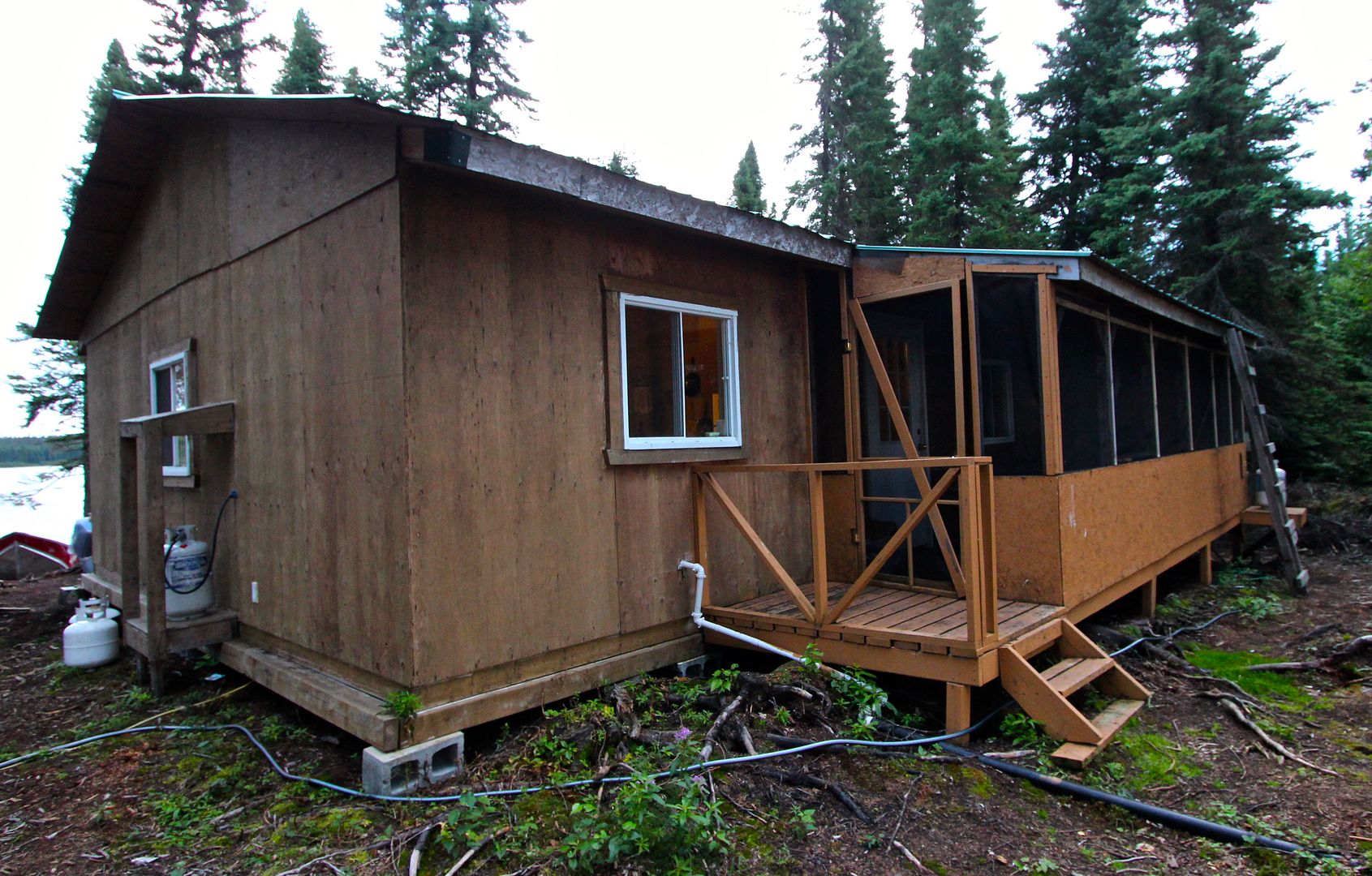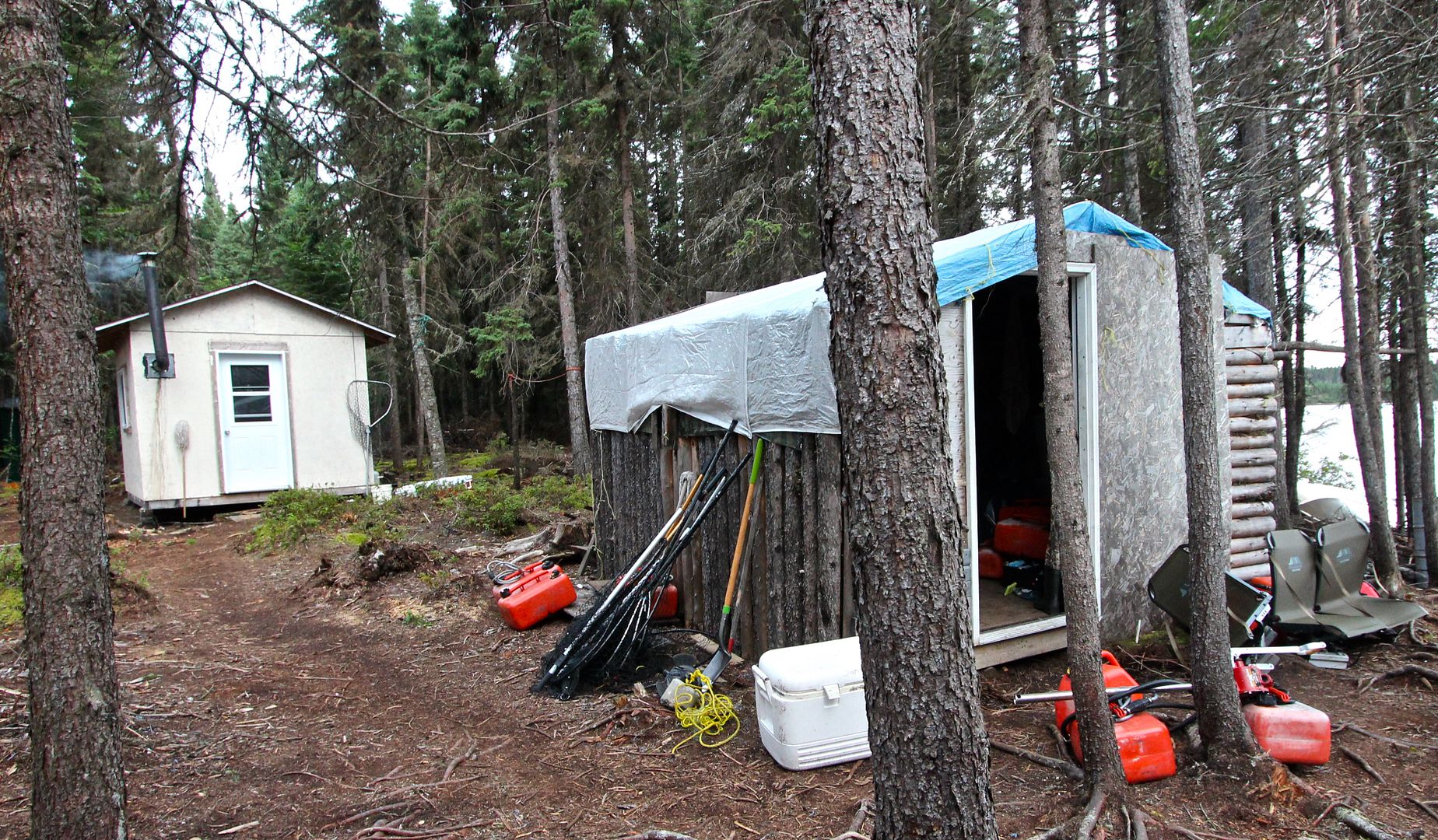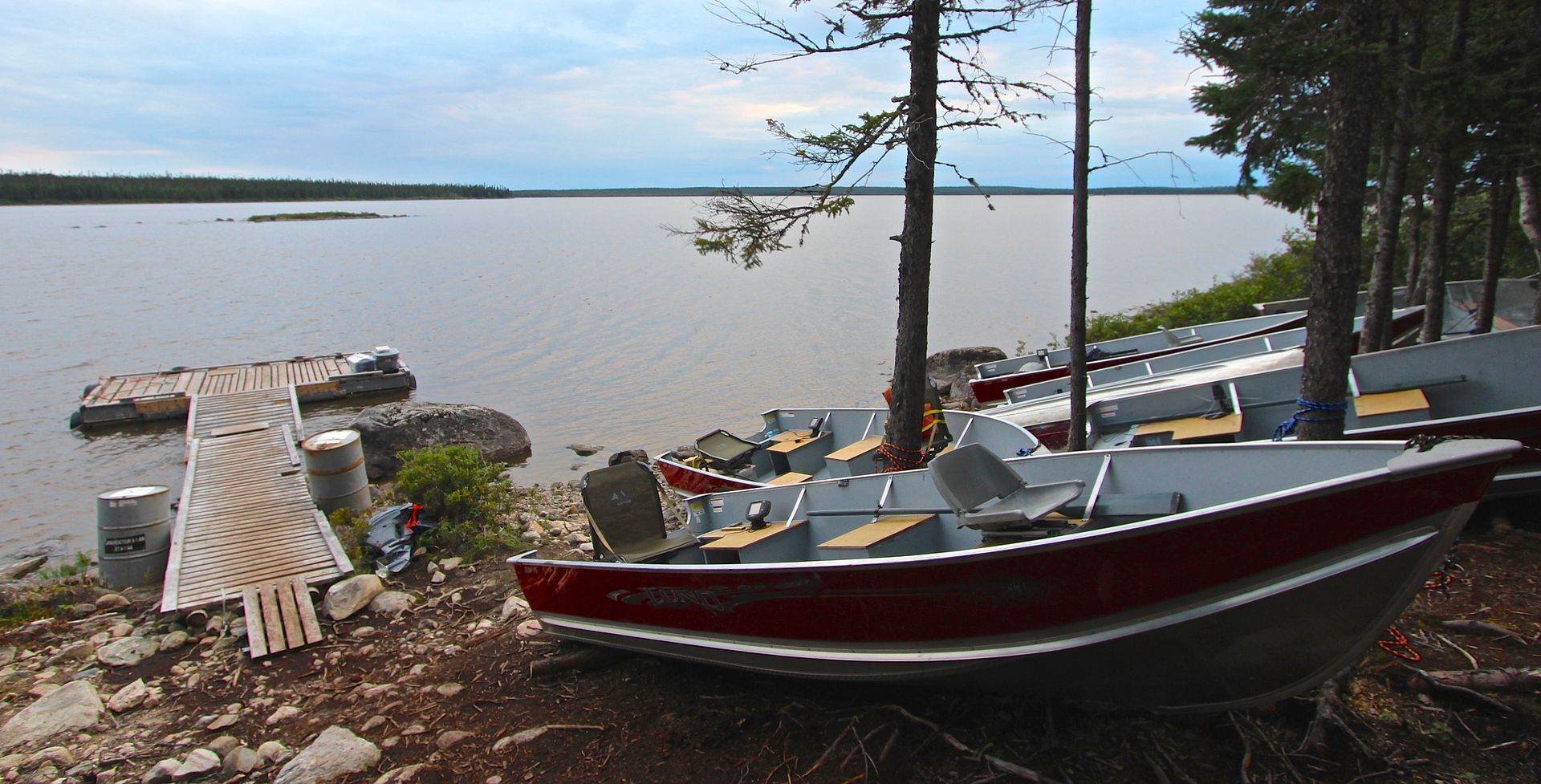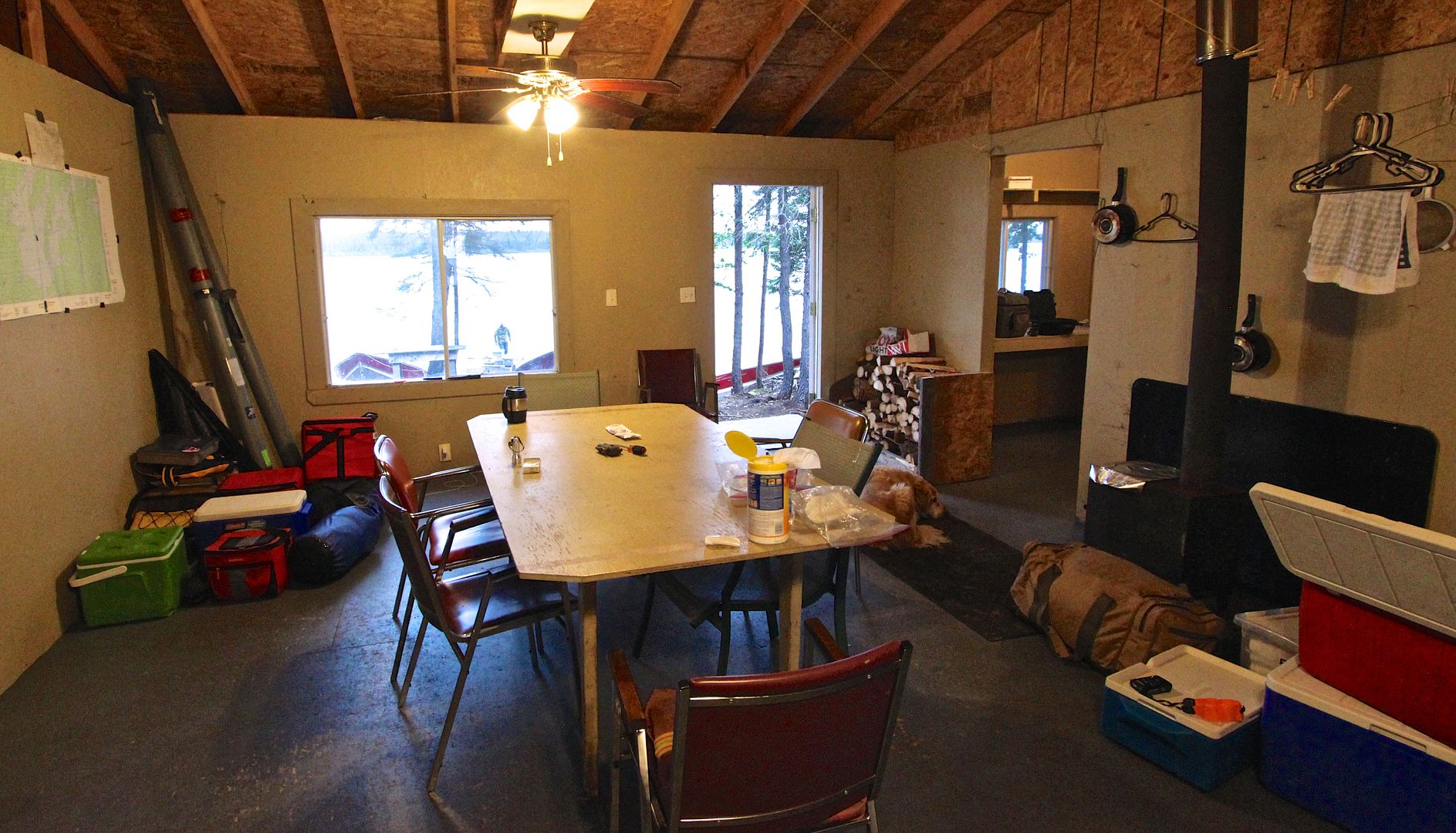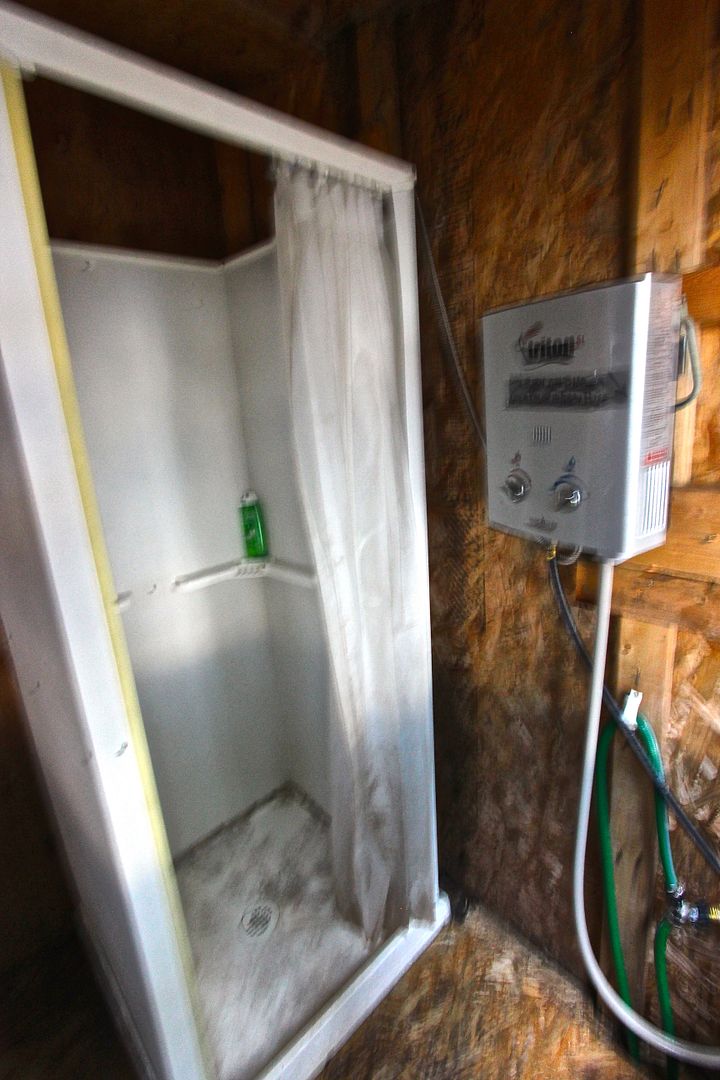 I was sad to see this trip end. My son and I shared some pretty incredible experiences and the lake itself was impressive. There is zero doubt a return trip will be in order!
A huge thank you goes out to my companions on this trip Russell and Colin, you guys were a pleasure to spend time with!
Most of all I need to thank Jim himself. You're a good outfitter and an even better man, and you now have a very big fan in my son Brendan. Thank you for making this trip such a special one for him!
The next morning the plane was right on time and I can honestly I was not ready to go home!
Hope you enjoyed the tale folks, until next time…